North Gallery at City Hall
Andrea and Noel kissing on the 4th floor North Gallery at San Francisco City Hall. We loved her big dress and train, and it fit right in with this formal shot at top floor of the building. Andrea and Noel chose our City Hall PLUS package which provided them with 1.5 hours of coverage including a fun photo tour of City Hall. We also took the happy couple outside and got some amazing images in front of the building. Depending upon how much time we spend with wedding photography inside of city hall, we can also take our newly married couples outside for some great shots. We love the Van Ness side of the building for some unique angles of San Francisco City Hall. The Package they selected also gives them the chance to take family and friend pictures while still allowing ample opportunity to do our photo tour of the building. Another thing I like about this capture is the natural frame created by the archway visible from the 4th floor North Gallery. This location is also where the Events department holds reserved weddings. A reserved wedding allows you to bring up to 60 guests and they even set up places to sit for your entire entourage.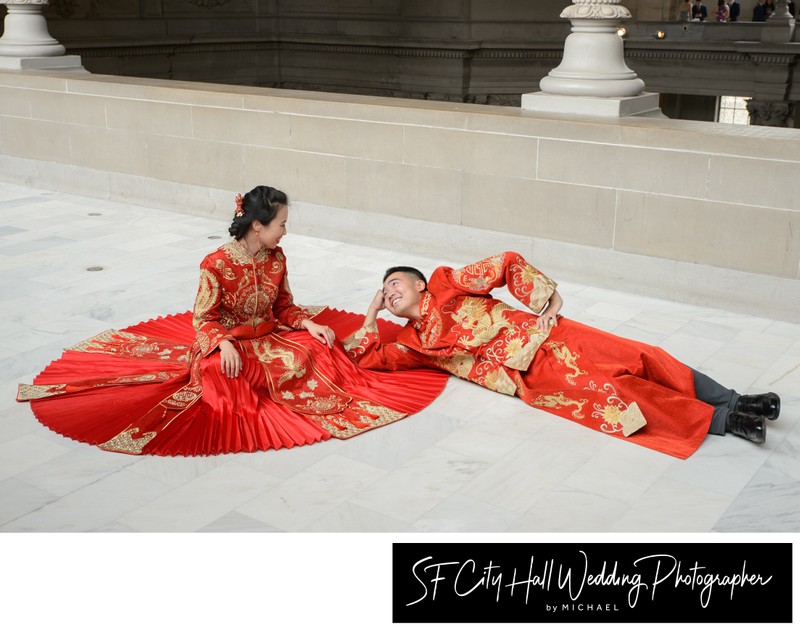 Alternative Clothes for City Hall Weddings
We frequently get asked by our couples about wearing traditional outfits that are from their own culture. In some cases the engaged couple were not sure if it was allowed. Others just wanted to know if it would look good in the building. From the photo above, I think you will agree that the answer is a resounding yes! Both the Asian and Indian cultures often wear colorful wedding dresses and suits that depict where they come from. In fact, these colors work very well at city hall because of the amount of grey and whites that are present throughout the building. Splashes of red and blue and green go a long way in setting off beautiful wedding garb.