Best City Hall Wedding Photographer
We are not saying that we are the best, but we want you to know that we are always trying to be. We have been photographing weddings at city hall for over 12 years with 600 weddings creatively photographed. We commit to you that we strive for perfection and always give our clients our best effort. This couple was definitely one of our favorites of 2016. They booked us for an extended package which basically lasted all day. We followed them around as they went through all of their wedding related activities. Of course, the most important of these was the ceremony itself which was held at San Francisco city hall. They reserved the 4th floor North Gallery to accommodate their fairly large guest count and allow everyone to sit comfortably to watch their wedding. We also visited Golden Gate park, the site of their reception which was fun. The newlyweds has asked us to take pictures of guests as they came to the building, so we set up a station and did group photos. The couple even got into a few of the photos themselves.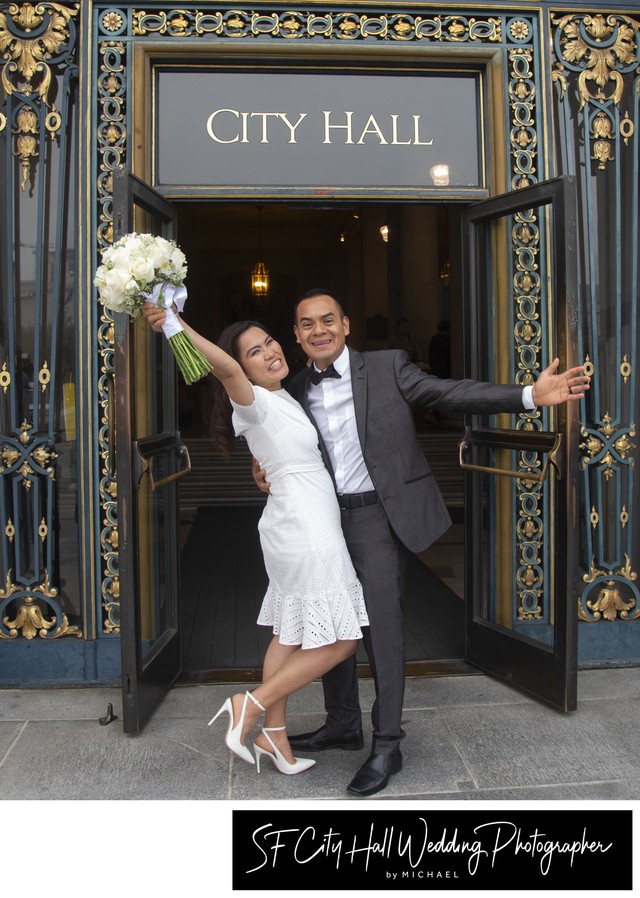 Natural Frames in Wedding Photography
Wedding photographers are always looking for natural frames in their backgrounds and through other means. Often times, the wedding dress veil can be used to frame the face of the bride. I would usually just have the veil pulled in closer to the face to make a nice natural frame around it. Sometimes we will actually cover one eye with the veil. This can serve to slim down the bride's face. Anytime you can use something to frame a wedding photo it can be very beneficial. We are so used to seeing pictures in frames so if it is possible to make a natural one, all the better. Close up bridal images are often better in black and white because sometimes colors can distract from the beauty of an image. I really love using black and white for close up bridal portraiture and head shots. It allows you to do all kinds of things with the image to enhance it without worrying about colors going haywire.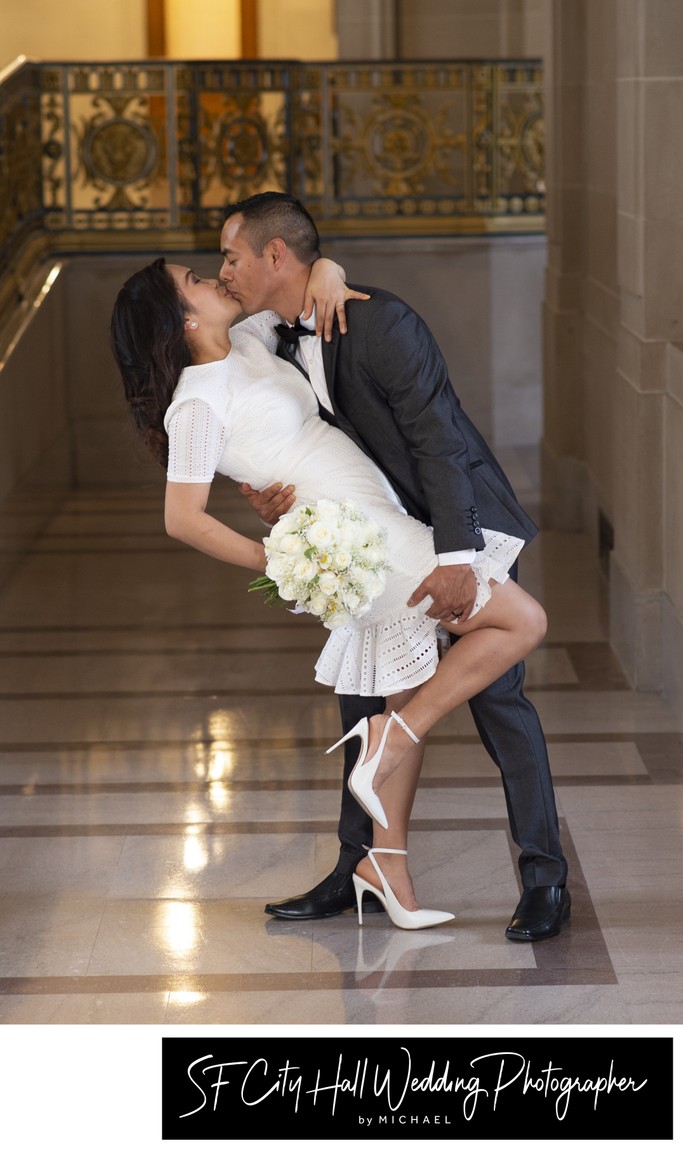 Posing our San Francisco City Hall Newlyweds
In the photo directly above, you can see our couple doing a dance dip type of pose. This particular pose is one of my favorites but it can be hard to pull off for some couples. Note how the bride's knee is bent quite sharply as the groom supports her. She is basically balancing on 1 foot so she has to trust her groom. The other very important aspect of this pose is the knee bend. If the bride simply sticks her leg out, it will look like she is trying to kick someone. But of course bending the knee in to that extent can throw her off balance. So it can be tricky, hence we carefully instruct our couples how to pull it off. We have never had an accident yet and don't intend to! This definitely make the couple look like professional dancers in my opinion. Always fun things going on at San Francisco city hall.