City Hall Crowd Rules
The city hall website specifically states that the maximum number of guests allowed at standard civil ceremonies is 6.  The rules go on to explain that if you DO bring more than 6, city hall reserves the right to have them removed from the building.  The rules also talk about your guests being a nuisance and disrupting city hall business.  Everyone seems to know that this rule is not enforced so people often bring large numbers of guests to city hall weddings.  I recently photographed a wedding where the couple brought close to 30 guests including bridesmaids and groomsmen.   The guest were loud and didn't really care about anyone else including the other weddings going on.  In fact, they had a guy who played a trumpet when the couple came out of the clerk's office.
So the question is, should you as an engaged couple violate the rules and invite anyone you want and as many people as you want?  My opinion is that couples getting married at San Francisco city hall should, at the very least, respect  the spirit behind the rule.  So if you are going to go over the 6 guests, don't go way over.  Talk to your guests about not being disruptive and make sure they understand that others are getting married at the same time.   If every couple brought 25 guests the place would be a mad house.  The rules are there for a reason, to try to keep the environment safe and quiet.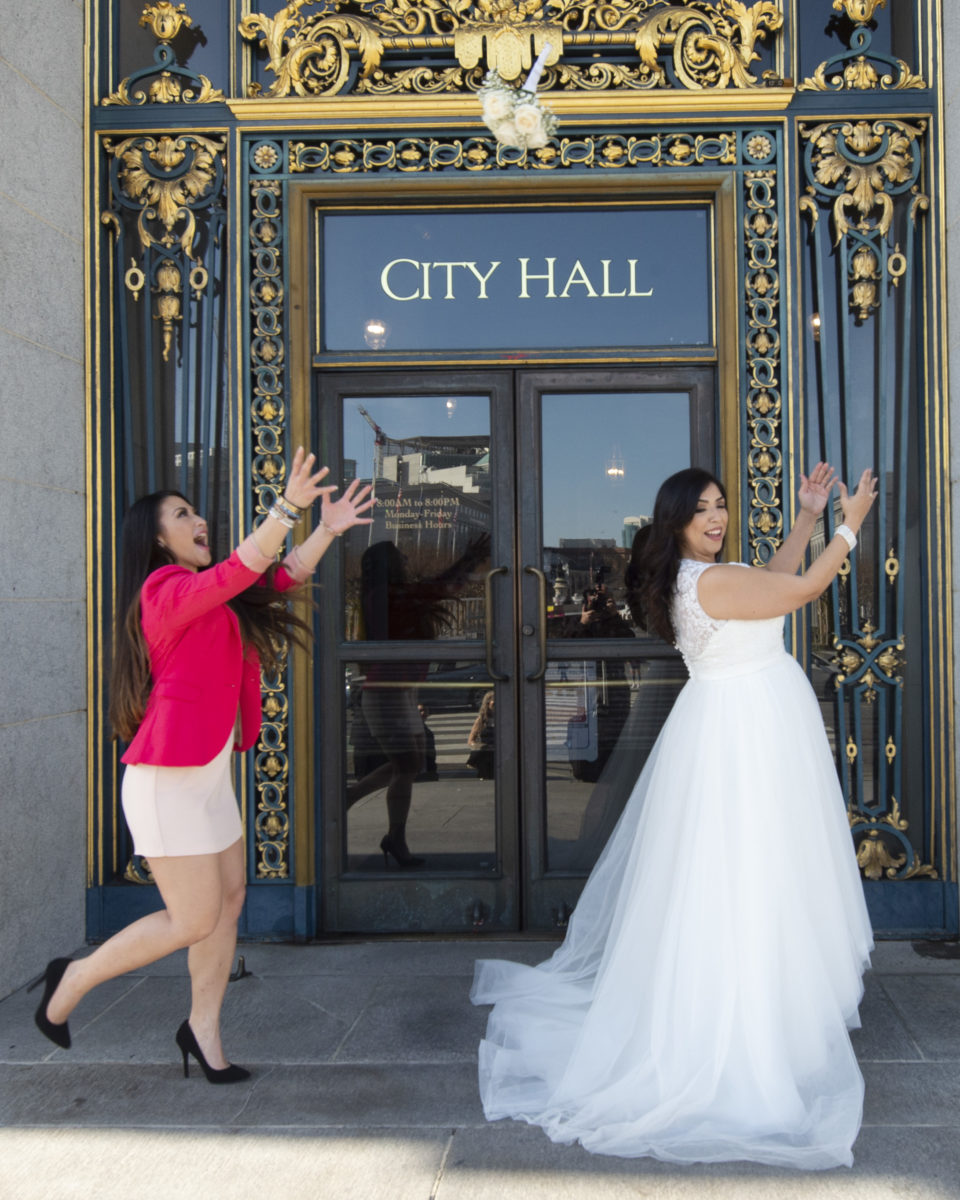 Reserved Ceremony Option
So what do you do if you have a large crowd but still want to get married at SF City Hall?  Contact the Events Department and talk to them about reserving a space to have your city hall ceremony.  It only costs around $1,000 and you get to have all nice section of city hall all to yourself.  They even give you 2 choices.  You can have your nuptials on the Mayors Balcony or The 4th Floor North Gallery.  Both locations are exceptionally beautiful and provides plenty of room for the couple and their guests.  You can seat up to 60 people on the 4th floor and up to 40 at the Mayors Balcony.  If you bring more guests than those numbers, the remaining guests can stand. They also rope of the area to keep others out which provides your wedding a certain amount of privacy.
Keep in mind these types of options before you decide to bring your whole family and friends to a small civil ceremony.   It will make your special day more enjoyable for you and your guests!