This is part 2 of my own perspective of what it is like to photograph weddings at San Francisco city hall. In the first part of this post, I talked about the lifestyle changes and advantages of being a San Francisco city hall wedding photographer. Now let's explore the actual benefits in terms of the daily routine.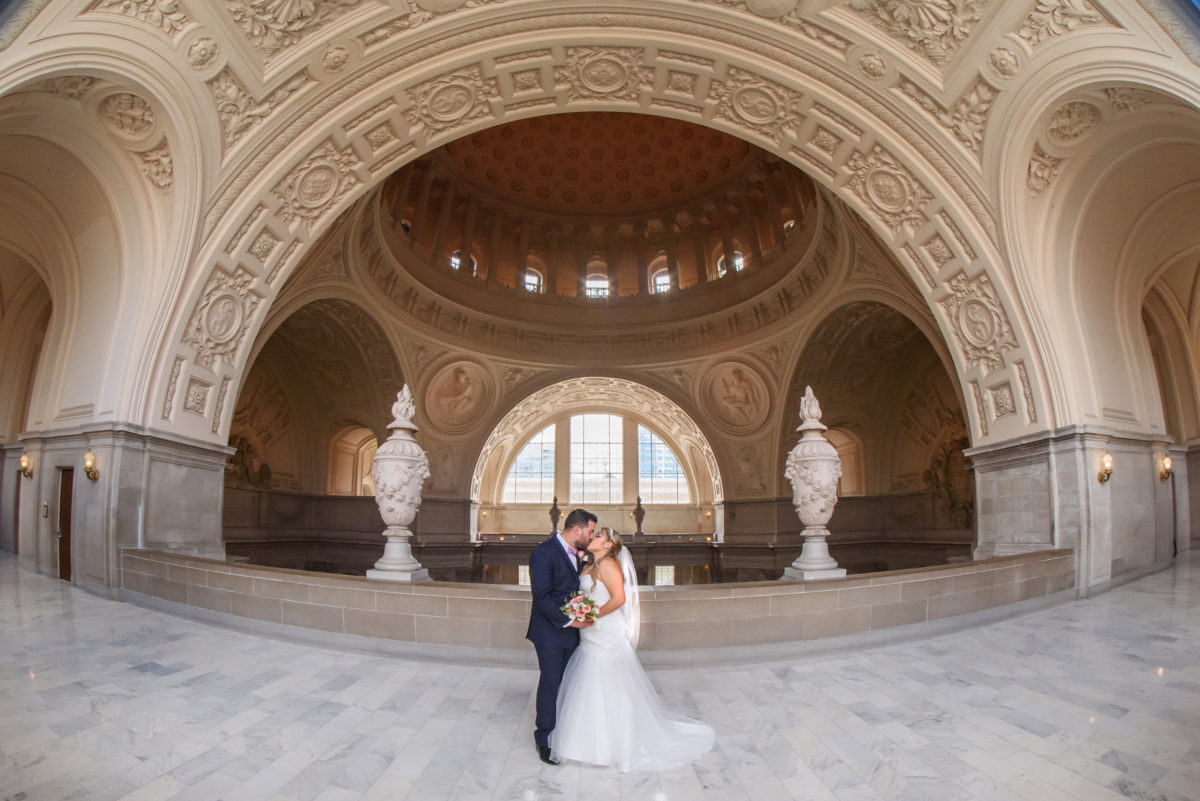 More Time with the Bride and Groom
This certainly is the part we like best! A typical wedding on a weekend can last about 9 hours from Bridal prep until the last dance. So one would think that there are all kinds of opportunities to capture wonderful pictures of the bride and groom Well, when compared to city hall weddings, this could not be further from the truth. When engaged couples book us for San Francisco city hall, they choose a level of coverage. Even our lowest package in terms of price and coverage time gives us more time with the bride and groom then we would get at a big wedding. It is not uncommon for us to be able to spend 45 minutes with the happy newlyweds after their city hall ceremony. We would LOVE to have this amount of time with our couple at a full weekend wedding. Ask any full scale San Francisco wedding photographer and they will tell you the same thing. We are lucky to have 20 minutes with the bride and groom for photos. This 20 minutes is usually sandwiched between the family pictures and dinner service at the reception. It is frequently very rushed and stressful to all involved. A typical full wedding day is loaded with events and yes, they all need to be covered by the wedding photographer. But what I really love about city hall weddings is the amount of time devoted to JUST taking pictures of the bride and groom alone.
Our San Francisco City Hall Couples WANT Photos
If a San Francisco city hall couple books us to photograph their wedding, they are doing it because they really want great photos. You might be asking, doesn't every couple? The answer to this is, sometimes. Many couples who book us for a big wedding do it because they are either forced to by relatives or feel that it is important to record the event for the future. It is more about documenting all that happened during the day instead of capturing artistic photos of the bride and groom. A couple that books a city hall wedding photographer pretty much knows that are not going to be that many events to document throughout the day. There is no cake cutting and no first dance. There is no bouquet toss and know speeches. The coverage they book us for includes ceremony coverage (5 minutes tops) and then photos around the building. So we know that our City Hall couples want great wedding pictures and we are more than happy to oblige.
Affordable San Francisco Wedding Photography
I honestly love giving my clients bargains. I really feel that San Francisco city hall wedding photography is a great deal compared to large wedding coverage. It makes us feel good as photographers to provide our clients with so much more coverage time for their money. So this benefits both the client and us. We have for a long time explained this to our clients and we want them to understand it and take advantage of it. Our clients have the opportunity to book some of the best San Francisco city hall wedding photographers for under $1,000. Everybody wins!