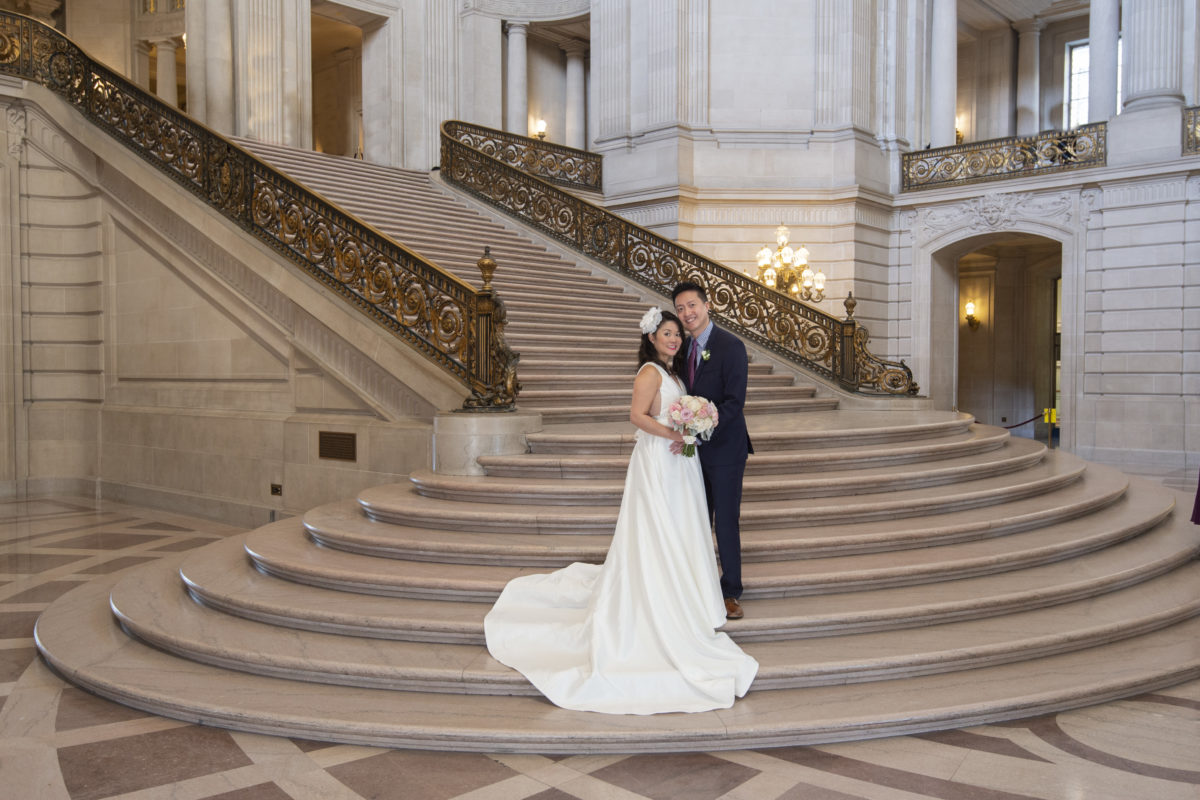 The Grand Staircase at SF City Hall – Side Angle
Everyone wants photos of the Grand Staircase at San Francisco City Hall.  It is the central theme in this amazing building and so consequently every bride and groom wants their photo taken  there.  Obviously this presents a massive problem…..  Not only do all 35 couples who get marred at city hall on a daily basis want there photo on the Grand Staircase, but the tourists love to hang out on the stairs and take their own photos.  It can be a huge challenge especially on Fridays to get a nice image with the Staircase not completely covered by other people.   So how do we as San Francisco city hall wedding photographers, handle this problem?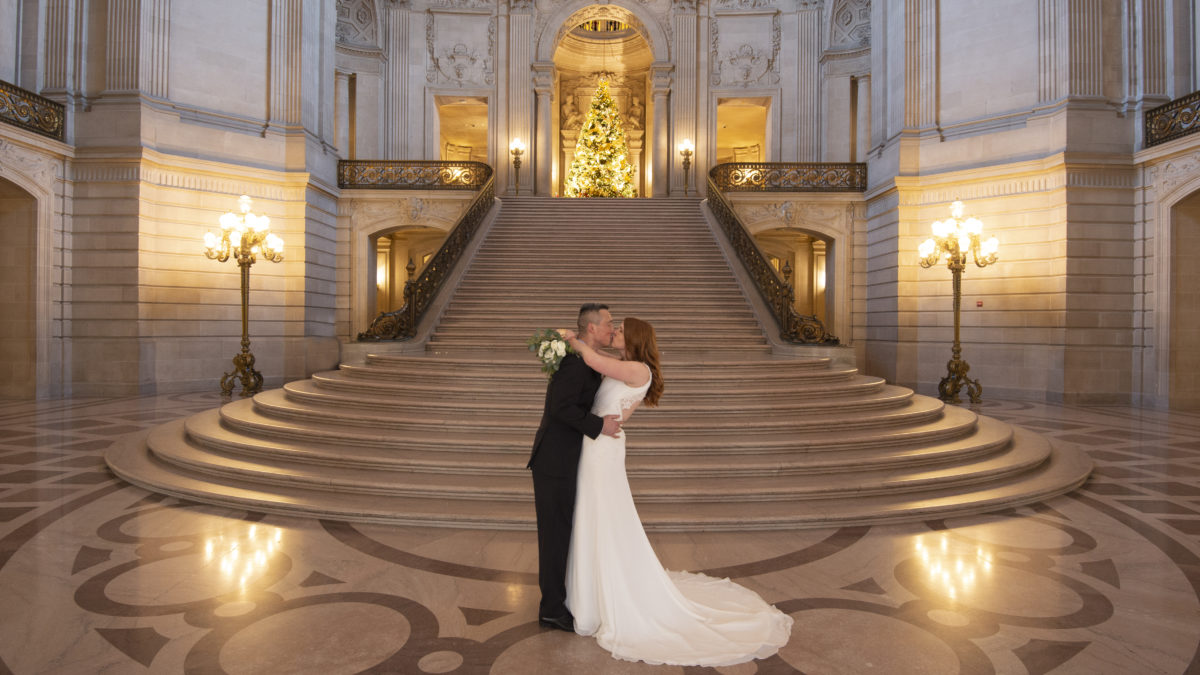 Christmas at SF City Hall on the Grand Staircase
Timing is Everything at City Hall
We have quite a few different techniques for getting the important Grand Staircase wedding photo.  Our most effective way of handling this is to just keep our eyes on the staircase as we take our brides and grooms around the building.  If we suddenly see the staircase clear of people, we change our  pattern and head straight down to it as soon as we can.  Many times when we do this, the staircase is already loaded with people again by the time we get there.  Mostly, though this technique works great.  We have discovered over the years that people tend to walk around city hall in large groups so when one group descends on the  Grand Staircase another smaller group may go in a different direction.  The idea is to be ready when the small group is nearby and the large group has left.  You can see from our photos that we are quite successful getting this shot at our various weddings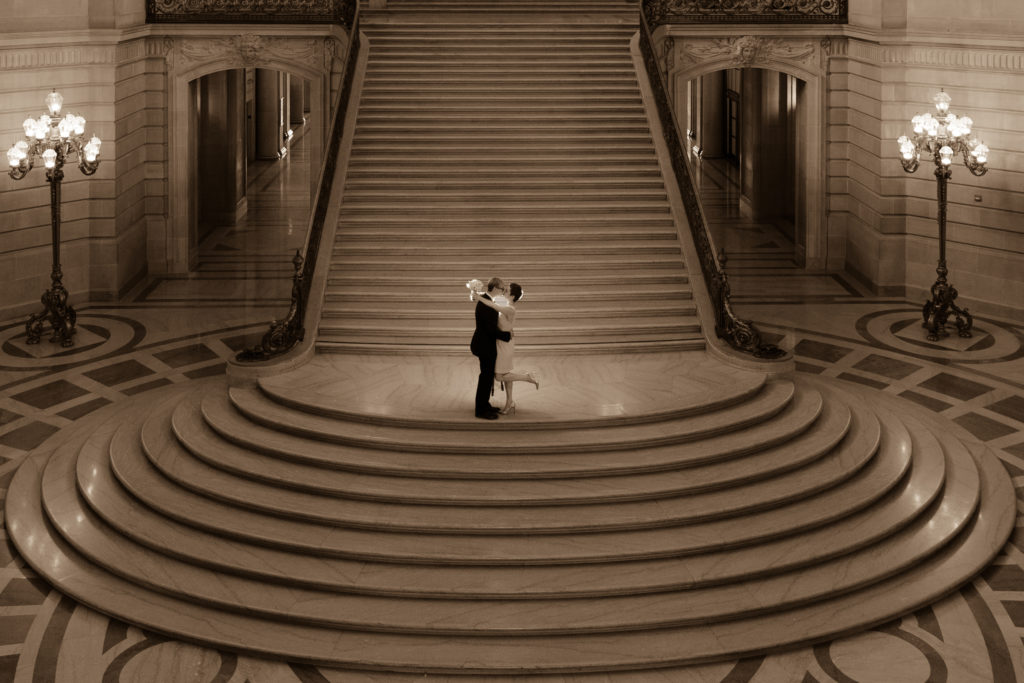 Late night Staircase Image
The image above was taken at a time which also illustrates the importance of timing at city hall.  We set this image up at around 5:30 pm and it was our final shot of the day.  The other technique for getting the Grand Staircase shot is doing it very late in the day after people leave.  So this teaches us that if the staircase shot is very important to you, book your wedding late in the day.   The last ceremony time is 3:30.  Book that one and by the time you get married and we complete our city hall photo tour it will probably be around 5:00 pm.  A very good time to take photos of the staircase with less people around!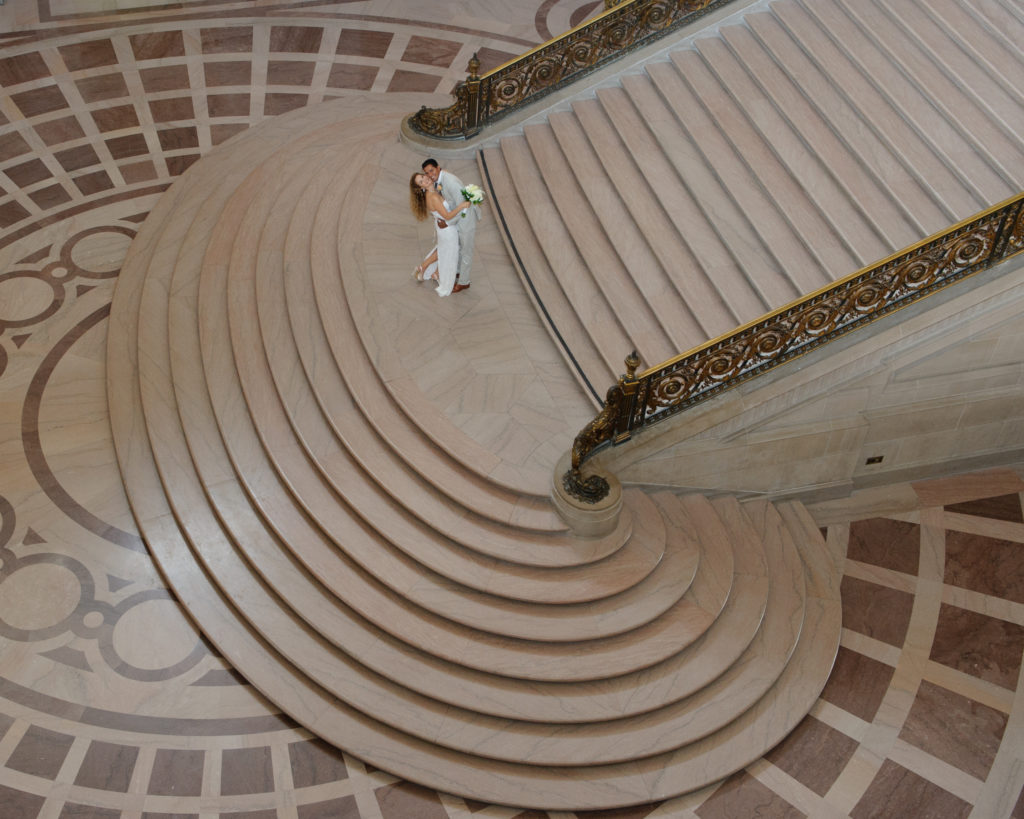 City Hall Staircase shot from above