Newlyweds Exiting San Francisco City Hall
I am always excited about the idea of this kind of action shot. It's great to show the couple leaving the building with excitement as they begin their life together. To me, this image says so much about the newlyweds upcoming life journey. Why? Well because they just got married and now they are leaving San Francisco city hall ready to start their new life as married people. They are exiting their one life of 2 separate people and beginning their new one together. Also, I just like the semi-silhouette shot created by them going from dark into light. It is interested wedding photography and something a little different.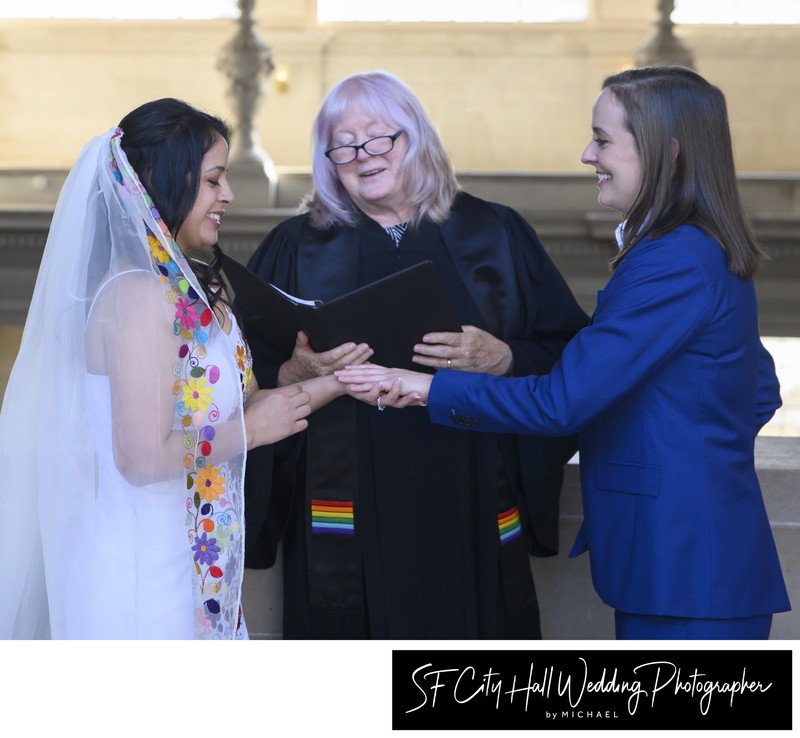 SF City Hall Action Shots
Other action shots we sometimes do involve asking the Groom to dip the Bride. We don't want the groom to drop her but we also want the shot to look great. I wouldn't normally recommend that most couples go for extreme dip shots unless they are very athletic. However, if a couple wants to do it, we are happy to record it for posterity. This type of "dynamic posing differs from traditional static posing and will tend to make the couple look more alive and moving. We love newlyweds that enjoy wedding photography and want to make some exciting poses for the camera. In our case, we like to coach the couple on the safest way to do this. The other day I saw a couple on the staircase being asked to do a similar dip shot by their city hall wedding photographer, but with no instruction. They almost both fell and the bride had to put her hand down to catch herself. Safety first!
Romantic images are another way for the couple to express their love for each other. We are more than happy to encourage our newlyweds to be as romantic as they want. We never push our clients into doing things they don't want to do, but if we see they are interested in it, we do what we can to help. It also can be helpful to make suggestions to help get the couple going in that direction. It is much more difficult to create romantic moments with simply static posing.
Family Fun at City Hall
We enjoy involving kids in the photos after the San Francisco city hall wedding ceremony. Some couples with children make it clear that they want to act silly with their kids. So we know in these instances that it is important to capture some silly moments for the whole family to enjoy in the future. Those are just one of a number of crazy city hall images we take of couples with their kids. We have such a great time with newlyweds with families and try to make the most of all the people present by including them in our wedding photography.