Same-Sex City Hall Wedding Photography
This Sepia tone image was a from a fun candid moment that these 2 women shared at San Francisco City Hall. We had asked them to dance at the 4th Floor North Gallery and they started cracking up. Even though it wasn't the photo I was expecting or trying for, I think you will agree it came out better. We always try to catch candid moments to go along with our posed wedding photography at every city hall wedding. This was one of our favorite same-sex weddings of that year. Both women were really interested in receiving some great wedding photography and wanted to invest the time into it. This makes a huge difference in the final result. It can pretty tough to get great wedding pictures if the newlyweds are not that interested in the photography portion of the day. Fortunately, that rarely happens with most couples giving it enough effort to make it work for all of us.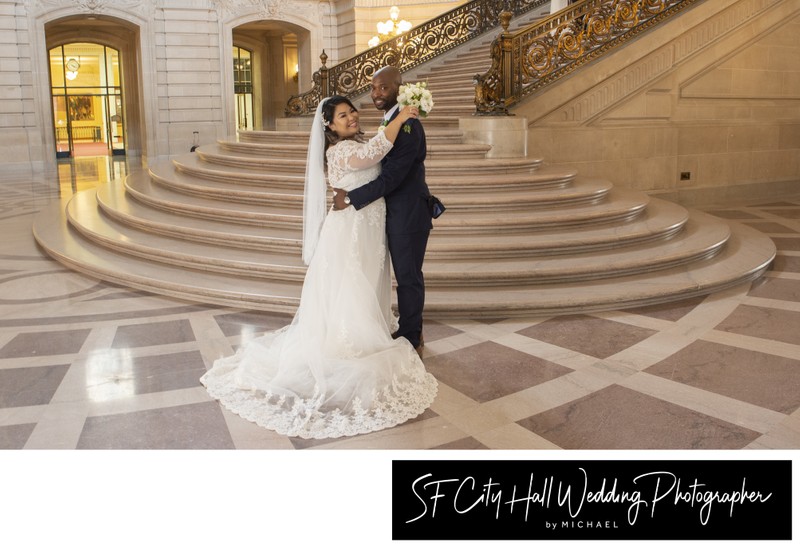 Sepia Tone Wedding Pictures
Why Sepia Tone? Why not? My mission is to provide our newlyweds with the best pictures possible with most variety. Our clients love the fact that we include not only Sepia tone images, but also black and white pictures. We think that certain backgrounds and places look great in Sepia tone. Since this Brown and White effect evokes memories of years past, we especially like to use it for Cable Car pictures and of course the old time architecture of San Francisco city hall. In the photo above, I was only looking to simplify the background by eliminating the color. I reasoned that this would focus more on the joy that was captured in the photo.