Exterior City Hall Wedding Photography
We often take our brides and grooms outside of San Francisco city hall to obtain some great exterior images. Depending upon the time of the day, the sun can be a problem so we decide where to go based upon that. The image above was taken early in the day before the sun was directly behind city hall. In some cases we try to get the whole building in the background but for this shot we were going for a more intimate type of image. This couple was one of our first weddings ever photographed at San Francisco city hall and dates back to 2011. In fact, this couple was the first ever wedding booked through our specialized city hall website which was brand new at the time. The previous 2 weddings we photographed here were both referrals. So this couple has special meaning to us because they were the first to trust us to record their nuptials even though we didn't have much experience at the venue and they didn't know us. We only had 2 weddings to show off as portfolio samples. These newlyweds celebrated their marriage by starting with the civil ceremony in the afternoon and then we all drove to Walnut Creek to head to a nice steakhouse to celebrate. We actually ended up becoming friends with the mother of the bride which is one of the great things about being a wedding photographer. You meet so many great and fun people and sometimes long lasting friendships are made.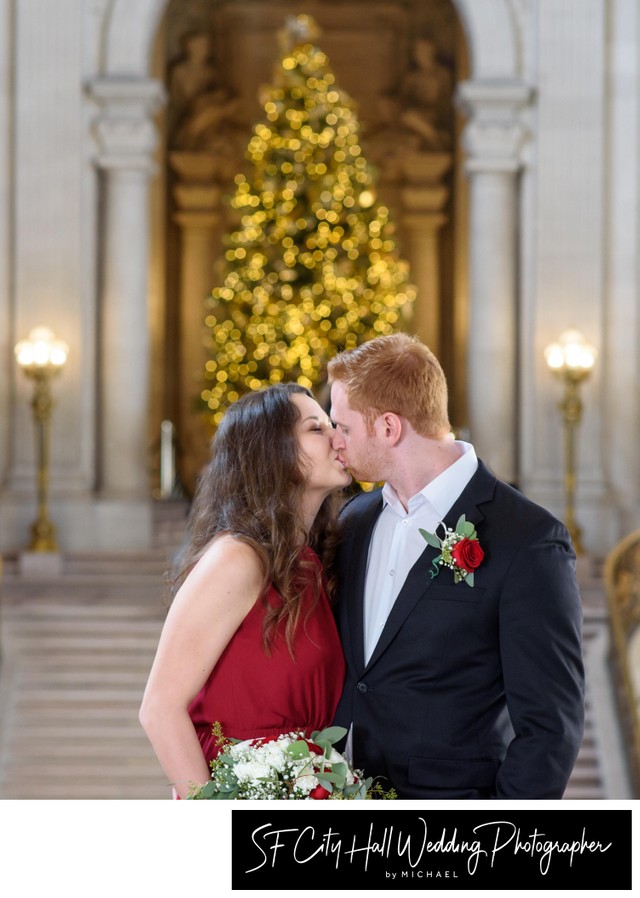 Christmas at San Francisco City Hall
The couple directly above got married in December of 2019. One of our last weddings before the pandemic hit and shut down San Francisco city hall for over a year. We took this photo on the the Major's Balcony with the idea of showing the Christmas tree, but blurring it in the background. This draws more attention to the couple, but lets you know that we are in the Holiday season. This is actually one of my favorite Christmas tree pictures because of that.