Romance SF City Hall
This couple was very romantic and so they made it easy for us to pose them. We took them to the 3rd floor and just put them together and the magic happened. San Francisco city hall wedding photography can be as romantic as the couple wants it to be. We don't push it, but we lightly encourage it. We never want to make the couple feel obligated to do a pose or act in a certain way just to please us. However, we let them know the options and what is available to them and then they are free to decide. Many couples choose to keep the City Hall shoot very formal and just want nice posed pictures, while others want more romance and spontaneous types of images. We work with the couple and communicate openly to make sure we are providing them with exactly the type of wedding photography they want. We encourage newlyweds to let us know if they have any ideas for photos or favorite places at city hall we should know about.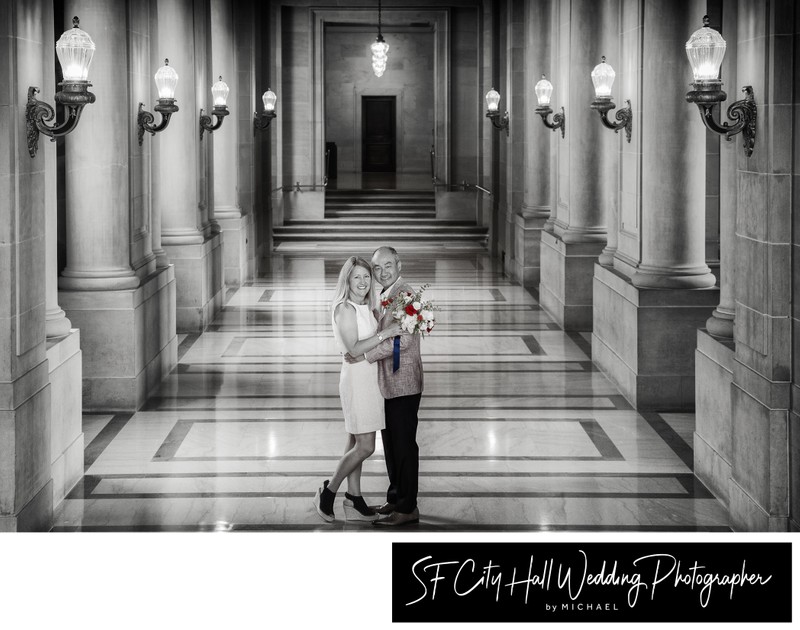 Selective Color in Black and White Image
In the image above you can see that we converted it to Black and white, but left some color in the flowers. This is just a special technique that we can do using Photoshop to enhance a city hall image. I thought it worked quite well here. This is a special technique that we use sparingly, but provide each couple with a few samples.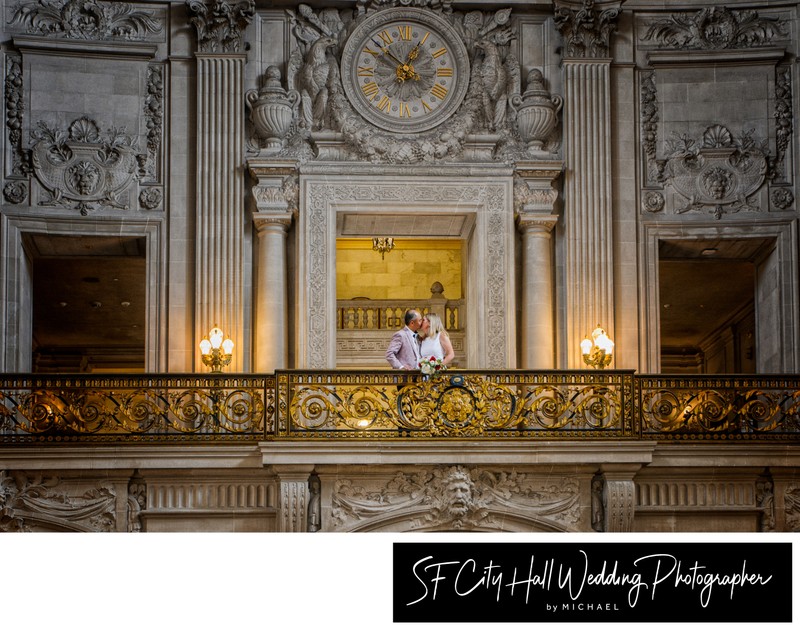 We took photos of this couple throughout the building, but one of the shots they really wanted was a shot of the main entrance of San Francisco City Hall. For this couple, we decided to do the shot in a semi silhouette to add to the drama of the image. The bride's dress worked perfectly for a photo like this one. The background is deliberately blown out to not be a distraction. For fun, I sometimes reverse the City Hall sign to read normally, but this means the entire shot is reversed. Only the bride and groom know for sure!