SF City Hall Celebration
We thoroughly enjoyed our time with this great SF City Hall couple. The bride especially was lots of fun as can be seen in the photo above. They were quite happy to have their wedding in San Francisco and it showed! We love these celebration images, especially when they are spontaneous like this one was. I just asked the couple to raise their arms in the air to celebrate their nuptials and the bride turned the photo into a memorable shot. I have since used this image to announce the reopening of SF City Hall after closing for the Pandemic. The building was not open to the public for over a year so I thought this was an appropriate image to celebrate it. It is so much fun when a memorable wedding photography image can be used for multiple purposes. Most importantly, the newlyweds loved it!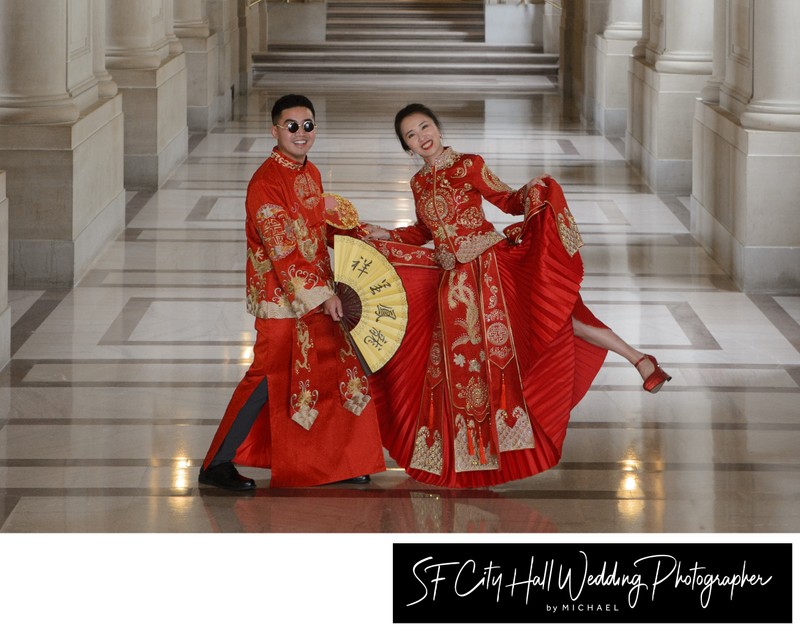 San Francisco City Hall Wedding Photographers
There are many of us that specialize in shooting weddings at this historic building and we all know each other for the most part. At first, I thought of these other photographers as competition, but now I realize that in some ways we are a team. Especially the wedding photographers that we have good relationships with. It works out really well when the building is a little crowded and we have to share space with other brides and grooms. If I know the photographer, we can take turns and will notify each other how long it will take for us to be out of a certain section of the building. This type of cooperation not only helps the wedding photographer, but it also provides a service to our clients. That is the most important part of course! Everyone benefits from us working together instead of competing. I have even gone out to lunch with some of these other San Francisco city hall photographers and exchanged stories. Why not have fun with your co-workers and learn some things while you are at it? Another advantage of having these types of relationships is that we can inform each other of important city hall news or happenings. I have learned valuable information for some of the other city hall wedding photographers that have helped me service my clients more effectively. One notable example of this was when I was told that City Hall was reopening after the Covid-19 Pandemic starting to wind down. This information gave me the opportunity to not only be ready to start work again, but to provide my perspective couples with valuable news and information regarding SF city hall. My good friend Rachelle Levine, let me know in advance and that got me back on the marketing trail. Thanks Rachelle for the heads up!