Full-Service SF City Hall Wedding Photographers
We will provide you with the best San Francisco city hall wedding photography possible. If you are interested in scheduling an appointment for us to be your SF city hall wedding photographer please go to our contact page and complete a simple form. Whether you are planning an elopement or a larger marriage, we offer a wide variety of wedding photography packages to cover your nuptials from start to finish. Click the link to view them all and then you can check out more information about each wedding package by pushing the Details button. We use professional off-camera lighting and also take advantage of the building's amazing natural light and architecture to create stunning images you will treasure for a lifetime. With San Francisco City Hall's unmatched beauty and history, there is no better place for a Civil Ceremony on the West Coast. Optional professional custom wedding albums and prints are also available with affordable pricing. Keepsake prints and wedding albums for your SF City Hall Wedding receive a second round of Photoshop editing that includes removal of strangers and other unwanted distracting items. However, the vast majority of your wedding photos will NOT include people you don't know in the background. As part of this full-service approach, we also provide our couples with helpful hints regarding the entire marriage process at San Francisco city hall. This includes advice about how to work with other vendors to make your wedding day perfect.
San Francisco City Hall - Best Wedding Venue
San Francisco City Hall is our favorite place for photographing weddings because there is so much beauty everywhere. The natural light in City Hall can be incredible, but even when it's not, we bring in our own professional photographic lighting. Our vast knowledge of this spectacular building allows us to avoid the more crowded areas and ensures ideal lighting no matter what time of day. For recent examples of our San Francisco city hall wedding photography, view our Image Galleries. These image portfolios include detailed descriptions to help you find wedding samples that closely resemble your own marriage theme or plans. Most galleries feature our top 10 images from each individual event. This gives you a better idea of how your own wedding pictures will look since you are able to view the entire event. We feel that this is better than looking at a compilation gallery of all the best photos from hundreds of weddings. When making a decision about hiring a city hall wedding photographer, always insist on seeing full individual wedding portfolios and not "greatest hit" compilations. This entire website is devoted to helping engaged couples learn how to get married at SF City Hall.
Many City Hall Packages to Choose From
We offer a wide assortment of affordable SF city hall wedding photography packages to fit every need. We will work within your budget to provide the most inexpensive prices and packages possible. We pride ourselves in our ability to make your special day amazing by making sure you receive high quality City Hall wedding photography images along with our great service. Your event will be further enhanced by our positive attitude and relaxed demeanor. Our goal is to make your wedding experience magical and fun. We will take you on a photographic tour of all 4 floors of this amazing building while creating beautiful images that you will cherish for a lifetime. Our photography packages cover every size wedding possible, ranging from a smaller city hall elopement to larger marriages with many guests. We will also create a custom package to fit your needs if our listed packages do not fit your schedule or specifications.
San Francisco City Hall Wedding Blog
Check out our SF City Hall wedding photography Blog to see announcements and pictures from recent weddings and also learn the latest news or events at city hall. We work hard to keep this blog up to date with seasonal photo shoots and other relevant and helpful information. To discover more about our unique and creative approach, please see some of our sample San Francisco city Hall wedding Yelp Reviews. We average a 5 star rating on Yelp! More important than the high ratings are the written review details themselves. We encourage our potential future brides and grooms to read some of the detail of the reviews to see how we treat our couples on their wedding day. One of the ways we make your day more enjoyable is to not over-pose you. This keeps your San Francisco City Hall photo session moving quickly and efficiently.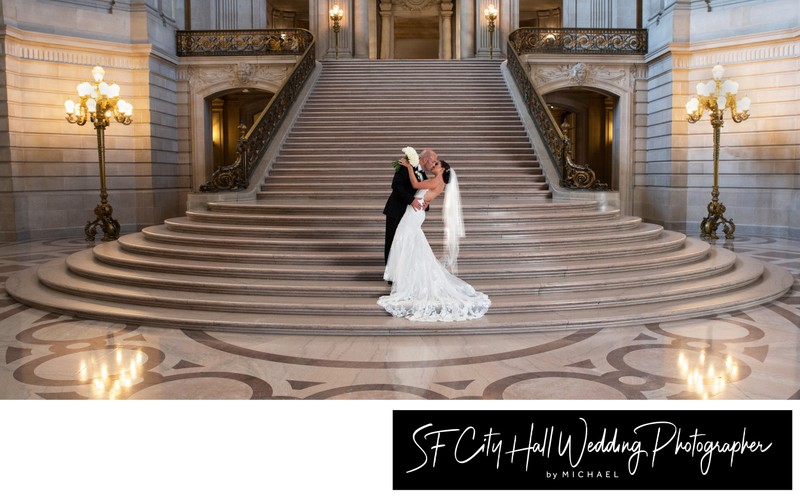 Top Rated SF City Hall Yelp Reviews
Esther from San Francisco, California - "If you're looking for the best San Francisco City Hall wedding photographer, this is it! Mike has tons of experience with San Francisco City Hall weddings. We had lots of fun exploring and taking photos all over the building! Even though City Hall was busy, Mike did an amazing job and the pictures look like we had the entire building to ourselves! Mike is responsive, professional, and a pleasure to work with. I really appreciate all his help and guidance on our wedding day. I would definitely recommend Mike to anyone who wants gorgeous pictures and a hassle free wedding!" (Yelp review from 2022)
Kevin from Manchester England - "Mike and Toni were magnificent for our San Francisco city hall wedding yesterday... Funny, knowledgeable, calming, generous, hard working and above all else fantastic photographers who know all the premiere spots in city hall for photos... You have to book these guys!" (Yelp Review from 2017)
Genevieve from San Diego, California - Mike and Toni were professional, efficient and amazing wedding photographers! They helped us navigate the entire process, from checking in to the actual ceremony. Mike made sure we were on time, and even convinced the judge to let us get married on the Mayor's Balcony - gorgeous!!" (Yelp Review from 2012)
Tracy from Palo Alto, California - "I was really impressed with Mike from the outset - he was responsive and effective in answering my many questions and I had many! Mike also provided us with guidance on what to expect on our special day at City Hall. His expertise/guidance proved to be VERY helpful on our actual wedding day when we were able to be married on the Mayor's Balcony. Awesome!!! ... I am so glad we hired Mike, the photos will serve as beautiful reminders of our special day." (Yelp review from 2018)
San Francisco Wedding Photography Tour
One of our most popular and exciting packages is our San Francisco Wedding Photography Tour. Many out-of-town or international wedding couples take advantage of this package, but it's fun and memorable for anyone! After your ceremony and the city hall photo session, we take you on a tour of the town and you can choose the greatest SF destinations to visit! At your option, we can provide you with comfortable transportation to the various photo locations in San Francisco. If you are a newcomer to "The City", we are happy to help you select prime San Francisco landmarks that match your personal preferences. We work closely with our engaged couples ahead of time to make sure the tour makes sense logistically and matches their needs. Definitely one of our most highly recommended city hall wedding photography packages. If you would like additional information, feel free to call us or email. Please keep reading below to learn more about our San Francisco photo tour. You can choose our 2.5 hour tour with 1 San Francisco location or our 4 hour tour with 3 local destinations.
Where we Take You for the Photo Tour
Some of the top destinations we can journey to include: The Palace of Fine Arts, Japanese Tea Gardens, Baker Beach, the Presidio, the Golden Gate Bridge, Ghirardelli Square, The Painted Ladies, Crissy Field, and San Francisco's famous Legion of Honor. In addition to some formal photos at these locations, we can just follow you while walking through San Francisco downtown areas and take photographs in a documentary style. Want to ride a Cable Car? We will show you the best place to board San Francisco's famous rolling icon and capture a fun shot of both of you riding or just hanging on. We prefer to do this at Ghirardelli Square because the Powell Street Cable Car turnaround is right there. We always ask the conductors if it is OK and we have never been turned down yet (it helps to have a beautiful bride with us when we ask). It is also possible to catch the California Street Cable Car line and we can sometimes do that down by Market Street at the Trolley Car turntable. Other top-rated picture spots that we can suggest include Twin Peaks, Pier 7, Fisherman's Wharf, Fort Point, North Beach, Lover's Lane, Fort Mason, Sutro Baths, Union Square and Golden Gate Park. If you have some extra time, the Botanical Gardens are great, but just be aware that there is quite a bit of walking involved and parking can occasionally be a challenge.
San Francisco Photo Tour Package Details
This incredible package includes 4 full hours of photographic coverage plus 3 San Francisco destinations after SF City Hall. Most importantly, you retain ALL of the photos and digital files we capture on this fun tour. The cost for this service comes to only $1,295. No matter what locations you choose, the San Francisco Wedding Photography Tour Package is the greatest way to celebrate your nuptials in the "City by the Bay". Your Jpeg images will be delivered to you by Dropbox or Direct Download from your convenient Photo Viewing Website once our editing is completed. We also offer optional professional wedding albums to supplement this great package for the reasonable price of $440 for a 8X11 album with 40 photos.
Top Wedding Packages for Every Budget
San Francisco City Hall weddings can be extremely economical for any budget and preference. This includes the wedding packages we offer, which we have also priced affordably with many options. If you don't discover one that fits your needs, let us know and we would be happy to send you a custom quote. We will build a package around your budget and time constraints. If you like the idea of incorporating San Francisco scenes into your wedding photos, but want to spend less time, we offer The Golden Gate Package. For an affordable price of $895, this package provides 1 additional San Francisco location and 2.5 hours of photographic coverage. Many of our clients find this to be just enough professional picture taking for one day! You still receive all of the digital images photographed at your San Francisco city hall civil ceremony. Check out our professional quality wedding albums and full wedding reception coverage. To see a YouTube slideshow of a recent SF tour click: SF Wedding Photography Tour.
Greatest City Hall Ceremony Locations?
This is the one of the most common questions that engaged couples ask San Francisco city hall wedding photographers. There are many ceremony location options at San Francisco City Hall and all of them are fabulously magical. We have our preferences, but not all are available unless you are willing to pay an extra $1,000 for a private ceremony on the 4th floor North Gallery or Mayor's Balcony. This is still quite a bargain when you think about all that you are receiving for that fee.
With the 6 guest rule now being enforced (usually), this throws another variable into the mix. Couples with larger groups may not be offered location options due to potential disruptions caused by large groups. When you first check-in with the San Francisco County Clerk, they will ask your guest count. If you have over 6 guests, alternative ceremony sites may be suggested. In some cases the wedding party might be asked to wait off to the side until after your nuptials are complete. I recently watched a City Hall Officiant delay the start of the ceremony because the extra people she asked to leave would not vacate the area. Unfortunately, the enforcement of this new rule varies depending upon your Marriage Commissioner. In general, if you have a smaller group of guests, you are more likely to be able move your ceremony to your desired location. In practice, it seems that couples who do not go way over the 6 guest count usually are able to still get married in the Rotunda with all of their guests in attendance. However, there are no guarantees. Here is a list of the most desirable places to celebrate your nuptials at San Francisco city hall.

Great Rotunda - This is the default location for all standard city hall marriage ceremonies. When you meet with your officiant before the wedding you will usually be given 2 options for your civil ceremony location, either the Rotunda or the private room. Virtually every couple chooses the Rotunda, which is located at the top of the Grand Staircase by the elevators. Since you took the trouble to have your wedding at San Francisco city hall, you should take advantage of the beauty and not get married in a small private room (unless of course you prefer the privacy). The Rotunda is an excellent place to celebrate your ceremony, but you can expect only a small amount of privacy because of elevator foot traffic adjacent to the set up. Some SF city hall tourists even take photos, and we do our best to politely shoe them away! The good news is that ceremonies here are rarely significantly disrupted. The San Francisco City Hall Rotunda is a wedding photography friendly area because of the walls surrounding the majority of the area. As a bonus, it provides us something to bounce our flashes off of to help create softer and more subtle light on dark days. Lighting the city hall ceremony site this way is also beneficial because the officiant does not have to deal with a flash going off right in their faces over and over again. The little bit of privacy afforded by these stern walls is also welcome. They have recently changed the configuration of this ceremony location to provide more privacy and more social distancing.

Private Ceremony Room - The private room is temporarily not being used. I assume that this is due to Covid-19 infection possibilities in a small, non-ventilated room. I am currently checking with San Francisco city hall to see what the plans are for this space.
Grand Staircase - There are a few marriage commissioners who will offer you the opportunity to perform your ceremony either at the top of the Grand Staircase or on the lower landing. Although this is a gorgeous location with unique architecture, it's not the quintessential place to get married. The staircase is frequently laden with International tourists, city hall wedding photographers, and other married couples. From a photographer's standpoint it's difficult to get first-rate picture angles during the ceremony because of where we have to stand (we may have to look up at you). It is also not feasible to try to keep the tourists away from the ceremony. There is always at least one tourist who is oblivious and will walk right through your city hall wedding ceremony. In recent months, we have seen this location being used less and less. The one officiant who really enjoyed this location has retired. So at this point, it is an unlikely ceremony location, but I list it here because many weddings have been performed on the Staircase, especially on Saturdays! We suggest you save it as a magnificent spot for the photo session AFTER the ceremony.
Mayor's Balcony - There are 2 different ways to have your ceremony on the Mayor's Balcony: 1. Pay the reasonable price of $1,000 so you can have a roped off, private ceremony with complete privacy, chairs for your guests, and plenty of room. Or 2. Pay the standard fee and see if you can coax your Deputy Marriage Commissioner into performing your ceremony there! Some officiants will take you there if there are no events at the time in the area. You may also receive the option to go there if there are disruptions in the Rotunda, which we have seen occur a number of times. One of our favorite ceremony locations, the Mayor's Balcony is located on the 2nd floor directly across from the city hall Rotunda. Statues of former Mayor's George Moscone, Diane Feinstein and Willie Brown overlook your ceremony from this excellent location. It can be a little dark on the balcony on a foggy or cloudy day, but we bring off-camera lighting so we can still obtain great images. Warning, your cell phones will normally not create very good pictures on the Mayor's Balcony because of the back lighting present. If you are lucky, you might even see the new Mayor, London Breed wandering though the area.
Fourth Floor Balcony - This is San Francisco City Hall's other private reserved ceremony location. Also referred to as the Fourth Floor North Gallery, it's absolutely romantic and beautiful with incredible architecture and natural light. It's not uncommon for a couple to take a deep breath and gasp when they first walk on this floor. It really is breathtaking. Similar to the Mayor's Balcony, you remit the price of $1,000 and the City Hall Events Department will rope off the entire balcony and even sets up chairs for your ceremony. On very rare occasions you might be able to convince an officiant to perform a standard civil ceremony here. If you happen to be a Shutterbug yourself, this location will wow you! The huge windows let in an abundance of warm natural light. Once the ceremony is over, it's a great place for some San Francisco city hall wedding pictures with just the bride and groom or same-sex couple. One of the benefits of renting this area out is that after the ceremony, you have unlimited access to the Gallery for the remainder of the hour. This prevents other San Francisco city hall wedding photographers from coming in and disrupting our photo shoot. Click on this FAQ link in the menu above for more helpful San Francisco city hall wedding photography tips.
Other Ceremony or "First Look" Locations - Through the years we have explored the many corridors, passageways, and rooms in this unsurpassed building. For our customers that provide their own officiant, we are happy to help find a nice private location for your wedding ceremony. A few years back, Willie Brown, the mayor at that time, took great pains to restore all of the hallways and windows of the building. Now there is a multitude of great locations throughout city hall for pictures. We can also recommend experienced professional marriage commissioners who we have worked with in the past to help with this process. A few of our recommended officiants use the same robes worn by city hall's own marriage commissioners. This can be a benefit because tourists and other wanderers will steer clear of your ceremony because they think it is being performed by a City Hall officiant. It makes your private ceremony appear more "official". If you are interested in including a "first look" or "reveal" in your wedding photography coverage, we have some optional locations for you to select from as well. You can check out our Floor by Floor Guide to learn about superior places to get married at city hall. We are happy to give you specific advice to satisfy your needs. Some of the places we suggest include the 3rd floor (south side) usually, but there are many other picturesque locations that are viable. We will also help set up the reveal (First Look) for your convenience and fun. We will make it go very smoothly and take all of the stress out of it so you can focus on each other. For more information about alternative ceremony locations, email us and we can show you some sample photos of the proceedings and backgrounds available.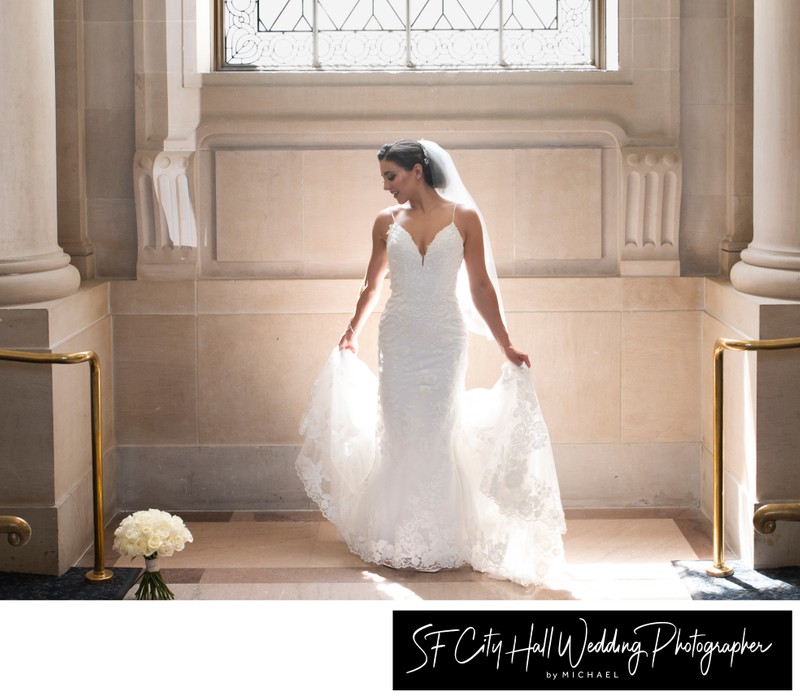 Fun SF City Hall Elopement Photography!
After over 20 years in the professional wedding photography business, we have learned that the best way to create lasting memories on your big day is to keep things light-hearted and fun. We will do everything we can to make your special day marvelous whether you are eloping or have many guests. Having your wedding pictures taken should not be a hassle, it should be an amazing and fulfilling experience. We accomplish this by maintaining an easy-going style and not over-posing you. We will be actively involved in making sure your courthouse wedding pictures turn out creative and beautiful, but we do it in an upbeat manner without pushing you into complicated and intricate poses. Most importantly, WE have a wonderful time photographing you and it shows in your images! We strive to provide our couples a combination of documentary style, photojournalism and some traditional portraits. To check out our elopement wedding photography for LGBTQ Couples, click the link.
Tell us About Your Photography Style!
We want to know your own style and personality so we can make sure these attributes show through in your final digital images. Just recently we were almost done with a shoot, and I asked the couple if there was anything else they wanted us to do. They quickly mentioned that they wanted a photo sitting on the Grand Staircase looking up towards the Rotunda. This is a picture we have done before, but I wasn't thinking of it for this particular wedding. The fact that they mentioned it (and that we asked) guaranteed that we obtained that meaningful image for them. Do you like mostly candid, photojournalist, or traditional photos? Our Brides and Grooms often let us know some of their favorite poses and San Francisco locations and we are happy to accommodate them. When asked, many couples choose the Grand Staircase, but we occasionally get surprised with their selected photographic locations and that's a great thing! We recently photographed a wedding where the groom's parents (who were in attendance) had also got married at city hall many years ago. They wanted to duplicate a photo that they loved from way back then. It was fun figuring out where the shot was taken and then making it happen for them.
City Hall Approved Wedding Photographers
Our photography studio has been added to San Francisco City Hall's Event Department approved list of photographers. We have submitted the necessary paperwork and meet all of the insurance requirements that permit us to photograph private SF Courthouse weddings and events. Our many years of successfully photographing weddings at this popular venue has allowed us to be included on this list. We are periodically called upon by the City Hall Events department to handle reserved weddings and other special events. We were recently chosen to photograph a wedding that was officiated by Willie Brown. We were also a major contributor to the City Hall event marketing brochure and have been asked by the event director to contribute pictures for the most current version. What does all of this mean for you? Just the knowledge that you have chosen well established, top rated SF city hall elopement photographers that you can rely on with tons of experience and credibility. In addition, if you are planning a Saturday wedding (and certain specific weekday reserved events), you are only allowed to use approved vendors due to insurance liability issues. We have forged relationships with many of City Hall's special event coordinators and often receive important information that assists us in navigating the entire matrimonial process. This includes frequently receiving advance notice about upcoming special events at city hall that could help us avoid problems photographing your marriage due to potential disruptions. We specialize in photographing weddings at this premium venue, we don't just do it on the side.
Local Knowledge of San Francisco
As a SF native, I started my business right here in this town over 20 years ago. I was born here, and graduated from the University of San Francisco with a BS Degree and then finally a Masters Degree in Business Administration (MBA) a few years later at this popular urban school. Yes, that's correct, a real live San Francisco native (and proud of it). As our City Hall business has expanded, I find myself spending more and more time exploring this beautiful city. It's fun discovering new neighborhoods and checking out the bars, restaurants and shops. Some of the places I would strongly recommend checking out include the Haight/Ashbury district, Nob Hill, Noe Valley, The Castro, South of Market (SOMA) and the Marina District. North Beach is a favorite of mine and I love dropping into many of it's amazing Italian eateries and having some Fresh Pasta, Pizza or Crab Cioppino (Try my favorite place, Sotto Mare on Green Street for amazingly fresh fish). Some of our clients enjoy taking a walking tour of these areas and we photograph the experience Paparazzi style. It is a very natural way of having your wedding photos taken while exploring Fisherman's Wharf or any other part of San Francisco. As a Bay Area native, I am also happy to acknowledge that I am a Golden State Warriors, Giants and 49ers fan! To learn more about the History of San Francisco City Hall including famous San Francisco weddings that have occurred here, check our FAQ's link. We have provided all kinds of interesting historical facts about SF City Hall for your enjoyment.
If you choose our inexpensive "San Francisco Package", my local city knowledge will lead you to the most beautiful spots in this town and the ideal times to travel there for traffic and quality of light (regardless of the fog!). See below for details on this popular photography SF tour package. To learn more about having your wedding at this famous venue, check out these Huffington Post San Francisco City Hall articles. Your final images will combine photojournalism and traditional posing to ensure you receive everything you need from your shoot. Our service is open to all regardless of race, creed, culture or national origin. We are a same-sex, gay/lesbian/LGBTQ friendly wedding photographer. If you are looking for a short cut to all of our important pages - review our City Hall Wedding Site Map.
Top 5 Reasons to Marry in San Francisco
Why do people from all over the world come to "Everybody's Favorite City" to get married? There are so many reasons to visit this beautiful town, but is it really a good destination wedding locale? With it's fantastic weather, incredible views, historic sites, art work, and so much more, San Francisco really does have it all. if you need useful tips to help planning your wedding at SF City Hall, we offer a free email based service, click the link to find out more. We are happy to provide this advice as a community service at no charge to the customer. San Francisco really is one of the highest rated wedding destinations so let's explore some of the main factors engaged couples consider when making the all important decision of where to get married.
1. Wide Variety of Reception/Event Locations - San Francisco, with it's many restaurants, bars, clubs and hotels, offers a multitude of unique places for a marriage reception/celebration. If you love gourmet food, SF ranks as one of the foremost areas in the country to indulge in culinary delights. A fine local restaurant offering your favorite food is the perfect place to invite guests to celebrate your big day. Many possess large private areas to entertain all of your guests together. There are even a few great reception locations that are walking distance from city hall. We are happy to help guide you with recommendations for these local spots. Absinthe is one example of a wonderful restaurant close to SF City Hall and has facilities to accommodate your large guest count. Located in Hayes Valley, this place pretty much specializes in city hall wedding receptions. The walk there can also be a fun experience for the newlyweds. Many of the City's clubs and large pubs also offer fantastic wedding reception facilities and are located in our historic districts. Yes, some of the hotels can be comparatively expensive, but many offer antique charm or modern amenities at a reasonable cost. Most recently the SOMA and NOPA districts have become well known for great food and atmosphere and also much safer then before. North Beach is also a favorite spot of mine for wedding receptions, the Italian food and authentic Pizza are fantastic! It's also a safe neighborhood to wander about at night. Check out Tony's Pizza and Original Joe's for down home Italian food! They both have small private dining areas for your small wedding reception or party. Sotto Mare is another favorite as is The North Beach Restaurant.

2. Amazing Ceremony Spots - Let's start with S.F. City Hall, this old historic building may well be one of the most popular locations to get married at in San Francisco. Certainly the most famous. It's economical, beautiful, and has amazing architecture to appreciate while you recite your nuptials. On average, 25 couples are married there every day. In addition to this famous landmark, you can also have your ceremony at The Palace of Fine Arts, Sea Cliff, Twin Peaks, The Legion of Honor, The Presidio, Golden Gate Park or San Francisco's Cliff House to name just a few. If you are looking for a religious ceremony, you also have many beautiful options. The city offers everything from 100+ year old churches to modern Cathedrals. Churches such as: Saint Mary's, Saint Dominic's, St. Ignatius, Grace Cathedral, Old Saint Mary's, and Saints Peter and Paul Church are just a few of the choices available. It is no surprise that "Baghdad by the Bay" is one of the foremost elopement destinations for couples from all over the world. Many couples also would rather have their engagement photos done in San Francisco and even at city hall! Land's End or The Golden Gate Bridge are also phenomenal backdrops for your marriage ceremony or engagement portrait session.

3. So many things to do in San Francisco! - SF is one of the top ranked vacation destinations in all the world (universe?). It offers all of the things a big city normally does, plus it has it's own unique small town charm. Many couples love to venture out to Fisherman's Wharf to grab a bite to eat or take a boat trip to Alcatraz. For entertainment, San Francisco has many full sized theaters offering major plays and Broadway shows. Check out the Curran, Orpheum or Golden Gate Theaters for some of the preeminent live entertainment available. If you go to the right places, you can often find good deals. For history buffs, SF has many old landmarks including San Francisco City Hall (of course), The Bank of California Building, Foreign Cinema, Mission Dolores, Saint Patrick's Church, and the Palace Hotel. Eloping couples visiting from other countries love to explore places like China Town, North Beach and Japan Center to see some of their own culture in a different setting. Check out the Russian restaurants in the Richmond district for some amazing food. Take a walk around Telegraph Hill and explore Coit Tower or take a ride on a Cable Car. If you like sports, we have the San Francisco Giants, the 49ers and the Golden State Warriors. There is something here for everyone! One way to explore some of these spots is to book our "Golden Gate" or "San Francisco" wedding photography tour packages. These packages allow the couple to explore locations throughout the City after their town hall wedding. Now with new Chase Center operating, SF now becomes a top location for major concerts and events that need a large indoor arena. It is also now the home of the Golden State Warriors basketball team after they moved here from Oakland!

4. Central Location - One of the uncommon things about the SF Bay Area is it's proximity to so many recreational and vacation locations. If you love the ocean, you are just minutes away from some stunning beaches including Baker Beach, Lands End, Stinson Beach, and Pacifica. Baker Beach in particular overlooks the Golden Gate Bridge and is also one of our favorite wedding picture spots! A 3.5 hour drive puts you in Lake Tahoe where you can snow ski, gamble, fish, swim, water ski, or just enjoy the beauty of one of the world's largest lakes (ranked 28th by volume). One of the world's greatest wine countries, the Napa Valley, is less than an hour's drive and is home to some amazing places to eat and wine taste. If you love the Redwoods, two of the world's most famous groves are within driving distance from "The City by the Bay". The capital in Sacramento is just a little over an hour away and offers historic "Old Town" and other interesting things to see and do including a Railway Museum. It is hard to beat Northern California for the diversity of leisure activities it offers. Am I leaving anything out? Definitely! It's all here within driving distance from San Francisco City Hall. If you love photography, there are many great picture opportunities at these destinations as well.
5. Greatest California Climate - Yes, it is considered good luck to have it rain on your wedding day, but the truth is most people would prefer sunny and warmish weather. San Francisco is famous for it's fog, but in general the rain is predictable and infrequent. It rarely rains in Northern California from June through October, offering you many options for your ceremony location and reception. The mild climate provides you with a perfect opportunity to receive beautiful wedding photos both inside and outdoors. Even if it is foggy, this can create a unique atmosphere for your wedding photos. Yes, the Golden Gate bridge might be partially obscured by fog, but that is how it often looks in reality! For those of you curious about earthquake issues, San Francisco city hall was extensively retrofitted following the 1989 Loma Prieta Earthquake. In fact, it has been said that this might be the safest SF building to be in during an earthquake because the whole foundation has been mounted on rubber. During the retrofit, they used hundreds of rubber and stainless-steel insulators to cushion the base. In the event of a major earthquake these insulators provide enough movement to cushion the shaking, but don't allow too much movement, which helps things stay together!
Helpful Guide - SF City Hall Wedding Procedure
From the emails we receive, it became apparent that there exists considerable confusion and stress regarding the entire wedding process from beginning to end at San Francisco City Hall. We thought it would be advantageous to provide a thorough wedding guide and also throw in a few brief recommendations to help you navigate the matrimonial process in this grand building. The first thing you need to do on your wedding day is arrive at the building on time. Here are directions to San Francisco city hall to help with that first step. Once you have arrived, please follow the step-by-step instructions below:
Marriage License - This appointment is for obtaining the Marriage License within 6 months of your actual wedding. Your witness does not need to be present and the document is not signed (witnessed) at this time (except by the bride and groom). You will need your ID's and your right hand (to raise). The main goal at this meeting is to make sure you bring the proper documentation which includes a legal form of current identification. The County Clerk will not allow you to get married or procure a marriage license with expired ID's. For more info about the process of getting started go to our guide for San Francisco city hall weddings. Update: The County Clerk's office no longer permits any type of photography or videography during the Marriage License meeting or when you meet with the officiant to sign it. In addition, they now limit you to 1 witness. Yes, 1 witness even if you brought 2, which is another Covid-19 precaution. This also means that your San Francisco city hall wedding photographer is not allowed to take pictures during this meeting either.
Ceremony Check in - This occurs approximately 5-10 minutes before your scheduled wedding ceremony appointment. Bring your witness but nobody else, because they won't be allowed to enter the office due to Covid-19 concerns. This includes your professional wedding photographer, we are also no longer allowed to record the signing of the license or take pictures of you checking in. I was trying to sneak a non-flash picture from far away last month and my flash went off by mistake! I was spoken to by the County Clerk receptionist. Your city hall wedding photographer will be present at this time to help guide you through this process if needed.
Marriage Commissioner Meeting - When the County Clerk calls your number, it's time to go meet your San Francisco city hall wedding officiant. This occurs usually 10-15 minutes before the actual ceremony. The Deputy Marriage Commissioner will sit down with you and ask questions about your ceremony preferences. One of the things the officiant will ask the couple is by what name would they like to be called. NOW is the time to make sure you bring in your witness! Again, no family and friends (unless they are serving as your witness), this is not the wedding. They have recently become much more strict about this and will sternly ask your guests to leave the office if they come in. Many of our brides and grooms chose a person of significance to them in their lives like a grandparent to sign. Occasionally our eloping couples ask us to sign the marriage license and we are honored to do so and happy to oblige. There is no extra charge for this elopement service.
San Francisco City Hall Marriage License - At the officiant meeting (see above) the marriage license is signed by your witness. Again, you do not need to bring your whole family in with you. If you do bring them in, they will be asked to leave in most cases. No videography is allowed during the license signing either. As mentioned, we can serve as your witness if needed. In reality, this part of your wedding day is what takes place at your scheduled ceremony time. The actual ceremony will take place a little later, usually in the Rotunda. The County Clerk now requests that you only have one witness come back in the office to sign.
City Hall Marriage Ceremony - Once the marriage license has been signed, bring your family and friends to the Rotunda or private room so they can watch you get married. This is a good time to mention the fact that the ceremonies at city hall do not actually take place at the time you reserved. I think this is one of the big misunderstandings among couples and causes some frustration with their guests. In most cases, the ceremony will actually occur about 20 minutes after your scheduled time. As you can see, the scheduled time is actually when you meet with the officiant.
Wedding Guests and Family - The County Clerk's office seems to be becoming a little more lenient with regard to enforcing the 6 person maximum guest regulation. We have seen Marriage Commissioners allow some pretty large groups to get married in the Rotunda area. The Rotunda is located at the top of the Grand Staircase in the small enclosure between the elevators.
Ceremony Details - City Hall marriage ceremonies generally take less than 5 minutes to perform. You will only be asked to recite standard civil ceremony vows. You can ask your officiant to provide you with a copy of the vows prior to your ceremony if that helps you with reciting them. There are currently restrictions on where your guests can stand during your nuptials due to Covid-19 concerns. They will be asked to stand outside the ropes that surround the ceremony location. Feel free to take your own pictures if you are a guest. Another common question frequently asked of us is do you need a San Francisco city hall photography permit? The answer is no, you do not need one for the type of pictures we are taking in the building. There are other reasons where you might need a permit, including professional film making and taking pictures in the square out in front of the building.
The above steps were meant to be a general quick guide, to view the more detailed SF city hall marriage process, go to our page called: How to Get Married at San Francisco City Hall. This provides step-by-step instructions to help make your day easier and stress free. You can also check out our page for free city hall wedding planning. We have loaded this website with as much helpful information as possible to assist engaged couples navigate the entire marriage process at San Francisco city hall.
Why Should you Hire a Professional Wedding Photographer?
Getting married in San Francisco? Have you ever asked yourself: "How do I find the best San Francisco city hall wedding photographer near me?" Do I even need to hire one? With the advent of digital cameras many people are opting to have their friend, associate, or relative handle the photography at their wedding. Often the reasoning for making this decision is the promise of quality photos from "Uncle Bob" who has a really expensive camera and knows how to use it. Bob may be available for a discount, but do you really want to take that chance? The main goal, of course is to save money by not hiring a professional wedding photographer. However, is this really what's important when it comes to choosing who will record your precious memories for posterity? The answer is a very strong no. These days, virtually all modern digital cameras can beautifully capture sharp and well exposed images, but that isn't enough! Obviously, saving dollars is important, but are you willing to take the risks involved just to obtain good deals on photography? We frequently see couples have their photos done with a guest's cell phone, which can only result in unprofessional images. Most importantly, remember that after the wedding all you have left are the pictures. You spend all of this money on preparation, wedding dress, guests and the venue, but then skip the photographer. One other thing to note... we have received inquiries from couples who had a friend take their wedding pictures and now want us to redo them professionally. This can be a real problem for many. I have also been asked to to try to save ruined photos that another family photographer took by editing and repairing them. I thought it would helpful to provide this guide below to assist with this sometimes challenging choice. So let's examine some of the more important reasons to hire the best San Francisco city hall wedding photographers.
Posing the couple - The top SF city hall wedding photographers will have romantic ideas on how to pose the bride and groom. In addition, they will know the most advantageous angles and backgrounds to make the couple look amazing. We see many amateur wedding photographers taking pictures at city hall and although they are certainly obtaining quality images from a technical standpoint, it becomes pretty apparent that the posing and lighting are pretty basic by comparison to a professional. You can't expect the couple to stare at the camera and smile for every pictures and expect great results. It is up to the professional to bring our the best characteristics of the newlyweds during the photo shoot at San Francisco city hall.


Professional Lighting -

San Francisco City Hall can be very tricky in terms of lighting. Some floors have light coming in from the ceiling which can cause horrendous shadows and "raccoon eyes". An accomplished professional will bring advanced lighting equipment to supplement the available light. The use of off-camera lighting can create dramatic images with great impact. the Mayor's Balcony often has terrible back-light making it almost impossible to create a good photograph without supplemental lighting. We see many people trying and failing to obtain good pictures with cell phones on the Mayor's Balcony. Definitely a challenge because of the back light present almost constantly!



City Hall Crowd Control - One of the huge benefits of hiring a professional photographer with experience at city hall is taking advantage of their mastery of crowd patterns. There are certain times in the day where it is preferable to avoid places like the Grand Staircase. In addition, if it happens to be one of those days where an event is scheduled, your city hall photographer will know where to take you to avoid the crowds, but still provide you with breathtaking images. Extensive city hall wedding photography experience cannot be substituted for. We can also help manage the day when the County Clerk's runs way late, allowing us to change the way we handle the procedures and still manage to get the same amount of pictures or even more! A professional will know how to handle these types of challenges and provide helpful pointers. Think of it as an inexpensive way to be guided through the building to avoid the more crowded areas.


Help with your Big Day - Certain aspects of the marriage process at SF City Hall can be baffling. The check-in and marriage license procedures often throw couples off. Your professional wedding photographer is happy to walk you through the entire process. This will make your special day less stressful allowing you to have fun and not worry about the small details. Let your experienced city hall wedding photographer do that for you and take your cares away.


Technical Safety (back ups) -

Ask your amateur photographer friend about their image file back-up system. Chances are they do not have one! If they are using a cell phone, it most certainly is not being backed up in a safe way. I personally have a triple back-up procedure for all of my image files and this includes off-site back-up which will protect you in case of fire or theft. Most professional wedding photographers have a similar process. The last thing you want is for your wedding memories to be lost forever! Hard drives crash and USB drives can easily be lost, don't let this happen to you! We recently had a bride and groom tell us that their brother's amateur photographer acquaintance lost their wedding photos simply because he misplaced a Flash Drive! "It's in the house and he hopes to find it some day!" He thinks this it may have accidentally fallen in the garbage. This is a true story. No thank you! This may be one of the most important reasons. Without photos, what's the point to all of the rest.



Compare Yelp Wedding Reviews - Unlike a photographer friend, a professional will normally have on-line reviews (Yelp, Google and others), which allows you to see how they rate. It is particularly important to actually read the various client reviews. 5 star ratings are great, but it is also vital to understand the style and history of the photographers you select. Yelp provides this type of information and much more. I would also take the time to read the wedding photographer's responses to both good and bad reviews. Their response will often tell you quite a bit about their personality and how they deal with customers. Sometimes a San Francisco city hall wedding photographer can obtain a bad review simply because of a misunderstanding or other uncommon event. This makes it even more important to read carefully.


City Hall Wedding Photography Experience - Yes, I realize that this is sort of an obvious reason, but I wanted to explain some of the specifics. What I am really referring to here is San Francisco City Hall wedding photography experience. Namely, the ability to roll with the punches and barriers that often come our way. For example, we recently had a wedding interrupted by a fire alarm that caused the evacuation of the entire building. Despite some nervousness from the couple, we were able to keep calm and make sure that we got back in line to get married with minimal delay. Our unsurpassed knowledge of the entire marriage process helped us navigate this potentially difficult situation. In addition, our ability to handle the adjustments needed when city hall has a major event scheduled can be very beneficial to a couple who is unfamiliar with the building. We are aware of alternative photography locations within city hall and will escort you there when needed. As mentioned previously, there is also a concern revolving around lighting. Unless you are familiar with the subtle nuances present in the building, you can really make some major mistakes covering a wedding here. The nature of wedding photography is that there isn't and room for mistakes, there is no going back. Hiring a professional with experience is your best bet.



Best Day to Avoid Crowds at SF City Hall

Without a doubt the most common question we are asked is: "What is the preferable day of the week to get married at city hall to avoid the crowds?" There are actually 2 parts to the answer because the time of the day also matters. Most people would assume that Friday is the most crowded and that is definitely true. Fridays are the days with the largest amount of reserved ceremonies on the Mayor's Balcony and the 4th Floor North Gallery. Since reserved ceremonies do not have the 6 person restriction that the standard civil ceremonies have, it is not uncommon to see hundreds of people milling about on Fridays. Add summer tourists or visitors and you have a recipe for what we wedding photographers call "Crazy Friday." Thursday's are not much better, but definitely preferred over Friday because there seems to be less tourists. Tuesdays and Wednesdays are the slowest days at city hall followed closely by Monday. Monday normally brings more business related visits to city hall and so there is a bit more foot traffic around the building. We don't let crowds get in our way and we know how to make the most of the space available!

What is the best time to get Married at SF City Hall?

As mentioned previously, the time of the day can be just as important as the day of the week. Peak times on most days are between 12:00 and 2:30 pm. If you can book the final ceremony of the day at 3:00 pm, City Hall will start to clear out once your ceremony is complete allowing you more private access to some of the most beautiful areas like the Grand Staircase and the North Gallery on the 4th floor. Early morning times also work well to avoid crowds. Again, be aware that later ceremonies can sometimes coincide with city hall events. When there is a special event in the building, they often start to close off the Grand Staircase around 4:00 pm. This being said, we can obtain amazing photos for you at this historic venue any time of the day.

City Hall Wedding Photography Lighting Explained

People often ask us about the optimum time for premium photographic light in the building and it really depends on the circumstances. Because of the fog, the natural light is unpredictable, but we have found that no matter what the weather conditions, there are plenty of exceptional photo options at city hall. I think most San Francisco city hall wedding photographers agree that there is always a great place to go in the building to obtain great photos. In addition, we always bring professional strobe lighting and umbrellas to refine and improve the quality of light when needed. When the sun is shining brightly outside, the 3rd and 4th floor offer some amazing natural light photographic opportunities. We bring off- camera flash that helps create soft directional light and adds drama to your city hall photos. If you compare our lighting techniques to photos taking with on-camera flash, the difference is incredible. In addition, this type of lighting helps in some of the darker areas like the Mayor's Balcony.

San Francisco City Hall Wedding Tips - January 2023

As we enter the new year we always have a chance to catch up after a busy Christmas season. January is a good month to schedule your wedding at City Hall because it is the slowest month of the year. Many of the possible scheduled weddings either chose to have a Christmas, December wedding or are waiting for Valentine's month. I really love photographing weddings in January at San Francisco City Hall because the low sun angle allows direct window light into the building and forms amazing patterns on the walls. We can use these creative backgrounds for your wedding pictures. Think about selecting a Monday, Tuesday or Wednesday city hall wedding in January for more privacy and less people in the building.



Click here to view our Privacy Policy.


SF City Hall Wedding Photography by Michael

201 Spear Street, Suite 1100

San Francisco, CA 94105

Copyright 2023