Groom Carrying Bride over City Hall Threshold
Our couple wanted this shot and we were more than happy to accommodate their wish. We thought it would be fun to do it out in front of City Hall and the above photo is the result! Definitely a fun wedding image and worth the effort. Although not exactly the same as being carried across the threshold as you enter your home as a newly married couple, it still has meaning. In this case, the couple is leaving San Francisco city hall as husband and wife and entering their new world. They went in to the building and leave as happily married newlyweds. I thought it was very appropriate and now I have suggested this to others as a fun San Francisco city hall wedding photography picture. These newlyweds did all kinds of other fun things with our photo shoot. We did a jumping shot, dance dip pose and some funny walking shots in the building. They were good sports and wanted to have fun on their wedding date. We were very glad to be chosen as their city hall wedding photographers. In fact, we did quite a bit more outdoor wedding photos with them than we usually do because that is what they wanted. As a different kind of look, we also had just the groom jump and the bride looking on with a funny expression. To see more of their album, you can check out our galleries for city hall weddings. It really is one of our best recent San Francisco city hall wedding photography shoots.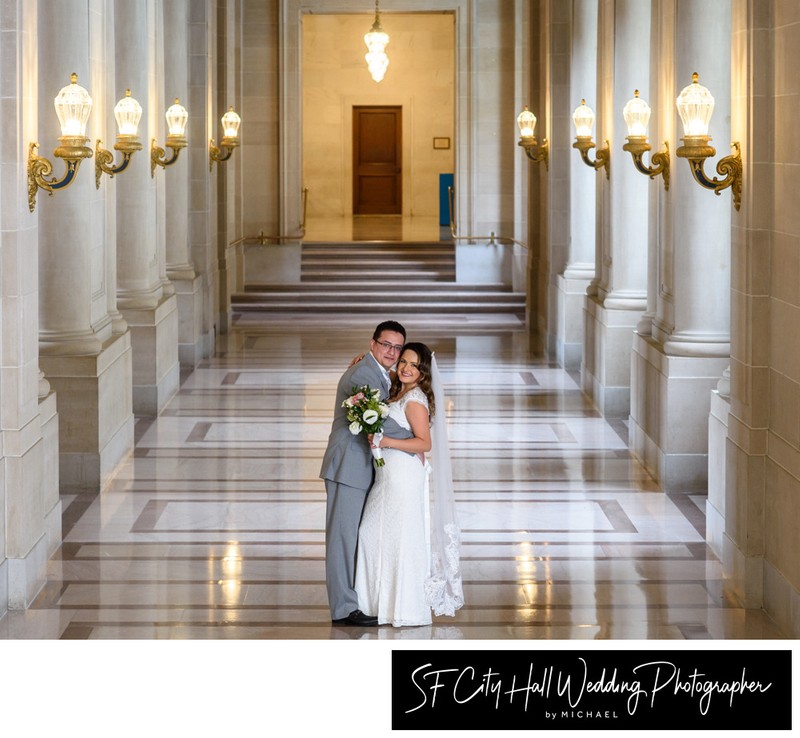 Wedding Photography more than just Pictures
As long as we are having the above discussion about enjoying the photography with our couple, I think this is a good time to mention our philosophy as city hall wedding photographers. Having your pictures taken on your wedding day is a big part of the activities for the event. As bride and groom, you want this day to be special and fun in every way possible. Since it is true that you spend so much time with your city hall wedding photographer, it only makes sense that this should also be enjoyable. We recognize that and realize that it is not enough just to deliver great images to the couple after the wedding. We also want the experience to be positive and fun. If the the bride and groom have good memories about how the shoot went, seeing their pictures or wedding album will only reinforce this. We do everything we can to make the whole process enjoyable and fun not only for the couple, but hopefully for the guests and family as well. We do this by keeping an upbeat attitude and smiling a lot as we photograph and interact with our brides and grooms. These things may seem unimportant, but I would disagree. If you have a great experience with your wedding photographer, the photos will bring back those positive memories. The opposite is also true.