Best City Hall for Wedding Photography
Brides and grooms come from all over the world to get married at San Francisco city hall under the dome. In our 12 plus years of photographing weddings here, we have met couples from virtually everywhere. Some of the most common countries of origin include China, Australia, England, Canada and Germany. We really enjoy photographing these couples from out of the country because it gives us the opportunity to share information about San Francisco and City Hall of course. For many of them, it is their first visit to the United States and so they are interested in learning all they can. The photo above was created with a fish-eye lens and actually shows the City Hall dome which is almost directly above the couple. I tilted the camera slightly to make sure we were able to show everything including the entire dome. We try to pull of this picture without getting too far away from the couple. The idea is to feature the amazing San Francisco city hall architecture, but make sure the newlyweds are still prominent in the photo.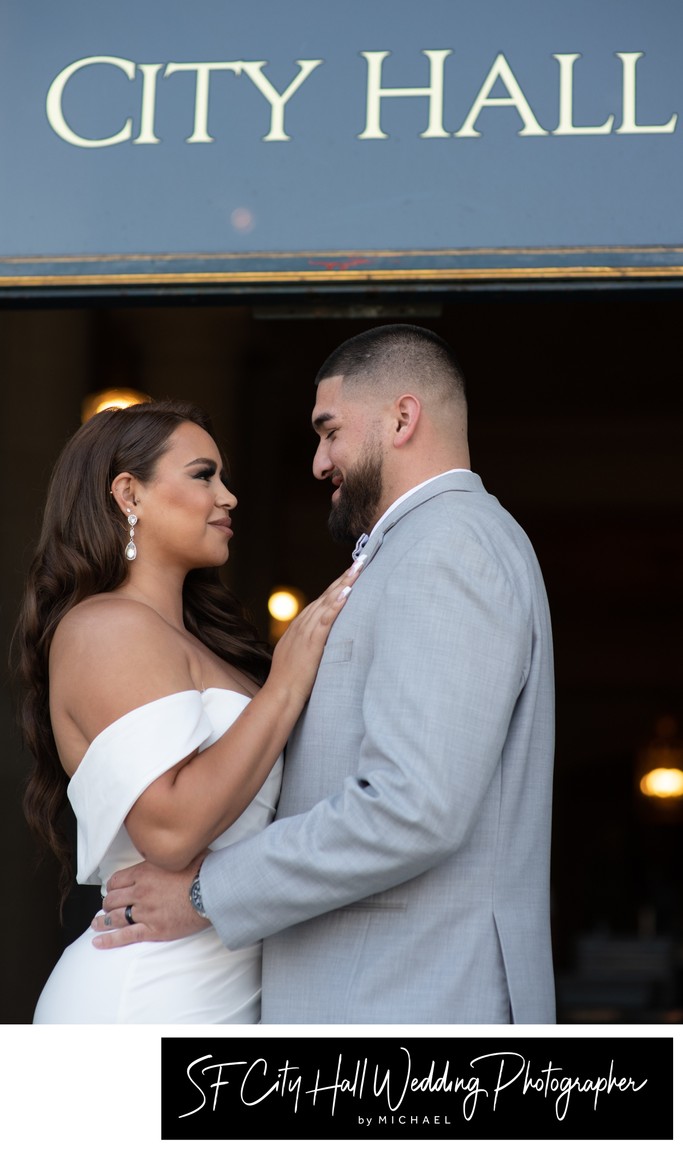 Top Choice for Marriage Ceremony
There probably isn't a better City Hall in the country for having your marriage ceremony. The combination of the beautiful architecture, great officiants, and smooth marriage process makes San Francisco city hall the best place in the country for your nuptials. San Francisco city hall even has an easy to use online reservation system that allows you to book your ceremony with the County Clerk. Many other city halls are first come, first served. With all of this being true, it is very important that you find the best wedding photographer possible. I honestly don't think that there is even a close rival anywhere to our city hall. I have researched very carefully to find other city halls that are as photogenic as ours in San Francisco and just can't find one. The only one that comes close is the City Hall in New York. It is also a beautiful building, but they are not as organized in terms of offering wedding services. They do not do appointments and you have to just walk in and wait your turn. If you want to learn more about our service, check out this photo and others like it by exploring our website.