For more San Francisco City Hall wedding galleries view our photography HOME PAGE
What are Best Ways to Approach City Hall Wedding Photography?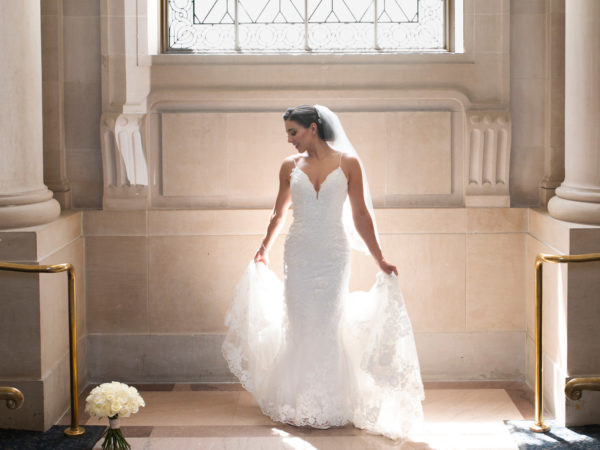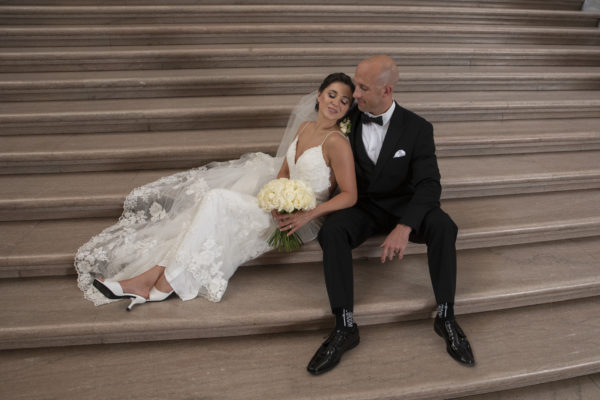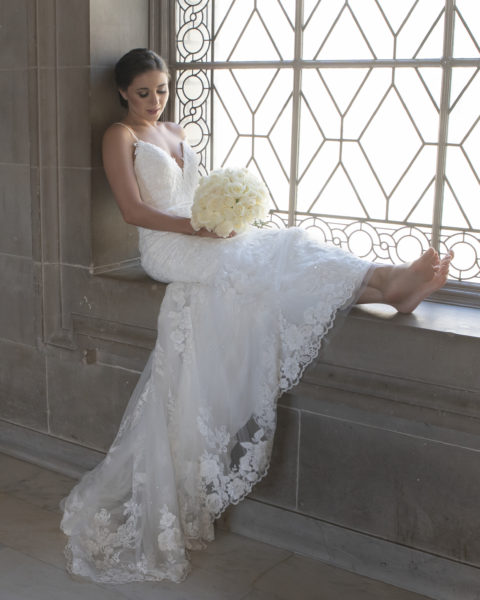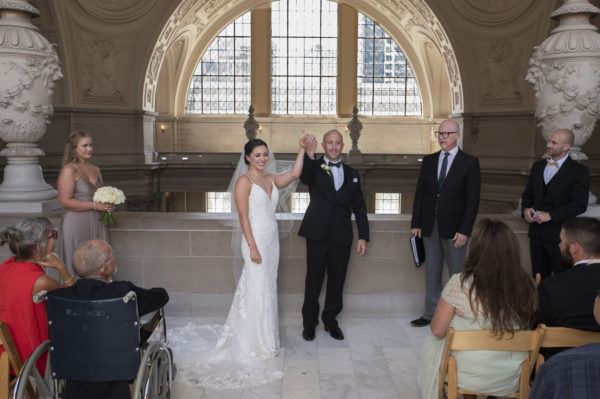 Challenging Lighting at San Francisco City Hall
What do the best San Francisco city hall weddings photographers have in common? To me, the top thing on the list is being able to handle the lighting challenges inside the building. It is definitely one of the trickiest things about taking pictures at San Francisco city hall.  Depending upon where you are in the building, the lighting can either be amazing or extremely tough to deal with.  For example, the Mayor's Balcony is difficult because just about any angle shooting away from the balcony towards the rotunda involves heavy back lighting.  The Mayor's Balcony is not only fairly dark, but everything around it is bathed in natural light. There are only 2 lamps on the balcony, and they are meant to light the entire section (and they do not adequately). We often see amateur San Francisco city hall wedding photographers attempting to shoot their subjects by the railing without any professional lighting or even an on-camera flash. Ultimately this frequently leads to images of the bride and groom that are almost silhouettes. Obviously, the best wedding photographers know how to edit this type of lighting challenge and come up with a satisfactory wedding picture. However, the backgrounds can often be blown out and too bright.  This takes away from the main subjects and renders the background architecture without detail. Its a difficult balance, but easy to do if you have supplemental lighting.
SF City Hall Ceremony Location Lighting Challenge
Another challenging place to shoot is in the Rotunda area where the city hall ceremonies occur.  The predominate light in this area is from overhead.  So, if you shoot in almost any direction your subjects will have "raccoon eyes".  If you are taking pictures in the Rotunda, position yourself with your back to the Mayor's Balcony and you will get some nice light.  If you have flash, use it!  We bounce our flash off the neutral walls at San Francisco city hall for a more natural look.  This keeps your photos from looking "flashy".  We frequently see other photographers taking pictures of their couples on the Grand Staircase with no off-camera flash because there is generally sufficient available light to obtain proper exposure. Upon closer inspection, you will see that the brides and grooms will frequently have dark eyes and ruddy looking skin from the difficult overhead natural light. Using some soft lighting coming in from the left of right will rectify this problem and is the best solution to obtaining great images.
Modern Cameras can Actually Hurt Picture Quality
Just because today's modern cameras are able to shoot in very low light doesn't always mean you should! It really depends upon the quality and direction of the light. The best San Francisco city hall wedding photographers understand how to observe the lighting in a particular area and make adjustments if needed. There are plenty of locations in this amazing building that require no supplemental flash because of the natural light coming through the ornate windows. Other areas need some help and a professional should be able to make the proper lighting decision that works best for that time of the day. Be sure to ask any prospective wedding photographer you are talking to about how they handle different lighting situations at City Hall. If they simply brag about their camera, then I would suggest you move one to another prospect. This is one of those examples where the best camera technology can actually hurt a bit. Newer camera technology is great, but we should always make sure we are not using it as a shortcut to the best wedding pictures possible at San Francisco city hall.
City Hall Crowd Control
We jokingly refer to this as crowd control but there is some truth to this city hall wedding photography challenge. The fact is that San Francisco city hall is a public building. Every single person in the building has the same right to be there as you. Yes, even if you are getting married! The best way to handle this simply is to go where people aren't. It sounds simple, but virtually every non-professional wedding photographer we see ignores this advice. They spend the whole photography session on the Grand Staircase as though this was the only place in all of San Francisco city hall for wedding photography. The fact is, there are 4 floors that ALL have great backgrounds and architecture to explore. As we take our couples around the building, we always keep our eye on the Staircase. Once we see it clear off, we take our couple down and get some pictures. Meanwhile, we take pictures at some of the very nice other locations to photograph. Some backgrounds are even better than the Grand Staircase in certain situations and lighting conditions. The best San Francisco city hall wedding photographers understand this and utilize all of the building's amazing features.
We are Happy to do your Family Portraits!
We always make sure we capture great images of your family and friends. We try to do this before we take the couple on their San Francisco city hall photo tour. We often see amateur city hall wedding photographers taking their whole wedding party around the building with them when shooting the bride and groom. This is not a good idea for several reasons. Most importantly, it may make the newlywed couple inhibited as they pose for their city hall wedding pictures with an audience. Inevitably, some of the relatives will shout out suggestions and make comments. This is distracting to the wedding photographer and the subject. The other issue is that the family and friends will frequently get in the way of our backgrounds. We may spend more time trying to move the group then actually posing the couple.
Please keep in mind, we are not suggesting that you don't include your family and friends in the photos! We just want to make sure it is done with the above aspects in mind. In fact, we often incorporate your family or guests again towards the end of the shot. We do this in front of the Grand Staircase or outside by the City Hall sign. We know family is important to our couples and we want to handle this the best way possible for all concerned. We place no limits on the number of Family Photos we will do for you! We want this part of your city hall wedding photography coverage to be the best it can be.
Timing is Everything at San Francisco City Hall
I understand that not everyone can control the timing of their San Francisco city hall wedding photography session. There are many factors that get in the way, most importantly the time of the wedding ceremony. Also, many couples are restricted because of work schedules and cannot choose the best days of the week. However, if some of these things ARE in your control, then by all means choose the best times of the day and best days of the week. Avoid Fridays, if possible, because of extreme city hall crowds. Tuesdays and Wednesdays seem to be the best days of the week for less people. If you have control of your booking time, then try for early times or late. There will be less people and especially tourists at those times.
Bring Flowers to your City Hall Wedding
I try to remind all of my future city hall couples to bring a floral bouquet for the bride.  The colors really add  so much to the rather subtle tones of San Francisco city hall.  It also gives the bride something to do with her hands!  Some of our best city hall wedding pictures were created with gorgeous flowers being part of the mix. We also will sometimes present wedding pictures to our couples that are primarily Black and White, but with colorized Flowers. This can be seen in the photo below. So in many ways, flowers also contribute to creating the best wedding pictures at city hall.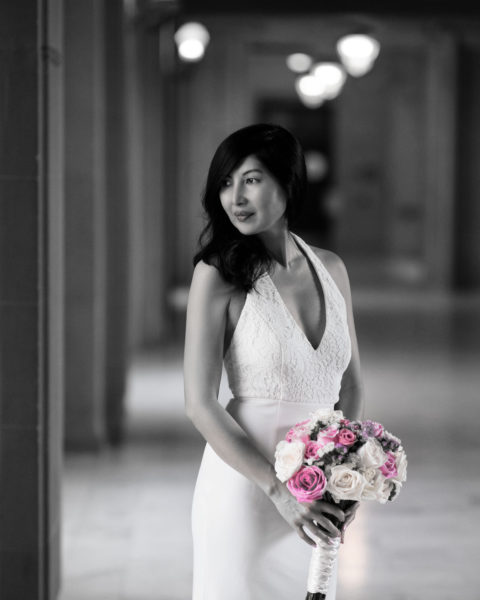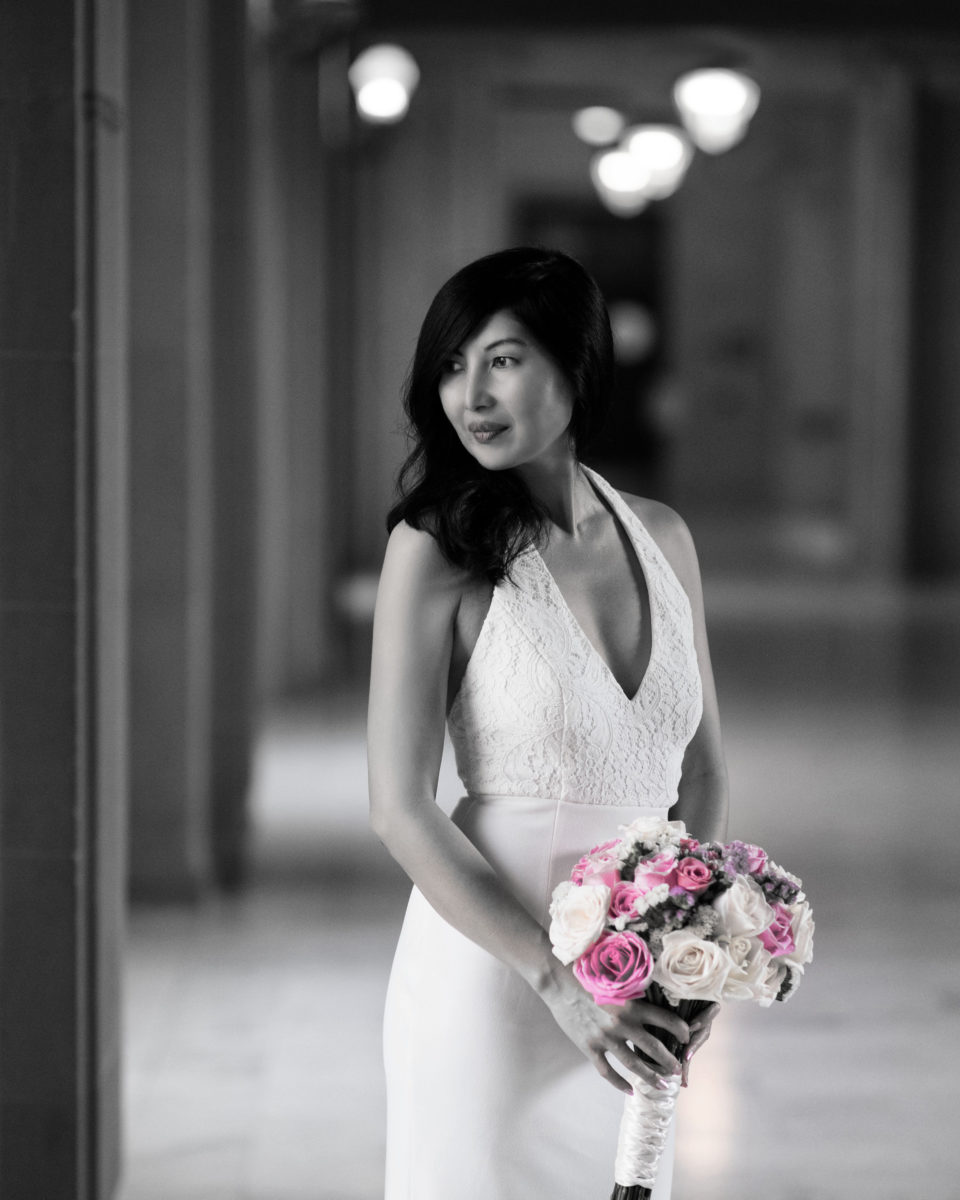 Top Rated SF City Hall Wedding Photography
There are quite a few San Francisco city hall wedding photographers currently booking weddings at this amazing venue. We have over 12 years of experience here and have achieved some very high ratings on Yelp and Google. However, high ratings do not tell the whole story. Each Bride and Groom should choose their favorite wedding photographer based upon how the style and pricing fits their own preferences. I have provided this helpful technical guide to help you find a great wedding photographer. It is truly difficult to determine which company provides the best wedding pictures because it is a matter of personal taste. Despite the fact that we have earned some high reviews, we would encourage you to look at other SF City Hall wedding photographers before making this all-important decision. We would rather you choose us based upon your own perception of our high-quality wedding images and not online reviews. We want your business, but it is more important that you find the best San Francisco city hall wedding photographer for YOU! Only you can make this decision after checking out a broad range of other companies. We are happy to answer any questions you may have about our well-established service.