Why Post Modern? I believe that we have already gone well beyond the concept of Modern Wedding Photography. In my opinion, the modern wedding photography era started with the emergence of quality digital cameras. As a wedding photographer who has spanned both the film and digital eras, I feel like I can speak with a certain amount of authority on the subject. With over 1,400 weddings photographed, I have still shot more weddings with film than I have with my Digital cameras! I can certainly say that the difference between the film and digital eras are enormous. I thought it might be fun to explore this in more detail in a blog post. The concepts discussed here also apply to my San Francisco city hall wedding photography specialty, I will explain more as we go on.
Great Wedding Photography – Film Era
OK, so I used to photograph weddings with a medium format 2 1/4 Hasselblad film camera. It was manual focus, manual exposure and the largest standard film magazine only held 24 exposures. The biggest challenge in those days was getting the exposure right and producing sharp, well composed wedding photos. It took considerable skill and tons of practice. Clients were generally pretty happy if you delivered about 500 final photos that were in-focus and nicely posed. If you caught a few special moments, even better! However, this type of camera was not the best for catching candid moments because it took a while to take the picture. Sometimes, by the time you focused and aimed, the moment was over. Back in those days, I also shot with a 35 mm film camera because of it faster speed.
There was a certain fear back in those days of hiring a friend or having Uncle Bob shoot your wedding. Why? Because of the horror stories involving amateur photographers delivering blurry photos or no photos at all! The problem with film cameras is that you could have a wrong setting for the whole wedding and not even realize it! The other challenge oddly enough, was making sure that you didn't run out of the pack of 24 photos at the wrong time. We could load extra film magazines that would be relatively easy to change once the first roll ran out. Needless to say, you always wanted to start the ceremony with a new roll of film. Even if this meant wasting a few shots to enable a ceremony preload. I remember what a hassle it was to make sure that your 24 photos lasted throughout the ceremony. I think that must be where the name Hassle-blad came from! One thing I can say, I became very adept at loading film quickly.
Fear Motivated Brides and Grooms to Hire Professionals
But back to the prior fear, even as a professional wedding photographer there was always the fear of a camera malfunction or wrong setting. This and other issues were one of the main motivating factors for brides and groom to choose a pro. This fear became relief from clients when their photographers were able to deliver 500 + proofs in a nice preview album. I am certainly not suggesting that brides and grooms didn't expect great photos back then. Yes, even then there was always hope for something better than simply "in focus" prints. There has always been different levels of wedding photography excellence and most of us strived to reach that type of success. My point is, the pressure was not as great back then and you would be forgiven if you didn't produce any great shots. This type of mediocre performance would not place you in the elite division of professional wedding photographers. It would allow you to have a career in wedding photography and make a decent living. Not anymore…..
Digital Photography Comes of Age
To avoid boring my audience with a long and tiresome history lesson on Digital Photography, suffice it to say that in the late 90's advanced types of digital cameras were starting to become available. For those readers who want more details, here is an excellent digital photography history for your perusal. Exceptional yet affordable digital cameras being made available to the public basically killed the old wedding photography industry as we knew it. The mystery was gone! Anyone could now take wedding photos and know that they would at least turn out. Professional wedding photographers throughout the San Francisco area and beyond began to see their bookings drop! I actually remember comparing notes with my fellow photographers regarding the number of weddings we had booked for the year. As each year went by, the numbers went down. Many wedding photographers closed their businesses. There were just not enough weddings to go around for all of us because so many potential clients felt confident in "Uncle Bob" shooting their wedding with his cool new digital SLR. Never mind that "Bob" had no back up system and, at that time, a camera with only one card slot. You were putting a lot of faith in this uncle and there were (and still are) plenty of horror stories associated with the type photographic coverage. Did this amateur friend or relative know how to pose the couple creatively? What do you think?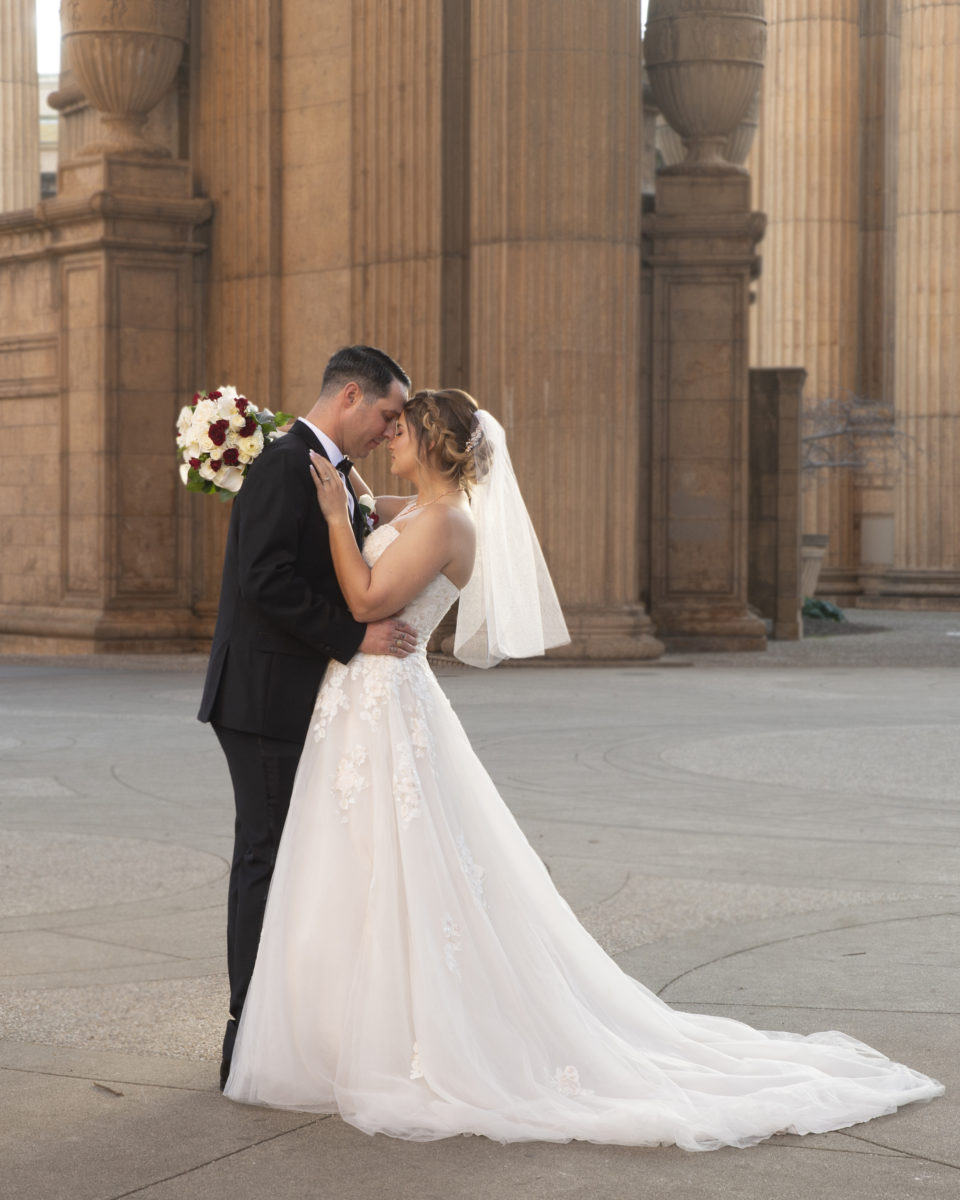 Surviving the Digital Photography Era
For a professional wedding photographer to survive in what I call the Post Modern era, we had to offer our clients something more. How did we do it? Well, digital photography had one major advantage over film….. You could take all the photos you wanted and it didn't cost a penny. This allowed pro photographers to take more photos and as a result, produce more candid photos. Thus, Wedding Photojournalism was born! Now we could shoot thousands of photos at every wedding and capture all the special moments and we didn't have to pay $1.00 for each photo (approximate film era cost per photos was always said to be $1.00 each!) Books were published about this new phenomenon of Documentary wedding photography. Brides started asking us if our style was traditional or photojournalistic. I could go into a great detail about all of this and perhaps will in a future blog post, but for the purpose of this article suffice it to say that this was the hot style in the 1st decade of the 21st century. Everyone wanted a "photojournalist" to cover their wedding and many wedding photographers wanted to be that person. In it its simplest form, Photojournalism wasn't really that hard. Just take 2,000 wedding photos and trust to luck. Chances are, you will get a few great shots.
Death of the Wedding Photojournalist
What I am about to write will be somewhat controversial among some of my fellow wedding photographers. It is my opinion that after a decade marked by thousands of brides having their weddings covered in a purely documentary style, the results were a considerable disappointment among many clients. As it turned out, it really wasn't that difficult to take 2,000 photos at a wedding and catch dozens of "moments." In fact, armed with a fully automatic digital camera and about 1 hour of training, virtually anyone could be a wedding photojournalist as was defined in that era. I think it is fair to point out, however, that many Documentary style photographers rose above the simplicity of taking rapid fire photos throughout an 8 hour wedding coverage. I can name quite a few, that used this style to excell and truly offer their brides and grooms amazing and artistic wedding photos. But for every 1 of these types of exceptional photographers, there were probably about 10 rapid fire shooters. Unfortunately, this ease of entry into the business allowed hundreds of wedding photographers to become part of the industry with no knowledge of lighting or posing. Clients soon grew tired of having to wade through thousands of candid wedding photos with no images really standing out. Did the wedding photographer capture some great moments? Of course they did! But how were the family photos, how was the lighting, were there any fun poses? Was there any drama in the final results, and images with impact? Too often the answer was no!
Wedding Photography as Art
I believe that the post modern era of wedding photography began in the early part of this decade (2010). It's emergence was gradual yet definitive. We began to approach wedding photography as an art form and not just an assignment. This also included San Francisco city hall wedding photographers such as myself. In fact, we even started calling ourselves artists! Randomly check out some professional wedding photographer's websites and you will see that many people have changed the "About" section to "About the Artist". Many now refer to wedding packages as "Collections". If you could still see wedding photography websites from the film era you would not see any of this terminology. Back then we were described as "shooters" or simply "picture takers."
To stand out in the post modern era, wedding photographers need to provide their clients with creative photos with beautiful light and gorgeous backgrounds. The posing needs to be correctly done and grab the viewer's attention. Do these attributes sound familiar? Of course, it's some of the same things you hear about other forms of art such as paintings. Even Pinterest has collections of wedding photos called Fine Art Wedding Photography . This is one of the new names for us… Fine Art wedding photographers! In my case, I would like to think of it as Fine Art San Francisco city hall wedding photographers! No matter what your specialty, this relatively new association with art is now part of the landscape and we all welcome it.
The Post Modern Wedding Photographer
If you aspire to be a professional wedding photographer whether you want to specialize in SF city hall or weekend weddings, you will need to be able to produce creative images with impact and beauty. In this new era of Post Modern wedding photography, these skill are necessary to be competitive. You will also need to understand lighting, composition and posing. Machine gun candid photo shooters are still out there, but they will not be considered in the upper echelons nor will they command top dollar for their work. In a sense, the industry has come full circle. As was true in the film era, a successful wedding photographer will need to possess great skill, but with a difference… The old Technical skill needed to operate ancient film cameras has now been replaced by the skill of an artist!