We had the honor of photographing two weddings this past month that were officiated by the mayor, London Breed. Both of our couples had a connection through their parents to London Breed and made requests to the mayor's office in order to have her officiate there San Francisco City Hall marriage. A lot of people don't realize that the San Francisco mayor DOES perform quite a few weddings each month for various reasons and for certain notable people. I thought it would be fun to provide a quick summary of each of these weddings and describe how they came about.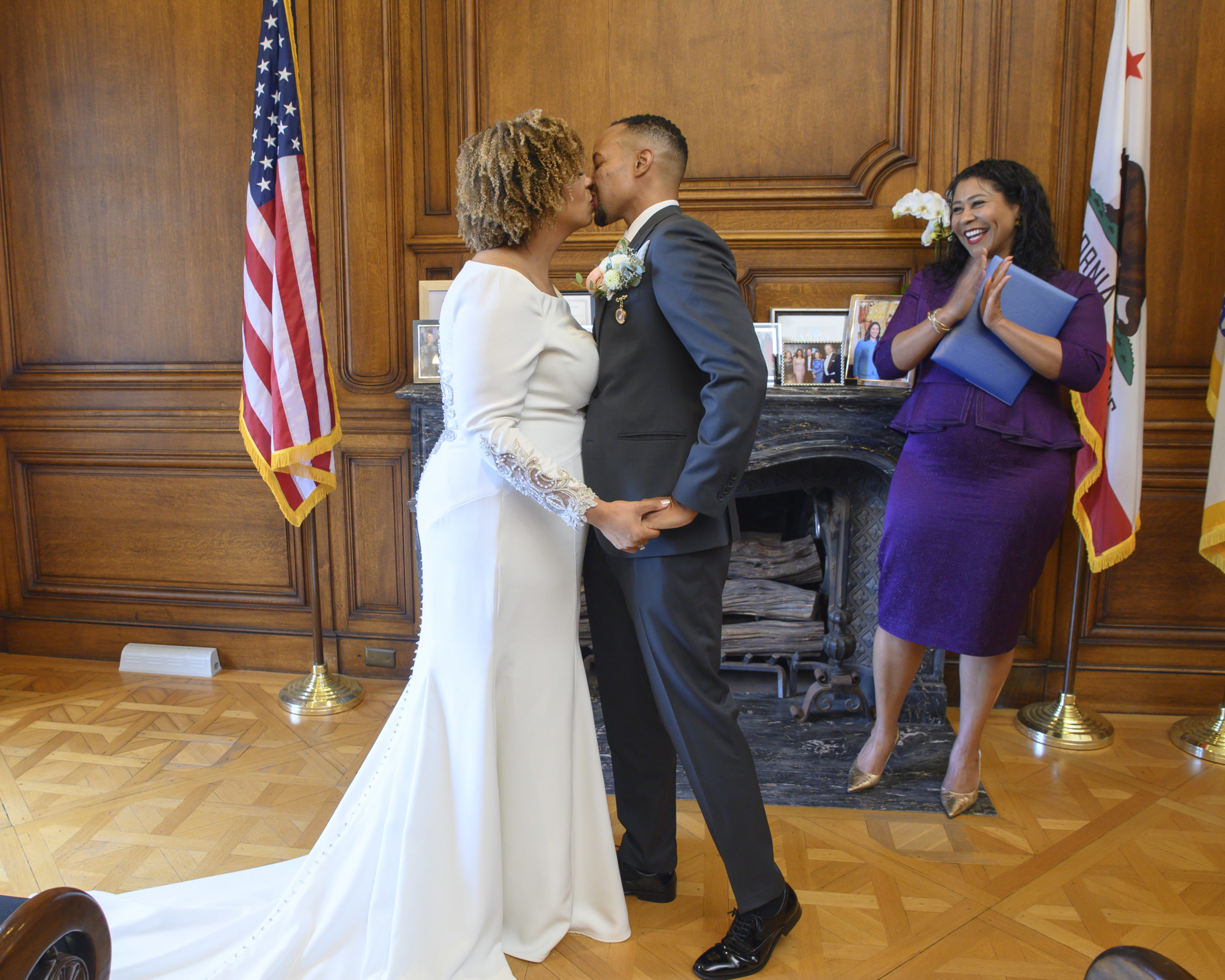 Not a Typical San Francisco City Hall Wedding Photo Session
Our first wedding photographed with London Breed as the officiant took place just about 3 weeks ago and we were as surprised as the couple was when they heard that the mayor had agreed to officiate. One of the couple's parents had a prior working relationship with London Breed while helping her with the campaign to get elected to the Board of Supervisors. I may not have this story 100% correct, but from what I gathered there was a great friendship there, Unfortunately, the particular parent that knew London Breed had recently passed away. The couple decided to send a request into the mayor's office asking if London breed would be willing to officiate their wedding. They honestly never believed that they would get an affirmative answer from the mayor's office. It was quite a surprise when the Bride and Groom contacted us to let us know that wedding was going to be officiated by San Francisco Mayor, London Breed!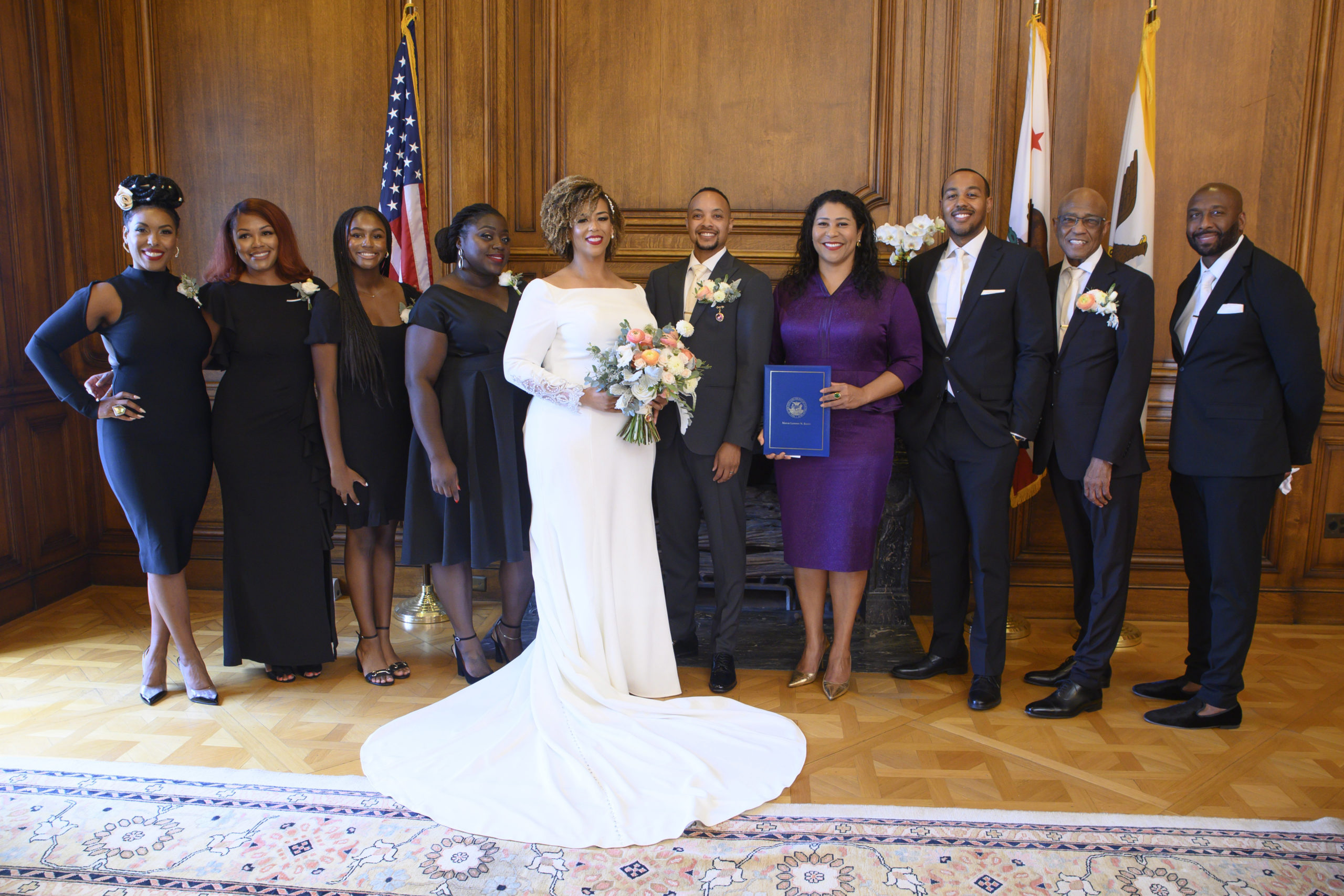 At the time, none of us knew what to expect, nor did we know where the wedding would take place. Apparently, most of these types of weddings take place in the Mayor's Office. This added an exciting twist to the good news that they received regarding their San Francisco City Hall wedding. On their actual wedding day, we were led into the mayor's office approximately 10 minutes before their scheduled civil ceremony. We waited in a very nicely decorated office with pictures of the mayor and other former San Francisco City Hall mayors. As their San Francisco City Hall wedding photographers, we thought this would be a great opportunity to take some pictures of the couple and their guests during this waiting time. Before too long one of the Mayor's Representatives emerged and led us back to London Breed's own office where she was waiting for us. The mayor could not have been more friendly and welcoming to all of us and even asked me if the place she chose to do the ceremony would work okay for our photography. Of course, I said her chosen location was perfect and we were excited to be there.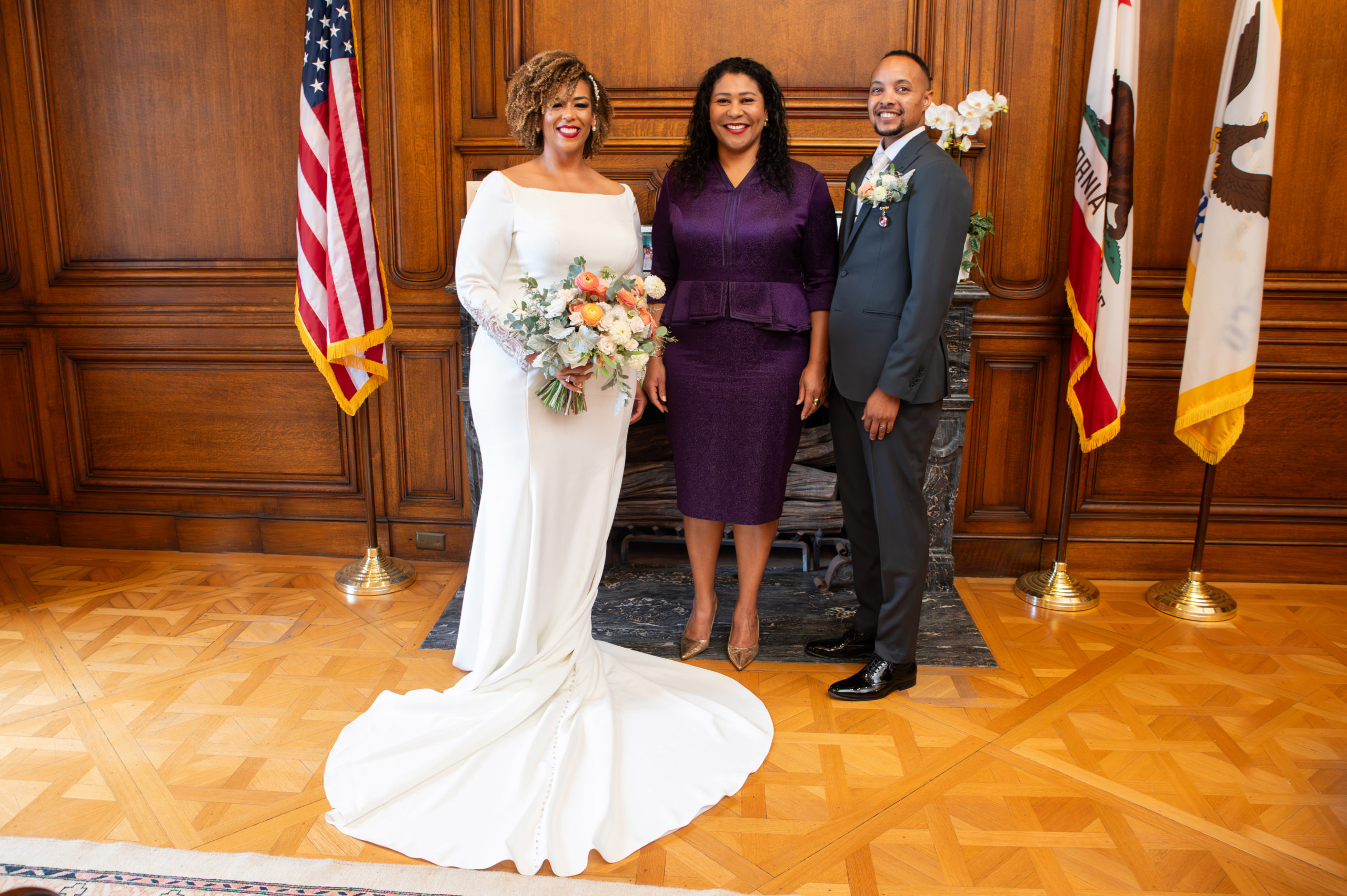 The Civil Ceremony in the Mayor's Office Begins
The ceremony started with the mayor saying some very nice words regarding her relationship with the bride and groom's parents. In doing this, she definitely personalized the wedding and made everybody more relaxed especially the bride and groom. There was lots of laughter and great memories shared among the couple and the mayor. The guests really enjoyed hearing London Breed's stories as well. To be honest, I was not expecting the mayor to do such a great job officiating their ceremony because I figured it wasn't her full-time thing. As it turned out, she did an amazing job and kept a smile on her face throughout the ceremony and definitely kept the mood light and fun. As an experienced City Hall wedding photographer it was my job to capture these moments and I think I did a pretty good job as you will see in some of the photos. I loved how the mayor personalized the wedding, which is something that the typical City Hall Marriage Commissioners are unable to do. It is obviously not their fault, but they just don't have the personal knowledge of the couple to be able to pull that off.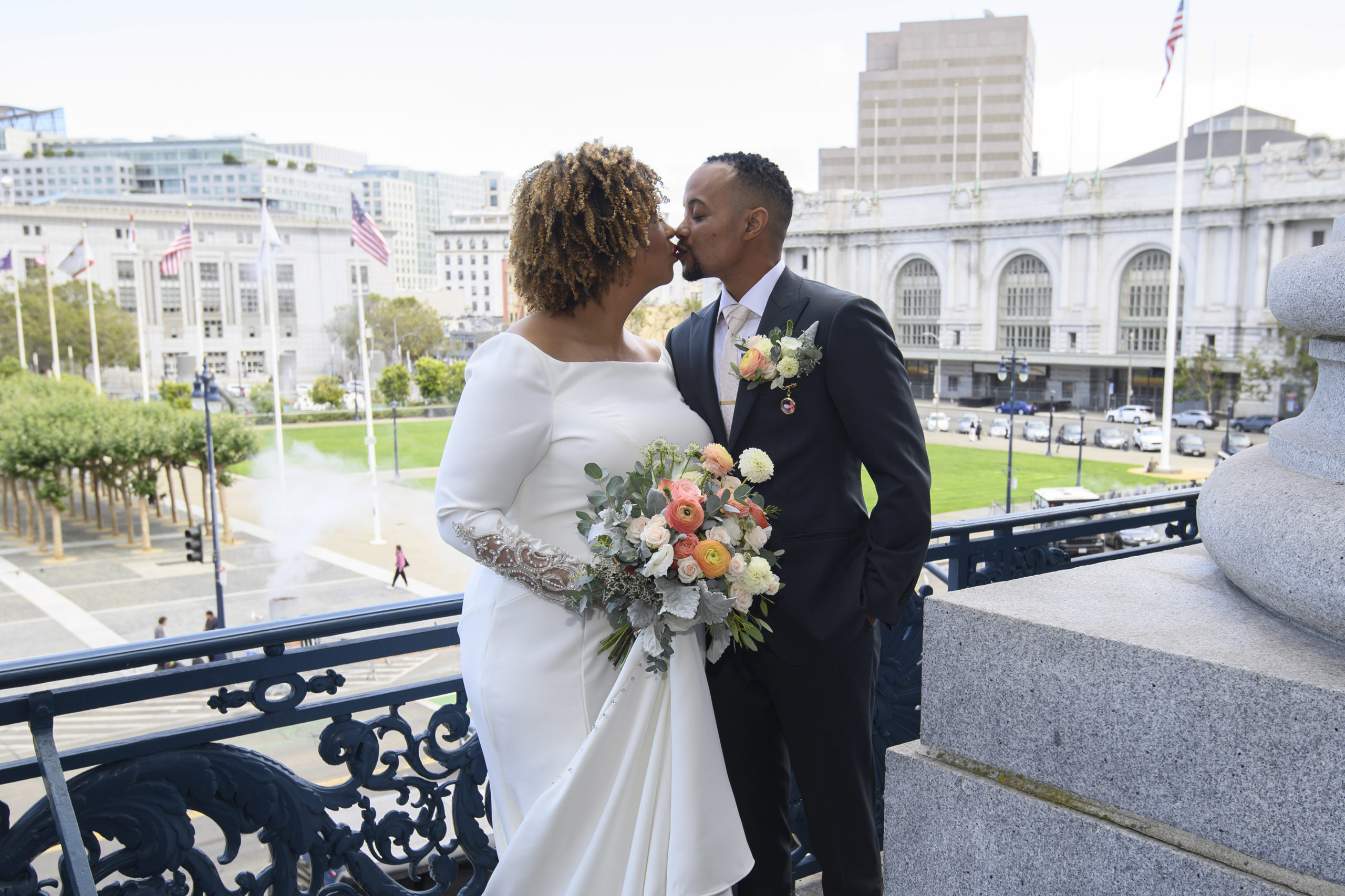 London Breed Was Accommodating and Willing to Pose for Pictures
Once the wedding was complete the bride and groom kissed and the mayor very graciously stuck around for photos with the entire wedding party. I also made sure that we took a picture of just the couple and the mayor which came out great. After all, it was their special day! As we were finishing up the family and group photos London Breed invited us to go out to the balcony in front of San Francisco City Hall and take some pictures which was a very nice gesture. I made sure to shake hands with London Breed and thank her for doing such an awesome job. Who knows, maybe I was shaking hands with a future California Senator or Governor. After taking pictures outside we transitioned into our regular San Francisco City Hall wedding photography routine, which involves escorting the couple around the building for more amazing pictures.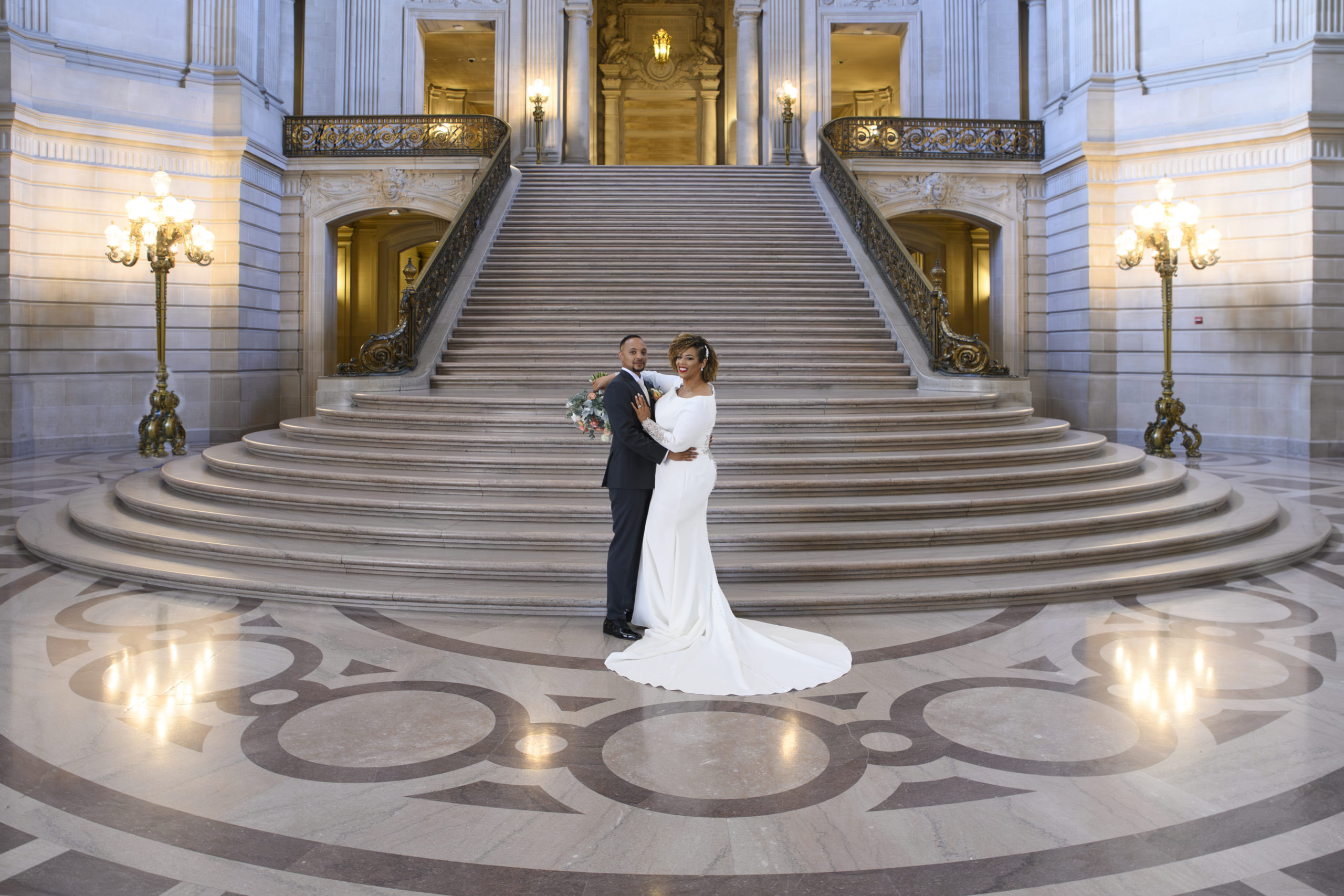 I thought it would be appropriate to take quite a few pictures on the Mayor's Balcony and also right in front of the mayor's office where the flags are. We set up the entire wedding party in front of the door and got a nice picture there as well. At this point, we began our city hall wedding photography tour and took the couple to other iconic locations within the SF city hall building. This included pictures on the Grand Staircase, the fourth floor North Gallery, and the Rotunda area. We finished up our city hall wedding photography session with our typical picture under the city hall sign at the front of the building. The day could not have gone more smoothly and everyone had a great time.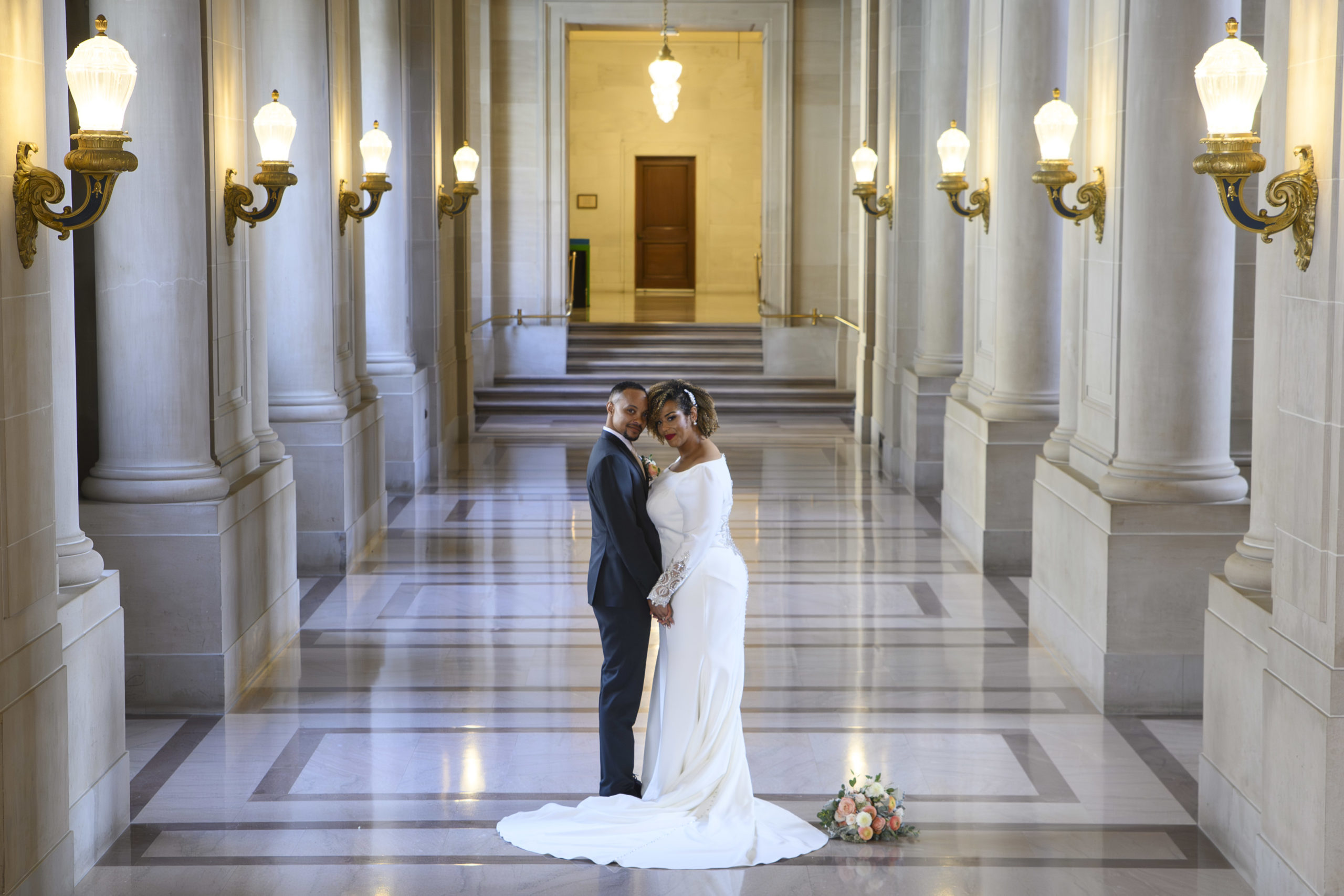 Our Second Wedding with Mayor London Breed
Our second wedding with the mayor came about much differently. Lily and I were photographing a wedding at San Francisco City Hall when a woman approached us to see if we were available to do a short notice wedding that same day. The request came at a pretty important time during our photography shoot because I was right in the middle of taking pictures of the bride and groom on the Grand Staircase. So Lily spoke with the woman and made arrangements to help them with their wedding. It was then that we discovered that this wedding was going to take place in the Mayor's Office with London Breed officiating. I don't know the whole story, but apparently they had not planned on having a wedding photographer cover this wedding but then changed their mind at the last second. It did not appear like I was going to be done with our current couple in time to help with this new wedding so I sent Lily to cover the wedding in the mayor's office and promised to join her later.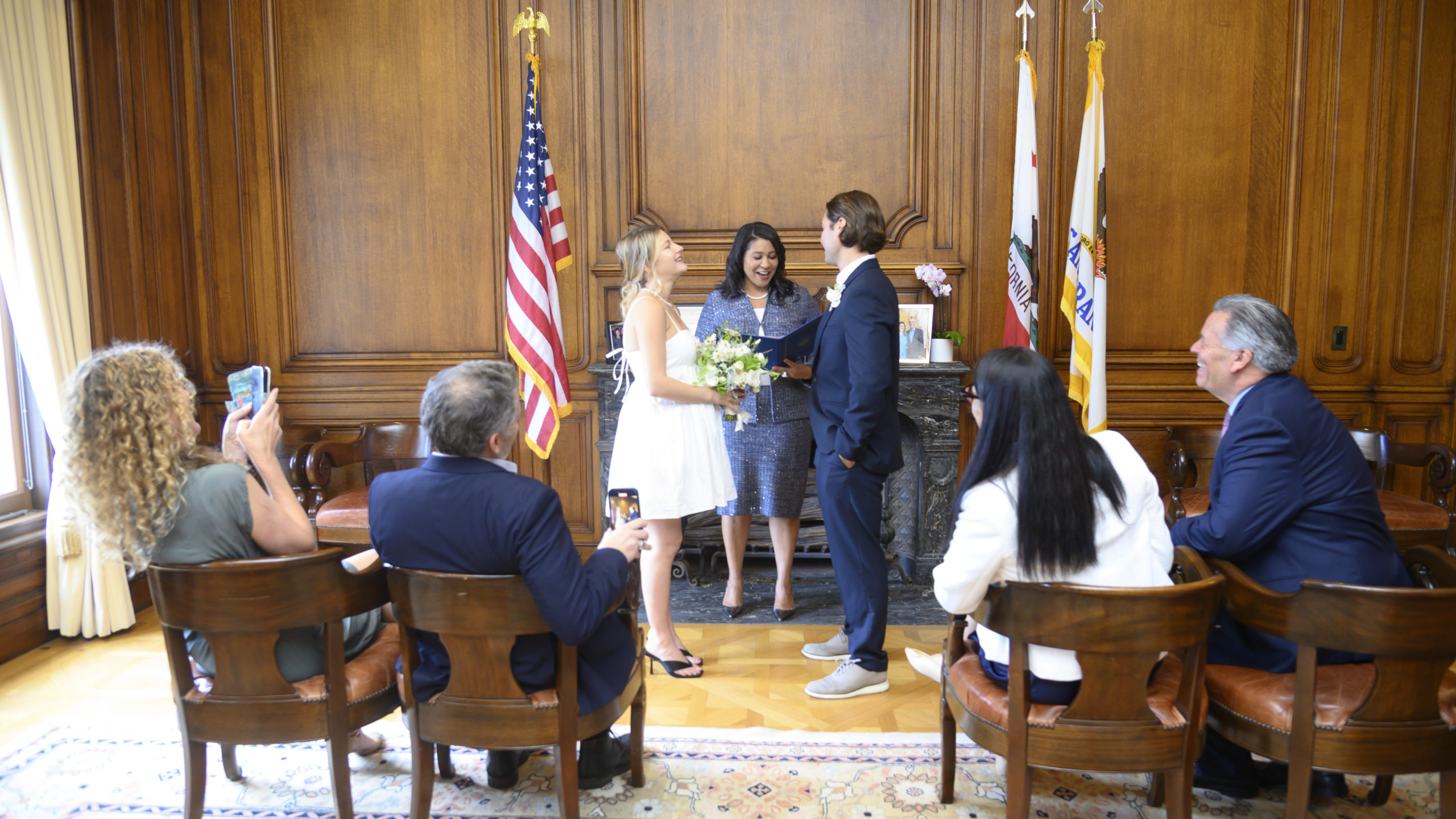 Lily did a great job photographing the ceremony inside the mayor's office which I'm sure was helped by her recent experience with the other wedding involving the mayor. I personally never made it into the mayor's office but greeted the couple when they emerged and helped Lily take them on an abbreviated San Francisco City Hall photo tour. All they wanted was pictures of their guests and also a couple of shots on the Grand Staircase. We managed to capture some great wedding pictures during this short photo session at City Hall. After we were done taking pictures in the building we took them outside for a few pictures and said goodbye. We thanked them for including us and wished them well.