We love all of our brides and grooms and always make sure we work to get great images of all of them.  However, every once in a while we are lucky enough to book a couple that are naturals.   This particular couple included a groom who had taken Ball Room dancing lessons and a bride who was a Ballerina.  We had a fantastic time with them at San Francisco City Hall with them booking our City Hall PLUS package which provided them with 2 hours of coverage including the ceremony and family photos.
To make things even more fun, the bride wore a unique wedding dress that you don't normally see at City Hall.  It was a totally fun dress and matched the personality of the woman wearing it.  Here is what it looked like: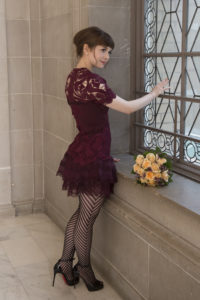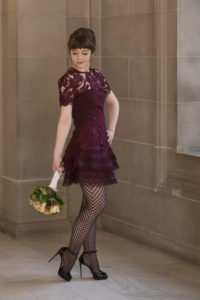 Once the ceremony took place in the Rotunda we photographed a few images of their family and friends.  The family members were all amazing and absolutely supportive of us and our wedding photography efforts.  We spent some time talking to them and discussing some of the finer points of City Hall weddings and then we took the bride and groom around the building for their photo tour.  We visited every single floor of City Hall starting with the Grand  Staircase and then up to the 2nd Floor to get some shots in the hallway.  We knew we had to make sure we took them up to the 3rd floor to take advantage of the beautiful window light so we headed there next.  Here is one of our window shots!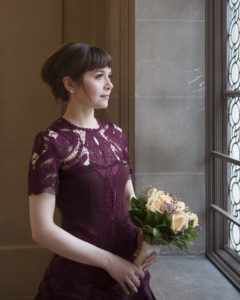 We finished up on the amazing 4th Floor North Gallery at city hall which is probably the most beautiful location in the building for natural light.  It was here that we took advantage of our client's posing talents and tried some dance related poses.  The 2 of them pulled off all of our poses with relative ease.    We took a number of bride and groom shots on this floor including this one: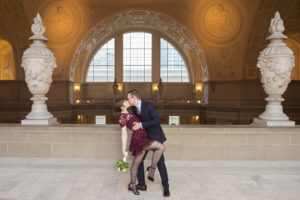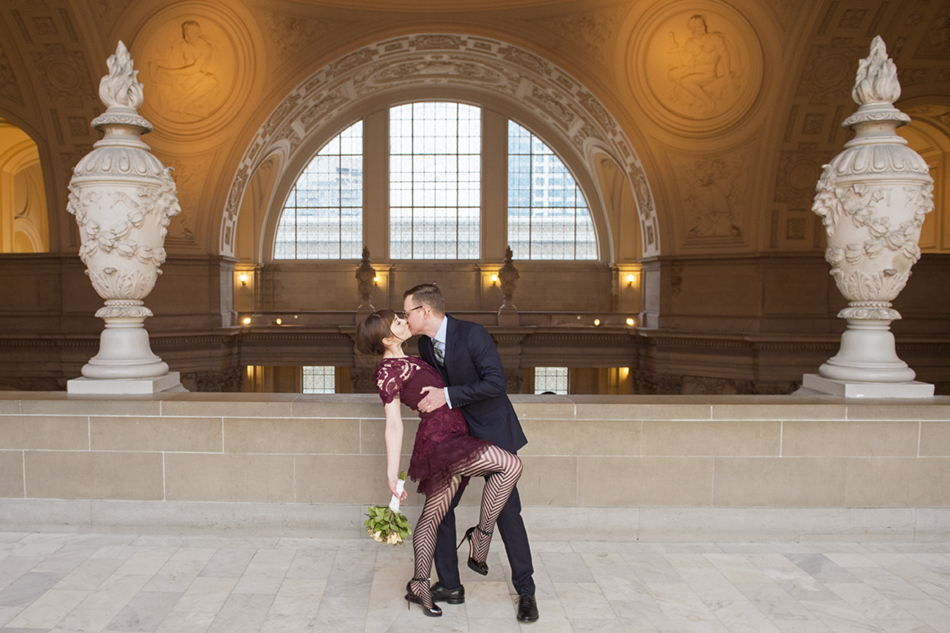 We also needed to include some romantic wedding photos to show the close connection between the bride and groom.  This kind of posing is quite easy when your couple has that type of bond.
We finished up our photo shoot in typical fashion by taking the couple to the Famous City Hall sign on the Polk Street entrance to the building.