City Hall Bride Resting on Bench
Why was our San Francisco city hall bride resting? We had just walked all the way up the giant hill from Sutro Baths where we did an amazing photo shoot of this bride and her groom. She walked pretty fast and I had one heck of a time keeping up with her. We also obtained some great shots at San Francisco City Hall, but I really like the natural look in this photo at the Sutro Baths Parking lot! Sutro Baths is a great place for amazing wedding photography, but the couple has to be willing to take a pretty good hike in both directions. Down and then up! We highly recommend comfortable walking shoes and then changing once we get down to the water. Alternatively, just keep the walking shoes on for a cute look like this one! This location allows adventuresome couples to really get out close to the water for some spectacular views. There are a few tight spots that require a little balancing act, but not too bad. We can easily avoid those areas if the bride and groom prefer. If you have a fear of heights, this may not be the best place for you. The other slight issue with this location is that it is at the very far end of San Francisco so if you want to include it in your Photo Tour, we have to allow enough time. I think the drive is well worth the effort because its such an amazing spot, but it will take a good 30 minutes from San Francisco city hall.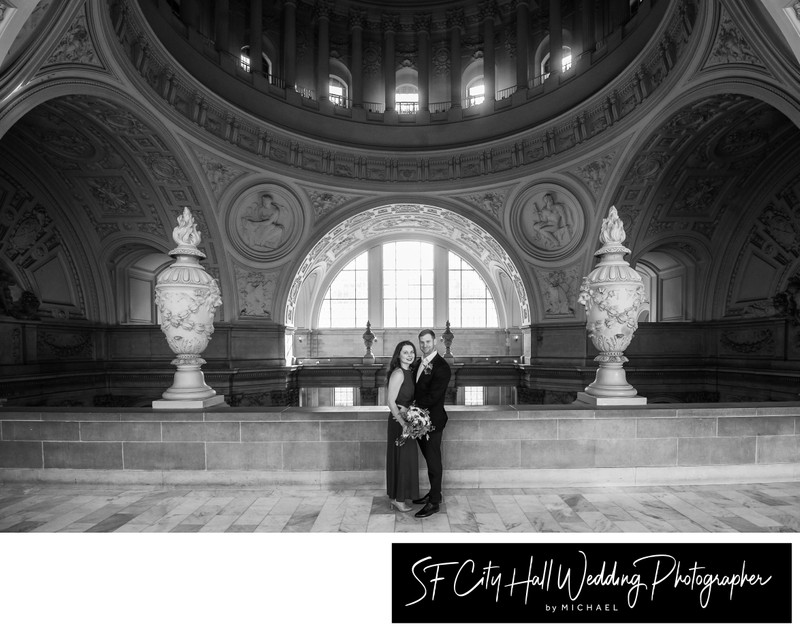 Enjoying the Ocean in San Francisco
If you get married in San Francisco there are a number of fun places to experience the beach. I happen to love Baker Beach because it is located in the mouth of the Golden Gate Bridge channel. It's a fantastic location to obtain great photos of the bridge with the bride and groom. In addition to Baker Beach, you can head up to the Sutro Baths area for a fun hike and some great backgrounds as we did with this couple. Marshall's Beach is another favorite spot for San Francisco wedding photography and engagement shoots. Though I have to admit, I have not photographed wedding pictures there yet. Hopefully soon! We are always looking for great new places to bring our San Francisco city hall newlyweds for great photos. So let us know if you want to try Marshall's beach!