Legion of Honor Wedding - San Francisco City Hall
We are always adding new and favorite iconic San Francisco City Hall wedding locations with photos and stories about the shoot. This month's featured location is the famous San Francisco Legion of Honor. We love taking our San Francisco City Hall wedding couples to the Legion of Honor because it offers so much. It's one of the few stops on our San Francisco tour that enables us to photograph you at 2 famous landmarks in one location! Not only the Legion of Honor, but a short walk and you can see the Golden Gate Bridge. The bridge is a bit distant from this location, but still can look spectacular on a clear day. It's official name is The Palace of the Legion of Honor for those who want to research further. We have been photographing newlyweds here for years.
The Legion of Honor a Favorite San Francisco Destination
Why do we enjoy taking our San Francisco city hall newlyweds to the Legion of Honor in San Francisco? It's pretty easy! First of all, there is rarely anyone there taking wedding pictures so we don't have some of the same problems we encounter at the Palace of Fine Arts and the Japanese Tea Gardens among others. This, of course, makes our job easier because we are not having to constantly dodge and shoot around other San Francisco wedding photographers and their own newlyweds. More importantly, the light at this location is absolutely brilliant. It has one of the types of natural lighting that wedding and portrait photographers dream about. Let's discuss this in detail below.
Dimensional Portrait Lighting Photography
As professional wedding photographers we are always looking for what is often referred to as "dimensional lighting". This is light that gives the subject depth and dimension. With light coming in from one side, the subject's face has more subtle shadow and makes it look better. Flat lighting, which is lighting that come directly on the subject from their front can cause flat and shiny faces. This will make the face wider looking and less desirable because it won't exactly look like you. At the Legion of Honor in San Francisco, you have a wall on one side of the bride and groom (see below left) and open air on the other side. If you scroll down to the bottom of this page, you will see what I mean. The image with all the girls is aimed in the direction to get the most out of this lighting technique. Please note that each of their faces have subtle shadow detail. They also don't look flat. You can really see this effect on the girl's face on the far right. I refer to this as the "Studio lighting effect". Whenever I photograph subjects outdoors, I am always looking for backgrounds and exposures that will give me this effect. One of the reasons people pay big money for studio portrait photography is that if done correctly, the resulting images are very pleasing. This is accomplished by soft directional lighting. The Legion of Honor can mirror that type of lighting if the bride and groom are positioned properly. The idea is to have the open side of the hallway let in the primary light (from the sky, but indirect) and then closed side of the hallway reflects some of the light from the primary and acts like fill light. The resulting images look as though they were photographed in a professional studio with a large soft box and fill light on the other side. The other photographic advantage at the Legion of Honor is the depth available for most angles. As you can see, the couple can be stationed in front of the many columns and they trail off in the background. This also provides a very nice look and is one of the classic things you learn in portrait photography. Which is choose backgrounds with lots of depth. You don't want to put people up against walls if you can help it!
Convenient San Francisco Location
The Legion of Honor is located out towards the Avenues. This makes a trip out there in the afternoon, a reverse commute. This results in less time sitting in traffic and more time taking pictures! It also happens to be very close to some other iconic and amazing San Francisco locations. The Trail head to Lands End is barely 4 minutes away by car and you could actually walk it if you prefer. A few more blocks down the road, you run into Bakers Beach. This beach is quite often requested by our brides and grooms who want a beautiful angle to the Golden Gate Bridge. So that works out great in terms of scheduling and timing. We will always opt for less driving and more photographing! We especially like taking our couples to the Legion of Honor in San Francisco on Fridays because it avoids the whole downtown commuter traffic mess. So if you want to book one of our multiple location packages, consider the Legion of Honor as one of them and then choose a location near by. There are many to choose from. Even though it is not required, we strongly suggest that you try to find locations that are fairly close together in San Francisco. Again, just trying to avoid spending half of your photographic time driving in a car.
Environmental Wedding Photography Factors
San Francisco's famous Legion of Honor (officially named The Palace of the Legion of Honor) is unique among our San Francisco photo tour locations because it is partially covered. So this is where we take our couples when it is raining. Most of the poses you see on the pages below can still be done even in the rain. You can certainly not make that statement regarding her famous San Francisco "relatives". The other important factor is the shelter it provides. It can become a nice place to duck into when the wind is really blowing. High winds occur quite regularly in San Francisco given it's status as a coastal town. Lastly, it is a nice place to get relief from a really hot San Francisco day when some nice shade is in order. Believe it or not we do get hot days from time to time. This particular day was one of those rare San Francisco hot days so we welcomed our arrival here. If it does rain, we can shoot at angles that appear like you are outside, but without getting wet. Another bonus to choosing this as one of your wedding photography locations after your City Hall ceremony.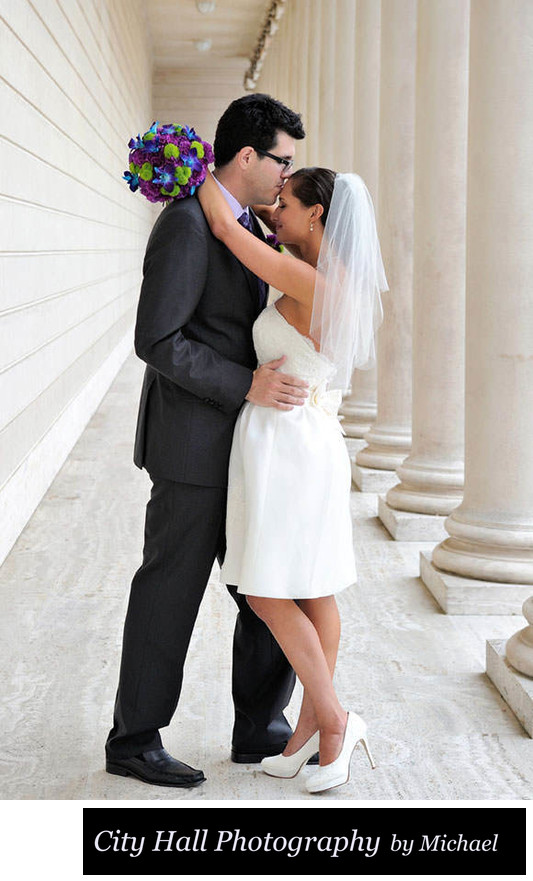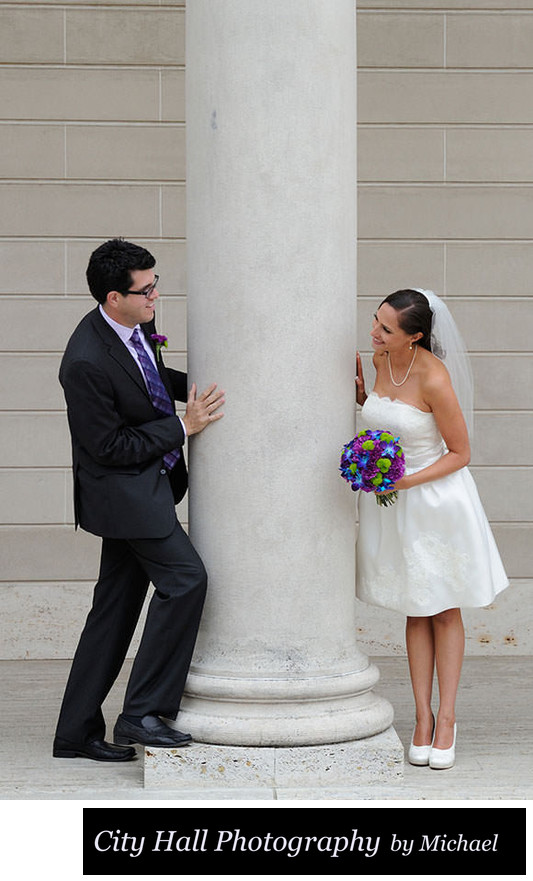 Rachel and Travis took advantage of our San Francisco City Hall photo tour and we had a great time visiting some beautiful locations. We started at the Legion of Honor and obtained the shots above and below. We finished up at Ghirardelli square and also put the bride and groom on a Cable Car for some fantastic photos. City Hall is beautiful, but it is still great to get out and see some of the sites throughout San Francisco.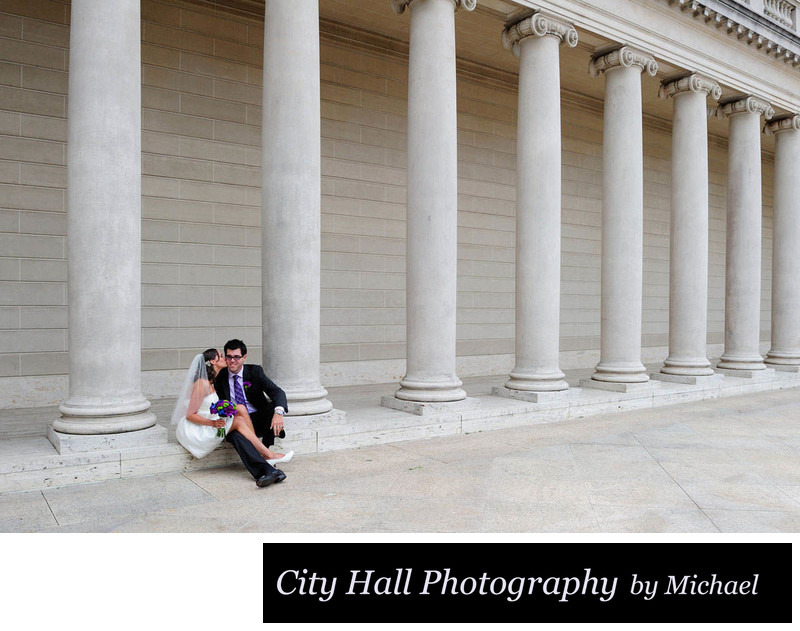 As mentioned above, one of the reasons we encourage our couples with time restrictions to visit the Legion of Honor is because it's possible to photograph two landmarks for the price of one. Below is a photo taken of Nick and Ashley with the Golden Gate Bridge in the background. Believe it or not, this photo location is walking distance from the San Francisco Legion of Honor! This is the 17th hole at Lincoln Park golf course and it can be a very nice place to get a few shots. Sometimes we have to wait a bit for golfers to finish up, but it is well worth it. The bridge is a bit far off in the distance if the day is hazy, but still looks fantastic and romantic! I also like this location for the Golden Gate bridge because the couple is still prominent in the photo. It's not a picture of the bridge with a couple thrown in. It's the couple who are featured and should be! This is also not a typical view that one sees of the Golden Gate Bridge, so it makes your photo session even more unique.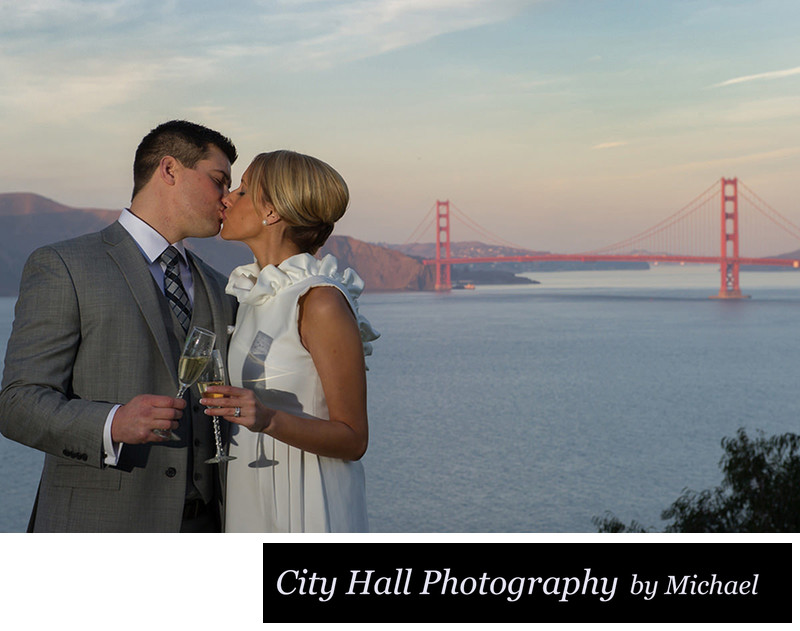 Michelle and Paul (below) were one of our favorite couples of the year! We always try to make our photo sessions fun and the 2 of them had the same idea! We went all over the city including the Legion of Honor. We finished up at Baker Beach in the heavy fog. We love couples that are really interested in their wedding photography and have high standards. We do everything we can to meet those standards!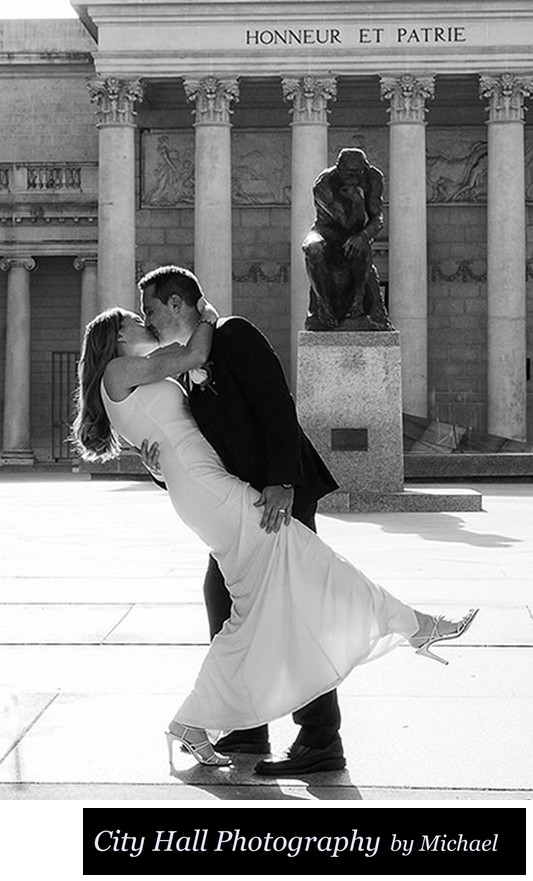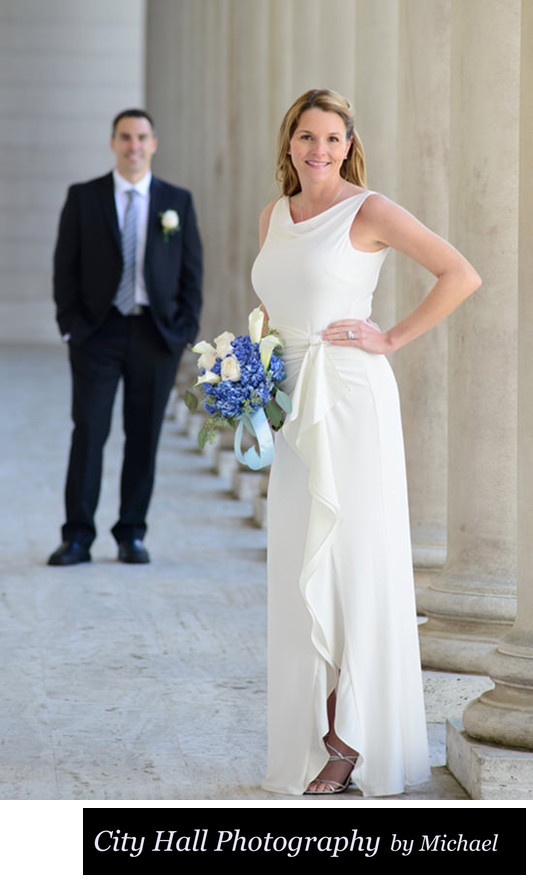 Elina and Stas wanted to go to the Legion of Honor for their wedding photos and we were more than happy to oblige. Definitely one of our favorite San Francisco locations. Parking is usually available and the number of tourists is manageable. This was actually not a City Hall wedding, but it shows how popular many of San Francisco's famous locations are for photography. We frequently find ourselves at the Legion of Honor for our professional wedding photography when in San Francisco.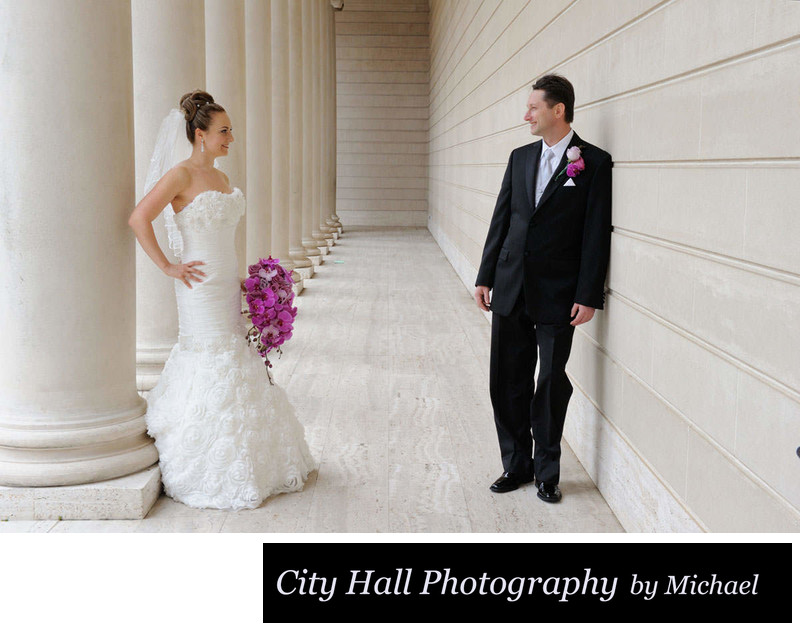 Elina and Stas decided to do all of the pre-wedding photos at the Legion of Honor so they even brought their wedding party. We started with the simple photo above and then moved on to more fun shots! The bright colors of the female attendants contrast nicely to the more neutral background at the Legion of Honor. Such a great spot to do take couples for their photo session, but it really does help to add color. Either a bridal bouquet or nicely colored dresses as you see in the image below.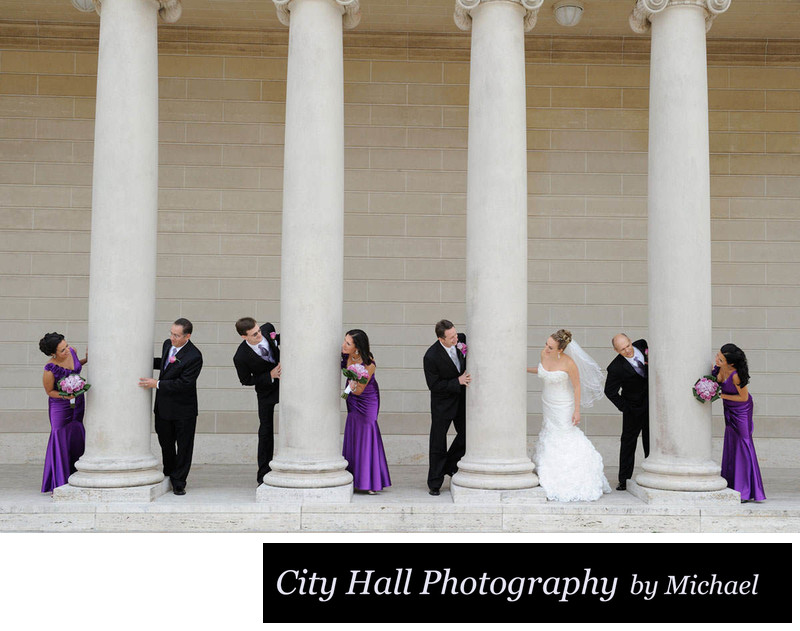 The wedding party leaving the Legion of Honor after a fun filled 40 minute photo shoot (below). As any good wedding photographer will tell you, some of the best shots in a wedding are those that are not posed. We keep our cameras trained on the subjects to catch those perfect moments whenever possible. I know that this wedding photography image looks staged, but there was actually some spontaneity to it. We feel like it is a good idea to keep things loose and allow our brides and grooms to be themselves.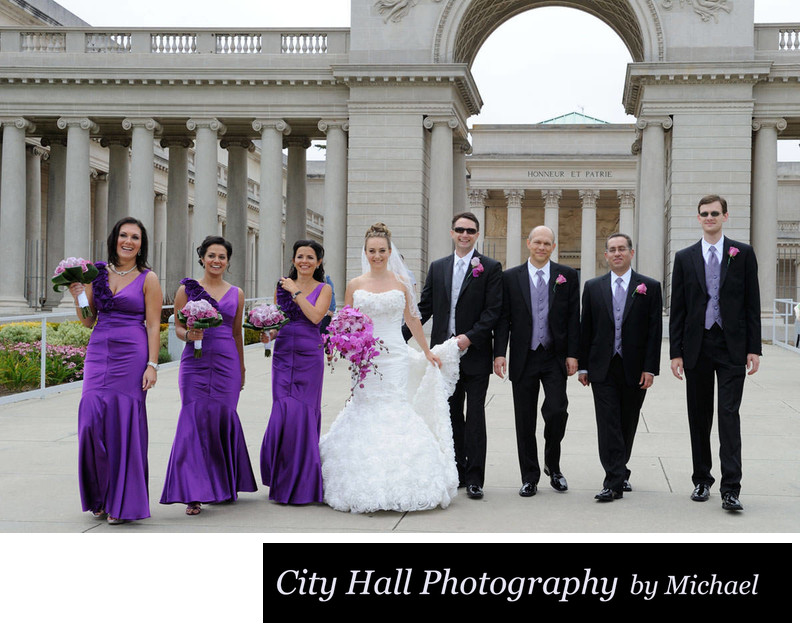 For Yuan and Li's wedding, (below) we started at the Legion of Honor and then moved on to San Francisco City Hall to photograph the ceremony. They were a fun couple and really enjoyed working with us. The whole family came to this location for group photos as well. We normally start our shoots at City Hall, but for this particular wedding, the timing worked out better starting the shoot here at the Legion of Honor. We made sure to leave sufficient time to get to city hall and check-in. We love the Palace of the Legion of Honor for many reasons. One added bonus is that you can shoot here in the rain. We honestly do not have many of our San Francisco city hall weddings disrupted by rain, but on those rare occasions its nice to have a place to take people.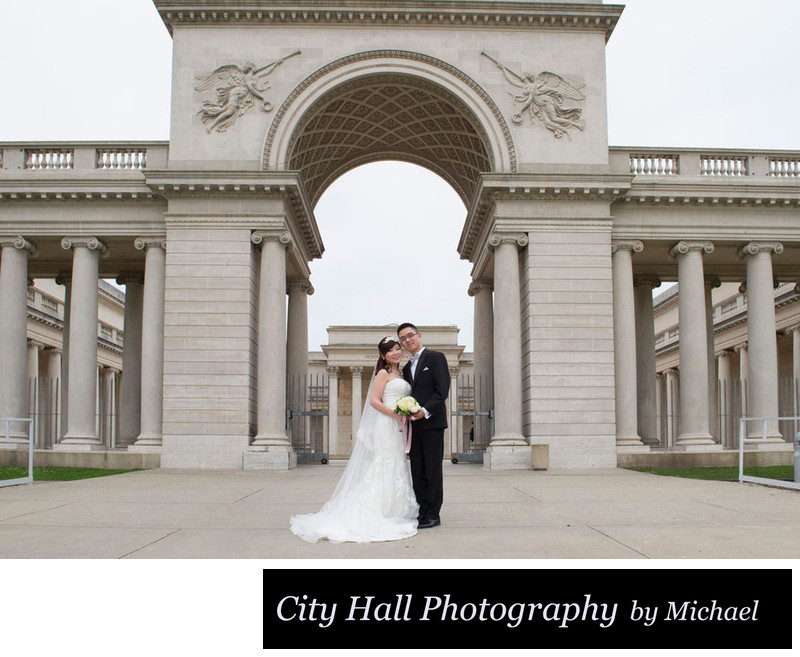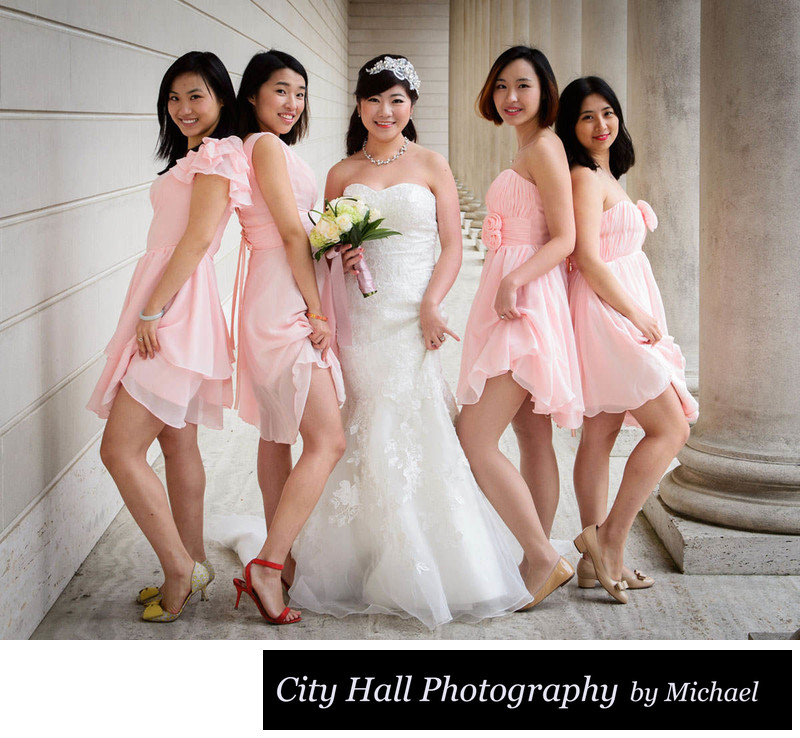 To summarize, we love the Legion of Honor and feel that it is one of San Francisco's best kept wedding photography secrets. We know this to be true because we rarely run into other brides and grooms with wedding photographers here. Contrast that with the Palace of Fine Arts and you get a much different type of wedding experience. The Palace is undeniably gorgeous and historic, but is loaded with tourists and newly married couples. It can be very difficult to create memorable images when you are constantly concerned with people in the background. Not so with the Legion of Honor! With the other options available nearby, including the grassy area, the Fountain, Lincoln Park and of course the Golden Gate bridge, there is so much to like here.


Return to San Francisco City Hall Photographer Home Page