How to Get Married at San Francisco City Hall
We have put together this helpful guide to assist you in all aspects of planning your San Francisco city hall wedding. City Hall is an easy place to have your wedding ceremony. Unlike some civil ceremony venues, SF City Hall allows you to set specific appointments for the date and time of your Ceremony. The same goes for obtaining your marriage license. Many other City Halls across the country ask you to just show up and wait for your ceremony to occur and wait. This is how it is done in New York's City Hall, which may be the second best civil ceremony location in the USA. We have it great here, very little waiting! With over 800 weddings photographed at city hall over the past 12 years, we have become experts on the entire marriage process. We wanted to share our city hall wedding expertise with this simple yet detailed step-by-step guide. Please read below about about how to get married at San Francisco city hall. Planning a City Hall wedding and need a wedding photographer? Check out our SF city hall wedding photography.
Step-By-Step Guide to Getting Married at SF City Hall in 2023
Step 1: How to Obtain your Marriage License at SF City Hall. If you have not already obtained your marriage license, you can do it at San Francisco City Hall up to 90 days before your wedding date. The City Hall website has a convenient and easy way to set up this appointment. We personally recommend obtaining your marriage license at least the day before the wedding, but you can actually do it on the same day if it's more convenient. You can set your appointment by clicking here. You can also obtain your Marriage license at any County Clerk's office in California. The license is valid to use for up to 3 months after it's issuance. For more detailed helpful information on California Marriage Licenses click the link provided. Only California marriage licenses will be accepted at San Francisco city hall and can be obtained at County Clerk offices throughout the state. The San Francisco County Clerk allows you to book your marriage license appointment only 30 minutes before your ceremony. If you prefer to do both appointments on the same day, we suggest at least an hour between the 2 meetings just to make things less rushed. This is only a wedding planning tip, it works fine in most cases to just have the 30 minute gap.

Step 2: How to Book your wedding ceremony at SF City Hall. Appointments are available from 9:00 am to 3:30 pm on week days. You can book your civil ceremony by clicking this link. Once you have set up both of these appointments and pay your fees, you are ready to go! It is advised that for popular dates, you are ready to make the reservation at midnight on the 90th day before the day you want. Wedding dates with numbers of significance seem to go the fastest as do Fridays. You may be asking yourself, what are some of the significant numbers we are talking about? One example would be a date like - 02/22/22. That is the type of date combination that people seem to like, but there are many more! I suggest you look up potential dates in advance and then check online to see what is available. It will quickly become obvious which dates are more and less popular. In almost all cases, it has been reported that brides and grooms who logon to the city hall website 90 days before their wedding at midnight are able to obtain their desired date. NOTE: Recently, city hall has been booking up very quickly each month, partially due to the fact that they now offer less ceremony slots.
Wedding Planning Idea: You may want to use the above advice for booking any and all city hall dates regardless of the significance of the date numbers. The advantage is that you will be able to select a wedding ceremony time that is most convenient for your plans. There are also some advantages to booking early or late ceremonies if you want to avoid the crowds.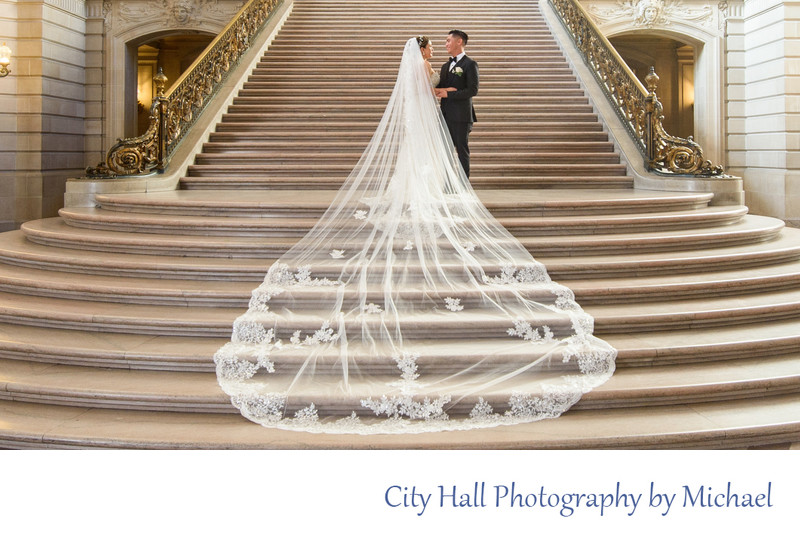 Step 3: Make sure you have Current Identification. On the day you set your marriage license appointment, we advise you to be sure to allow plenty of time for parking and the commute to San Francisco City Hall. You also need a little extra time to get through security. You will need your current ID's in order to obtain your marriage license. A U.S. Passport will work also, but make sure it is unexpired. Only Current Identification will do! There is no exception to this policy that we have seen. We have been involved with marriages that were not allowed to occur on their selected day due to documentation issues. This is one of the reasons we recommend obtaining your marriage license the day before your city hall civil ceremony. It may give you time to fix any documentation problems before the actual wedding day.
Wedding Planning Idea: Set the date for your marriage license and wedding on the same day, but allow a few hours in between. Have a great lunch together after you process the marriage license and then get into your wedding attire.
Step 4: Check in for your Ceremony. It's the day of your wedding and you have smartly given yourselves plenty of time to arrive, get through security, and park at City Hall. Your next step is the "ceremony check-in". Depending upon whom you talk to at the County Clerk's office, your check-in time is either 5 or 10 minutes before your actual ceremony. Either way, the San Francisco County Clerk asks that you arrive 15 minutes before your scheduled civil ceremony time. The County Clerk is located on on the 1st floor (Room 168) and relatively easy to find. If you enter through the main doors, veer to the right of the Grand Staircase and keep walking to the right. Follow the signs provided. Once you check-in you will receive your ceremony number and will head out to the hallway to wait for your number to be called. Make sure your witness is with you so they can sign the license in a little bit. This is not the time to take a trip to the restroom or to meet a guest. Your number can only be heard in the County Clerk Hallway. The announcement is not audible from other parts of San Francisco city hall.
While waiting for your number to be called it will occur to you that your marriage ceremony isn't actually going to take place at the time you booked! Most weddings take place approximately 15 minutes after you check-in. All you need is your witness and paperwork for this step. The County Clerk asks that you not bring your entire family and friends with you to check-in. Recently they have also requested that only 1 witness come back in the office to sign. If you bring 2 witnesses, one will politely be asked to leave in most cases. Also, us San Francisco city hall wedding photographers are no longer allowed to accompany you for the signing. These are most likely Covid-19 related precautions still in place.
Step 5: Have your Witness sign your Marriage License. When your number is finally called, you bring your witness into the County Clerk's office and meet with your Deputy Marriage Commissioner (wedding officiant). At this time, you will be asked some questions regarding preferences for your ceremony including location and ring exchange. They will also want to know what you would like to be called during your nuptials (first name, nickname, etc.) The only ceremony location choices normally offered are the "private room" and the Rotunda area. Most people choose the beautiful Rotunda and not the tiny room. Once the meeting with the officiant is complete, we all walk up to the Rotunda at San Francisco City Hall to get married! Remember that City Hall restricts your guest list to no more than 6 people. This is mostly enforced now, but it largely depends upon your Marriage Commissioner. Circumstances that day can also have an impact on enforcement of the 6 guest rule. Witnesses do not need to have Identification nor do they need to be 18 years old They do, however need to be old enough to understand what they are signing. The Marriage Commissioner will determine this and I have rarely seen them turn a witness down and not let them sign.

Step 6: Ceremony Location at SF City Hall, can you choose? Depending upon how busy it is at city hall, you may be able to request an alternative location instead of the Rotunda. I have found that if you approach your officiant in a sincere and polite way and provide them with a logical explanation as to why you would prefer a different location, you might be rewarded! Don't just say that you want the Mayors Balcony because you have heard it is pretty! At San Francisco City Hall the Mayor's Balcony and the 4th Floor North Gallery are both fantastic alternative locations for your wedding ceremony. It doesn't hurt to ask! If it is the Holiday season you can ask to NOT be married by the Christmas Tree if that bothers you or doesn't work with your religious or cultural beliefs. The officiant will be more than willing to work with your own preferences and desires. Christmas is a good time to try the Mayor's Balcony if your officiant agrees. Of course during the Christmas season, the tree is still visible in the background so we will need to try a different angle if you want to avoid it showing up in your pictures. One little known fact... Ceremonies that are set on Tuesday afternoons are ALWAYS moved to another location for business reasons. The San Francisco Board of Supervisors meets at that time and they would prefer weddings not occur just on the other side of their chambers (The Rotunda). If you can manage to reserve this day of the week and time, you may find your ceremony taking place on the Mayor's Balcony!
Step 7: Wedding Ceremony. Once the location of the ceremony is settled on, it is time to start. In most cases, there are 2 weddings every 30 minutes. It was expanded during this past Christmas season, but under normal circumstances they marry 4 couples per hour. If your wedding is not the first of the 2, City Hall requests that you wait down the small staircase just below the center Rotunda area. This is out of respect for the other weddings occurring. This is especially important if you have brought a large group with you. Please remember the restriction of 6 guests, some officiants will not allow your ceremony to start if you have that many people standing by. Your professional San Francisco city hall wedding photographer will help point you in the right direction as well. The wait is short since most Civil Ceremonies occur pretty quickly, so do not go away.
Wedding Planning Tip: After you check-in for your civil ceremony go straight up to the Rotunda to meet your City Hall Marriage Commissioner. This will make everything go faster and nobody will have to wait.
Step 8: Kiss, you are Married! The wedding ceremony typically takes only about 4 minutes to complete. Some officiants add a few little personalized comments, but in general, you will be married in less than 5 minutes. After the wedding, you might want to take a posed photograph with the officiant, but this is not required. Keep in mind that a select few Marriage Commissioners would prefer to not have their photo taken with each couple, but you can ask. If your ceremony happened to be the first ceremony of the half hour, it's a nice idea to move out of the area to allow the next wedding to occur with a little bit of privacy. Your San Francisco city hall wedding photographer will normally help direct you where to go next (we always do!).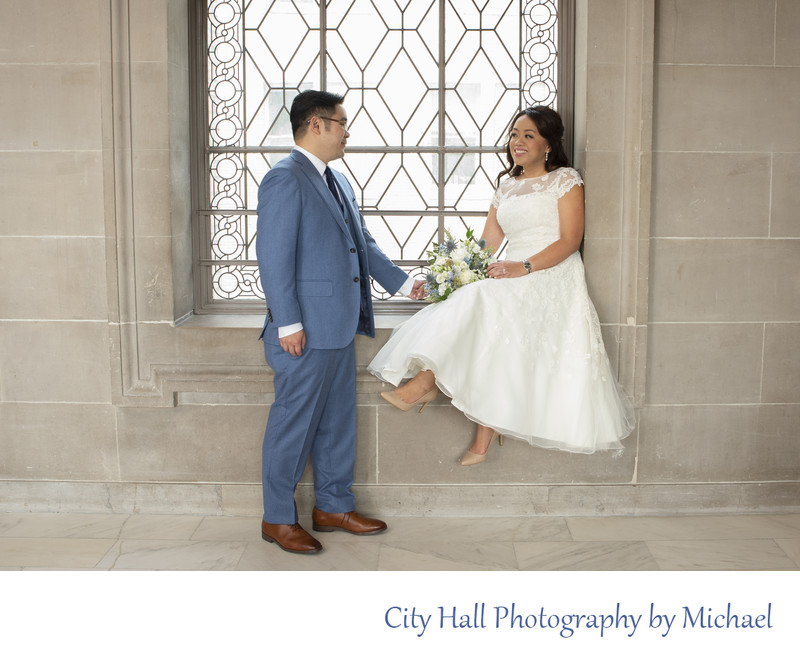 Step 9: Time for Wedding Pictures! Most wedding photographers will want to do your family and friend photos right after the ceremony. This is the traditional way of photographing a wedding. You have everyone right there and it's certainly more convenient for your guests to not have to wait around for the bride and groom photography to be completed. We always go right into the family shots, complete them, and then excuse the family members so we can take the couple around the building for a beautiful San Francisco City Hall photo tour. If you would like more photos with your guests at other locations, this is the time to tell us. We are very willing to take your guests to a few other locations within the building, but please remember that the more time spent on family pictures the less time for the 2 of you! However, It's still a personal choice and we will capture as many family photos as you want. We will never exclude your family from any of your pictures, but just let us know how you want this part of it handled. We will work with you and be as helpful as we can during the Family pictures.
Step 10: The San Francisco City Hall Photo Tour will usually last about 40 minutes if you booked us to be your photographer. The time it takes will also vary depending upon the package you chose. We encourage our couples to communicate their desires and preferences with regard to their wedding photography session. Comfortable walking shoes are recommended for the bride when strolling around San Francisco city hall. We will allow plenty of time to change shoes before and after each photo location. We strongly prefer that this session be completed without all of your guests in tow. It just becomes distracting and we end up spending a considerable amount of time moving your guests out of the way. In some cases, guests have been known to shout criticism in the direction of the couple regarding their smiles or other issues. As you can imagine, this does not help the wedding photography session in any way! The best wedding photography is conducted with the couple feeling free and uninhibited. We will finish your wedding photography session outside under the famed City Hall entrance sign. This seems to be almost everyone's favorite shot!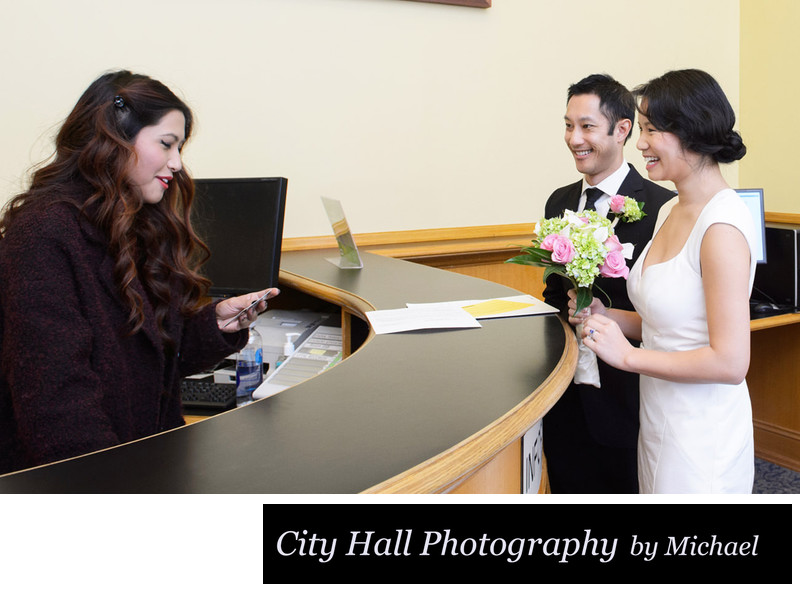 City Hall wedding ceremony check-in with receptionist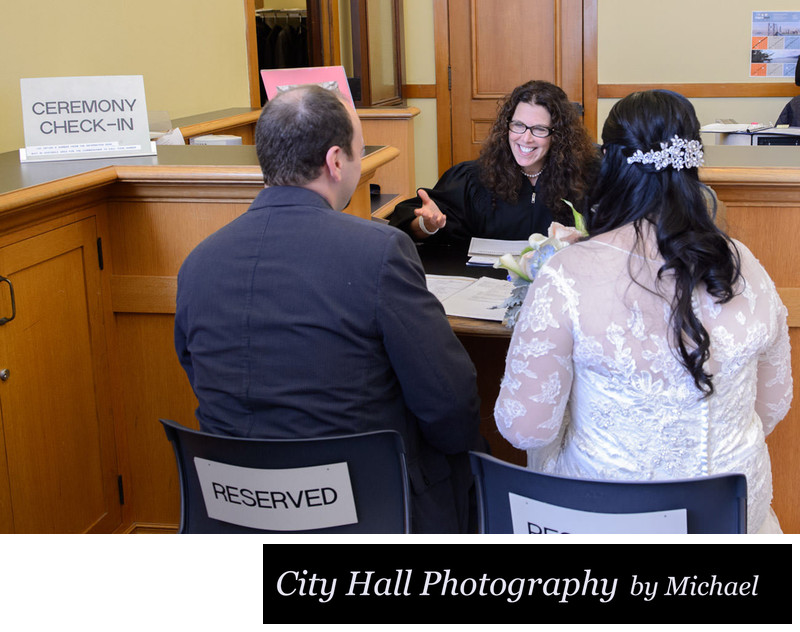 Meeting with your Wedding Officiant in the County Clerk's Office
Your City Hall Wedding Photographer is here to help!
Now that I have put together this detailed step-by-step guide on how to get married at San Francisco City Hall, I want to make sure that you understand that we are here to help! We feel that our role goes well beyond just taking pictures of the process, ceremony and doing formal photos. We want to guide you through your whole day and make it as easy as possible for you. Rather than worrying about all the steps above, just let us be your wedding coordinator. We really enjoy helping our couples and there is an added benefit of creating a more relaxed atmosphere which of course leads to better final images! Our packages are affordable and easy to understand. We want to provide you with the best city hall wedding photography in the industry! We hope that you have enjoyed this complete guide to getting married at San Francisco city hall. It has been newly updated for 2023 and contains some of the latest changes. We will always keep this helpful guide up to date and will publish all important changes. Let's summarize some of the more important planning tips to help you get married at San Francisco city hall with no problems or issues.
Additional SF City Hall Wedding Planning Tips
Allow plenty of time to arrive at City Hall on your wedding day.
Bring a "Wedding Kit" which includes things like water, safety pins, protein bars, bandages, etc.
Bring a folder for important documents like your souvenir marriage license.
If you need a copy of your marriage license quickly, you need to request it. It is not mailed.
Inform family members before the wedding of your photograph plans and schedule.
Brides bring powder or a Make-up kit. Warms days can definitely make you shiny.
Brides bring comfortable shoes for walking - we will allow you time to change between locations
How To Learn More About City Hall Weddings
We have provided you with instructions on how to get married at San Francisco city hall and also how to actually get through the process efficiently. However, there is so much more to making your Civil Ceremony perfect. The steps above provide you with a great blueprint to take you through the entire process. However, sometimes it is the little things that make your wedding day go perfect. SF City Hall Wedding Photography by Michael offers ALL of it's clients (and non-clients) free Courthouse wedding consultation as a community service. There is absolutely no fee for our service and it is open to anyone who contacts us. You do not have to book us to be your wedding photographer to receive our wedding planning services.
We are happy to answer any questions about how to make your wedding day at San Francisco city hall go smoothly. In addition, we can offer you referrals to many of the common services available to brides and grooms getting married in this historic building. This includes: wedding officiants, videographers, musicians (reserved ceremonies only), wedding coordinators and even wedding photographers. Yes, we will be happy to provide you with our advice on the best San Francisco city hall wedding photographers for you. We have worked with the vast majority of popular photographers and have seen their work. We might even be able to offer some of our comments about each photographer's style. We happily recommend many of them even if we are available and you are looking for a different style. To utilize this service we ask that you email us with your questions and comments. We spend a lot of time down at the courthouse photographing weddings and so it is much more efficient for us to answer your emails in the evening when we are home. We hope you have found this guide to getting married at SF City Hall to be helpful.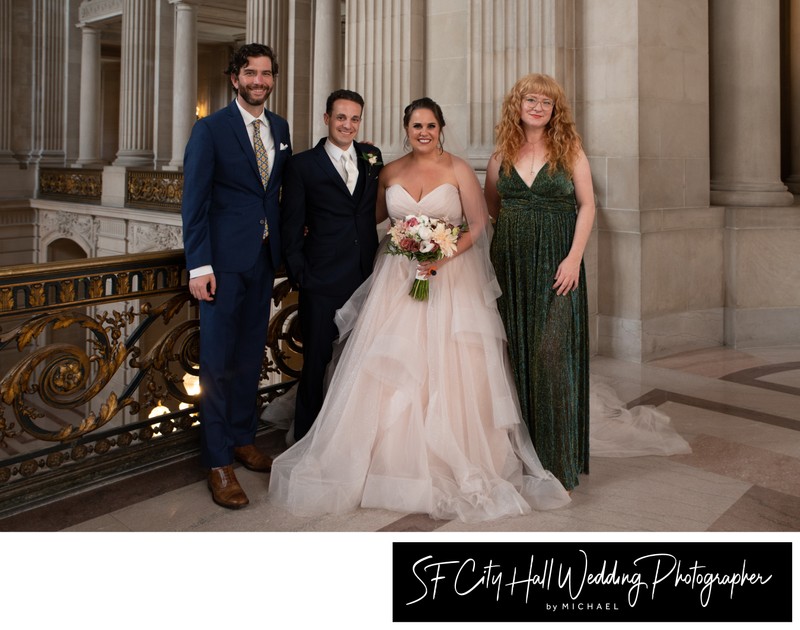 Family Photos after the wedding ceremony at SF City Hall
We also have provided an informative and helpful video on how to get married at San Francisco city hall. Please click below to watch!