LGBTQ Wedding - Asian Couple
LGBTQ Wedding Gallery - SF City Hall
This LGBTQ couple was really ready for some fun times on their wedding day and they were not disappointed. We met this couple near the County Clerk's office in April of 2022 and gave them some information about how to check-in for their city hall civil ceremony. Right away, we could tell that they were going to not take things too seriously and wanted to just enjoy their day. They wanted to get married and they wanted it to be a fun experience. We do everything we can with our same-sex couples to make sure we take all of the stress away and let them just focus on getting married. Amy and Danielle chose our City Hall PLUS package which provided them with 1.5 hours of wedding photography coverage. This package provided these brides with San Francisco city hall wedding photography on all 4 floors of the building. In addition, they also had plenty of time to enjoy taking pictures with their guests. We never rush our clients through the family pictures just to get to the wedding photography. We know this is part of the photography coverage is important and we want them to fully enjoy their time with family and friends. See below for the Gallery of the SF city hall photo tour and check out more information below the gallery pictures.
SF City Hall Wedding Photography - Asian LGBTQ Couple
I wanted to talk a little about the overall experience of having your wedding at San Francisco city hall. Assuming you have signed up for a Civil Ceremony (not a reserved ceremony), you are limited to 6 guests. Some couples bring 2 or 3 extra guests, but generally speaking the amount of family and friends we see at city hall weddings is under 10. Given the importance of your wedding day in your lives, I really think you should be able to spend time with your guests after the ceremony and not have your San Francisco city hall wedding photographer whisk you off for pictures. This is why we include 30 more minutes for couples that have guests and are not eloping. It doesn't take 30 minutes to take pictures of 6 guests, not even close. No, that extra time is also to allow the couple to interact with their friends and exchange hugs and congratulations, etc. There is also always logistical information that needs to be shared by the couple to their guests regarding after wedding celebrations, transportation, etc. After that part of the wedding day is complete, we take the time to capture some nice group shots of you and your guests. We will capture as many family/friend combinations you want including the whole group at once. We are also happy to take the group to another location in SF City Hall to provide some variety to the backgrounds.
San Francisco City Hall Photo Tour for LGBTQ Couple
Next, we take the newlyweds around the building for photos in various spots with our favorite backgrounds. We will also ask the couple if they have any particular favorite spots that they may have seen and like on our website. It is important to make sure that newlyweds receive some of the types of photos that might have led to their decision book us! We normally ask that the guests not join us on the photo tour around the building because it can be distracting for the couple and slows down the process considerably. However, like all of our rules, this one can also be broken. If it is important to keep your guests with you throughout the shoot, it is perfectly fine with us. The photo below shows the happy LGBTQ couple posing for wedding pictures in front of the Grand Staircase. It was nice to catch a moment with nobody else on the stairs. This is a rare moment at times for San Francisco city hall weddings especially on busy days like Thursday and Friday. We have discovered over the past many years that if we keep our eyes on the Staircase it will eventually clear of other people.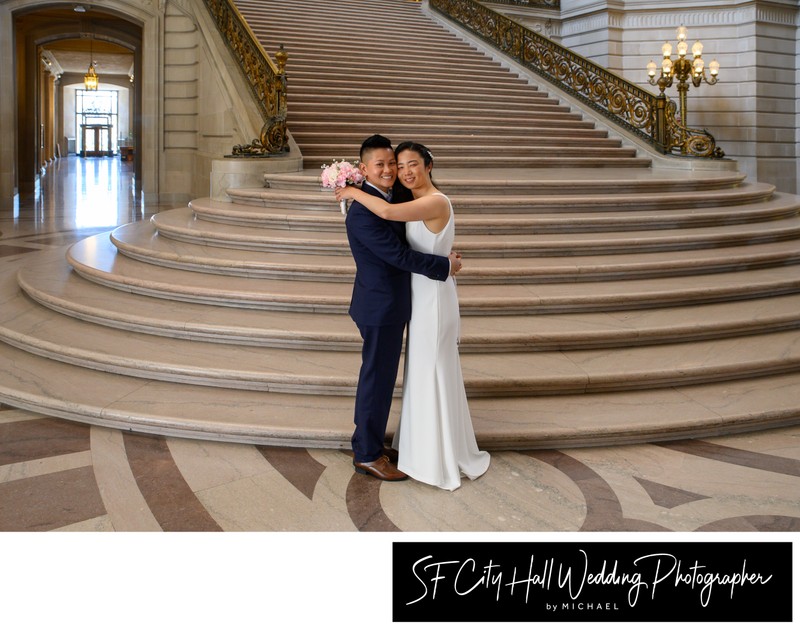 The next picture is a fun shot where we set the newlyweds up on a leather bench on the 4th floor at city hall. We just asked them to interact and enjoy each other. We took a whole series of photos of them just talking and laughing and the one below was one of the best wedding pictures of the bunch. I think this one image captures both of their personalities and the is really what great photography is all about. This same-sex couple really enjoyed this part of the wedding shoot.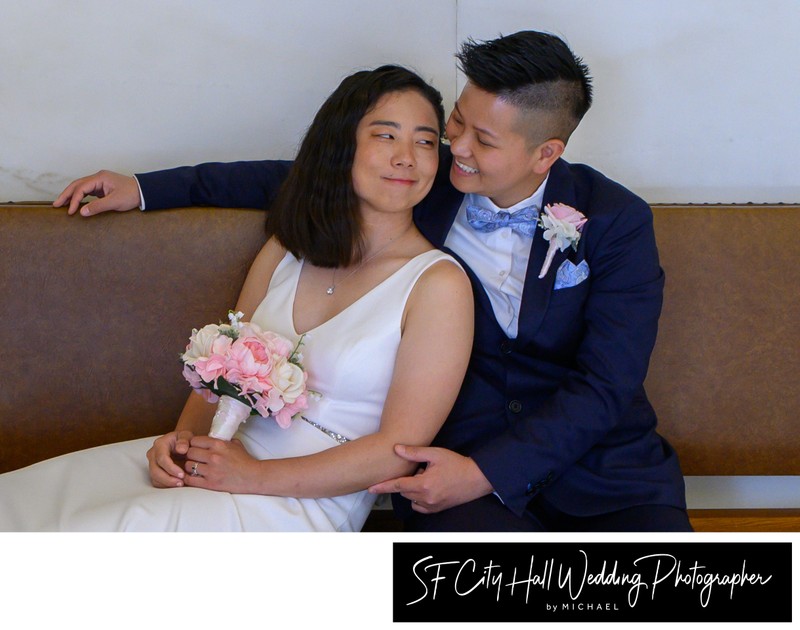 This picture was taken after people finally left the Grand Staircase and it was clear of people. We thought it would be a great opportunity to have them sit down and relax together. I could have cropped this wider to show more of the staircase, but I wanted to show a more intimate side of them. I also love the way Amy grabbed on to Danielle's hand in this picture. That was their idea, and it really makes the picture. San Francisco city hall has so many great places like this for wedding pictures. This same-sex couple really made the most of it. Their outfits were also perfect for City Hall, because the splash of Blue in the suit really makes a nice contract to the neutral colors found in the building. I always recommend that our LGBTQ couples bring in splashes of colors in their outfits. Mort importantly, the flowers were a great touch and perfectly matched to their outfits.