Golden Gate Package Gallery - Recent Wedding
Our 2.5 hour Golden Gate package is one of our most popular SF City Hall wedding photography packages and is perfect for the couple who wants a little more than just the standard coverage. It's popularity centers around the affordability of the coverage coupled with the photography focused agenda. For San Francisco couples who want to travel to other places in the city, this IS the package that is most requested. We have provided a nice sample of our Golden Gate package in the above photos. This particular couple opted to utilize the extra time to have us attend their marriage reception celebration. Other couples will use the extra 1 hour provided to go to one of San Francisco's famed landmarks like the Palace of Fine Arts, Legion of Honor, or Coit Tower. Our approach to San Francisco city hall wedding photography is to custom tailor each of our packages to our client's wishes. How our newlyweds use the extra hour after their city hall building coverage is up to them. We also advise them on how we feel each package fits into their own individual photography needs in case something else is more suitable. We really try to help our couples choose the best package for them and not the most expensive. The most important aspect of any Town Hall wedding photography coverage is to ensure the suitability of our style and focus to the bride and groom's desires. Here are some of the types of style issues we will discuss with our clients prior to our shoot:
Focus on SF City Hall Architecture
Documentary Wedding Photography
Candid Images (Many or few?)
Traditional Wedding Photography
Importance of Family Pictures
San Francisco Location Preferences
Optional Wedding Reception Coverage
Romantic Posing versus standard
Photography Style Discussion
We discuss all photography style issues with our couple and determine what items to focus on the most during the SF city hall wedding photography session. We want our couple's input and ideas, but we ultimately allow them to relax and let us take care of making great memories to last a lifetime. We allow and encourage our couples to let us know if we are on the right track while the shoot progresses. Please feel free to tell us if your city hall photo tour is not going as you expected. We are happy to make some quick variations. We never forget that it is your wedding and most importantly, your pictures! Everyone has their own unique style and preferences, we want to make sure that we coming close to matching what you want. To view more city hall portfolios like the one above, please click the link.
Posing the Bride at San Francisco City Hall
Anyone who tells you that a wedding isn't mostly about the bride doesn't understand the facts. As professional city hall wedding photographers, we understand that our primary goal is to make the bride look her best in her wedding dress. We do this by sizing up the bride's body type and the style of dress she is wearing. Is it a formal gown? A shorter cocktail dress? Something casual? Every bride and dress combination will look different depending upon how you pose them. Just to use this particular wedding as one example..... Please notice that the bride's gorgeous dress is form fitting and shorter. It would be a crime to pose this bride with her legs shoulder width apart with her weight on one foot (an example of one desirable pose for a long gown to look good). No, instead the goal is to twist the body and bend the legs. Please note that in many of our photos we have the bride's legs crossed and her heel off the ground. All of these moves add to the beauty of the bride and her dress. When you also have a form fitting dress as we have here, it is important to have the bride not 100% facing the camera. So we move her around and twist her which accentuates her figure and keeps her looking as slim as she is. Because of the 2 dimensional aspect of photography, it's possible to make a slim bride look heavier than she is. Again, another crime! There are many ways to do this and we practice most of them at each particular San Francisco city hall wedding photography coverage. These are the kinds of things you should be able to expect when you decide to hire a professional. Anyone can aim a camera at a bride and take a picture. San Francisco city hall wedding photography is much more than that, it involves working with bride and her surroundings to create the best images possible.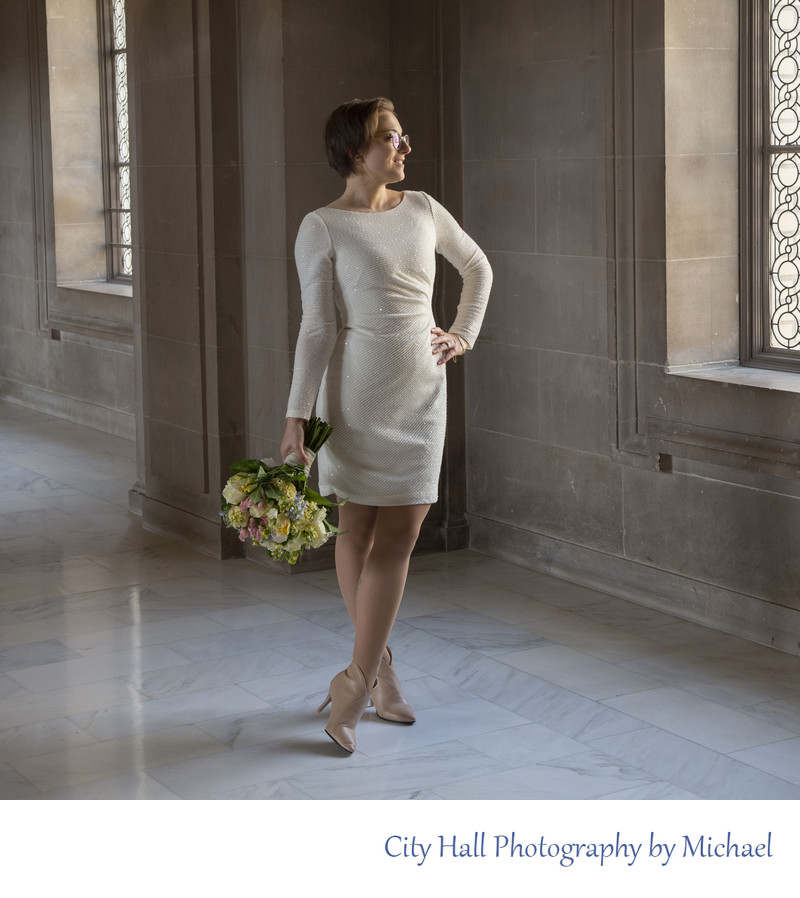 Making City Hall Wedding Photography Fun
You can't underestimate the effect of the overall emotional approach to wedding photography by the photographer. If your wedding photographer is serious and seemingly performing a tough job, then it will be difficult for the couple to feel different themselves. Is the wedding photographer outwardly nervous? If so, this nervousness will undoubtedly rub off on the bride and groom. The best San Francisco city hall wedding photographers are relaxed and transmit this to their couples. A bride and groom will often mirror their photographer in terms of how they behave during the shoot. Whenever I look at wedding photography portfolios online and the couples appear unsure and nervous, 9 times out of 10 it is attributable to the picture taker in my opinion. What about angry wedding photographers? Really? Yes, I have seen it in person. Not so much angry at the couple (that would be crazy) but perhaps unhappy about the conditions of the day, the weather or time constraints. Even the guests can sometimes upset a wedding photographer. It has happened to me, but you just have to try to roll with the punches. I can tell you from personal experience that I have felt unhappy at certain times while photographing a difficult wedding, but did my clients have any clue? Not a chance! It is our responsibility as San Francisco city hall wedding photographers (or any type) to keep our couples relaxed and at ease. This should be the very minimum that your clients should be able to expect after paying you their hard earned money. In fact, I think that one of the major skills of being the best possible wedding photographer is not just the quality of the final pictures. It's our ability to deliver high quality photos under pressure and less ideal conditions. Taking it a step further, keeping the photo session fun for the bride and groom even under difficult circumstances. When people ask me to define our style, I inevitably get back to talking about keeping cool under pressure. I have thought about this for many years, what makes professional wedding photography so different then other types. It really comes down to the fact that there is no real control during a wedding shoot and you just have to adapt to what happens throughout the day. The ability to still deliver quality images under challenging circumstances is what sets us apart.
A Little Laughter Goes a Long Way
Our approach goes well beyond this. We think that wedding photography should be fun and adventurous! We want to have our couples giggling and smiling throughout the session and not just when the camera is aimed at them. Toni and I love what we do and is shows in our approach to the couple. If they see we are having fun, they will too! Will I sometimes do silly things to lighten the mood? You bet I will! Whatever it takes to get the job done and to get natural looks out of our brides and grooms. Of course, it's equally important to stay professional, so although we may get a little silly, we never get corny or rude. This is what the couple expects when they decided to hire a professional San Francisco city hall wedding photographer.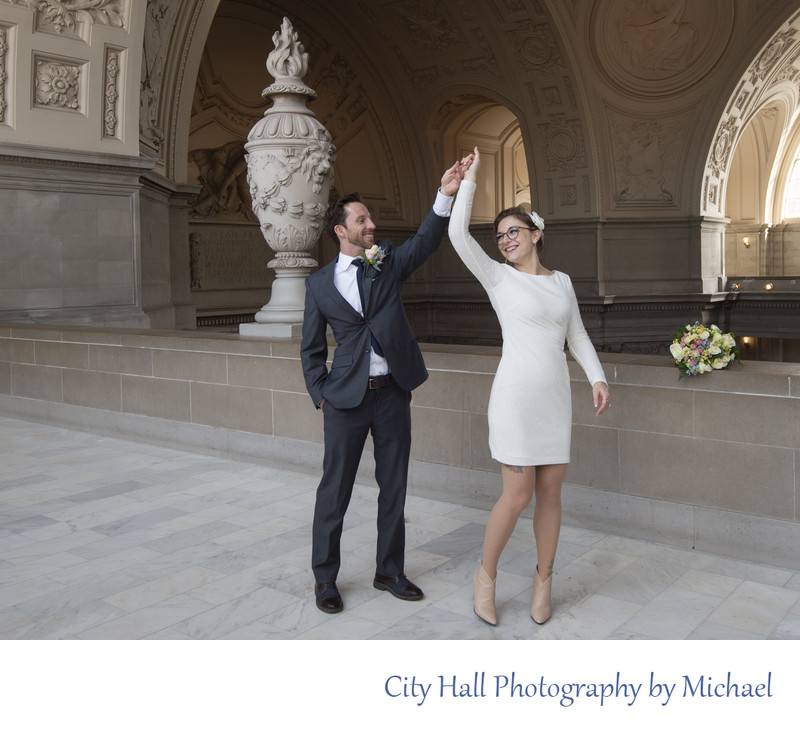 Positive Experience with this Bride and Groom
As usual, this wedding at San Francisco city hall was a very positive experience. The couple was great and really interested in helping us make some great photographic memories. They were very attentive to our suggestions and at the same time added their own flair and personality to the pictures. Their wedding was a little different in that they rented out the Mayor's Balcony for a private ceremony but still used one of the City Hall Marriage Commissioners. We were very happy to see that Bernice was their officiant, one of our favorites. We had the Balcony for an hour and used pretty much all of the time for the ceremony, family pictures and then a few shots with the bride and groom. Then we took the 2 of them around the building to visit some of our favorite photos spots. We were able to visit all 4 floors and even obtained a nice image of the Grand Staircase of City Hall. Once we completed the City Hall entrance pictures, the plan after was to take an Uber ride to Union Square in San Francisco to visit their wedding reception site. They were having a simple dinner at a great location and just wanted us to take a few shots both inside and out. We didn't spend that much time at their Reception location. Just enough time to get the best wedding photography completed for them without disrupting their plans to enjoy the party. Just a nice chronicle of their wedding day.
How to Enjoy your SF City Hall Wedding
As long as we are talking about having fun with your wedding we might as well discuss some of the details that can help make this happen. After photographing hundreds of city hall weddings, we have seen some of the things that lead to fun weddings and other issues that can take away from good times. It seems to primarily come down to planning before the wedding. The smoothest weddings are born out of lots of organizing in advance, but then letting go on the day of the nuptials. This is also true of larger weddings not at San Francisco city hall. With a full scale wedding there are so many details to think of and plan for. The cumulative effect of all of this can be overwhelming. Even more overwhelming, however, is waiting until the actual day to plan things. The lessons we have learned over the years is that pre-planning helps tremendously, but also not over committing. In other words, make a great wedding plan, but take it easy on yourself. Allow plenty of cushion in your wedding day timeline. Whether it is a large wedding or a civil ceremony, try not to accomplish too much in a short time. Plan for leisure time to spend with your friends and family. Your wedding day should not be a race, it should be memorable and enjoyable.