Palace of Fine Arts - SF City Hall Wedding Photography
This was our first San Francisco city hall wedding of 2020 and it was amazing. Little did we know at the time that it was going to be one of our last weddings due to the Covid-19 closure of City Hall that occurred just a couple of months later. Our bride and groom reserved the 4th Floor North Gallery and had a large crowd of guests in attendance by San Francisco city hall standards. Everyone was so nice and supportive, it was a pleasure to just be a part of their special day. We actually helped the couple choose the officiant for this wedding and she did a great job. We will definitely refer her again, her name is Maggie and she has been doing city hall weddings for quite some time. The ceremony started out with a family friend doing the officiating to give things more of a personal touch. But once it was time for the vows the professional officiant took over and handled things very well. This is why it is nice to make contacts within the city hall network of vendors. We can help each other, but most importantly we ensure that our brides and grooms receive the best service possible. We never refer wedding vendors unless we have personal experience with them. We also never trade referrals just for the sake of trading.
Why Your City Hall Officiant can be Important
The ceremony was about 15 minutes long which I feel is about perfect for SF City Hall reserved weddings. It is rare that these ceremonies go much longer than that. They set up plenty of chairs and everyone was quite comfortable. Some of the things that I noticed about this officiant is that she knew how to keep the bride and groom in the middle of the aisle and not allow them to drift left of right. This may not seem important to the average person, but to a San Francisco city hall wedding photographer it is very key. When city hall sets up their chairs they frequently don't make a large enough center aisle. This can become a problem if the officiant is not aware of keeping the couple centered. Keeping the couple in the middle makes it so the guests can see the entire train of the bride throughout the ceremony. When a bride invests in an expensive Wedding Gown, she wants it to be seen in the pictures and by the guests! Recently, we have been slightly enlarging the center aisle before the ceremony happens if we know that the bride is going to be rocking a big wedding dress. Men tend to sit with their legs out in the aisle and this can also block the dress. I have had to remove many a blocking leg in photoshop at the request of the bride, but this is not always possible. It certainly pays to try to eliminate the potential problems before they begin. Contrary to popular belief, Photoshop is not the answer to every photography issue.
Wedding Photography Tour - City Hall Interior
Once the ceremony and family photos were complete, it was time to take the happy newlyweds on our San Francisco City Hall photo tour. You might be asking, what is the Photo Tour? This is simply the time we take the bride and groom around the building to some of our favorite photography locations and take creative and romantic photos of them. We generally think that this photo session goes better if we only take the newlywed couple. There are a number of reasons for this including the fact that often times the couple will not be as open and uninhibited if they have relatives and friends watching them. On the rare occasions that we DO allow friends and relatives to join us, they can sometimes be critical of the couple in a joking way. One example is that they may make fun of their smiles or poses. This really adversely affects the quality of the photography and posing. it can also sometimes upset the bride and groom which can compromise the shoot to a certain extent.
The other issue that often comes up in this situation is the guests will try to take their own pictures and even attempt to get the attention of the subjects. It is obvious why this doesn't work well! I photographed one recent wedding and I was posing the couple on the Grand Staircase and I suddenly found myself surrounded by guests with cell phone cameras trying to take pictures. One of these guests actually told me to get out of their way! "Just for a second", she said. I had to stop shooting at this point and take the couple elsewhere in the building. However, if you as the bride would like to bring along a close friend as your helper, by all means do. One person, usually works out just fine to help with the little things like jewelry, hair and the wedding dress. Fortunately, we almost always have Lilly to help with this as well.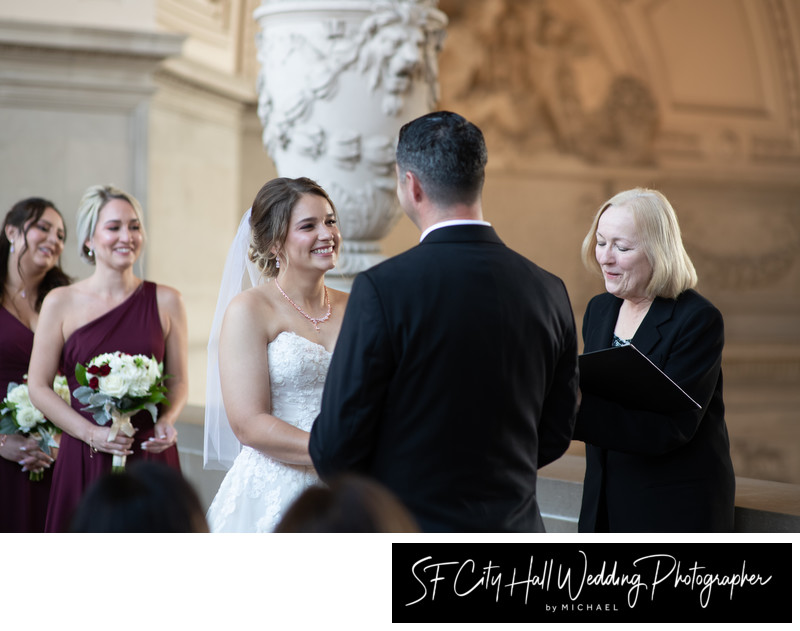 Palace of Fine Arts Wedding Photography
Our couple chose the the famous Palace of Fine Arts for their second location after SF City Hall. We escorted them on a full tour of the grounds and took pictures of them both in the front and in the back of this iconic San Francisco landmark. The weather was perfect and we captured some exceptional images. The time of the day was also helpful since the sun was low. This provided some very dramatic lighting as you will see in the gallery above.
Why Choose the Palace of Fine Arts for Wedding Photography?
This is probably a good opportunity to discuss the relative merits of choosing the Palace of Fine Arts as a San Francisco location for wedding photography after a city hall wedding. To help our clients agonizing over this decision, I am providing a Pro and Con comparison to help clear things up:
Pros of Palace of Fine Arts for Photography
Historic and beautiful location associated with San Francisco
Amazing architecture which photographs very well
Many different locations throughout the grounds for great photos - nice variety
Conveniently located with parking usually available during the week
Cons of Palace of Fine Arts for Photography
Usually inundated with tourists and other wedding parties especially on Weekends
Architecture is similar to San Francisco city hall and so some redundancy will result
Everyone goes here so your photos will not be as unique
POFA can often exhibit the "wind tunnel" effect which makes photography challenging
Most of the above "Cons" can be mitigated to a certain extent. We always manage to obtain some great images here despite the listed challenges. The Palace of Fine Arts in San Francisco continues to be one of our client's favorite destinations. There is so much to photograph here that it is not uncommon for us to spend close to an hour with our bride and groom walking from place to place. The Rotunda itself is an obvious choice as a nice background for wedding pictures, but there is so much more. Tall columns rising out of the bushes and lots of plant life and flowers make for dramatic backdrops for your wedding images. The pond and fountain are a favorite of everyone including tourists and professional wedding photographers. Located in the Marina, many of the neighborhood dwellers also love to come here and relax on the grass or have a picnic.
There is reason why it is chosen by the majority of San Francisco city hall brides and grooms for photos after their marriage. The image below is probably the most iconic of all Palace of Fine Arts wedding pictures. It shows the pond, the fountain and the building in the background. We also were fortunate to get some nice sky to work with as well. This photo can look radically different depending upon the time of day. Helpful Hint: Try scheduling things on your wedding day so you can make it POFA in the morning. The light on the building can be spectacular!