Palace of Fine Arts After City Hall Wedding
This was our first San Francisco city hall wedding of 2020 and it was amazing. Our couple reserved the 4th Floor North Gallery (one of our favorite locations) and had a pretty large crowd of guests. Everyone was so nice and supportive, it was a pleasure to just be a part of it. We actually helped the couple choose the officiant for this wedding and she also did a great job. The ceremony started out with a family friend doing the officiating to give things more of a personal touch. But once it was time for the vows the Professional officiant took over and handled things very well.
City Hall Officiant can be Important
The ceremony was about 15 minutes long which I feel is about perfect for SF City Hall reserved weddings. They set up plenty of chairs and everyone was quite comfortable. Some of things that I notice that others may not is that this officiant knew how to keep the bride and groom in the middle of the aisle to keep them from drifting left of right. This may not seem important to the average person, but to a wedding photographer it is very key. When city hall sets up their chairs they frequently dont make a large enough center Aisle. So it can become a problem if the officiant is not aware of keeping the couple centered. It makes it so you can see the entire train of the bride throughout the ceremony.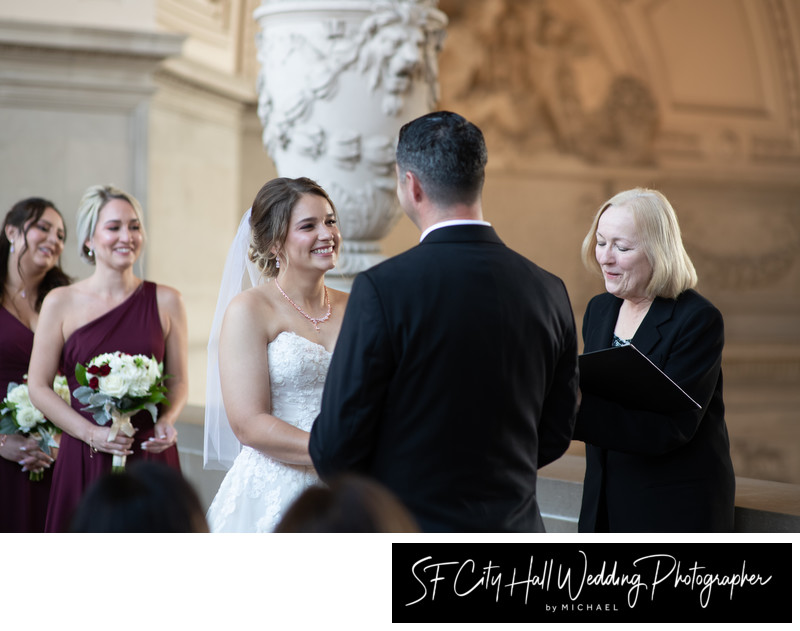 Wedding Photography Tour - Building Interior
Once the ceremony and family photos were complete, it was time to take the happy newlyweds on our City Hall photo tour. You might be asking, what is the Photo Tour? This is simply the time we take the bride and groom only around the building to some of our favorite photography locations and take creative and romantic photos of them. We generally think that this photo session goes better if we only take the newlywed couple. There are a number of reasons for this including the fact that often times the couple will not be as open and uninhibited if they have relatives and friends watching them. On the rare occasions that we DO allow friends and relatives to join us, they can sometimes be critical of the couple in a joking way. One example is that they may make fun of their smiles or poses. This really adversely affects the quality of the photography and posing. it can also sometimes upset the bride and groom which can ruin the whole shoot. The other issue that often comes up in this situation is the guests will try to take their own pictures and even attempt to get the attention of the subjects. It is obvious why this doesn't work well!
Palace of Fine Arts Wedding Photography
This is probably a good opportunity to discuss the relative merits of choosing the Palace of Fine Arts as a San Francisco location for wedding photography. To help our clients agonizing over this decision, I am providing a Pro and Con comparison to help clear things up:
Pros of Palace of Fine Arts for Photography
Historic and beautiful location associated with San Francisco
Amazing architecture which photographs well
Many different locations throughout the grounds for great photos
Conveniently located with parking usually available
Cons of Palace of Fine Arts for Photography
Usually inundated with tourists and other wedding parties
Architecture is similar to San Francisco city hall and so some redundancy will result
Everyone goes here so your photos will not be as unique
POFA can often exhibit the "wind tunnel" effect which makes photography challenging