Asian Couple - City Hall and Palace of Fine Arts

After completing our San Francisco city hall wedding photography session we escorted our couple to the Palace of Fine Arts. We pretty much covered the entire grounds around the Palace taking pictures as we walked. I realized how cute the bride looked holding up her dress as she walked so I took a candid pictures of her. That resulted in the picture above and she was nice enough to smile for the camera. The Palace of Fine Arts is one of the favorite destinations in San Francisco for our city hall brides and grooms. It is especially favored by Asian tourists. I am told this is because the Palace is listed prevalently in the tour guides from their country. That is nice to hear because we also love taking couples here but for a different reason.




There is so much rich and interesting history regarding the Palace of Fine Arts, it is definitely an important part of San Francisco's past. It is a major landmark in the Marina district and attracts many locals also, who just want to relax on the grass and hang out. I think the locals also enjoy watching the parade of brides and grooms marching through the grounds everyday. Saturdays at the Palace of Fine Arts can be particularly crowded with newlyweds everywhere. Many San Francisco wedding photographers choose to bring their newly married couples here for pictures. At times, there can be a "line" waiting for the best photography spots. One of the great things about San Francisco city hall weddings is that they almost always occur during the week. This helps prevent the crowding and parking problems that can happen on weekends.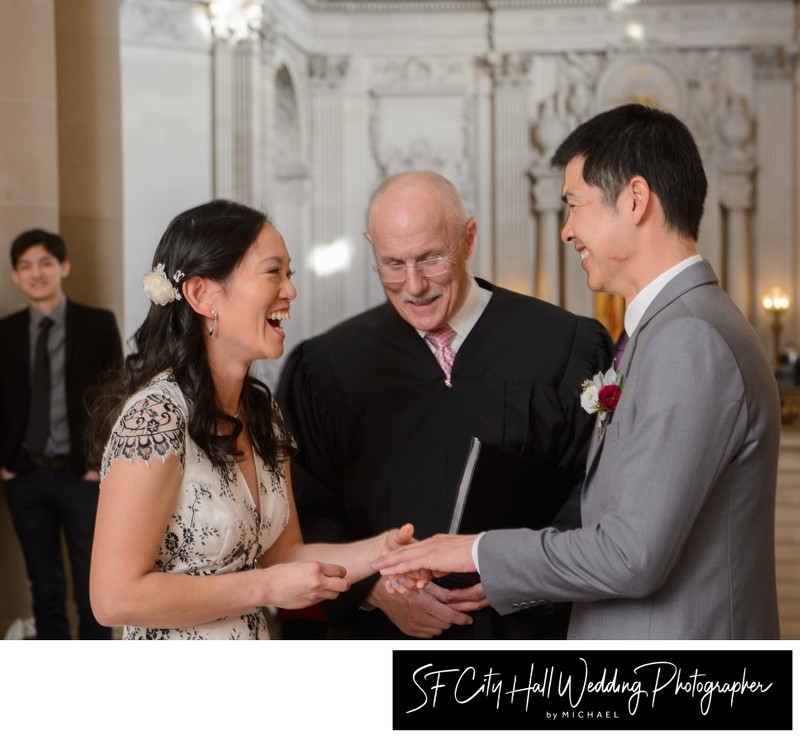 Have your Wedding Ceremony at the Palace of Fine Arts
We have not only taken our brides and grooms to POFA hundreds of times for wedding pictures, but we have actually covered marriage ceremonies here as well. It is rather expensive, but the

Palace of Fine Arts puts on a nice ceremony

that is performed under the Rotunda. Couples need to supply their own officiant and sound equipment, but the chairs and ropes are provided by San Francisco. Prices start at $5,000 and go up to $10,000 for tented events. Maximum capacity is 250 people and you are required to take care of your own garbage. One of the downsides at the time of this writing was that no restroom facilities are provided. The nearest public restroom is across the street at Crissy Field. Some people have been known to sneak into the indoor Palace of Fine Arts venue to use the bathroom, but under normal circumstances you have to pay to get in. This site will be updated if we hear about this changing and I would imagine that if the couple was willing to pay for it, a nice temporary bathroom facility could be rented. This has long been a problem at POFA and we hope they will soon fix this. Even outhouses would be welcome.




San Francisco city hall is bit more convenient, but you do have to deal with others when you have your wedding there. For engaged couples seeking more privacy, San Francisco city hall offers reserved weddings during the week and also on Saturdays. Since City Hall is closed on the weekend, your receive the ultimate in privacy for Saturday weddings. Plus you have access to the entire building for you 2 hour Saturday wedding. For more information about reserved weddings at San Francisco city hall, check out our Wedding Photography website.



City Hall Elopement on the Grand Staircase - Bride and Groom holding hands