Green Wedding Dress - San Francisco City Hall
I know this is probably an unusual title for this SF City Hall wedding photography gallery, but it seems to fit. In 12 years of photographing weddings at this amazing venue, I have never had the privilege of photographing a bride with this color dress with all of it's incredible attributes. Over the years, I have become somewhat of a connoisseur of wedding dresses and really enjoy unique and fun examples to work with. San Francisco city hall weddings tend to bring out the best in a bride's creativity when it comes to choosing their gown. Most think that because of the venue, just about anything goes and that is mostly true. We have seen some very unique and full wedding gowns over the years and it has always been a pleasure to photograph them. Her entire ensemble worked so well at City Hall, especially for pictures. In my opinion, any type of color in a wedding dress works great at SF City Hall. The neutral walls make the color stand out and focusing more attention on the bride. Just check out the photo below to see how this works. The flowers she chose also worked well with her colors.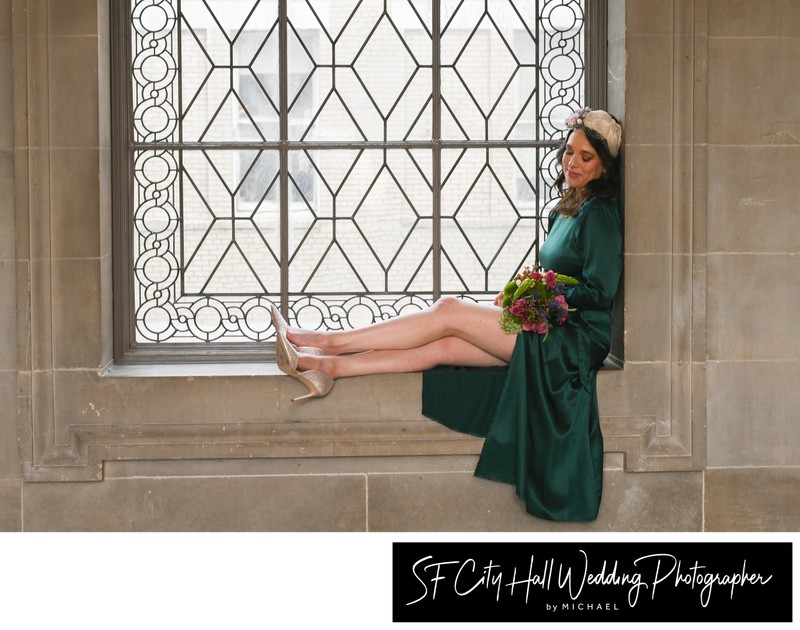 Relaxed and Easy-Going Bride and Groom
The couple pictured in the compilation below was particularly easy to work with. There were very comfortable with themselves and really just wanted to have a great time with their wedding photo shoot. Occasionally we work with newlyweds that start off our shoot a little nervous with expectations of potential stress during the session. Of course, this never materializes because we take great pains to make the the city hall photo tour fun and easy. We also never ask our couples to do anything that would cause them to feel awkward. The newlyweds pictured below didn't start this way at all. In fact, they warmed up to the photo shoot immediately and this made our posing easy. Our use of dynamic posing really helps to provide this upbeat feel during photography session. This gives me a chance to discuss our dynamic posing style along with it's challenges and rewards. It doesn't work well with every couple, but certainly did with this bride and groom. In addition, dark lighting conditions on the building can impact our ability to do certain types of dynamic poses.
Dynamic Posing for SF City Hall Weddings
Let's start by providing a very simple definition of dynamic posing and how it differs from static posing. Simply put, dynamic posing is a wedding photography (or portrait) technique that depicts movement of the main subjects. It makes couples appear more natural and alive in front of the camera. After all, it is rare in real life that we freeze ourselves in one place for 30 seconds for no particular reason. When we create a static pose (which we still do also), we are asking our couple to do just that. Freeze in place for a moment while we take their pictures. Is it possible to obtain natural looking wedding photos by doing this? Yes, but there are negatives associated with doing too much of this, especially with regard to the couple's attitude and demeanor. Everyone talks about wanting to look natural in their wedding pictures. This desire should be obvious, we all want to look like ourselves when our pictures are taken. In my opinion, it is best to start every shoot with dynamic posing and then gradually work our way to some static poses. Both types of poses helps create a complete wedding photography album for the couple. The goal is to tell the story of the wedding day through pictures so the more movement and interaction the wedding photographer can depict, the better it is to accomplish this goal. Starting out the shoot with this type of posing, helps relaxes the couple and gets them ready to do more challenging things. This is especially true if the couple is in to it!
Advantages of Dynamic Posing
Depicts movement
Provides a more natural feel in the wedding photos
Helps put newlyweds at ease, especially at the start of the shoot
Is generally more fun for the bride and groom
Disadvantages of Dynamic Posing
More challenging for the wedding photographer
Will sometimes result in awkward looks from the subjects
Angles may not always show everything needed
Can be a bit more complicated to explain to couple
Works better with sufficient light
Common Examples of Dynamic Poses
Dancing shots
Couple walking through city hall
Couple going up or down the Grand Staircase
Groom lifting bride (or bride lifting groom?)
Running or jumping photos
Bride and groom interacting
Bride spinning in dress
Deciding on the Proper Posing Approach
All of this sounds great and so you would think that we would want to use dynamic posing for most of our San Francisco city hall wedding photography. The truth is that certain types of posing and photography styles work for some and not for others. Part of the skill in being a successful professional wedding photographer is to assess the couple's preferences towards the beginning of the photo session to determine what works best for them. What I usually do first is actually ask the couple about their preferences. Do they want a large amount of candid pictures? Would they prefer that we give them very specific posing ideas? These are just some of the questions we ask our brides and grooms during a photo session. The other part of this decision making process is to actually try the different approaches and see how the couple reacts and then gauge their comfort level. With our 10 years of city hall wedding photography experience, we can usually figure this out pretty quickly. Our couples appreciate this approach and often tell us so. It is just a matter of being sensitive to the needs and desires of your clients. I have had certain couples tell me that they just want simple poses looking at the camera, others tell me the exact opposite. The main goal is always to work with the couple and give them the wedding album of their dreams.