San Francisco City Hall Wedding of the Month
Each month we will try to feature a stand out wedding that occurred at San Francisco City Hall. We will make an effort to show a nice variety of weddings and couples.
Amber and Miguel's City Hall Wedding
Amber and Miguel extended their city hall wedding photography coverage because they wanted to start the event off with a traditional "First look". We were happy to assist with this an actually set up the whole encounter. The plan was for Miguel to station himself behind one of City Hall's beautiful columns and wait for his bride to surprise him with his back turned. We then had Amber sneak up on him looking beautiful in her wedding gown. She tapped him on the shoulder and then her turned around to see his bride. We, of course, captured every moment. This is a fun and exciting way to begin a City Hall wedding and lends itself well to photography. We will also sometimes video tape this for the couple with a unedited clip.
City Hall Plus Wedding Photography Package
Amber and Miguel booked our San Francisco city hall PLUS package which was the appropriate choice given the size of their guest list. We strongly recommend couple book this package when they have friends and relatives attending their wedding. This package allows extra time to do some nice family photos and larger group shots. In addition, it also provides the couple with some nice candid interactive images with them and their guests.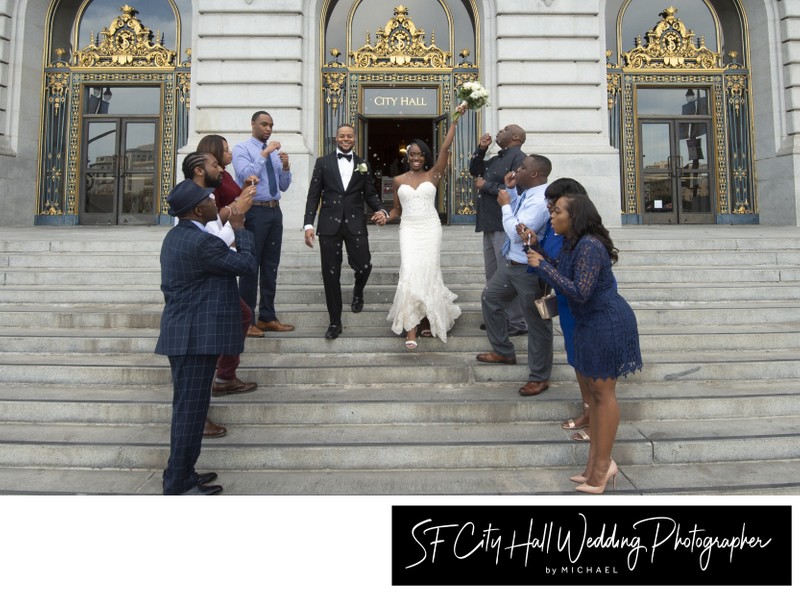 Soap Bubble Send Off
This couple had a fun idea for a great way to end their SF City Hall event. We lined up their guests on the steps leading up the building and everyone had bubble wands. As the couple descended down the stairs, everyone blew bubbles and it made for a nice ending photo for their special day. See photo above.