San Francisco City Hall Wedding of the Month
Each month we will try to feature a stand out wedding that occurred at San Francisco City Hall and feature it as our wedding of the month. We will make an effort to show a nice variety of weddings and couples. We are excited to show you this month's featured event. Their names are Amber and Miguel and they were married in a civil ceremony at SF City Hall, but with a few twists which you will learn about below. Please enjoy this portfolio and then check out our other Galleries throughout this website. We try to present a broad spectrum of weddings in terms of diversity and theme. This helps you find a wedding that will more closely match your own.
Amber and Miguel's City Hall Wedding
Amber and Miguel extended their San Francisco city hall wedding photography coverage because they wanted to start the event off with a traditional "First Look". We were happy to assist with this and actually set up the whole encounter for the couple in advance. The plan was for Miguel to station himself behind one of City Hall's beautiful columns and wait for his bride to surprise him with his back turned. We then had Amber sneak up on him looking beautiful in her wedding gown. She tapped him on the shoulder and then he turned around to see his beautiful bride. We, of course, captured every moment with our digital cameras.
This is a fun and exciting way to begin a SF City Hall wedding and lends itself well to photography. We will also sometimes video tape this for the couple and provide them with an unedited movie clip. We try not to intervene too much in this process because we want it to be as natural as possible. The only thing I ask the groom to do is turn towards the camera and not the wall when he looks to see his bride. They usually forget anyway, but it doesn't hurt to try! We help set this up by asking the bride to provide a friend to accompany us to the location in City Hall where the "first look" will occur. Then it is easy for the friend to go find the bride and bring her back to the location. It works very smoothly. We also offer other alternative techniques to do The First Look. One examples involves a bride with a beautiful long dress to be spinning as the groom turns to look at her. This can be very fun!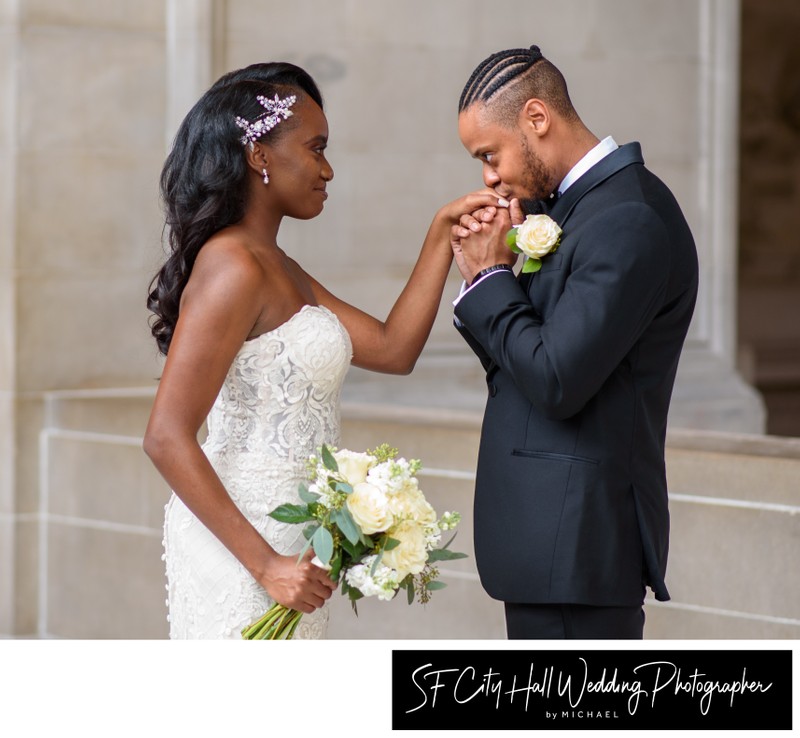 City Hall PLUS Wedding Photography Package
Amber and Miguel booked our San Francisco City Hall PLUS package which was the appropriate choice given the size of their guest list. The First Look they requested also take a bit of time, which is another good reason to select this package. We strongly recommend couples book this package when they have friends and relatives attending their wedding. This package allows extra time to do some nice family photos and larger group shots. In addition, it also provides the couple with some nice candid interactive images with them and their guests. When the ceremony is over, there is naturally going to be hugging, laughter and maybe even a few tears. We are ready to capture these special memories for the couple. The other benefit of the City Hall PLUS package is that does give you additional time in the building for the City Hall photo tour. If you are planning a First Look, you have to book this package because otherwise there will not be enough time to cover everything on your wedding day.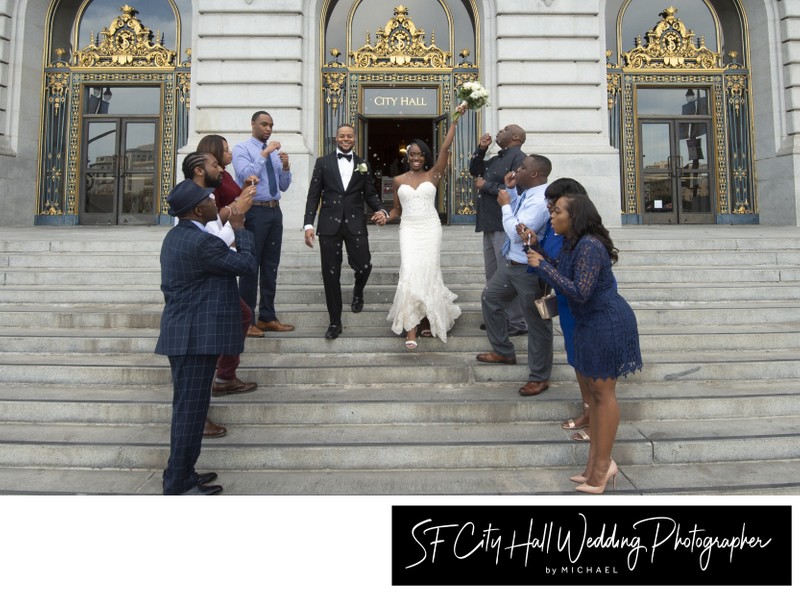 Soap Bubble Send Off at City Hall
This couple had a fun idea for a great way to end their SF City Hall event. We lined up their guests on the steps leading up the building and everyone had bubble wands. As the couple descended down the stairs, everyone blew bubbles and it made for a nice ending photo for their special day. See photo above. This is a great way to handle this especially in light of SF city hall's rules prohibiting rice or anything else that needs to be cleaned up after. No clean up needed with bubbles, but they still have the desired effect! Just watch out for typical San Francisco windy days!
Wedding Photography Finally Back After Pandemic
This wedding was also especially important to us because it was one of the last weddings we photographed before the pandemic closed down San Francisco City Hall. This couple had no idea at that time what was to come. Of course, neither did we. We are happy to report that city hall is now reopened (effective June, 2021) for weddings and they are allowing full photography services as well. We are glad to be back!