SF Downtown and Reception
SF City Hall and Downtown Reception Wedding
This was not a typical San Francisco City Hall photography shoot and that's one of the things that made it so much fun. Angela and Michael came into the building separately making sure not to see each other. Toni and I then set up a "first look" photo in a beautiful and somewhat private area of City Hall, but the couple put a small twist into the event which made it unique and fun. Angela had her dad escort her to greet the groom much like the way a father and bride come into a big wedding. It was a special touch and we did a nice job photographing it. We are always willing to provide assistance when setting up First Looks for our couples, just let us know if you would to add this to your city hall wedding photography coverage.
Photographers Should Stay out of the Way
It's important to stay flexible when your couple does something unexpected during wedding photography coverage. When I saw the father and bride coming in together, my initial response was to let them know that this was not the way to do a First Look at SF City Hall, but they already knew that. Thankfully, I didn't try to stop it and just kept shooting. I basically went along with it because I could soon tell that they had planned it this way on purpose. It was a wonderful way to do a first look photo and maybe I will suggest it to future brides and grooms! However, I will still say that if you are planning on doing any type of unique twist on your wedding day ceremony, make sure you inform your San Francisco city hall wedding photographer. It just helps us to be ready. In this case, we almost missed a great photo, because we were not prepared and had no warning. We pride ourselves in being ready to any situation, but if I know in advance it improves the wedding photography. We DID get great pictures for this first look, but if I had known in advance, I would have positioned my second shooter a little differently. We might have captured a few more reaction images and something fun. The more we can know in advance, the better! We take great pride in our ability to make adjustments on the fly. This is what makes a great San Francisco city hall wedding photographer. However, it never hurts to have a little help along the way!
Another Wedding Photography Twist
The other little twist they had in store for us was the addition of their dog. They had a friend bring the dog to the steps of San Francisco City Hall dressed in a cute little dog tux (see photos in the above gallery!). We then did some posed shots in front of the City Hall sign. As often occurs, the best shot was the unplanned photo with the couple looking at the dog instead of the camera (see photo above). Proof again that the best wedding photography just happens and it's our job to capture it when it does. The dog was quite cooperative and easy to photograph, which is not always the case with animals. It felt good to actually capture a nice animal image, which has been a challenge at past City Hall weddings. There are way too many distractions for a dog to look at in front of the building (or in some cases inside). Because we were so close to the city hall entrance, their was lots of foot traffic and people milling around. These kinds of distractions kept the dog looking in all different directions. It was our job to help get the dog's attention and look in our direction.
Events at San Francisco City Hall
This was a particularly challenging day at San Francisco City Hall because the building was scheduled for a huge event (unknown to all of us). A large part of the building was roped off and not accessible for wedding photography. Unfortunately the closure of various photo locations had already occurred before we even had a chance to commence our session. Through our very detailed knowledge of this historic building, we managed to take the wedding couple to unique spots and still captured some amazing photos! We even created some very nice architectural photos by bringing Angela and Michael to the fringes of some of the blocked off areas and posed them there. We were determined to not let San Francisco city hall events deter us from taking beautiful pictures of the happy couple. If you are a good sport, you can sometimes make these kinds of challenges into a great photography opportunity. It is always best to take a positive approach to these things! I try not to stress when city hall throws a curve at us like this because it happens fairly frequently. It is just another thing you need to be ready for at San Francisco city hall! Just as an update, I will say that Events are not happening as frequently as they did before the pandemic. It will be interesting to see what the future holds. Here is a link to a very recent blog post I posted regarding Special Events at SF City Hall.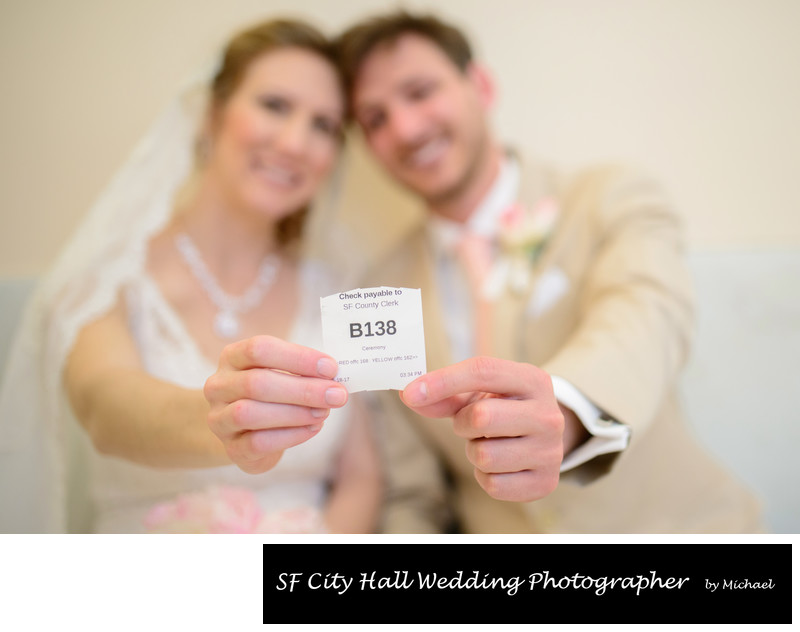 San Francisco Wedding Picture Tour
Our next stop after departing city hall was Crissy Field in the San Francisco Marina District. We took the bride and groom up on top of our favorite small hill and obtained some gorgeous photos in front of the Golden Gate Bridge. Included in these photos was a jumping shot where it almost appears that the happy couple is hopping over the bridge! This shot especially works well if the couple are good jumpers. We finished our San Francisco wedding photography tour in the downtown area with a few pictures including the San Francisco Bay Bridge. Also in the background you can see Treasure Island and parts of Yerba Buena. In addition, we made it a point to also capture images of them just walking around and enjoying San Francisco. The more natural the better, especially given how much time we spent doing posed pictures at their various chosen destinations. We wanted to lighten up the load and make it more fun for the couple as we were into the shoot close to 4 hours. Many of our clients state their preference for a higher percentage of Candid wedding photos and we do our best to provide this. It can be very tiring for the bride and groom and even the wedding photographer to keep posing for 4 hours. This is a great opportunity to change what we are doing a little and lighten up the focus on posed wedding pictures. Just letting the newlyweds be themselves on their wedding day.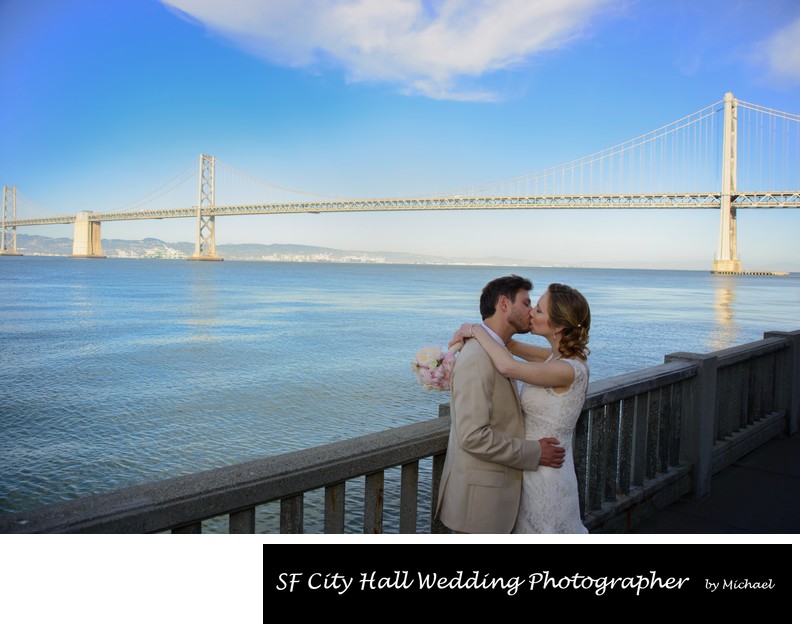 One of the Best SF City Hall Wedding Photographers
We are generally regarded as one of the best SF city hall wedding photographers currently working at this incredible venue. However, there are many other fantastic photographers that regularly cover weddings at San Francisco City Hall. If you are looking for a different style, we strongly encourage you to seek out an experienced city hall photography professional. The lighting challenges here demand a true professional who has photographed weddings at city hall in the past. We are always surprised when we see couples all dressed up in their fancy wedding attire and then they have a friend taking pictures of them with a cell phone. Yes, cell phone photography technology has grown leaps and bounds the past couple of years, enabling non-professionals to capture some great shots. However, there is so much more to picture taking then simply getting a sharp clear photo. Posing, lighting and knowing the backgrounds are also very important. In fact, believe it or not, there are some locations that almost make getting a quality photo impossible unless you use some sort of additional lighting. Read below for information on one of the toughest locations to photograph at San Francisco city hall.
The Mayor's Balcony - Challenging Location for Photography
The Mayor's Balcony, for example is a dark part of San Francisco city hall with lots of back lighting. There are only 2 very old fashioned lamps that provide light for this entire balcony. There are also no windows to provide natural light. In this type of situation it is almost mandatory to bring in professional lighting equipment. I don't just mean a simple on-camera flash. We use pro camera lighting with tons of power and remote capability. This helps create better lighting and more natural without that "flashy" look you can get from a camera mounted flash. We accomplish this by bouncing our powerful lights off of the walls which has the effect of softening and spreading out the light. This makes it appear very natural and most people would have no idea that lighting equipment was even used for the image.
Both San Francisco Bridges in One Wedding Photo Session
This wedding was also made interesting by the fact that it was the first time that we ever took our couples to both the Bay Bridge and the Golden Gate Bridge for the same wedding. Kind of a fun way to show both of San Francisco's historic icons! The photos we took at each location were completely different to match the each bridge's unique look. We purposely approached each bridge with different ideas for posing and set up. We did spend quite a bit of time with travel, so that is something to be aware of, but it was totally worth it.
Go back to the City Hall Gallery page for more descriptions and pictures.