Baker Beach - Latino Couple
City Hall Wedding with Baker Beach Photos - Latino Couple
This lovely couple really was hoping to have a great wedding day and were not disappointed. They even brought their cute dog with them for the wedding and we were sure to capture photos of him too. They booked our Golden Gate Wedding Photography package, which provide them with 2.5 hours of coverage and one location. They chose Baker Beach as their San Francisco destination because they wanted some great wedding pictures that included the Golden Gate Bridge in the background. They also were hoping for some nice sandy beach pictures.
Starting with City Hall Wedding Photography
For scheduling reasons, this couple wanted to start their coverage with the our City Hall photo tour with the ceremony to come later. We always let our couples know that we are flexible on scheduling our wedding photography coverage with respect to the actual ceremony time. In most cases, we start our package coverage with the ceremony, but this doesn't always work for our brides and grooms. In this particular case, the couple had a personal schedule for that day which would be made easier by an earlier ending time to our coverage. We met them at the base of the Grand Staircase with the idea of taking picture there first. The Grand Staircase tends to be less crowded earlier in the day so it was a logical place to begin our day. For those who are curious and possibly facing this same decision, I thought it would be useful to explain how we schedule the day when the couple wants go right into the wedding pictures first. Here is a step-by-step timeline for how this can work:
Meet and greet the happy couple at the base of the Grand Staircase at City Hall
If available, we start our city hall wedding photography session at the Staircase
Move on to other favored locations throughout the building and continue formal photos
Complete this portion of the photoshoot approximately 15 minutes before scheduled ceremony
Accompany the bride and groom or LGBTQ couple to the County Clerk's Office for check-in
Photograph the entire wedding ceremony which usually occurs in the Rotunda area at city hall
Take family and friend pictures immediately following the ceremony
Complete formal photos of any desired San Francisco city hall destinations not yet covered
Lead the newlyweds out of the building and photograph them under the City Hall entrance sign
If there is going to be another San Francisco location, we arrange for that with the couple
Once the other SF photo location pictures are taken (if any), we explain the next steps
Say goodbye to the couple and thank them again for booking us!
I know this seems like a lot of steps, but it really flows nicely and we make sure the couple makes it to all of their important meetings on time, especially the ceremony! This is part of our complete service to our clients that goes well beyond taking pictures at San Francisco city hall.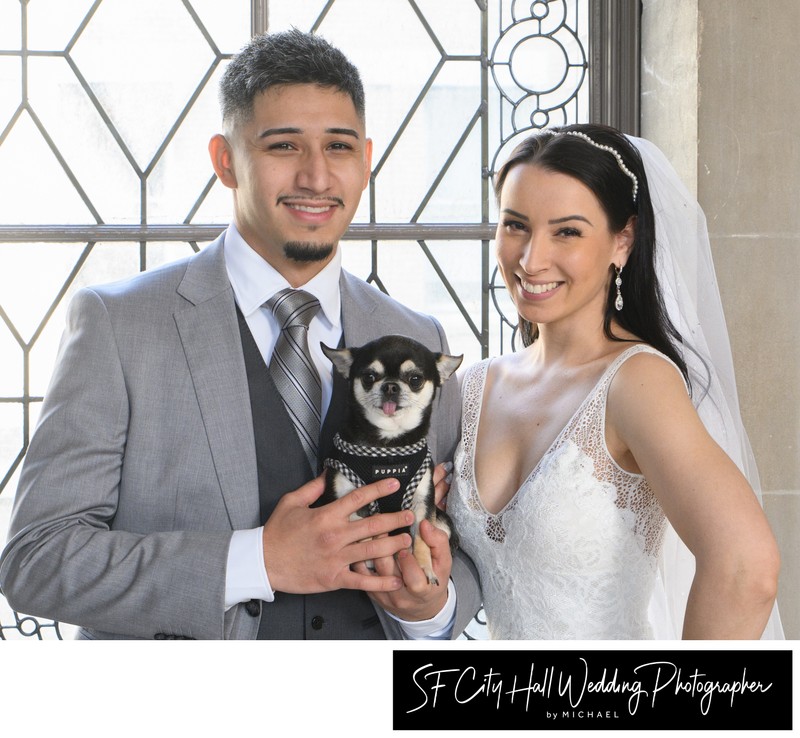 SF City Hall Animal Photography and Handling
We have had more than our share of Dogs accompanying our couples in 2023. I am not sure why, but this year alone we have already had 4 dogs to work with during our San Francisco city hall weddings. Including an animal in your San Francisco city hall festivities can be fun and add a lot to photo session. It is important to keep a few things in mind however to prevent problems. We strongly suggest that our couples who want to bring animals with them to their marriage also bring a "handler". This person can be any friend or relative who may have already been invited to the wedding anyway. The important thing is that his handler understands that they are responsible to watch over the dog. This can be a very important issue, especially with larger dogs. This particular wedding featured and small dog who was Carrier Trained. Dogs that are used to being in animal carriers are easy to deal with and may not need a designated handler.
Our couple actually did have a handler early on during the festivities and helped carry and handle the dog. After the ceremony, the handler and other friends had to leave, but we were able to easily take over the duties of watching the dog since he was in the carrier. Lilly, my assistant took the lead role and really enjoyed keeping the dog happy. Obviously, this would not have worked quite so well if the newlyweds had brought a large leash trained dog instead. Either way, we do our best to accommodate any special requests from our clients.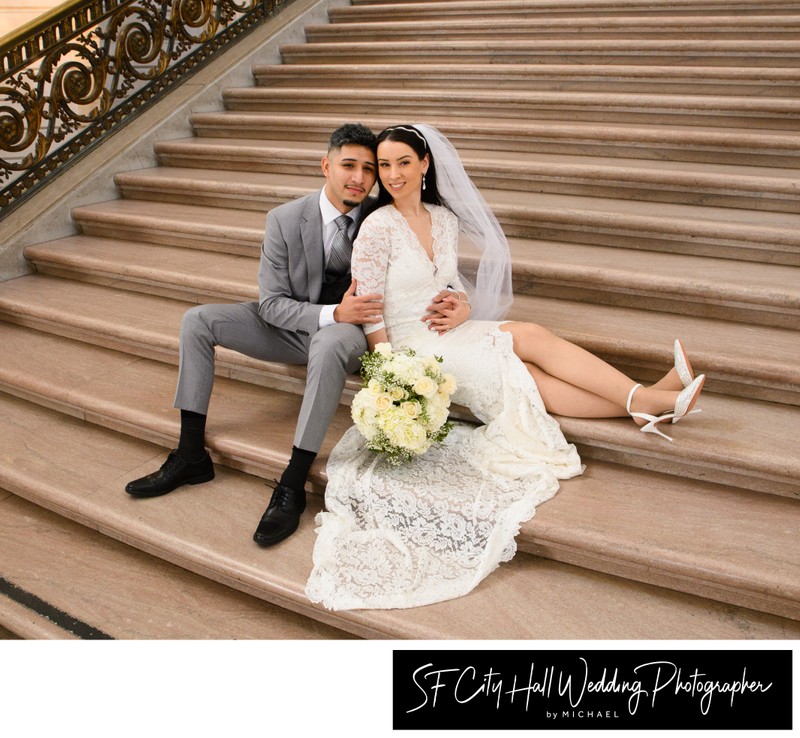 Baker Beach and Golden Gate Bridge Wedding Photography
I have said this in other place on this website, but Baker Beach continues to be one of our favorite places to take pictures after a San Francisco city hall wedding photography session. The drive out to Baker Beach is usually against traffic and can usually be completed in under 20 minutes. There is always sufficient parking and there is even a restroom there. Many of our other popular San Francisco photo destinations do not have a convenient restroom which can sometimes cause problems. The Palace of Fine Arts and The Legion of Honor are 2 prime examples of popular and iconic San Francisco destinations with no bathroom facilities. More importantly, Baker Beach offers some beautiful views of the Golden Gate bridge and is ideal for wedding photography, especially late in the afternoon as the sun goes lower. The low angled light on the bridge really brings out the color on the bridge and can help create some spectacular wedding photos. Summer months can sometimes bring fog into the mix and Baker Beach can be challenging on days like that. If we know there is going to be summer fog, we tend to shoot the bridge from the other side. This is because the fog rolls in from the ocean.