Golden Gate Bridge Feature Page

Many years ago when we first started photographing married couples in front of the Golden Gate Bridge, we had no idea how many different viewing angles there were. We set out to try to find the perfect spot to shoot this iconic landmark. We quickly discovered that each of the locations had it's positives and negatives. Some were too far away and some were too close. Many had an uncomfortable angle for the couple or distracting buildings in the way. We finally settled on some favorite locations and will discuss them further below:
Baker Beach - An absolutely beautiful angle to the bridge and pretty close in the background. In fact, from a photography standpoint, it is just about the perfect distance. You also have the beauty of the ocean right there, which helps to add to the romance! It's not in the rush hour traffic direction so it is a good afternoon wedding spot to head to. For some, walking on the beach might be a problem and it's a pretty good distance to get down to the water. There are also lots of people there on sunny days including tourists and locals. If the fog is in, it can be difficult to see the bridge from this angle since it rolls in from the coast. Wind can sometimes be a problem so be careful with that hair!
Legion of Honor - Yes, you can see the Golden Gate Bridge from the Legion of Honor which gives you a 2 for 1 bonus. If we take you to the Legion of Honor, we are happy to walk over to the bridge view spot with you and take some shots. The bridge is pretty far away in the background and on hazy days, can be a bit difficult to see clearly. If you want to go a little closer, we can do the very short drive down to the famous 17th hole at Lincoln Park Golf Course and take some shots there. If we take you to the 17th hole, it is close enough and does not count as a second location! Like Baker Beach, The Legion of Honor is against the flow of afternoon traffic so a good choice for late afternoon weddings.
Crissy Fields -. If you look at enough wedding photographer's websites, chances are you will see quite a few Golden Gate shots from Crissy Fields. There are a number of different angles with some restricted views. Parking is usually available if you go closer to the bridge and away from the more touristy areas. Through the years, we have found some pretty unique angles to the bridge from various spots at Crissy Fields. We take our more adventurous couples here and it has become one of our favorite spots!
Fort Point - If it's one of San Francisco's typical foggy days and our couple really wants that iconic Golden Gate Bridge shot, we head to Fort Point. Even on the foggiest of days, it is usually possible to get a decent photo of the bridge from here. You can almost walk under the bridge it seems! Parking can be really rough and most of the best angles to the bridge are actually among the parked cars. You also have to watch out for rogue waves as one of our couples (shown below) found out! On any day, foggy or sunny, Fort Point provides a spectacular view of the Golden Gate!
Bridge Toll Booth Lot - If you are a tourist and want to walk across the bridge there is a parking lot that is right next to old toll booth. A short walk away and you are practically on the Bridge! Obviously difficult to shoot the entire structure of the bridge, this area does provide a nice viewing angle. Once again, tourists can be a problem, but we usually manage to find a nice angle with just the 2 of you and the bridge in the photo!
Marin County - We would be remiss if we didn't mention the spectacular angles to the bridge from Marin County. Battery Spencer is probably the most famous but there are many others. Most of our clients don't have the time to go across the bridge, but for those that do, a bonus awaits them. Obviously, traffic can be a problem and we have to plan it for the right time of the day to help minimize delays.
Other Locations - This is not even close to a complete list of Golden Gate bridge photo spots, but may be some of the most accessible. Some of the locations not listed here can found at the end of hiking trails or a long walk up 100 stairs. We try to make our San Francisco tour as convenient and fun as possible, but we are up for anything. If you want to explore some of the more private spots, let us know and we will be right there with you!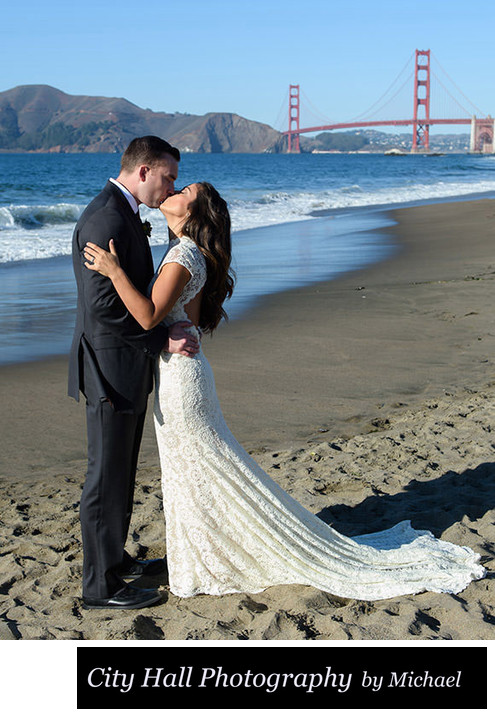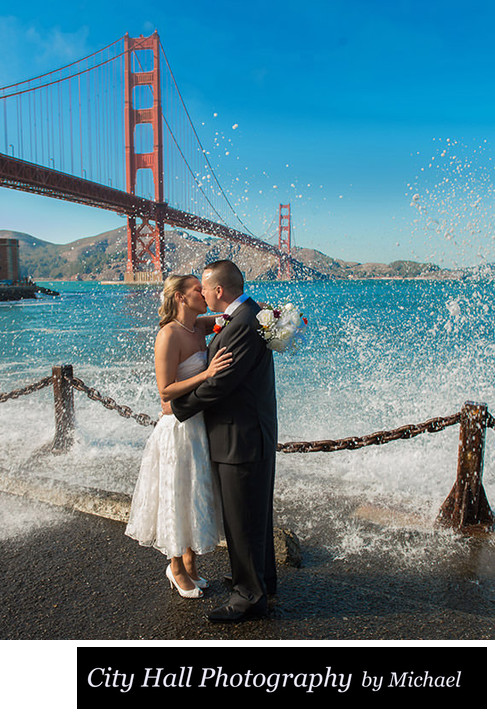 The photo above left is from Baker Beach. We we very happy to make this photograph with no tourists or locals in the background. The above right photo was taken just as a wave crashed over the rocks (and the couple). I had warned the bride beforehand about the possibility of getting wet with the crashing waves. Her response: "If it happens it will make for a great photo!" She was right!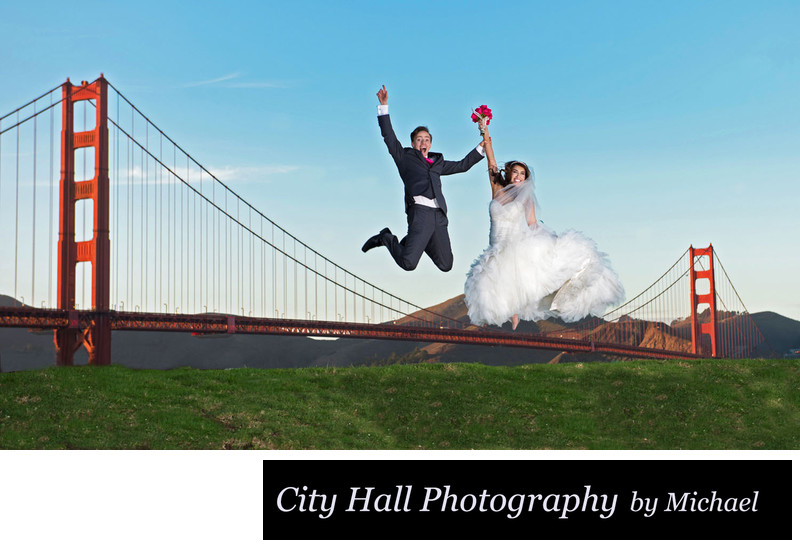 Are they really jumping over the Golden Gate Bridge? It would almost seem so. One of our favorite spots at Crissy Field is shown above. This is also a great location for silhouette shots and other romantic poses. This particular image required a little bit of Photoshop work to remove a building, but the result was well worth it.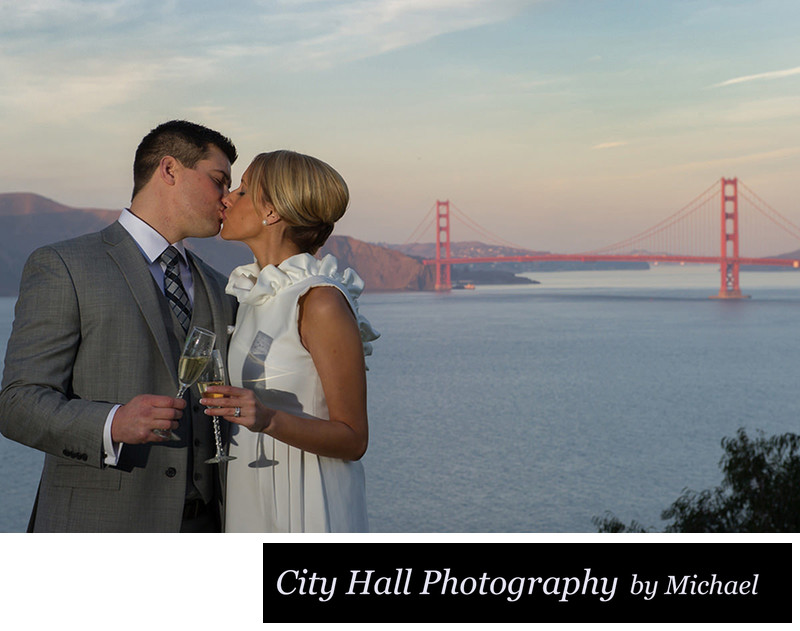 The Photo above was taken just a short walk or drive from the Legion of Honor on the 17th Hole of Lincoln Park Golf Course. If you book our Golden Gate Package with 1 location, we can take you here in addition to the Legion of Honor. Two locations for the price of 1! Some would say that even though the Golden Gate bridge is pretty far off, its the perfect ratio. It is large enough to see it, but not too big where it dominates the image.

Return to San Francisco Home Page