City Hall Weddings can be Affordable
Deciding to have your wedding at San Francisco city hall can be super affordable. You get all the beauty and historic significance of this amazing building and even inexpensive wedding photographer options. Prices and packages can all be custom fit to your own needs with a budget in mind.
To review all of our City Hall wedding photography prices and packages, please click the link.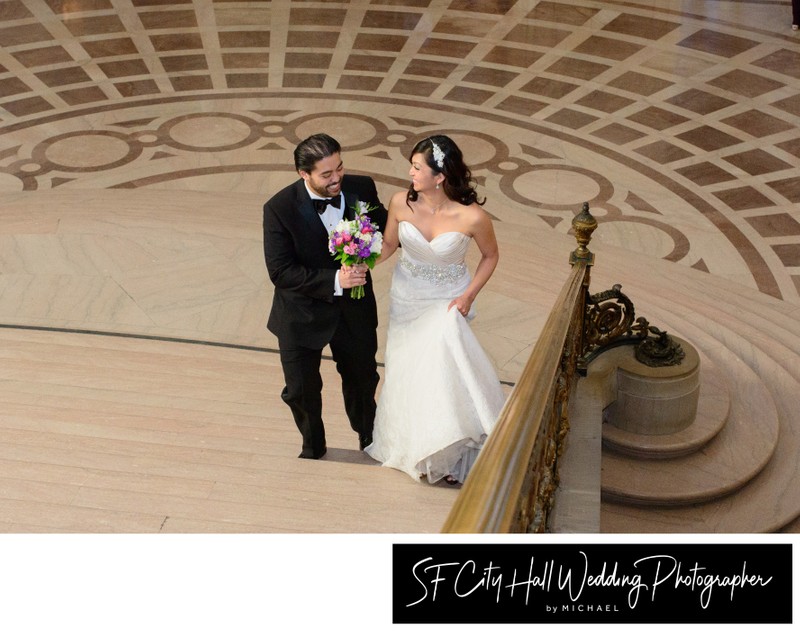 Great Wedding Value
San Francisco City Hall Weddings are a great value! Where else can you have access to an amazingly beautiful Wedding Venue for under $100? Yes, it is true! It only costs $95 to have your wedding in the Rotunda area in city hall and the County Clerk even provides a free Wedding Officiant to perform your ceremony. This price does not include the Marriage license, but you have to get that anyway. They call these officiants Deputy Marriage Commissioners and they dress up in robes and look like judges. The fact that they are all volunteers is unknown to many, but it is part of the reason that you can get married in this building for such a great price. Many of the other venues available throughout San Francisco can cost thousands of dollars and still do not match the beauty of City Hall. The obvious downside of City Hall weddings is that you have to share the building with the general public, but even this is not such a terrible thing. In this wedding photographer's opinion, it can be part of the fun. The only problem comes when City Hall schedules a special event on your wedding day. However, with the Pandemic still fresh in everyone's memory, events are still not occurring yet. Even when there is an event, you can go to other places and still have a nice wedding ceremony. It makes sense to book an experienced City Hall wedding photographer to help you navigate through these potential issues. Most of these photographers are also inexpensive and offer discounts. However, even at full price San Francisco city hall is a bargain. In addition to the affordable packages offered by city hall wedding photographers, you save money because you can have your reception nearby at many of the local restaurants that are often only walking distance away. It is possible to have your whole wedding cost under $1,000 unless you have tons of guests.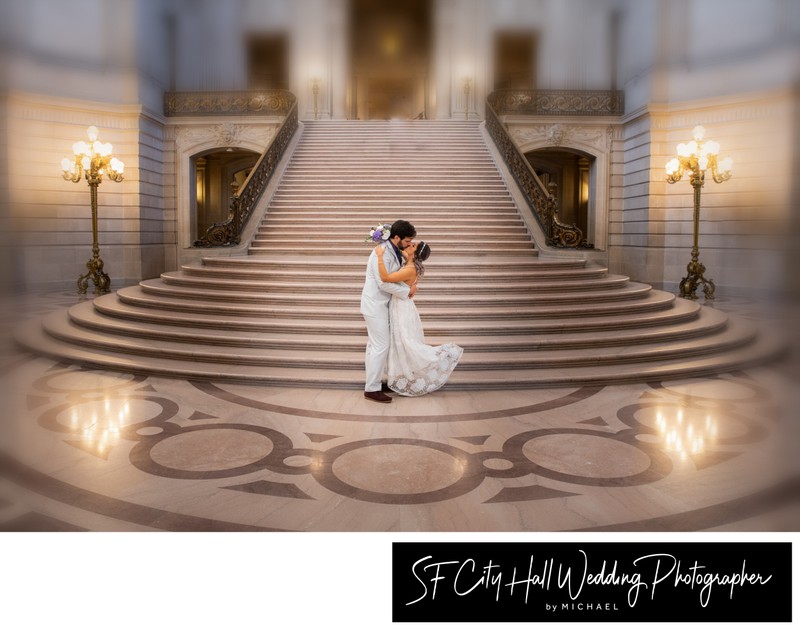 Convenient Wedding Receptions
As mentioned above, a big part of the expense of any San Francisco wedding is the reception. When you book a wedding, you generally need a venue that can supply you with both a place to get married and also somewhere to eat and entertain your guests. The exception to this is if you get married in a church. Obviously, if you are planning on a church wedding, this article doesn't apply. What many of our City Hall clients like to do is schedule their city hall nuptials in the Rotunda and then book us for wedding photography after. Meanwhile, their guests gather at one of the many nearby restaurants that specialize in city hall wedding receptions. There are many fantastic places to celebrate and some are walking distance away from San Francisco city hall. We have mentioned these eateries in other blog posts, so please refer to Places to Eat Near City Hall for more details. Food costs can be such a large part of your wedding budget. Booking a wedding at San Francisco city hall could help this become less of an issue. It can be fun for the couple to walk to the reception with all of the attention from people on the streets. The last time we did this walk with a couple, they received horn honks and lost of congratulatory comments. We tried out best to record these moments to create even more great memories for the newlyweds.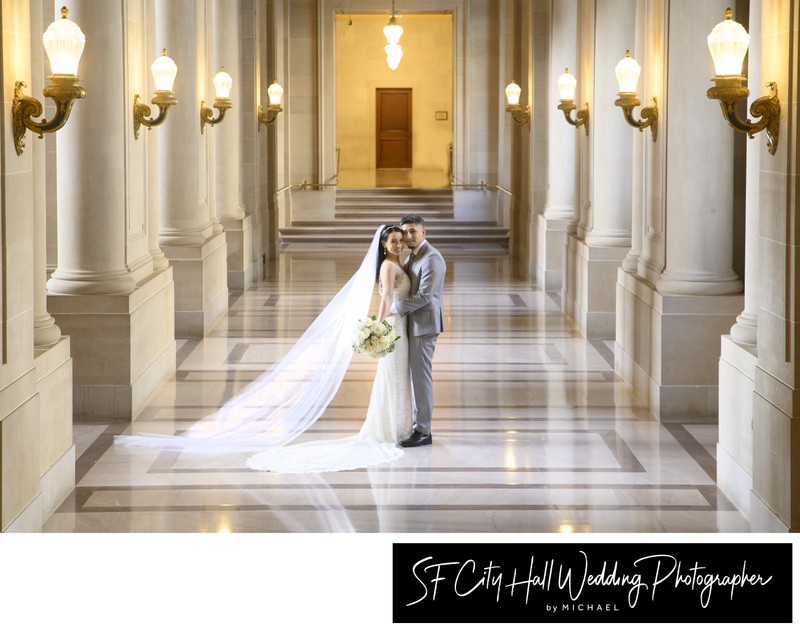 Inexpensive City Hall Wedding Photography
This is one of the key features of city hall wedding affordability. One of the major expenses of any wedding is the professional wedding photographer. The best photographers in San Francisco can be very expensive for full wedding coverage. These same wedding photographers offer their services to City Hall brides and grooms for a fraction of this cost. Many San Francisco City Hall photographers have discount pricing starting around $500. Yes, you are only getting them for an hour or 2, but that is really all you need. The most experienced professionals will take you on a tour of the building and follow that up with the chance to be driven around San Francisco for more photos. A fantastic opportunity to work with some of the most accomplished wedding photographers in the Bay Area at this very picturesque venue! This saves you thousands of dollars potentially and with no loss in picture quality. In addition, the nature of city hall weddings allows plenty of time for photography! Low costs are not just about finding a bargain photographer for your marriage. True value comes from what you get for your money.
Above are 3 samples of the types of photos you can get at this amazing venue. Please explore the rest of our site and see the many other portfolio albums and pictures available for you to view. We strive to give you the most economical prices and packages available at SF City Hall. Also, please ask us about our discount pricing for Veterans and current military service members. We also offer cash discounts, ask us for details about this special pricing program because there are some restrictions