City Hall with 3 SF Locations
City Hall with 3 Locations - Phoebe and Sean
We enjoyed our time with Phoebe and Sean at their San Francisco City Hall wedding. They chose our "San Francisco" package which provided them with 4 hours of coverage and a SF photo tour. They rode with us in our car and we took them to 3 fantastic SF iconic locations. Our stops included both the Legion of Honor and the Palace of Fine Arts. These are 2 of the most popular places we take our couples and Phoebe and Sean were not disappointed. We highly recommend booking one of our tour packages and take the opportunity to see San Francisco. The great thing is you get to have your wedding photos captured as you do it! You can choose the destinations or let us help you pick some of our favorites.
Palace of Fine Arts and Legion of Honor
For this particular photo tour, the Palace of Fine Arts actually came in second place in terms of image quality to the Legion of Honor. The light was particularly good that day and we took advantage of it. Also, Phoebe and Sean seemed more comfortable there. This might be because there is a lot more privacy at the Legion of Honor with not nearly as many tourists wandering around. While we always obtain great shots at the Palace of Fine Arts, dealing with the crowds can be challenging! We often take couples to Ghirardelli Square for this package to get a nice Cable Car photo! We might even stop in at the Buena Vista Cafe for one of their famous Irish Coffee's. If you like a more urban setting, we can take you to North Beach or the Painted Ladies. Woodline in the Presidio offers a more outdoorsy type of background for those who are more interested in that approach. There are many options when you choose 3!
Less Touristy San Francisco Destinations
Our brides and grooms often ask us if there are less touristy places to go on the City photo tour. Not everyone loves the Palace of Fine Arts and Golden Gate bridge for their wedding pictures. Here is a list of some of the less touristy options available for the San Francisco Package:
Woodline at the Presidio
Golden Gate Bridge - Marin County side
Castro District Overlook
North Beach and Russian Hill
The Painted Ladies
Twin Peaks
Hayes Valley
Bay Bridge Overlook close to Downtown
Certain area of Golden Gate park
Botanical Gardens
The Palace of the Legion of Honor
Cupid's Arrow
Alternative San Francisco Wedding Pictures
Some of our clients prefer a bit more privacy then a place like, for example, the Palace of Fine Arts. Despite the obvious beauty and history of POFA, it can be challenging to take photos there without dozens of people in the way. Especially in the summer which is prime tourist season. So consider some of the options above, especially if you tend to be a more private couple. We want to make the bride and groom as comfortable as possible for their wedding photography session. This may mean foregoing some of the more traditional photo spots in San Francisco to avoid the crowds. But the payoff is great, because even though it is definitely important to obtain wedding photographs with the backdrop of San Francisco, you mainly want photos where you look relaxed and comfortable. The wedding is more about you as opposed to the location you happen to be in. We endeavor to make sure that our couples feel at ease throughout the shoot. More importantly, we will check in with you to make sure you are not overloaded with too much photo activity. It can be quite easy for a top city hall wedding photographer who is excited about the couple to get carried away and start moving too fast. One of the things I love about shooting weddings with Toni Bailey is that we tend to watch each other and keep the other in check. This means that if one of us is trying to get too much done too quickly we can remind each other to slow down where appropriate. We want to keep the shoot easy going and fun.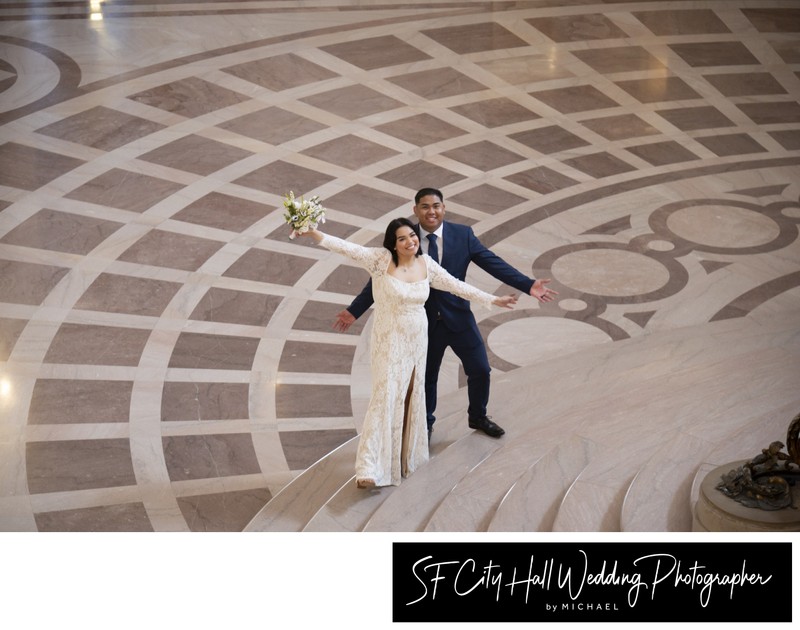 Easy Going Pace for Wedding Photography
When couples ask us how many San Francisco locations we can squeeze in during the 4 hour package, we always tell them 3. We don't want to make your photo shoot into a race. We feel that the photos come out better and the couple is more natural when we take our time and focus more on the current location. This is preferred to always thinking about the next location and how soon we can arrive there. To be honest, most of our clients are pretty well finished after the 3rd San Francisco location. It is a lot of time and effort to be posing for wedding photographs. We do everything we can to make it fun! Also, consider this.... When you hire a wedding photographer for a traditional wedding (not a city hall civil ceremony), you often only end up having 30 minutes of actual formal wedding photography time. This is because there is so much going on at a big wedding, including guests, the dinner, cake cutting, etc. With our city hall packages, it is all about photography. So if you DO choose our Tour Package, you will be receiving at least 2 hours of photography time. This much time with the bride and groom would be an amazing departure from the norm for a big traditional weekend wedding. One of the reasons I started focusing on San Francisco city hall weddings is the fact that you get this expanded opportunity to make great memories for your couples. The reason I went into this business is help my clients make lasting memories and I love having more time to do it. Large weddings always feel like a race. One deadline after another, just trying to get through the day in one piece. San Francisco city hall weddings are different. We promise that with this package you will receive plenty of wedding photos for your future memories. I honestly think that many big weddings with their increased expenses, just do not allow enough time for photos. There are just so many more activities that have to occur throughout the wedding day and photography doesn't always fit in. Have your wedding at San Francisco city hall and experience it all!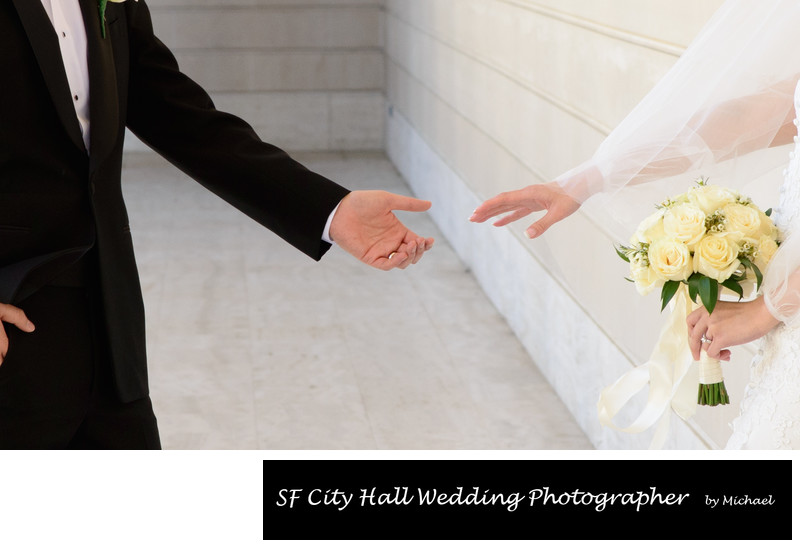 Sean Holding out his hand for Phoebe at the Legion of Honor