Same-Sex Wedding Photography - City Hall

Welcome to our Same-Sex City Hall wedding photography web page. We were one of the first City Hall wedding photography teams to start shooting gay / lesbian weddings and we were proud to do so. Mike and Toni will make your day as special and fun as possible. Our service goes well beyond just simply giving you great photographs. We understand that this is a major event in your lives and so we do everything we can to make your day memorable. We have been serving the LGBTQ community for years and have enjoyed every minute of it. Our upbeat and creative approach to wedding photography will keep you and your partner relaxed while having your photos taken. Once the ceremony is completed, we will take the two of you on a photographic journey of this beautiful and historic building. We are also at your service, ready to answer any questions you might have regarding San Francisco City Hall. We have photographed over 600 weddings at this iconic landmark and have treasured the many wonderful moments we have witnessed. If you are eloping and need a witness for the Marriage License signing, we are proud to serve in this capacity for you at no charge. We absolutely will adjust our style to your needs and desires. We understand that some couples want complex posing and more romantic shots. Other couples want to keep it simple. We will discuss your photographic needs prior to the wedding and adjust accordingly. We pride ourselves on making your photography experience not only comfortable, but fun!
Long Term Committed Relationships Made Legal
We are fortunate to have been chosen to photograph well over 150 Same-Sex/Gender city hall weddings over the past 9 years. One of the things we especially appreciate is the love and happiness of many of our couples who are finally getting married after being together for so many years. A few years back we photographed a wedding of a couple who had been together for 46 years! It's truly an honor to be a part of so many of these momentous occasions! Shortly after same-sex marriage was legalized in California, there was a huge backlog of couples who had been together for years and they were eager to tie the knot. We have featured many of these couples in the video above. In addition to the 46 year couple, we also photographed weddings of couple who had been together for 22, 34, 41 and 42 years! These LGBTQ newlyweds can now enjoy the benefits of a legal marriage in California after waiting so many years. For many, however, the legal issue is not really the point. It is more about knowing that you are finally truly married in the eyes of the state and all others.
Take a Photography Tour of San Francisco
We offer packages to fit any celebration, including those ranging from 1 to 4 hours of coverage and optional wedding reception coverage at the San Francisco Venue of your choice! Please ask us about our SF City Tour package where we will take the 2 of you to any of your favorite iconic locations in the city of San Francisco. Choose from 1, 2 or 3 additional locations after we finish up our wedding photography at San Francisco city hall. We will provide you with comfortable transportation and take you just about anywhere you want to go in the city. Some of our favorite locations include, The Palace of Fine Arts, Baker Beach, The Legion of Honor, and of course the Golden Gate Bridge. We have discovered some unique angles and locations to get photos of the bridge and we can't wait to show you! Above all, we try to keep the San Francisco tour upbeat and memorable. We always provide our Same-Sex newlyweds with sufficient time to enjoy whatever destination they choose. It's not all about San Francisco wedding photography, we want you to enjoy the experience. To see a detailed listing of our most popular San Francisco photo tour destinations please click the link.
Making it Fun at San Francisco City Hall

LGBT Wedding Photography Specialists
Or course you expect great photographs when you hire a professional city hall wedding photographer and we do everything we can to make sure that happens. But we also feel that the process of getting your wedding pictures taken is important too. We want it to be a positive experience from start to finish. Our upbeat and positive approach helps make that happen. Many of our clients tell us that they had so much fun during the process and that the photo shoot was a great part of their wedding day. Many of our Yelp reviews talk as much about the wedding photography experience as they do about the quality of the photographs. That's fine with us! We are in this business to enjoy what we do while delivering the best wedding photos possible. We would be honored if you chose us to photograph your wedding celebration. The wedding images above highlight some of our recent LGBTQ marriages, but there are so much more throughout the site. Here are some links to other Same-Sex wedding pictures: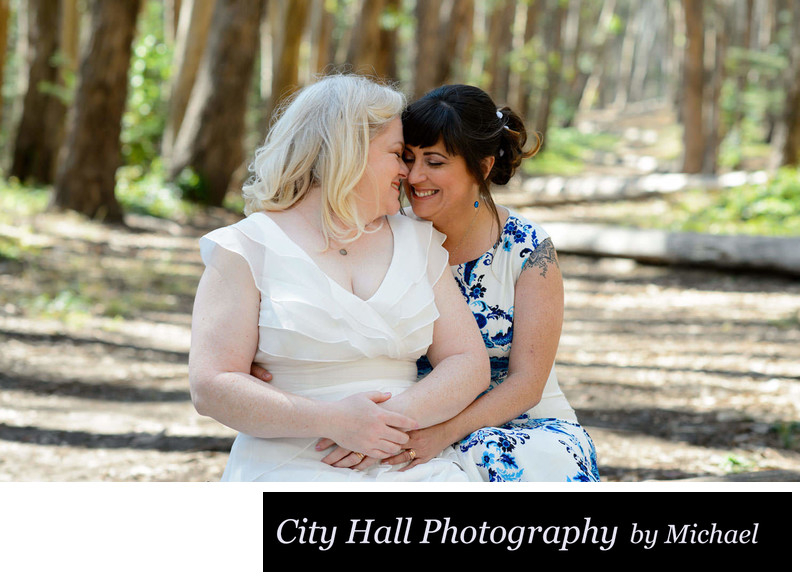 Custom City Hall Photography Packages
Our full compliment of SF City Hall Wedding Photography packages can be found HERE, but we are more than happy to create a custom package to fit your desires. If one of our listed collections don't fit your needs, please email us mike@cityhallphotos.com or call and we will build a package around your budget and preferences. Many of our clients do this because they want something specific in terms of location or timing. We will do whatever is possible to make your marriage day perfect for you both. A large percentage of our same-sex couples ask for a custom package. Be as creative as you want, we are happy to accommodate you. Just recently, in 2019 we worked with a Gay couple that included the ceremony at city hall, a one location shoot at The Palace of Fine Arts and then a 3 hour break before we covered their North Beach wedding reception. Yes, we do charge a little bit of a split fee, but for this package we didn't due to the large commitment the couple made to us. They even included one of our beautiful 11X14 wedding albums in their package. Just let us know details about the timing of your event and where you want to go. We will do the rest!
Consider Visiting a Florist
One of the things we have noticed with Same-Sex weddings at city hall is that the couples seldom have bouquets or boutonnieres. Flowers are the perfect accent to largely colorless walls and floors of the San Francisco Courthouse. Don't get me wrong, I absolutely love everything about photographing weddings here, but a splash of color really helps. Brides often ask me what color flowers work well at SF City Hall and my answer is always the same.... Anything but white! The goal here is to add color. The same with the men, boutonnieres can really set off the suit they might be wearing and make a huge difference. Other fun things for the guys to do is to wear colorful socks. Rainbow socks are very popular with our gay grooms and it makes for wonderful and fun wedding pictures. For our brides colorful shoes are also recommended and work perfectly here.
Wedding Party Planning in San Francisco
If you are having an after wedding party or reception in San Francisco be sure to allow enough lead time to arrive at your location after your city hall nuptials. We frequently end up rushing at the end of our photography shoots because the couple misjudged the amount of time it would take to complete their Courthouse ceremony and Photo tour. Remember that when you receive your ceremony time from the County Clerk, this isn't really when you are getting married. After your check-in at the Clerk's office you will first meet with your officiant. This meeting usually occurs close to your ceremony time and involves some instructions to the couple by the Marriage Commissioner and also the license signing takes place at this time. Your actual ceremony most likely will occur about 25 minutes after. So please allow plenty of cushion for your wedding activities and the fact that it takes a while to get around in San Francisco. We also think that the photo shoot will go a lot smoother if the newlyweds are not thinking about the potential of being late for their own wedding reception. In general, detailed planning of the full wedding day really helps the enjoyment of the entire day by all of the participants.
Other Options for LGBTQ Weddings
Yes, this is a San Francisco city hall wedding photography website, but I wanted to explore some other options that are available to same-sex couples looking to get married in San Francisco. There are many great places to get married in addition to city hall. We can take you to many other fantastic SF Landmarks if you would like to consider other alternative ceremony locations. Lands End, Golden Gate Park, Sutro Baths, or one of many picturesque overlooks can be chosen. We can even arrange for a private officiant for you if given enough notice.