Palace of Fine Arts Feature Page
Our couples frequently ask us for sample photos from each of our San Francisco photo tour locations. The Palace of Fine Arts is a favorite location of ours and it also seems to attract many of our out-of-town brides and grooms. Tina and Damian booked our "San Francisco Package" and this was one of our stops. A fun loving couple, they let Toni and I know from the very start that they were "up for anything". In other words, the more creative and fun the pose, the better. We had a great time with them and that's really the goal of our San Francisco Photo tour. Fun times and memories to last forever. After spending some time in the back of the Palace of Fine Arts in the Rotunda area, we made our way back to the front. This area is where you see some of the more iconic wedding photographs taken at the Palace. We try to include the fountain in some of the photos when we can, but sometimes we have to work our way through the crowd. On this particular day, sunset was coming on fast so we were able to get some nice pictures with a very low sun position. Very romantic!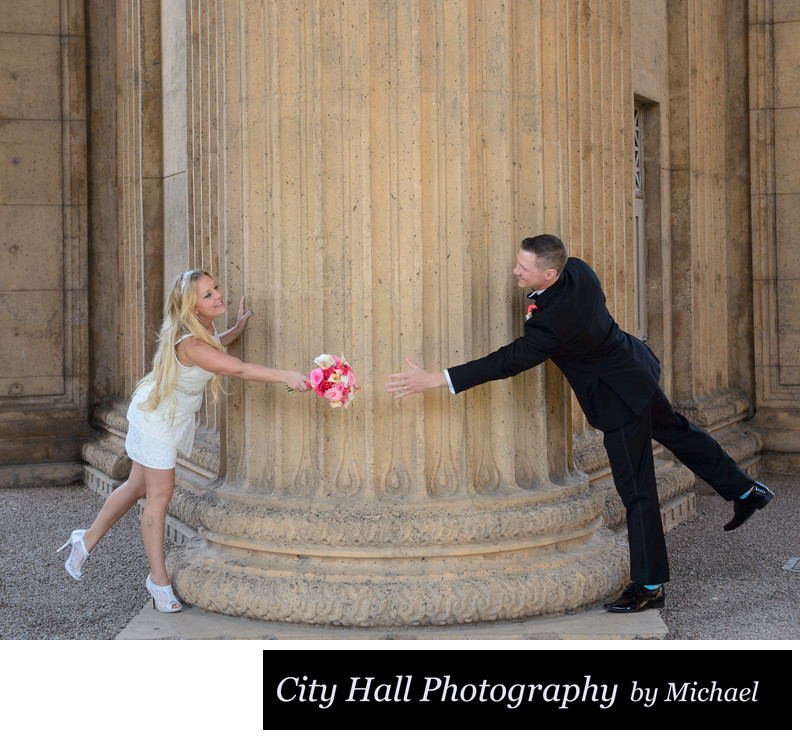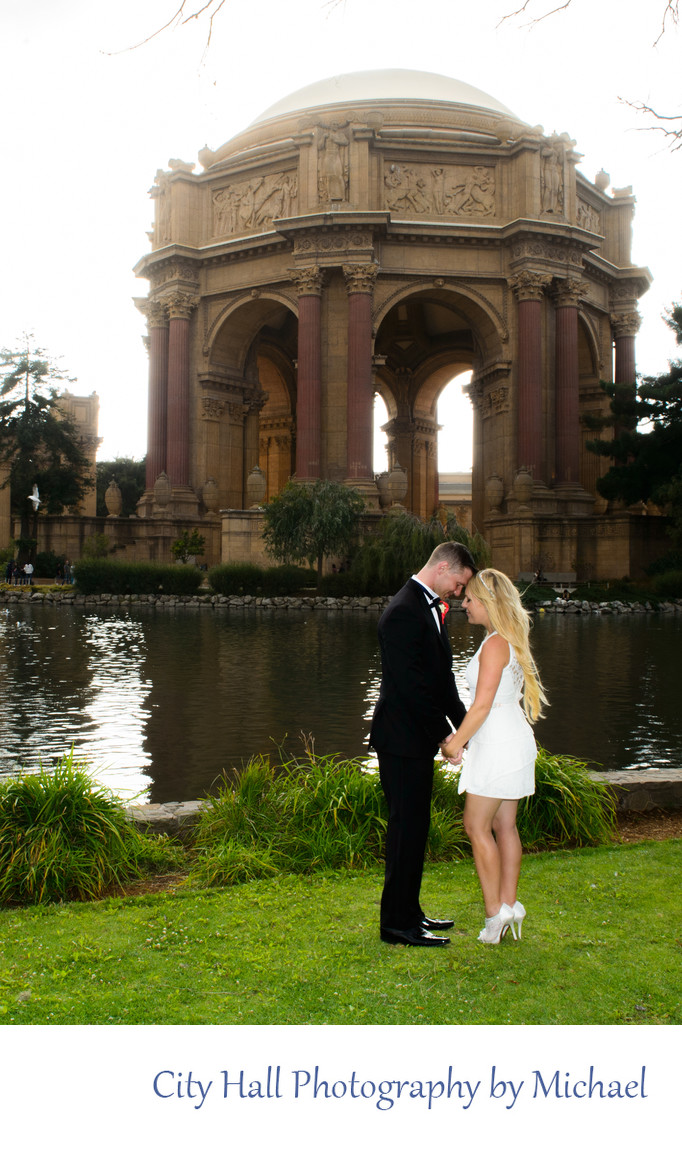 April was another fun and beautiful bride we worked with at the Palace of Fine Arts. We spent a good hour touring around the buildings and grounds at this San Francisco landmark (below left). This happy couple was really interested in exploring all the nooks and crannies of this historic building. Leo and Nadya wanted romantic shots at the beautiful Palace of Fine Arts. As you can see from the photo (below right) they made it quite easy for us. The Bride especially had a knack for posing for the camera in a dramatic fashion. We really had a great time with them after their City Hall ceremony.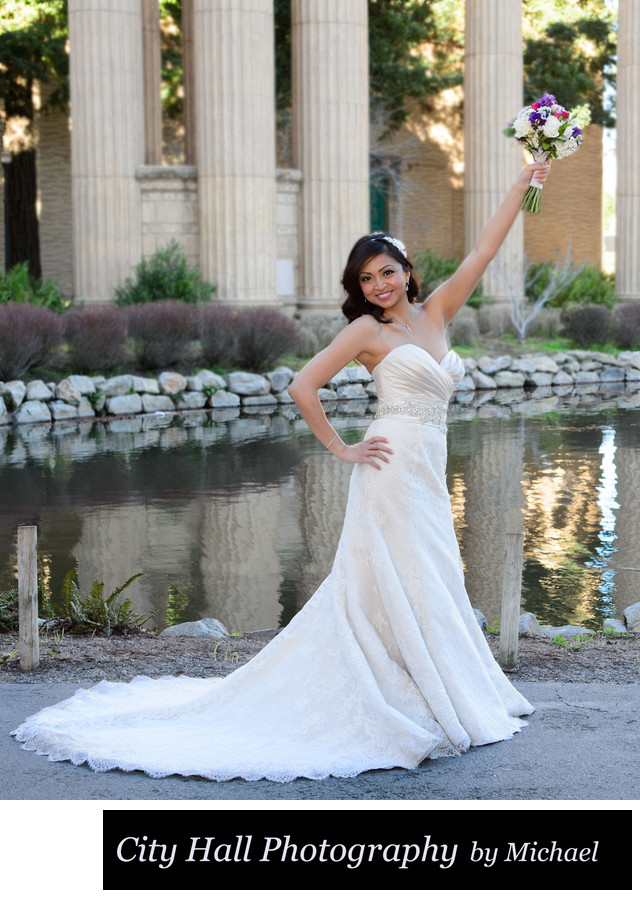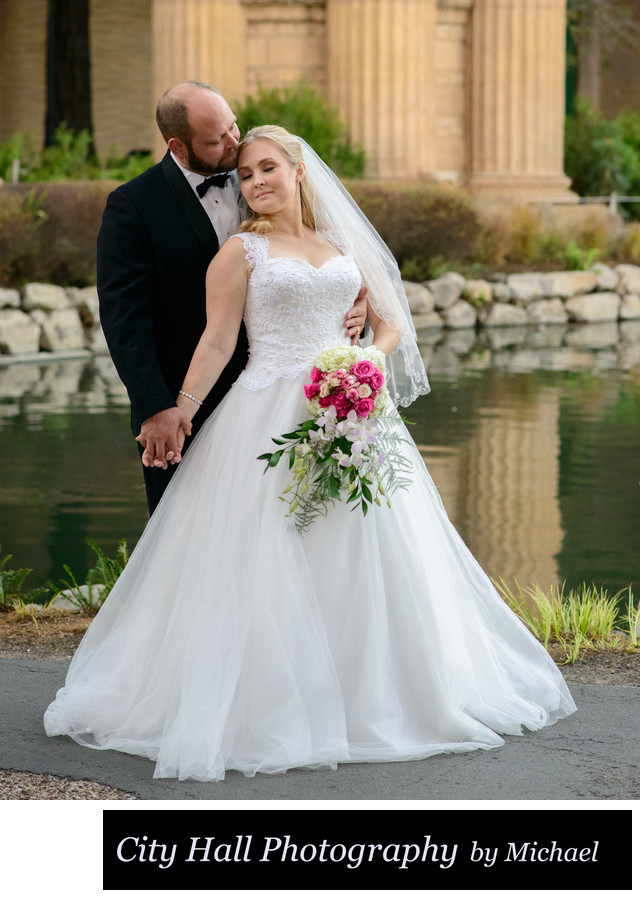 San Francisco Landmark
George and John sharing a private moment in front of the amazing backdrop of the Palace of Fine Arts in San Francisco. Sometimes the best photos are created by the couple and not the wedding photographer. For the photo below, we just asked our LGBT couple to sit down in front of the building and interact. We wanted to get some nice candid looking shots of the couple enjoying the moment. I love the colors in the background, especially the San Francisco sky.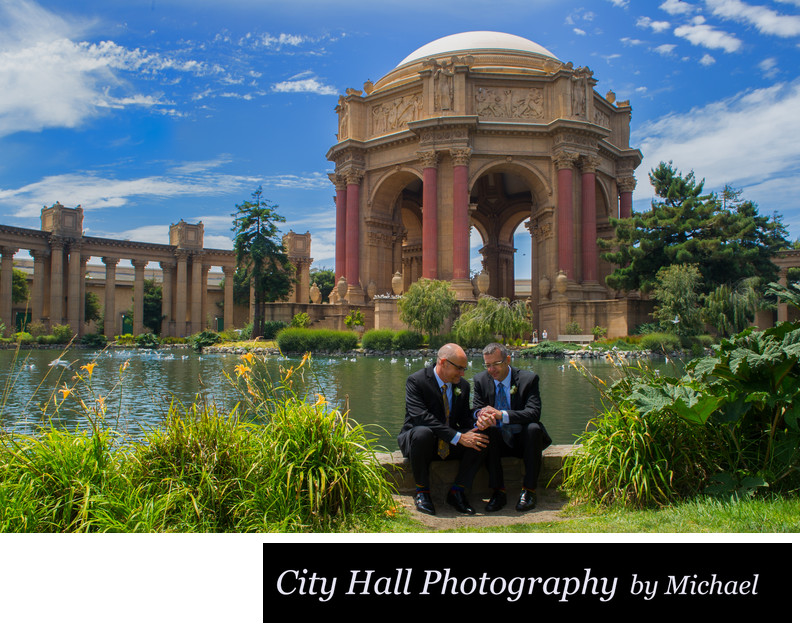 We took the photo below just before sunset and it created a semi silhouette of Damian and Tina. A gorgeous time of the evening at The Palace. Depending upon the time of the year, we can arrive at certain locations just around sunset after your city hall wedding celebration. Let us know in advance if you would like to plan the best time to have your wedding ceremony to optimize photo opportunities. The light at San Francisco City Hall can be variable depending upon the fog.