Formal Attire - City Hall
San Francisco City Hall Gallery
Krista and Tate's Formal Wedding Attire
Krista and Tate recited their wedding vows at San Francisco city hall just after the New Year of 2017. We loved their formal attire, especially Krista's wedding dress, complete with a long veil and train. She also brought a colorful bouquet which really looked fantastic contrasted against the mostly neutral background colors in the building. We strongly recommend bringing flowers to your wedding at this historic venue. As beautiful as San Francisco City Hall is, it's not very colorful. Lots of grays and whites because of all the marble and other neutral colored materials. A little splash of color does wonders for the photos! I invite you to take a detailed gander at the images in this gallery and you will see evidence of what I am describing. Please note how the color of the bouquet adds just enough color to the image without distracting the eye. Without it, the picture would not have as much impact. At the same time, it is not too bright to dominate the photo.
On the Groom's side of things, Tate's formal Tux complimented the bride's attire perfectly and made this a very elegant wedding. SF city hall weddings are not your typical civil ceremonies. People can sometimes be surprised when they come here and see the formal dress that many people wear. In fact, I have noticed recently that City Hall weddings have become more and more formal. I think this may have something to do with the rising costs of venues in San Francisco. People just can't afford to pay some of the prices advertised for formal San Francisco venues. So many engaged couples turn to San Francisco City Hall and make the most of it. This venue gives the bride and groom the chance to dress up, but without the cost of a typical elegant San Francisco wedding venue.
Krista and Tate booked our City Hall PLUS package which includes 1.5 hours of photography time and includes check-in coverage plus pre-wedding photos. This is our most popular package and it really is for the couple who wants the full San Francisco City Hall treatment. Professional wedding photography from start to finish, covering all of the memorable moments, laughter and tears. If you want to go to an off-site destination in San Francisco then you will need to look at either our Golden Gate Package or our San Francisco Package. These packages include pleasant and comfortable transportation to the San Francisco Locations of your choice. When we arrive, we take gorgeous photos of the bride and groom throughout the destination. If you require transportation please let us know in advance in advance of your San Francisco photo tour. We need to bring the appropriate car. You can choose the locations or we will help you. One of the most important aspects of the PLUS package is that it allows time for Family Portraits and substantial interaction with your guests throughout the day. See below for details on how this package works. This package does not include off-site locations.
Family and Friend Wedding Photography at City Hall
The other nice thing about the City Hall PLUS package is that it allows 30 extra minutes for family and friend photos. We are more than happy to provide you with memorable photos of all of your guests. We normally capture these images right after the ceremony is completed. This works well because you have all of the guests right there and available. Some of the best memories I have of my wedding is seeing all of my family and guests pictures and also noting the changes over the years. I think spending this extra time is well worth it to capture these important memories. We really need that extra time to ensure that after the family portraits are complete, there is still time for formal photos of the newlyweds throughout the building. In addition, whenever you have guests at a wedding there is going to be conversation, hugs, tears, etc. These things take time and will not fit into the City Hall Elopement Package which is really designed for couples with no guests. When we work with a couple who is eloping, we can whisk them away shortly after the ceremony and start right in with wedding photography. Since the City Hall PLUS package does including family pictures, think about making a complete listing of all of the combinations of family groups you want for your San Francisco city hall wedding photographers. I often suggest that our brides and grooms also consult with their parents to help compile this photo list. Don't forget to write it down!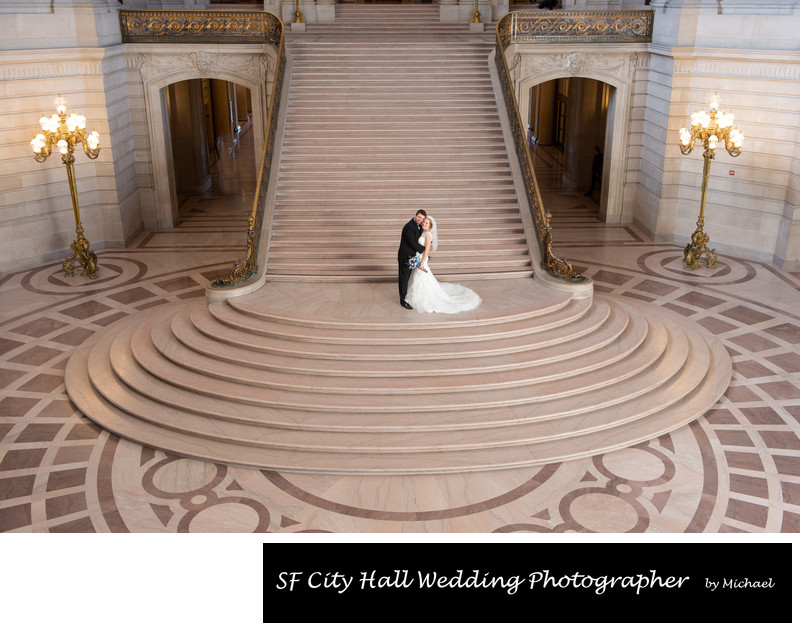 City Hall Wedding Photography Excursion
Once the family photos were complete, we escorted Krista and Tate around the building to make some great memories in pictures. We were fortunate that the Grand Staircase was quite empty (as you can see in the photos above). In fact, most of the photos of San Francisco city hall on this day were not displaying too many tourists or other recently married couples with their photographers. We took this great looking couple to all of our favorite building destinations and we were able to acquire multiple amazing images. As is our usual Modus Operandi, we stayed in constant communication with our newlyweds to make sure we were obtaining the images they were looking for, but also to keep the mood light and fun.
We find that if we smile and are happy throughout the shoot, it helps our couples relax and pose better for their wedding pictures. It makes such a difference in the final quality of the images and is well worth the effort. This, in my opinion, is the secret to successful professional San Francisco city hall wedding photography. It is all about the couple and how they relate to you. It is SO important that everyone be comfortable and happy during the photo shoot. When you look at your friend's wedding pictures and say (to yourself of course) that they don't really look like themselves, chances are they were not comfortable during the wedding photography shoot. All of this being said, the most important thing is that you like the photos! That, of course, is our goal. We will do everything in our power to make sure we capture the types of photos you desire. It should be mentioned that not every SF City Hall photo shoot goes off this smoothly with no tourists or distractions in the way. However, even on busy days our professional city hall experience helps us negotiate some of these challenges and we still provide superior wedding photography.
Documentary SF City Hall Photography
What words do I hear more frequently from our clients then almost anything else? "We want lots of candid photos!" Of course they do, but how how do we accomplish this? To be honest, San Francisco City Hall weddings do not possess as many candid moments as a regular full scale Saturday formal wedding. Many of the events present at a typical wedding do not occur at city hall. For example, there is no first dance and usually no Cake Cutting. Providing the newlyweds with activities is really how you create documentary wedding photography. Does this mean we can't obtain candid images at SF city hall? Certainly not! We just need to try a little harder and create some of the moments and see what transpires. Check out this recent blog post talking about some of the best ways to photograph couples at City Hall. Then see below for a summary of our best ideas to provide our city hall newlyweds with some nice candid images to treasure for a lifetime. I have also included the moments that do NOT need to be created, but just occur anyway over the course of the city hall wedding session.
Checking in at the County Clerk
The witness signing the marriage license (only available for reserved weddings)
Walking to the ceremony in the Rotunda
The actual civil ceremony
Hugging and congratulatory photos directly following the city hall ceremony
Staged Walking shots throughout the building
Sitting the newlyweds together on a bench or the grand staircase and having them interact
Playful shots in between the posed ones (these can be some of our favorites!)
Leaving San Francisco City Hall
Walking across the street after leaving
Sneaky candid images when the couple isn't looking! We like to have fun.
To check out more city hall gallery details, click the link.