Formal Attire - City Hall
The Ring Exchange SF City Hall
The ring exchange during the ceremony is one of the key moments at a wedding. Successful wedding photography relies on catching beautiful moments at the right time. Over the years I have photographed many ring exchanges and I have discovered that it is more important to watch the faces of the bride and groom then anything else. In the image above I caught the moment where the bride looked at the groom with a nice smile and expression. This is what makes this photo a good one. At San Francisco city hall, the couple has the option of doing a ring exchange and I always encourage them to include this in their ceremony. With only a 3 minute ceremony it adds an important element to the wedding photography. Of course the challenge is with a civil ceremony, everything occurs faster and this includes the ring exchange. Basically we only have a bout 20 seconds to capture some great ring exchange moments between the bride and groom. Truly a good example of Matrimony at it's most special.
County Clerk Wedding Check-in
Before the actual ceremony takes place the couple need to meet with their officiant to check-in and show their Marriage License and also their Current Identification. It usually goes pretty quickly and as you can see from the image below, there is usually not a line! UPDATE: At least for now, we will no longer be able to capture images like the one below because City Hall wedding photographers are no longer allowed to come back to the County Clerk's office because of Covid-19 safety issues.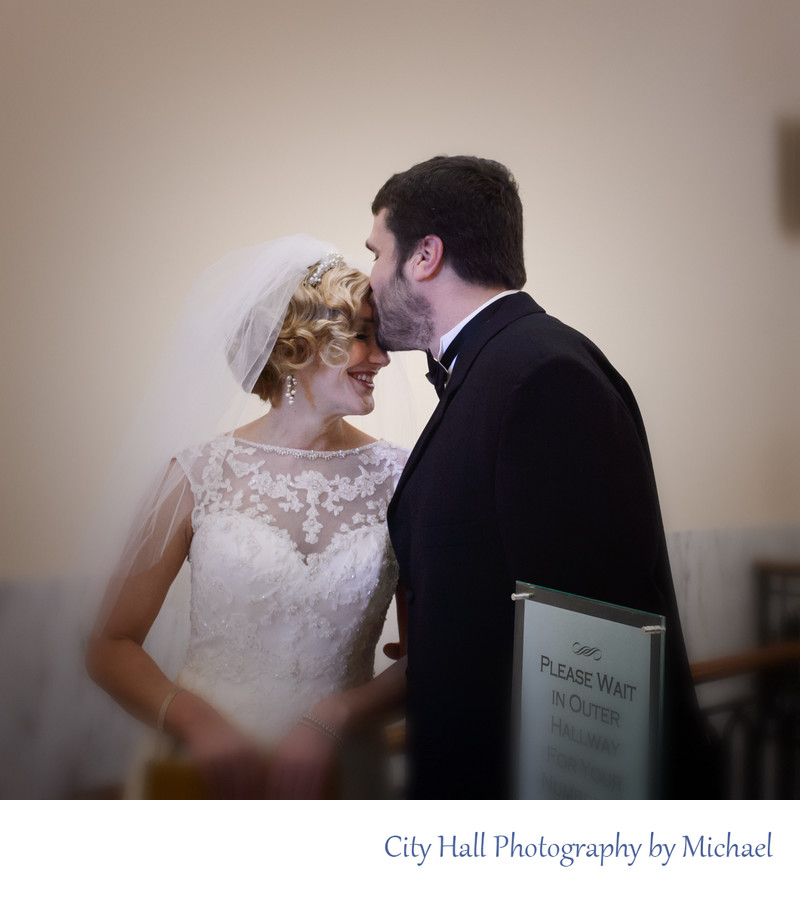 Pre-marriage kiss while waiting in line at the County Clerk's office