City Hall Christmas Wedding
Christmas Time at San Francisco City Hall
Christmas is one of our favorite times of the year at San Francisco City Hall for amazing wedding photography. It's also some of the most busy times spent photographing weddings here! Brides and Grooms often schedule their wedding in December to take advantage of the beautiful and seasonal decorations at city hall. This is a compilation of some of our favorite photos taken at San Francisco City Hall during the holiday season. This Gallery is just a brief sampling of their Christmas Nuptials. We took over 200 photos of Andrea and Noel throughout the building after they booked our City Hall Plus Photography Package. This package allows the couple to include Family and Friends in their photos and still have plenty of time to visit all 4 floors of this historic building. We chose not to include family pictures in the gallery for privacy reasons, but we took quite a few at various locations throughout San Francisco City Hall because we knew that Family was extremely important to them. Total photographic coverage for this package is 1.5 hours. This San Francisco city hall photoshoot is indicative of the types of images you will receive if you book this package or any others. If you are also planning to book a San Francisco city hall wedding during the Christmas season, this is a great gallery to check out.
Wedding Photographer SF City Hall
We have been a wedding photographer at SF City Hall for over 12 years now and have been involved in at least 700 weddings. This is the website to go to if you are planning on booking a San Francisco City Hall Wedding Photographer. This site has lots of great information to help you with your wedding planning and of course choosing a photographer. We love what we do and encourage anyone who is getting married at city hall to book a professional photographer. Not just us, but any of the leading wedding photographers who have experience there. You will not be disappointed and the additional cost is well worth it, because you only get married to that special someone once. The photographs are all you have left when the day is over. This particular couple is very special to us. As you will see below, we have continued to stay in touch with them and we have done 2 more shoots with them and their growing family. One of these photo sessions was at city hall and the other took place at the Palace of Fine Arts in San Francisco. We would not be surprised if we do another shoot when their child gets a little older or if more are on the way. Andrea and Noel were a great couple and we had a fun time taking their pictures. And no, Noel's name had nothing to do with them getting married at Christmas.... We asked!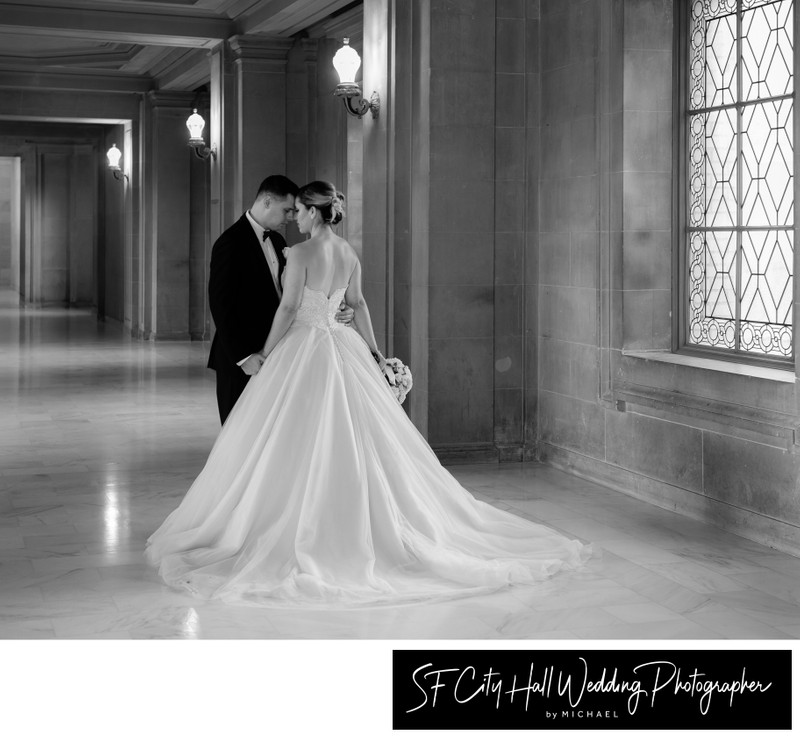 Family Portraits at San Francisco City Hall
We were recently honored to be contacted by Andrea and Noel a couple years after their wedding. They were so happy with the results from their city hall wedding photography shoot, that they decided to have us also photograph their family portrait. Guess where they wanted the portrait session? You guessed it! San Francisco city hall was their choice and they wanted to do it again at Christmas to get the tree and also incorporate their new baby. They were quite happy with the results and it showed Toni and I what a truly great place City Hall can be for Family Portrait photography! I will be adding a gallery soon for their family photos so you can see what a great time we had with this wonderful couple. We have now photographed Engagement sessions, weddings and family portraits here! Many potential clients inquire about the need for a San Francisco city hall photography permit. To set your mind at ease, this is not required for typical civil ceremonies. It can be required for professional commercial video shoots, but this is not applicable so nothing to worry about.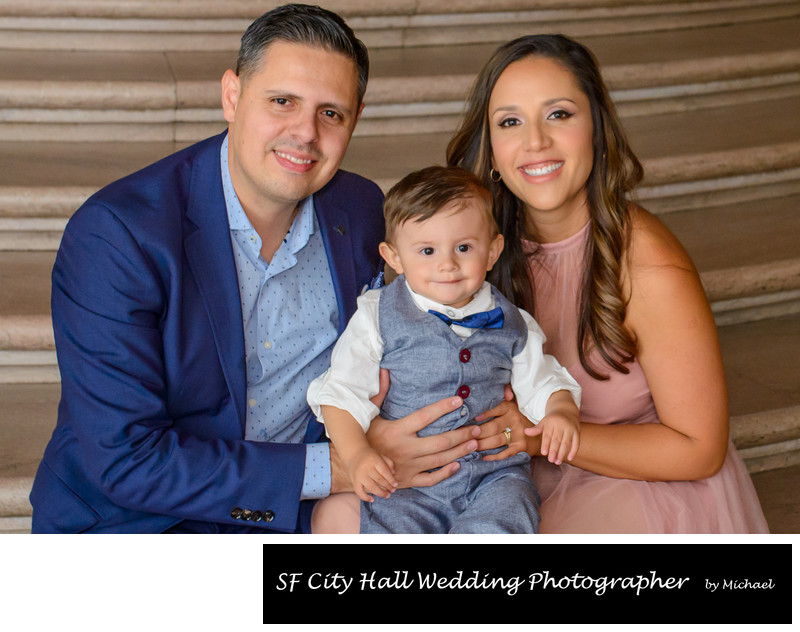 Next Came the Palace of Fine Arts
Another year passed by and Andrea and Noel asked us to do another Family Portrait, this time at the Palace of Fine Arts in the Marina District of San Francisco! We were so surprised about how much their son how grown. Of course he was a little harder to handle now that he was mobile! In that situation sometimes it can better to just go with the action. In other words, you have young boy who wants to be constantly moving and you are trying to make him still. Not a winning combination, so we just worked with him and tried different things. We were very happy with the results as were Andrea and Noel. I realized a long time ago, that trying to take posed, static family portraits with a small child are not only very difficult, but do not match the personality of the young family. 2 year old boys are on the move constantly, so why not incorporate that into the pictures?
Lasting Photography Relationships - Not Only Weddings
It is definitely great to have a San Francisco city hall wedding photography shoot turn into future portrait sessions and a long lasting relationship with the family. The potential to do this is possible with every wedding of a young couple we photograph. It is important to let the couple know that we do offer other types of photo sessions. We can do New Born shoots, family portraits and high school seniors. One other thing we learned from this session is that Andrea looks amazing in red! This family did a very good job color coordinating their San Francisco family portrait. The blend of a red tie for the dad and then red outfits for mom and son worked great together. We often tell our family portrait clients to not wear red because it can be distracting to the camera. In this case, it worked perfectly. Rules are made to be broken, especially when you are working with someone as beautiful as Andrea.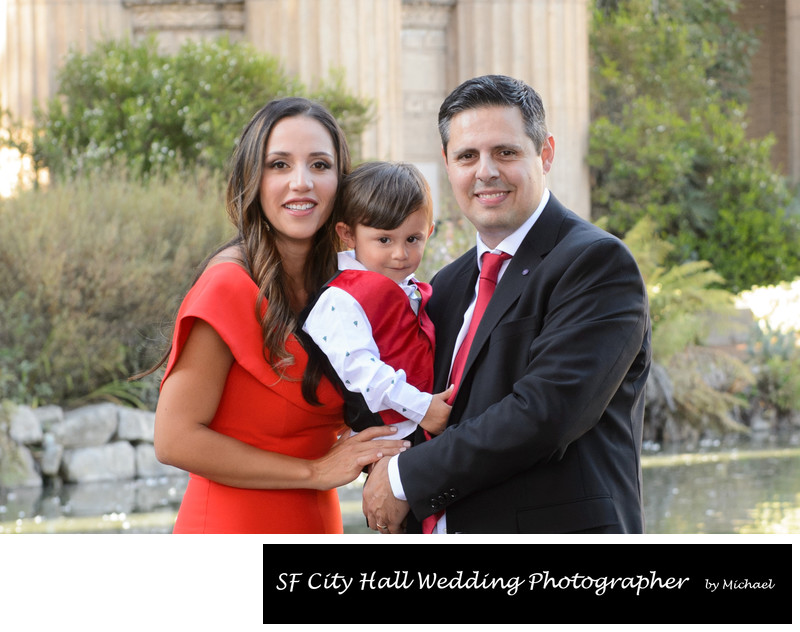 Return to our City Hall Gallery page