City Hall Christmas Wedding
Cupcake Wedding Picture at SF City Hall
Many people refer to this type of photo as a "Cupcake Shot". You sit the bride down on the ground or floor and spread the dress all around her. It doesn't work with all wedding dresses, but if you have the right gown it can be a very fun shot. Really puffy dresses make the best cupcakes! Andrea was a beautiful bride and we ended up having many other photography sessions with this couple. After their wedding, we did a New Born portrait session with them and then eventually did a Family Portrait session at the Palace of Fine Arts. The image above represents the ideal set up to pose the bride for a cup cake shot. I particularly like the way the dress gathers up around the bride.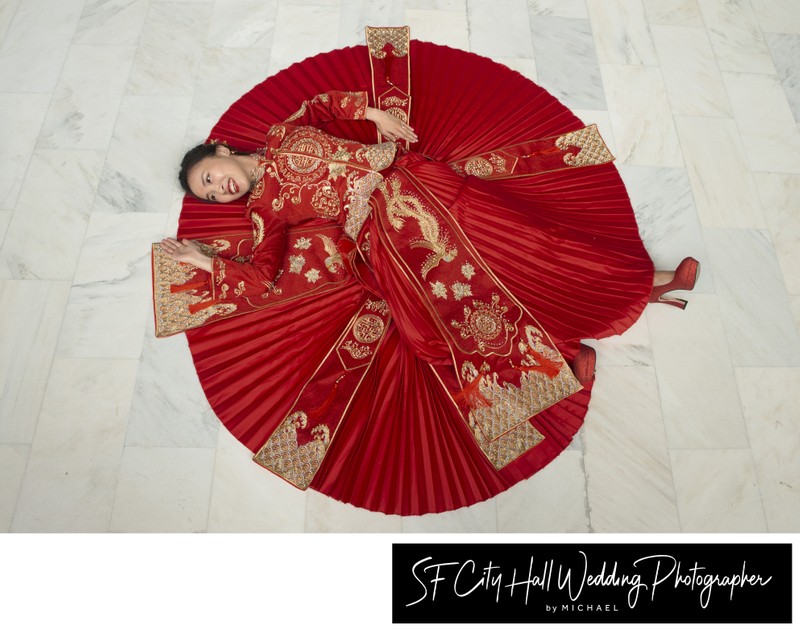 Wedding Photographers Should Listen to their Bride
At a recent wedding, we were in the middle of our City Hall photo tour and the bride let me know that her dress looked really good if you spread it out on the floor. I actually had not planned on doing this because this was not a puffy dress and it was red. From the looks of it, there was no way to tell that it would spread nicely like a large wedding dress does. Fortunately, I listened to our bride and tried it out because it actually was made for this type of thing! In fact, it would make into a perfect circle when spread out! I never would have known this had I not listened and also tried it out. I only mention this because I hear stories from brides and grooms about other San Francisco city hall wedding photographers they had seen who appeared to be unwilling to listen to suggestions from their clients. In some cases, these insecure wedding photographers wanted to make sure their client knew who was in control. While I understand this mentality, it can prevent you from getting the best out of every photography session. I always tell my couples that I have a very good idea about what I want to do for their photoshoot, but this doesn't mean that I am unwilling to listed to their ideas and suggestions. In fact, I encourage their feedback and ideas. This interaction between newlywed and city hall wedding photographer always results in superior images. The bride pictured below allowed us to communicate very openly and as a result we created some great photos.