City Hall Couple from Germany
SF City Hall Wedding Photography Gallery
Catharina and Robin came all the way from Germany to celebrate their nuptials at San Francisco City Hall. It just shows what an amazing venue this is when it attracts people from that far away just to get married here. I asked them if they have any family in the area and they said no. They had heard of how beautiful San Francisco city hall was and thought it would be special to have their wedding at this historic venue. We had a wonderful time photographing their wedding and tried to capture their fun demeanor and great sense of humor. They were interested in us capturing the architecture and beauty of city hall in their wedding photos so we made a special effort to do that for them. Most of all, they wanted to have a blast on their wedding day and wanted the photos to reflect that. We really enjoy it when we work with international couples because it helps us understand their culture better and makes the wedding a learning experience.
International Weddings Popular at San Francisco City Hall
We asked them many questions about Germany and they were more than willing to discuss. Apparently it can get quite cold there and not just in the winter! Perhaps San Francisco fog isn't so bad! Definitely one of our best wedding photography sessions with an international couple in recent years. We have photographed dozens of couples from the UK and also China. Australia was also very big for a while, especially for same-sex couples, but that changed when the their own laws made it easier to get married there for LGBTQ couples. Recently, we photographed a Couple From Italy and then Mexico. We have learned so much about the various cultures through San Francisco city hall wedding photography! Obviously, the prior Pandemic restrictions had slowed down international bookings temporarily, but it appears to becoming back gradually. We recently have had a UK couple and also one from Australia.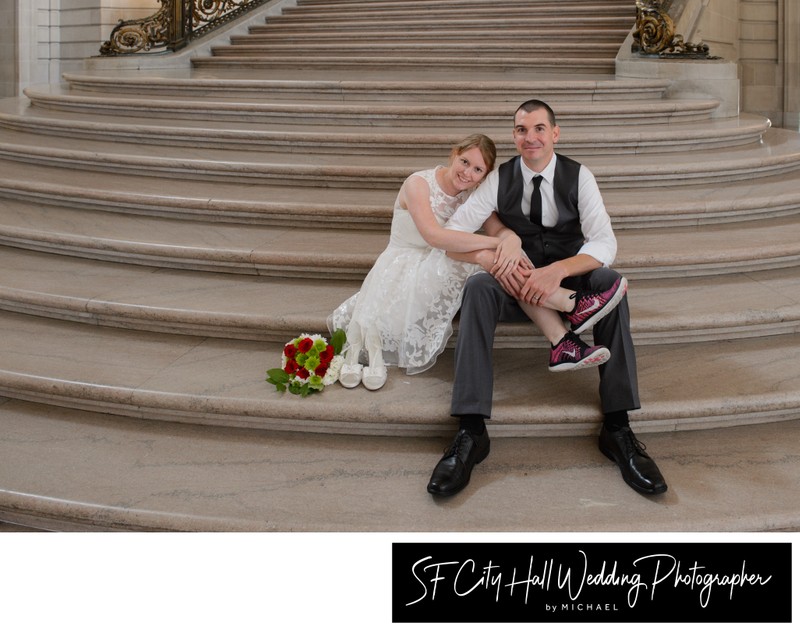 City Hall Wedding Planning is Part of the Deal
After booking our City Hall PLUS package, we spent a considerable amount of time helping this German couple with planning their wedding day from overseas. This included determining the best way to cover their ceremony. We often help our international clients with city hall wedding planning so they can benefit from our knowledge of the whole city hall marriage process. We are happy to include this free service as part of our normal coverage. We understand that it can be challenging to make these plans from a different country, especially if there is a slight language barrier. With Catharina and Robin, we probably ended up exchanging over 50 emails with the goal of making their wedding fun and stress free. Much better to get this type of detail out of the way in advance which allows a more relaxed photography atmosphere when it comes time for the actual nuptials. More important, however, is that the couple feels happy and not stressed about the planning. They thanked us very much for making their day stress free and fun. We also benefit from this because the couple was not distracted by worrying about all of these little details which made them even more photogenic. It really allowed them let go and have fun. You can probably tell from the city hall wedding pictures we took of them.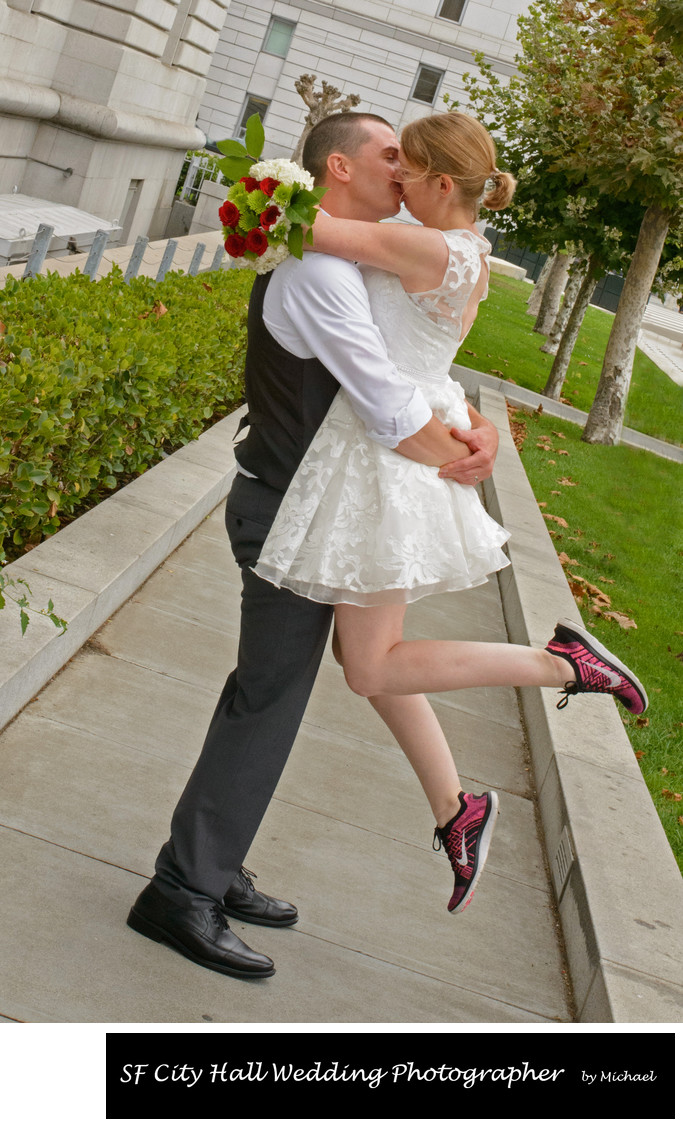 Custom SF City Hall Wedding Album
As you can see from the photo above, Catharina had a little surprise in store for all of us, red running shoes! She put them on towards the end of the photo shoot and we did a few more fun poses with the shoes. Great idea by her and it really enhanced the final photos. Often times our wedding clients come up with some of the best ideas to personalize their pictures. We are more than happy to help them accomplish this! They were so happy with the photos, they ordered one of our beautiful custom 8X11 inch wedding albums. We put together a very nice album design for them and then showed them a PDF proof. Once we made a few small changes, the wedding book becomes published and shipped to the client. It was a bit pricey shipping it to Germany, but the couple loved it and we helped with the shipping costs.
Encouraging City Hall Couples to Order Wedding Albums
We will do just about anything to convince our couples to purchase our optional wedding album. Even in a situation like this where we will not make any profit on it due to shipping costs. Why? No, it is not just to make more money. In fact, given the labor and materials needed to produce a city hall wedding album, there is very little profit (if any). The main reason is that we know for a fact that the vast majority of newlyweds that only receive digital image files do very little with them. They may end up getting posted on Facebook or Instagram and then that's about it. The image files spend the rest of their lives on some forgotten hard drive somewhere. I do think that most couples have good intentions when it comes to doing more with their photos. Many of them let me know that they plan to make their own album, but how many really do? From my own unofficial surveys, I would put it below 10%. We are also keenly aware that one of our wedding albums being looked at by friends and relatives of the couple is great advertising for us! We have booked many weddings from clients who saw one of our books in a former bride's hands. So from that standpoint it also makes great sense for us to put as many wedding albums out in to circulation for people to see. The most important part is that it provides the newlyweds with a great way to remember their wedding for years to come.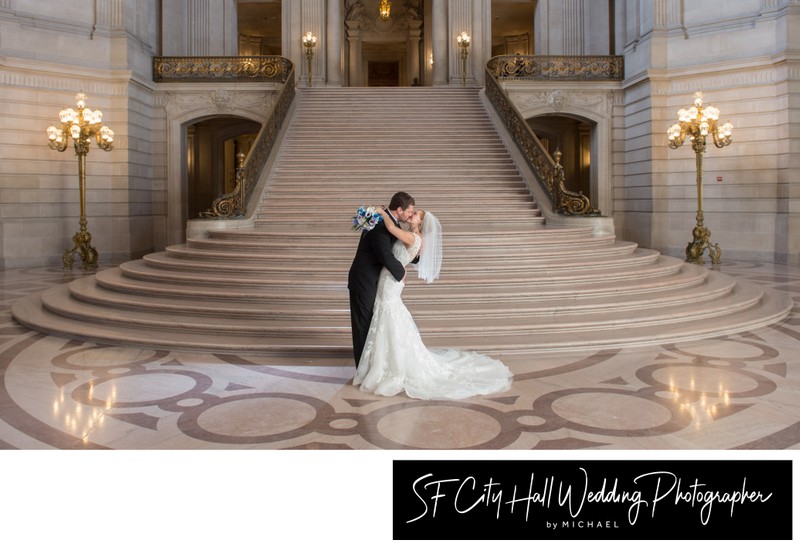 City Hall Wedding Photography for an Album
We approach every wedding pretty much the same way, but if we know in advance that the couple wants to obtain one of our wedding albums, we may alter a few of the things we do slightly. For example, SF City Hall wedding albums have background images which often are made up of architectural images throughout the building. Of course, we do this all of the time for any city hall wedding, but some couples bring their own personal heirlooms or traditional things that we can also be sure to include in the pictures. We may take close ups of their rings or flowers as well. Anything we can do to dress up their wedding album can be accomplished if know in advance about the couple's desire for a wedding album. If you are wondering why we don't do this for every couple the answer is simple. Some of our couples book us for shorter coverages and so we want to make sure we focus on the things that are most important to provide them with great wedding pictures. Spending too much time on detail shots that may not be used is not the best use of their time.

Return to our City Hall Gallery page for additional information and galleries to enjoy.