Romantic City Hall Bride and Groom
Nadya and Leo were one of our more romantic San Francisco city hall couples in 2015. Especially Nadya who had a flair for the dramatic. They booked our very popular San Francisco Wedding Tour package which includes 4 hours of coverage. Their wedding started with a beautiful ceremony on the Mayor's Balcony. The event staff was working on the Rotunda area which allowed us to have the ceremony across the way since it was temporarily closed. A lucky break which provided Nadya and Leo with a private ceremony with nobody around except their guests. Sometimes this occurs and the couple receives a $1,000 location (Mayor's Balcony) for the price of a simple civil ceremony ($100). They obviously don't rope off the area to keep tourists out, but people tend to steer clear when they see a City Hall Marriage Commissioner with the robes on! There is something about those judges robes that make everyone respect the ceremony and not bother the couple.
We have discussed this before, but the only real downside to having a SF City Hall marriage is the presence of so many tourists and other brides and grooms. This makes it even more important that you hire a professional city hall wedding photographer. The experience in the building helps us to know alternative photo locations where there are less people. I always feel that the best professional city hall wedding photographers really earn their money when things are NOT going smoothly at the venue. Perhaps there is an event occurring or it's a very busy Friday. These potential issue present unique challenges for us. Overall, the best way to handle these issues is to keep things positive and make the most of the situation. We have found that this works great and sometimes even better memories are created. The key thing is to stay calm and look for new photo opportunities. There always seems to be alternatives if you look hard enough. We always approach these challenges in a positive manner. This also helps to not upset the newlyweds, who should be enjoying their special day.
Natural Light Wedding Photography - City Hall
After a wonderful ceremony, We took the newly married couple around the building and captured some gorgeous shots of them on all 4 floors. It was a relatively quiet day at San Francisco City Hall which allowed us to have the Fourth Floor Gallery all to ourselves for a while. We then headed over to one of the 3rd floor windows and created some memorable images there as well. We like to use this area for individual photos of both the bride and groom. The main reason that we like the 3rd floor for this is the Studio-like lighting that we can use there. We took full advantage of the incredible natural light that was present during that time of the day. the natural light on this floor is a artist's dream. The light is very directional but also not too bright. You can basically point the couple in the direction needed to obtain different looks. I swear that at times you can achieve a look similar to a professional Studio. Especially if you remain on the North side of the building. We often call it "painting with light" and it really means using the directional light to provide depth and interest in the final image.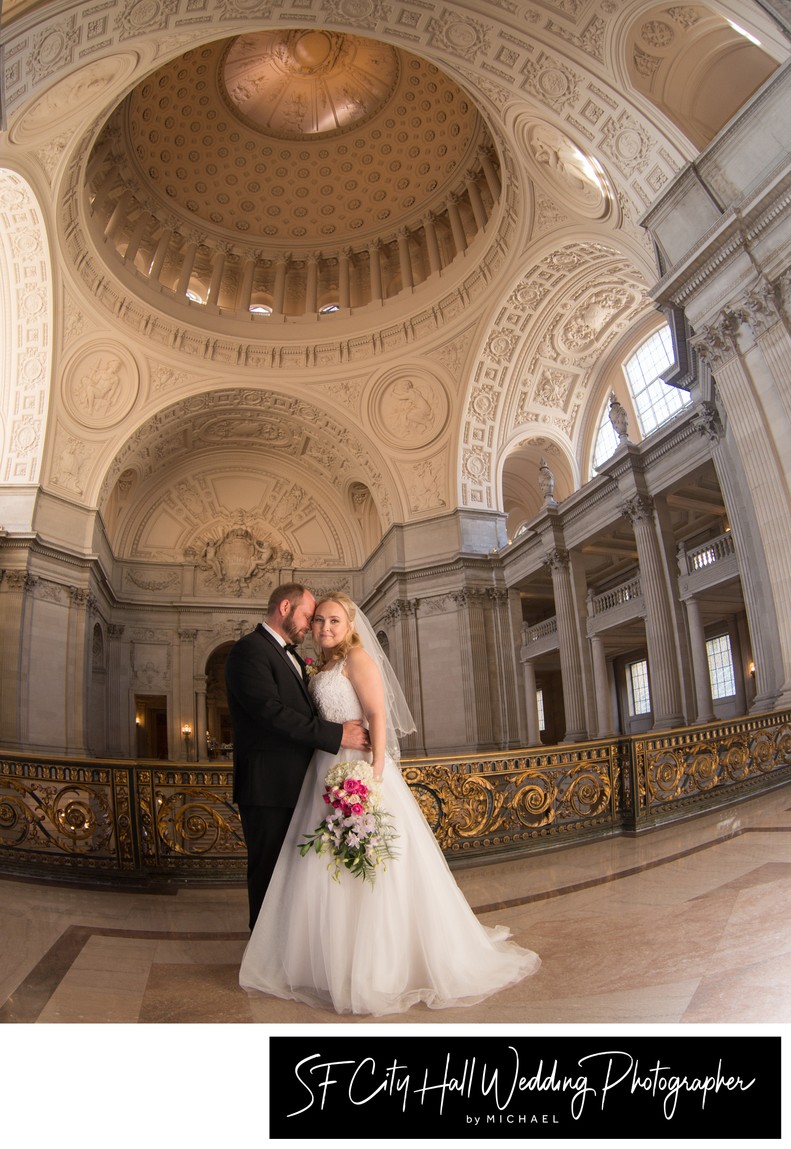 San Francisco Photography Tour
Once we finished up at San Francisco city Hall we piled into my comfortable car (newer Toyota Camry) and headed out to Crissy Field on the San Francisco shoreline by the Bay. The Golden Gate bridge was clearly visible so we were able to make some great images with the beautiful background of the golden towers. Crissy Field is just one of the many vantage points to the Golden Gate Bridge, but I have to say it is one of my favorites. True that part of the bridge can become obscured depending up on the angle of the photograph, but the location, the angle, the grass and the relative privacy are all very complimentary to making sure we get perfect background images of the famous bridge. I also find that not that many other San Francisco wedding photographers use this particular angle so it keeps are images looking fresh and new and not like everyone else's.
The Palace of Fine Arts for Wedding Photography
After Crissy Field we headed over to the Palace of Fine Arts and went clear around the building getting shots on both sides of the pond. The Palace of Fine Arts really has 2 very differing looks. You can do the very typical shot across the water that shows the front of the building and the fountain, or you can explore back behind the building where there are many exceptional places. Certainly if the bride and groom want a unique look to their wedding images then we need to go back behind the building. The pond still shows up in various shots and you have these great towering columns that are a very interesting color depending upon the light and the time of the day. For this particular shoot, we had time to do both the front and the back and our couple made the most of it. With the sun rapidly setting, we drove to Ghirardelli Square with the goal of getting a night time Cable Car photograph. We finished the shoot at our favorite ending place, the Buena Vista Cafe where we all had one of their famous Irish Coffees. We even took some photos of them toasting with their drinks! Its always fun to walk into the Buena Vista with a bride and groom because cheers usually ring out loudly! This provides the couple with another great memory of their special day.
Lifetime Memories with Wedding Photography
This San Francisco photo session was more than just a wedding shoot. It was a memorable experience for Nadya and Leo and us too! If you are going to spend this much time with somebody, you might as well enjoy each other's company. We had a great time with the happy couple and learned so much about them. Nadya's dramatic expressions came from her upbringing in Eastern Europe. Leo in an entrepreneur with his own business and also a body builder. We know they had a great time and will keep these memories for a lifetime. Wedding photography can be so much more than just taking beautiful pictures of a bride and groom.
Nadya and Leo's amazing San Francisco City Hall wedding and photo shoot from Mike Dubnoff on Vimeo.
The slideshow video above is a quick summary of our 4 hour photo shoot with Nadya and Leo. We offer 7 different levels of coverage for our San Francisco city hall wedding photography service. For more details on each package and what they have to offer, please check out this wedding packages link. We make every effort to help our wedding couples choose the ideal package to fit their specific needs. We invite our prospective clients to tell us about their wedding so we can help them decide on the perfect photography package for them! If you have questions about the San Francisco Package shown above or any others, please feel free to email us or call! You can reach us by emailing mike@cityhallphotos.com or click the convenient Contact link above in the main menu.