Fun Wedding Couple at SF City Hall
Probably the best part about photographing San Francisco City Hall weddings is the people we work with. We really enjoy the interaction with our brides and grooms. This is true whether they are a more reserved couple or fun loving like this one happened to be. We have the pleasure of meeting people from all over the world with different types of cultures and wedding traditions to tell us about. This includes are wonderful LGBTQ couples as well. It's important for us to connect with the couples and get a feel for what they are looking for. It's also helpful to learn about their personalities a little bit, because this helps us to style their wedding photography session appropriately. None of this is forced and it usually happens naturally. On the rare occasion that a couple would prefer not to get to know us that well, it still works fine. We certainly understand that some people are more private than others. Nothing is ever forced.
Understanding Our San Francisco City Hall Couples
As mentioned, we know that some couples are more private than others. This particular couple made it clear to us from the very beginning that their photography session was extremely important to them. They also emphasized the importance of having fun and they were hoping the wedding pictures would reflect that. What good is it if the couple and the wedding photographers have an amazing time together, but you don't see it in the end result? The challenge then, is to enjoy our time with the bride and groom, but not too much! We never lose sight of the main goal which is providing the client with amazing wedding pictures at San Francisco city hall that tell the story of the day. Communication early on in the photo shoot is key and helps guide us with our approach. Creating lasting memories for the newlyweds is our number one goal. The feedback we received from this couple after they received their wedding pictures confirmed that we had succeeded on both counts.
---
Fun Couple at San Francisco City Hall from Mike Dubnoff on Vimeo.
Key Factors For Making Your City Hall Wedding Fun!
Preparation and Planning - A great city hall wedding day is all about making sure you do all of the work beforehand. This pre-planning allows you to enjoy the day to it's fullest! Make a check list of what you will need on your wedding day and bring a friend you can rely on to help with the little things. One way to ruin your wedding day is to end up serving as your own wedding coordinator. There are a number of good blogs that help with this type of wedding preparation and they are worth looking for. We also have some great information on the website about how to get married at city hall. Lastly, don't fall into the trap of trying to make your wedding the perfect event. At times our couples can spend so much time and effort stressing about making their whole day go well, that they forget to enjoy it themselves. Your San Francisco city hall wedding photographer is also here to help with planning and ideas. We recognize that most couples having a Civil Ceremony are not going to hire a wedding coordinator as they may have for a larger wedding. We are happy to step into that role because we strongly feel that all couples deserve the very best on their wedding day.
Positive Attitude - We sometimes work with couples who are just waiting for something to go wrong. They fret about making sure everything is perfect to the point that they worry themselves sick. It's important to remember that this is one of the most important days in your life. Embrace it and don't sweat the small stuff! Going back to what was just mentioned about careful planning helps make attitudes more positive. We will also do our part to relieve some of this stress through our own vast experience. We try to help with details wherever possible. Certainly when it comes to San Francisco city hall weddings, we know all of the ropes and can be quite helpful. Of course, just the fact that the couple decided to have their wedding at city hall brings down the stress levels quite a bit.
Hire Experienced Vendors - Make sure the people you have hired to work with you on your wedding day have done it many times before. Experienced wedding photographers, videographers, planners, etc. can make your day go smoothly and allow you to have fun. I know that it can be expensive to bring in nothing but seasoned professionals, but I honestly feel it is worth it in the long run. Don't allow wedding vendors to learn how to do their job on your dime. You will be able to enjoy your special day so much more knowing that you have vendors you can trust. San Francisco has many highly rated Wedding Professionals! If you want to utilize our complimentary wedding planning service, we would be happy to assist you with some of these choices. At the very least, we can present additional options to you. We will also help serve you in that capacity not only before the wedding, but during.
Realistic Schedule - This can be extremely key in making or breaking your marriage celebration. When mapping out your wedding day try to allow enough time for everything you want to do with plenty of cushion in between each event. There are a few factors to consider including the possibility of parking problems at city hall and/or a late ceremony. Try to enjoy each of the days events without rushing things too much. One of the biggest stress inducers is running late for your own wedding. Keep your schedule loose and you will feel the same way. We especially recommend adding some extra time in the morning before you make the trip into San Francisco city hall. You just never know what can go wrong.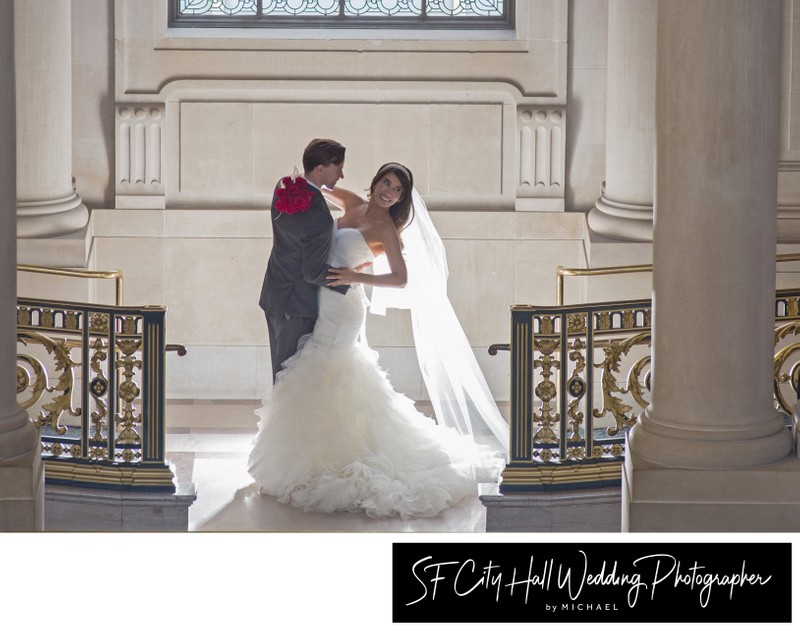 Things that Don't Factor into Wedding Fun?
This is where it becomes interesting. Many of the factors we are about to list end up being some of the couple's biggest priorities. I am here to tell you that although some of them may be helpful, they don't lead to wedding fun! Fortunately, San Francisco city hall weddings do not usually include any of the below. Another reason to consider it for your wedding venue.
1. Centerpieces are nice, but most people don't get much fun out of them
2. Party Favors are something that you feel obligated to accept and pretend like you want if you are guest
3. Long Ceremonies that go on and on.... Exhausting and sometimes boring.

Best Part of Making the City Hall Wedding Fun
If the couple is willing to let go of control, they are on their way! After hiring the best possible professionals and trusting them, it makes it all possible. From your make-up and hair person all the way to the wedding photographer, you have carefully chosen the vendors that you believe will do their jobs well. But now comes the hard part..... Letting them do it! Trust your wedding vendors and enjoy your day. All of the planning, instruction and special requests need to be completed BEFORE the wedding. With all of this in place it's time of have fun on your wedding day! Following some of these city hall wedding helpful hints will also help. If things go wrong, they go wrong. It will not ruin your day, nothing can! Sometimes the things that do go wrong can contribute to long lasting memories. As I mentioned before, do not sweat the small stuff. Most of the things that go wrong at weddings are only noticed by the bride and groom (mostly just the bride) so don't worry and enjoy.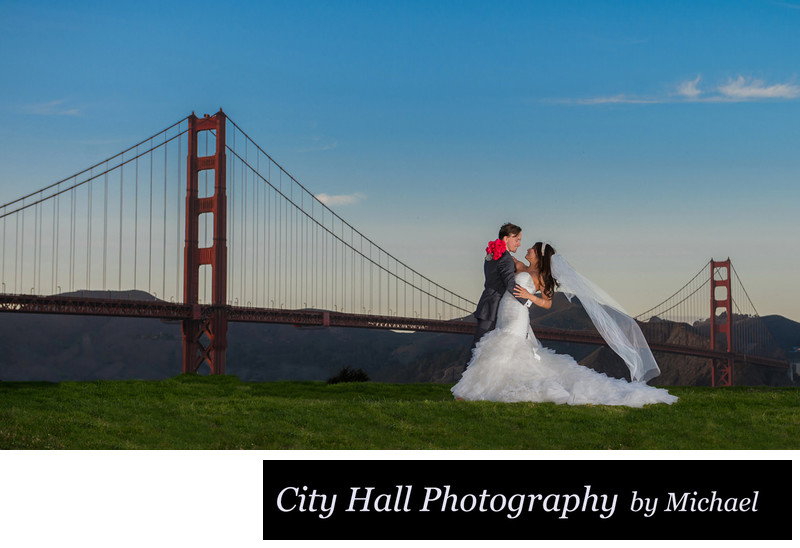 View of the Golden Gate Bridge from Crissy Field in San Francisco