City Hall and North Beach
City Hall with North Beach Photo Tour
Amy and Patrick wanted to book our San Francisco Tour package, but also add some wedding reception coverage. They had a relatively large ceremony by SF City Hall standards followed by our photo tour around the building. The plan was to also visit Ghirardelli Square and hop on a Cable Car. We then finished up the tour with a visit to The Buena Vista Café for some Irish Coffee and pictures at the bar. We took some photos of them toasting and it was a great way to end the San Francisco photo tour. But that didn't end our day with them!
Optional Wedding Reception Coverage
As mentioned, we also included Wedding Reception coverage in this particular package in the North Beach area. I love North Beach and particularly enjoy it when San Francisco city hall wedding photography takes me there for work. Inevitably, any couple visiting North Beach will want a taste of some pizza or pasta or maybe a quick stop for Espresso or Gelato. This can provide lots of great opportunities for candid photography of the bride and groom just enjoying their day in what is also sometimes known as Little Italy (New York has one too). Just getting pictures of the newlyweds walking around the area can create some wonderful memories. The important thing is to document their time in San Francisco celebrating their marriage with pictures. We feel like we did this very effectively for this wedding. We definitely received some positive feedback from the newlyweds. As we have mentioned elsewhere on this website, the experience of having your photos taken should match the quality of the final product. If you are going to spend time doing anything on your wedding day, it should be fun. Having your photos done should not feel like a job.
Extended San Francisco Photography Coverage
One of the particularly fun things about this San Francisco City Hall wedding photography shoot is that the couple's daughter joined in and we were able to obtain some great shots of her with her newlywed parents. She was a real trooper and followed us everywhere and never complained. Click this link to see some tips on the best ways to include children in your wedding day festivities. Once we arrived at the reception location in North Beach we took some shots of the decorations, flowers, etc. We then went on a mini tour of the Washington Square area including a very fun visit to the relatively famous North Beach Hat Shop. I have brought other couples there and it always results in some great San Francisco wedding photography. I love the fact that the store owners encourage couples to take their time and try on hats for photo opportunities. We rarely purchase anything at these stops so I will often offer a tip to the person in charge. They rarely accept it! I am actually thinking of purchasing my own hat there soon! Check out the gallery to see some of images from North Beach's hat shop. UPDATE: I have returned twice to the Hat Shop and now have 2 very nice hats that enjoy wearing especially in the winter. See below for some fun photos of our City Hall bride and groom trying on hats. If you like candid moments, this can be a great stop on your North Beach photo tour.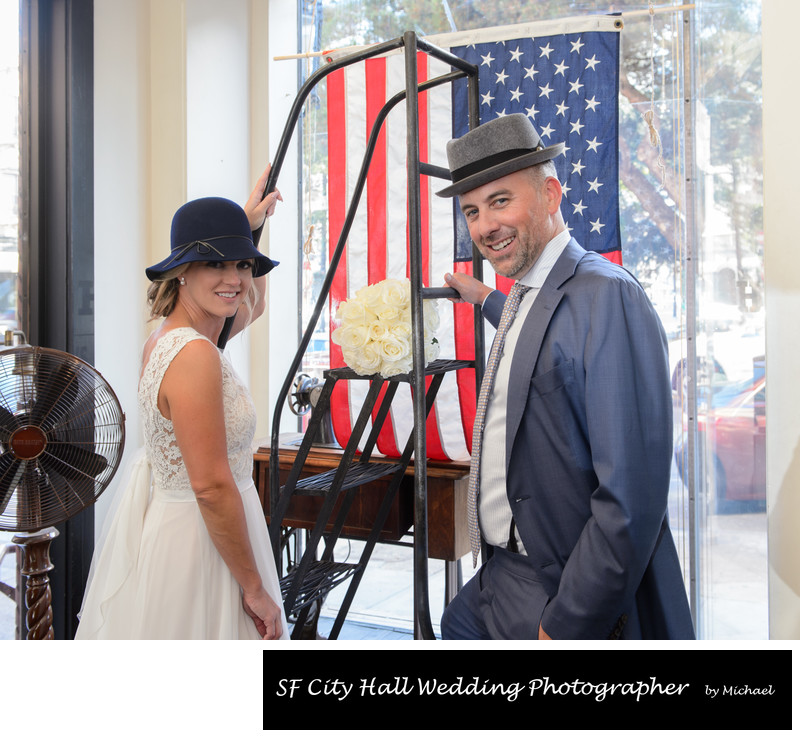 Candid San Francisco Wedding Photography
The happy newlywed's photographic coverage ended with us getting some nice candid walking shots around North Beach. Many of the areas most famous restaurants were in the background for effect. We would just wait for the light to turn green and have the newlyweds cross the street (carefully) while holding hands and enjoying each other. One of my favorite captures of this activity can be found in the gallery above. It shows the couple walking across the street with San Francisco's famous Tony's pizza in the background. We made a brief visit to the actual Reception spot and got a few nice shots there as well before the party started.
Finishing up with Table Shots and Candid Photography
We ended this amazing day with Amy and Patrick by photographing the table shot below with all of their guests. They did not need us to stay at the reception because it was mostly just going to be dinner service at that point, so we left after getting the shot you see below and few nice candid images of the guests enjoying the celebration. A great day overall and fun for everyone involved. This brings up an important point when planning for your Wedding Photographer's coverage needs. If you want us to cover your reception, be sure to only book us to record interesting activities. These include, toasts, first dance, bouquet toss, and cake cutting. Many clients make the mistake of booking us to take pictures when only a simple dinner is being served. There is really not much to photograph at this point besides people eating. We are happy to stay at your San Francisco wedding reception as long as you want, but keep some of these things in mind when making your decisions. We want you to get the best coverage for your money!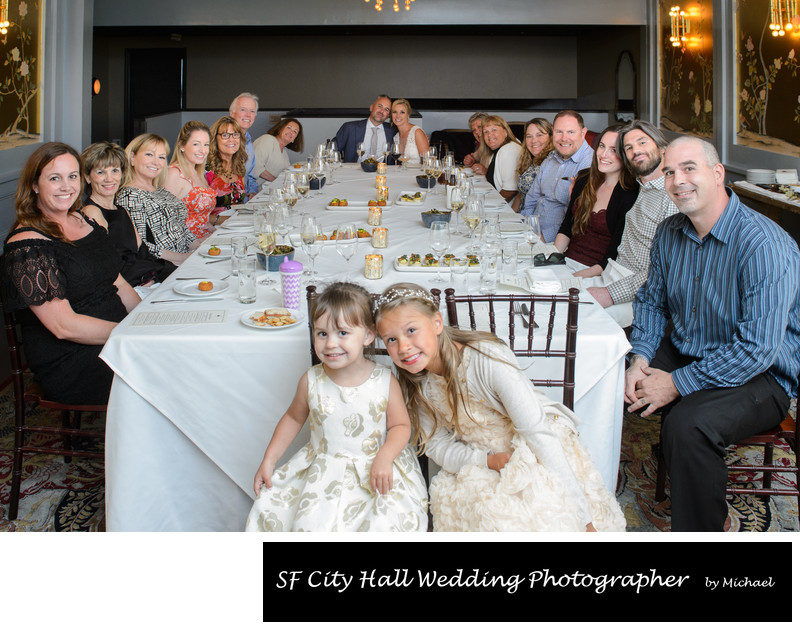 Summary of This SF Wedding Coverage
The type of largely candid photo coverage we did at this wedding is really a personal favorite of mine. During the City Hall photo tour, we always are able to capture more than enough posed and staged pictures to make a nice wedding album. So once we are outdoors and touring around and visiting the bride and groom's favorite San Francisco destinations, it's nice to change things up and keep the session more candid and natural. At this point, the goal was to really focus in on the relationship between the couple and also their daughter. I really feel like we accomplished this as you will see from the gallery compilation that goes along with this page. We did this at both the San Francisco city hall portion of their wedding day and then the North Beach part. The couple deserve a large part of the credit for making those candid moments come alive.
Click the City Hall Wedding Gallery Descriptions page for more samples featuring different packages and other locations in San Francisco. We offer destination wedding photography at most of the popular San Francisco landmarks. Just name the ones you are interested in and we are happy to take you there.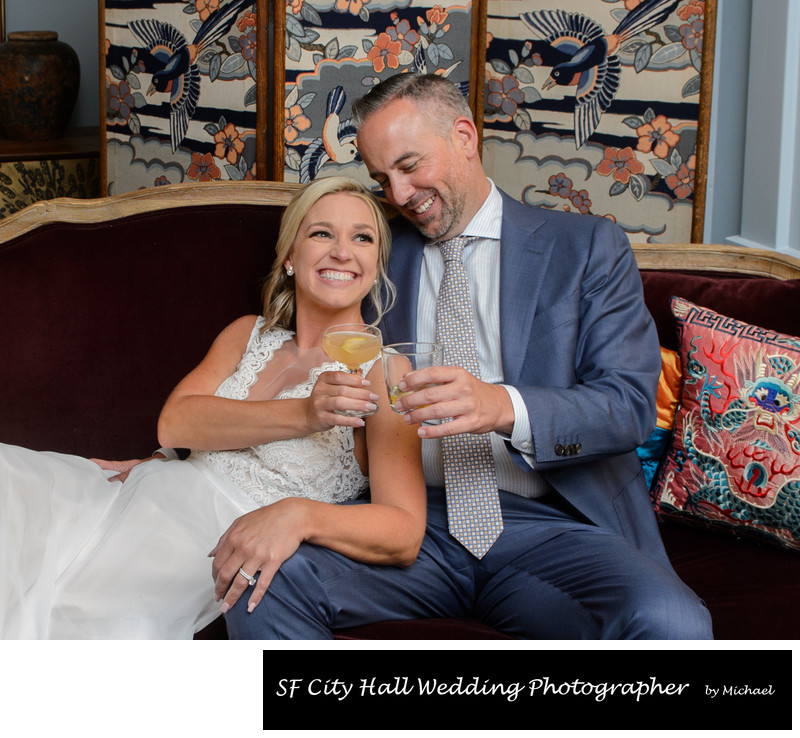 Appropriate Ending Shot for our SF City Hall wedding couple