San Francisco Tour Wedding
San Francisco City Hall Tour Wedding
We talk quite a bit throughout this website about our San Francisco tour wedding photography package. Why? Because it's our favorite package and gives us the best opportunity to truly capture the bride and groom in this magnificent city by the bay. Phoebe and Sean decided to go with this package and we enjoyed taking them around San Francisco, with stops at the Palace of Fine Arts, Lincoln Park Golf Course (17th hole) and the Legion of Honor. All of this came after their city hall civil ceremony which went off without a hitch! Once we departed City Hall and ventured out into San Francisco, we took our time at each location and made sure we captured some great images. The Palace of Fine Arts was a bit windy so after taking a few pictures, we decided to head to the Legion of Honor which is more sheltered. This proved to be a good decision as the weather was completely different at the new location. This type of variability can be pretty typical in San Francisco. If you don't like the weather, drive a little and find something better (or worse in some cases)! In any case, The Legion of Honor is often our go to spot when the weather is not so great or in windy conditions. This is because it is sheltered and partially covered from the elements.
No Reason To Rush Through Each San Francisco Location
The key to this package is taking time to really enjoy each location and not rushing through. Occasionally, a client will try to convince us to expand the tour to 4 locations. We strongly discourage this because the whole wedding photography shoot turns into a race. We want natural smiles and pleasant demeanors and this comes when the atmosphere is relaxed. I also firmly believer that it is not the quantity of the photos, but it is the quality that is more important. This type of quality will be more difficult to achieve if we are rushing from place to place and fighting the SF rush hour traffic. The same rule goes for when we are actually at the location. Much better to comfortable roam around these iconic San Francisco locations with capturing amazing wedding pictures.
Transportation for San Francisco Wedding Pictures
Sean and Phoebe joined Toni and I in our car as we toured around the "City by the Bay". We include transportation at no extra charge and feel that the newlyweds receive a higher percentage of actual photographic time because we can just jump out of the car at each stop and start taking wedding pictures. When we try to meet the couple at each destination in separate cars there is always some time taken to find each other and park both cars. Following someone in a car in San Francisco can be quite difficult also! We certainly do not want anyone obtaining a traffic ticket on their wedding date while racing through red lights to make sure they don't lose us (not that we would try to lose them!).
Rapport Building through Wedding Photography
This 4 hour package also gives us the opportunity to get to know our clients in a more relaxed setting. We have had the privilege of meeting people from all over the world and we really enjoy learning about other cultures and traditions. In addition, this exchange of information often results in enhancing the shoot because we learn more about the personalities of our bride and groom. One of the wonderful things about San Francisco is that it has culture and history too, so this gives us plenty to talk about while riding in our comfortable Toyota Camry. We want to make your day a fun and relaxed session of San Francisco wedding photography. Other great places to visit on this SF tour including Golden Gate Park, Sutro Baths, Lands End, Potrero Hill, and the Haight Ashbury District. To see a updated list of the best San Francisco Tour locations, please click the link. We provide pictures and details of the best places to tour.

Wedding ring exchange with bride and groom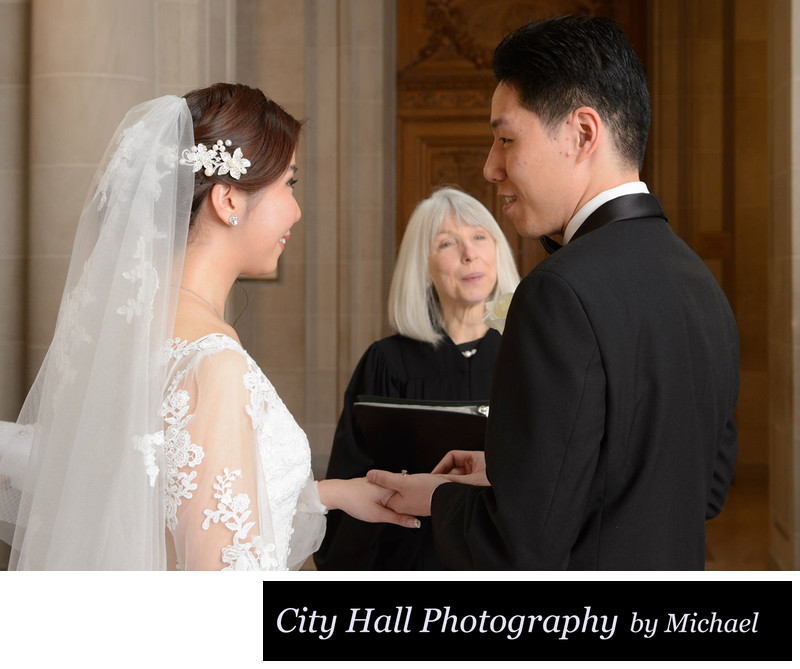 San Francisco City Hall North Gallery Architecture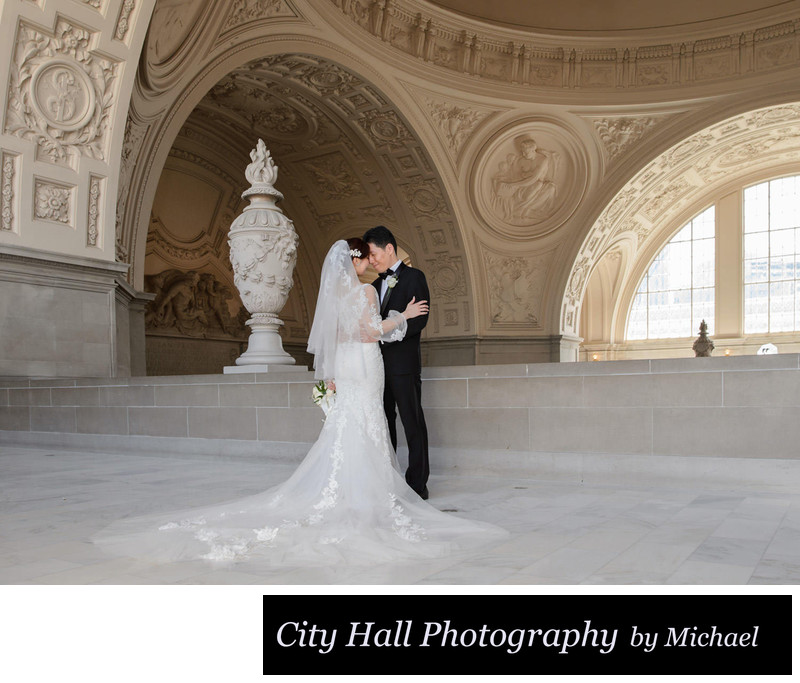 SF City Hall Bride with natural back lighting through window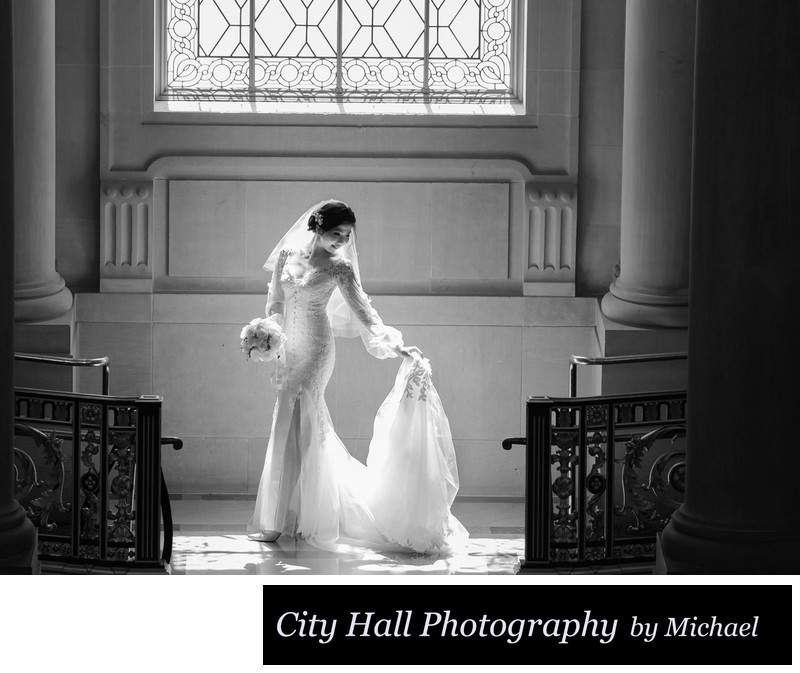 Historic San Francisco architecture at city hall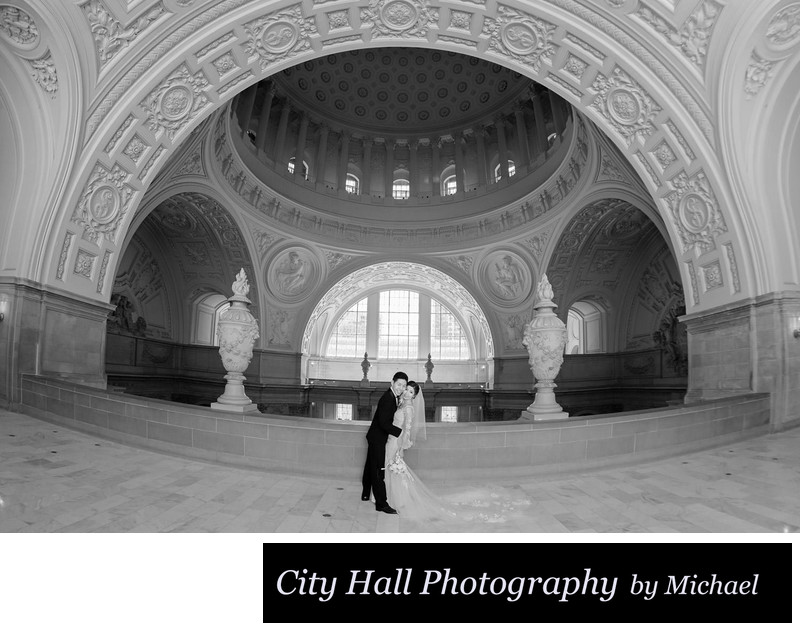 After the ceremony and some family shots, we finished up all the photos at San Francisco City Hall. We took the newlyweds to all 4 floors of the building. Then we all piled into my car to head off for a fun tour of the city. Below are some of the photos we took at the historic and beautiful Legion of Honor. The weather was quite windy throughout the city, but it was calm here. The Legion of Honor is by far, our favorite place to take brides and grooms in bad weather. It has a partial roof over top and it is protected from the wind! Enjoy the wedding pictures below.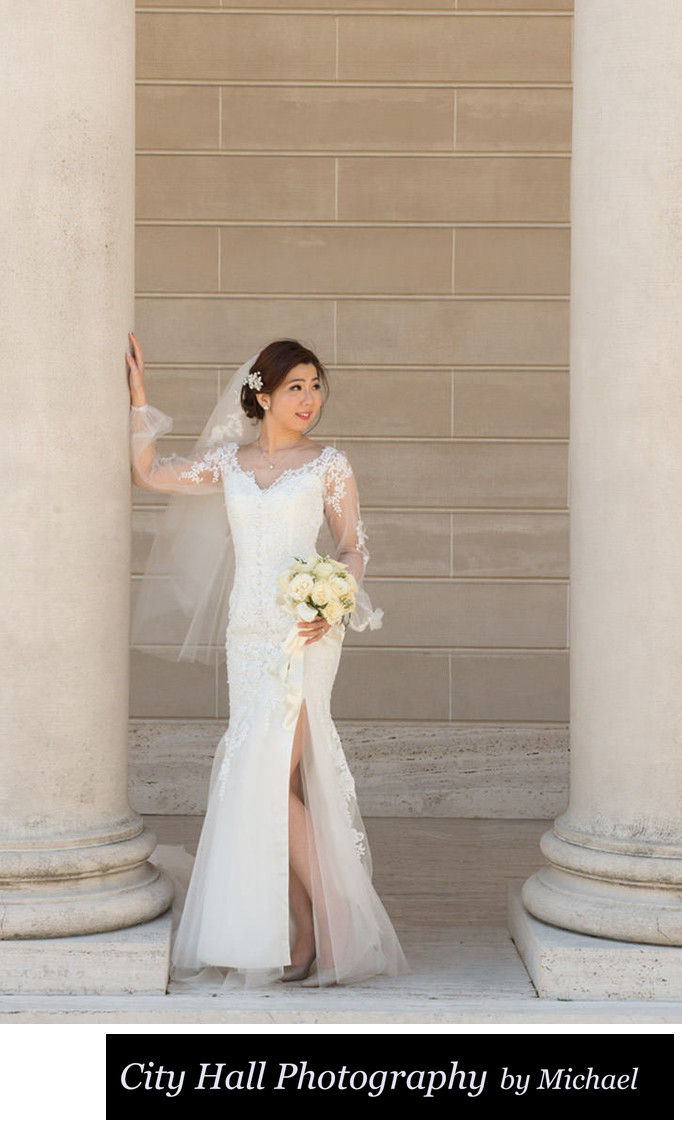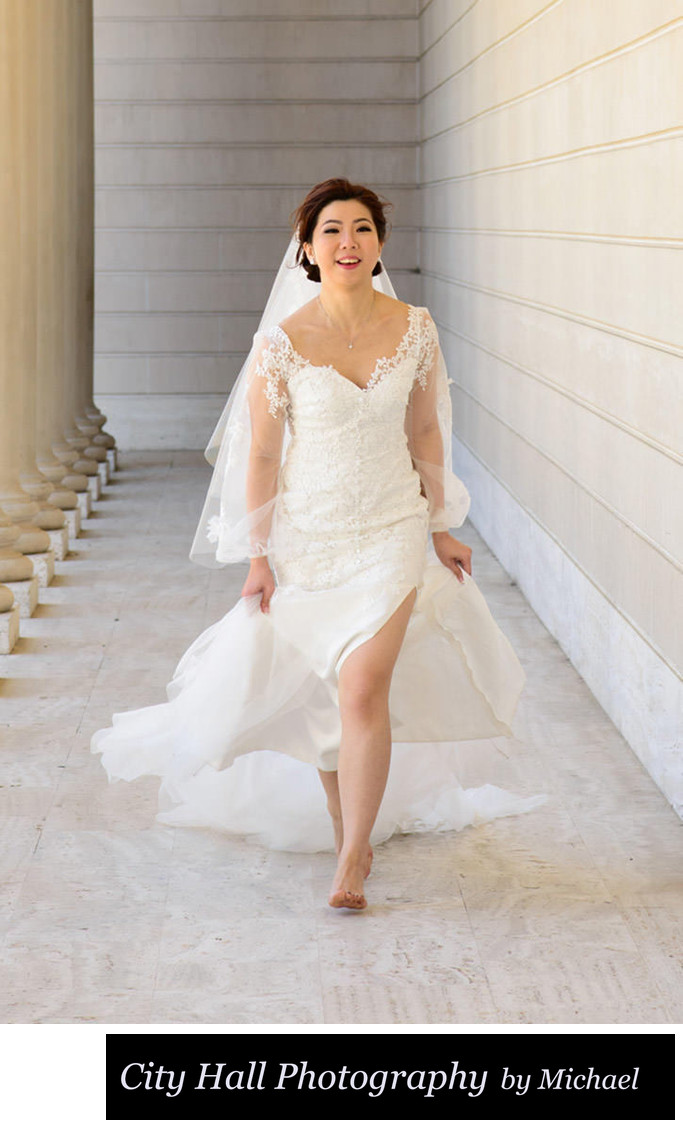 We ended our San Francisco photo tour with a kiss in front of the Legion of Honor. We managed to time it when no tourists were in the way. A fitting end to a great day of wedding photography and fun. To see a complete gallery of this event click San Francisco Tour Wedding. If you want more than just a San Francisco city hall wedding photography session, consider booking this tour. We can also provide a beautiful wedding album as part of this package for a nominal fee. Ask us for details.

San Francisco wedding kiss