Detailed Guide for your SF City Hall Wedding
There is a multitude of information on San Francisco City Hall wedding photography websites regarding what steps are needed to reserve and book a civil ceremony. Most of the information I have seen is very general in nature and offers few details. In fact, even the city hall website itself can be hard to negotiate and often vague on many of the important details. This guide will provide you with Step-by-Step accurate procedures regarding how to get married at San Francisco City Hall. We will also include helpful links and relevant costs where possible. You should be able to plan your entire SF City Hall wedding from this page. We have also tried to focus on some of the more important photography related issues for obvious reasons.
The City Hall Reservation Procedure
Wedding Related Reservations - You will need to make 2 reservations once you have decided to have your wedding at San Francisco City Hall. The first reservation involves setting the time that you will obtain your marriage license. The second reservation is for your actual wedding ceremony date and time. Ceremony reservations can only be made up to 90 days in advance unless you are going to reserve one of the more expensive private locations (more about that later). You can make both of these reservations on the City Hall Website. Both links to make reservations can be found simply by clicking City Hall Reservations. You don't need to obtain your Marriage license at the San Francisco County Clerk's office, but you do have to do it somewhere in California and within 3 months of getting married. There are County Clerks offices throughout the Bay Area with some of the more notable ones being located in Martinez, San Mateo and San Ramon. Oakland, of course, is a popular Clerk's office to obtain your marriage license. One advantage of acquiring your marriage license at San Francisco city hall is that if for some reason it gets damaged or signed incorrectly another copy can be reproduced on the spot! We have seen this benefit our couples in the past so it is worth mentioning. However, for those who prefer to obtain the marriage license in their own locality it works just fine. One other important thing to understand, is that not all County Clerk's offices are created equal. Just because your local office provided you with a marriage license, doesn't mean that it will work at San Francisco city hall. You need to make sure you are in California of course. Please be sure that you have a CURRENT ID before coming to city hall for your nuptials.
Fees and Reservation Pricing - The cost for the marriage license is $116. To have your ceremony in one of the standard areas costs $98. These prices have recently changed and became effective on July 11, 2022. The standard ceremonies can be performed in the beautiful Rotunda area or the newly redecorated Private room. Note: The private room has not been in use recently due to Covid-19 concerns. If you prefer a private ceremony you can book either the Mayor's Balcony or the 4th floor Gallery for $1,000 for a 1 hour time slot. It is hard to go wrong with any location in this historic building. The reserved areas will provide you with an added amount of privacy and prevent tourists from walking through your ceremony. Please note that standard civil ceremonies at SF City Hall limit your guests to 6 and this IS enforced. You can ignore all of the San Francisco city hall wedding photographers website that tell you otherwise. As of May, 2019 this rule is being enforced. If you try to get away with bringing more than 6 guests, most officiants will politely ask them to move downstairs and out of the Rotunda area. Recently, I watched an officiant delay the ceremony because the guests would not comply with her request. Please let your guests know. I still note that there is not total consistency with these rules and some Marriage Commissioners may allow a few more guests. The only problem is that you cannot rely on this happening so it is risky to invite extras. One suggest is to ask your Wedding photographer to include the other guests in some photos after the ceremony is over.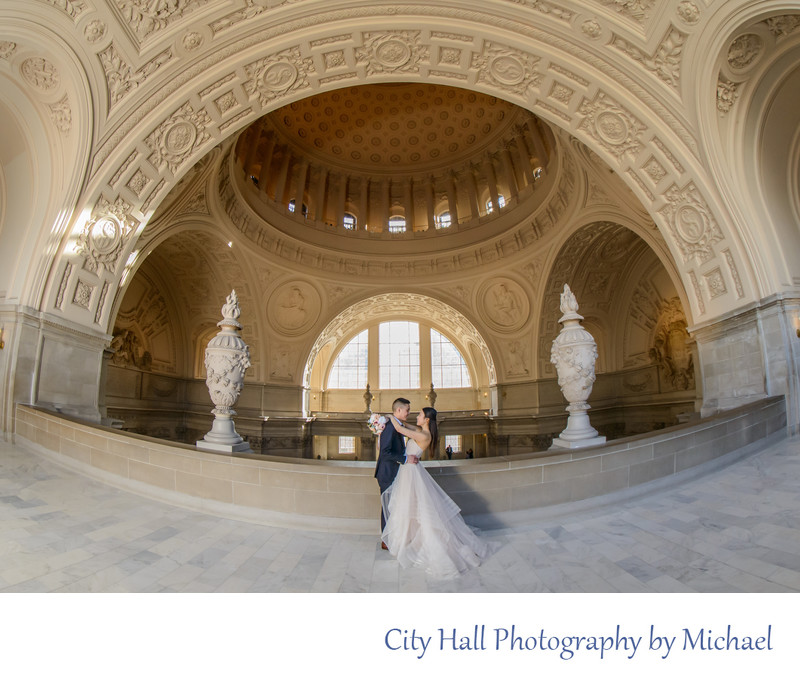 Alternative City Hall Marriage Locations

Mayor's Balcony and 4th Floor Locations - As mentioned above, you also have the option of having your ceremony in these 2 beautiful City Hall locations. You can book either of these locations up to 1 year in advance. The advantage of paying the additional money is that you get a roped off, private ceremony with chairs set up. You can also have a much larger guest list. Remember that the standard city hall ceremony only allows for 6 additional guests. Even without the rule, large groups cannot be accommodated in the Rotunda so you may want to consider this option! The cost is around $1,000 for 1 hour. Your wedding photographer at San Francisco city hall will be very glad you did because it gives them considerable time for photos with no strangers around.
Saturday Weddings at SF City Hall - You can also get married on a Saturday at SF City Hall! They have different packages, but by far the most popular is their 2 hour set up for $5,000. For your money, you basically get the whole building to yourself since San Francisco City Hall is closed on weekends. They restrict you to a few floors, but there are plenty of great areas to photograph your wedding even with the limitations. For more information and booking details you can click on The City Hall Event Website. You can also get married in the evening at City Hall. The building remains open, but they will privatize your ceremony location. For more info click the City Hall Event link provided. Also, be sure to ask your Event Coordinator about city hall wedding photography options on Saturdays.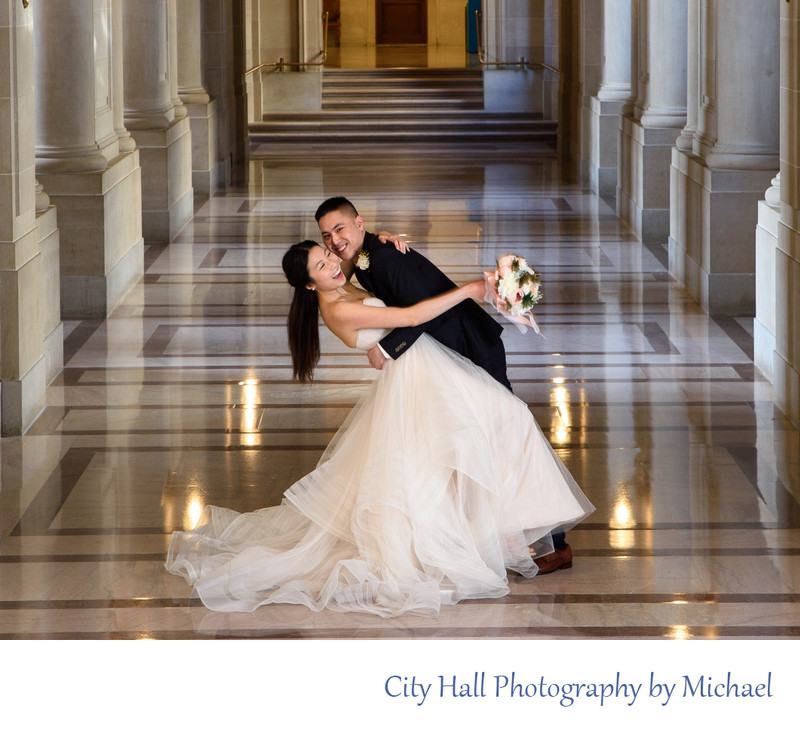 General Marriage Procedures

Can I Get a Witness? - What's all this talk about witnesses and when and why do we need them? By law you must have your marriage license and ceremony witnessed in order for it be a valid and legal union. The exception to this is if you decide to obtain a Confidential Marriage License. Rather than going into long detail about how this works, please check out this information on the city hall website that will allow you to apply for this type of license. By law, a confidential marriage license is only supposed to be issued to couples already living together. Assuming you are not obtaining nor qualify for a confidential license you will need to have at least 1 witness with you during the ceremony. This same witness must also accompany you to your ceremony check-in to sign the document. Lastly, this witness needs to actually watch the ceremony occur. If you don't have anyone with you we (your San Francisco city hall wedding photographers) will be happy to act as your witness. We do it all of the time for our clients and are honored to do it. Do not come to San Francisco city hall without your own witness (unless you have a photographer or confidential license). The Wedding Officiant cannot act as your witness and it's not like it would be easy to find a stranger to do it. Do you really want a San Francisco tourist to sign your marriage license? What if they leave before the ceremony?
Rules and Regulations - City Hall is very strict about their reservation policy so cancellations are not allowed. They will allow you to reschedule with enough notice. If you lose your license or mess it up, you will need to pay the fee all over again to get a new one. The exception to this would be if you obtained your license at SF city hall because they can print another one from their computer system. Please also warn your witness to be careful signing the marriage license so they don't make a mistake. Scratch offs and/or white-out is not allowed and invalidates the license. If the witness does make a mistake completing the Marriage License, tell them to just keep going. Once you receive your license you have 90 days to get married in the state of California.
San Francisco City Hall Events - We like to let our clients know about the possibility of an event being scheduled on their wedding date. Unfortunately, city hall does not reliably publish information about upcoming events. This may be because many city hall events are private in nature and not open to the public. We are asked all of the time if we know about upcoming events and we seldom do. The reason I mention this is that anyone having their wedding at SF city hall should understand that there is always that slight possibility of parts of the building being unavailable to them for photography or even wandering. The Grand Staircase is often one of the first places that is shut down when events are scheduled. This can upset brides and grooms and I don't blame them, but city hall makes no apologies and will basically let you know that all they owe you is a civil ceremony. Photography was not included in their promise to marry you legally. On the positive side, if you hire a professional city hall wedding photographer, they will know other great places to take you for pictures! Events seem to occur more frequently on Fridays and Thursdays, but this is not always the case. They also tend to be in the afternoons, so a morning wedding may be a little bit safer. NOTE: At least for now, San Francisco city hall is not scheduling special events due to Covid-19 concerns. This will probably change in the future.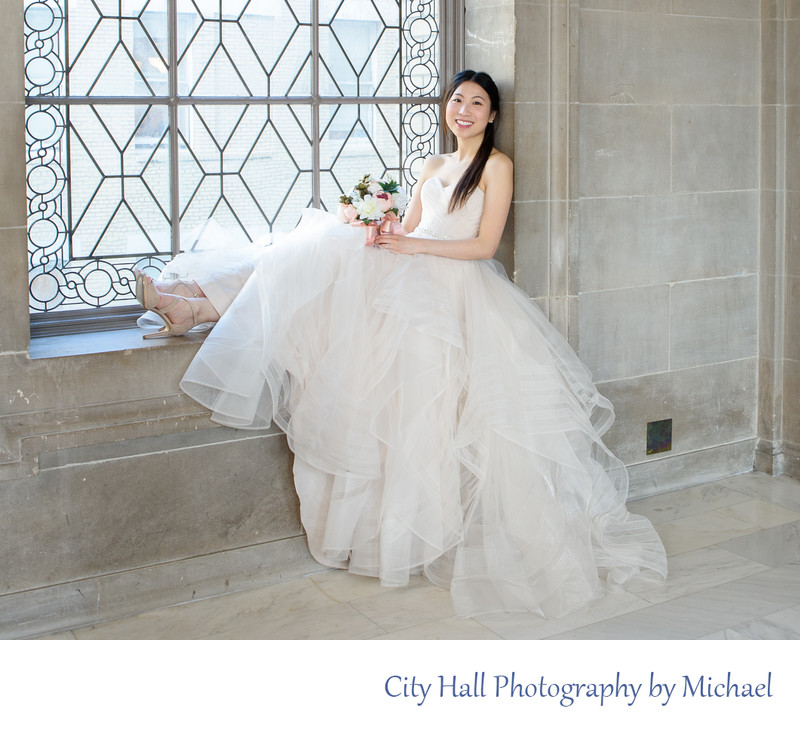 Helpful Wedding Planning Information
We offer plenty of advice to our couples to make their wedding day as seamless as possible. This website has tons of information and you are encouraged to take the time to check out as much as you can. We also have a page dedicated to helpful hints and important info. You can check it out by clicking city hall wedding planning. As mentioned elsewhere on the website, we are happy to help you with San Francisco city hall wedding planning whether or not you plan on booking us as your photographer. This is part of our free professional wedding planning service we offer to the public. To take advantage of this service, we prefer you email us and not call. Thank you! mike@cityhallphotos.com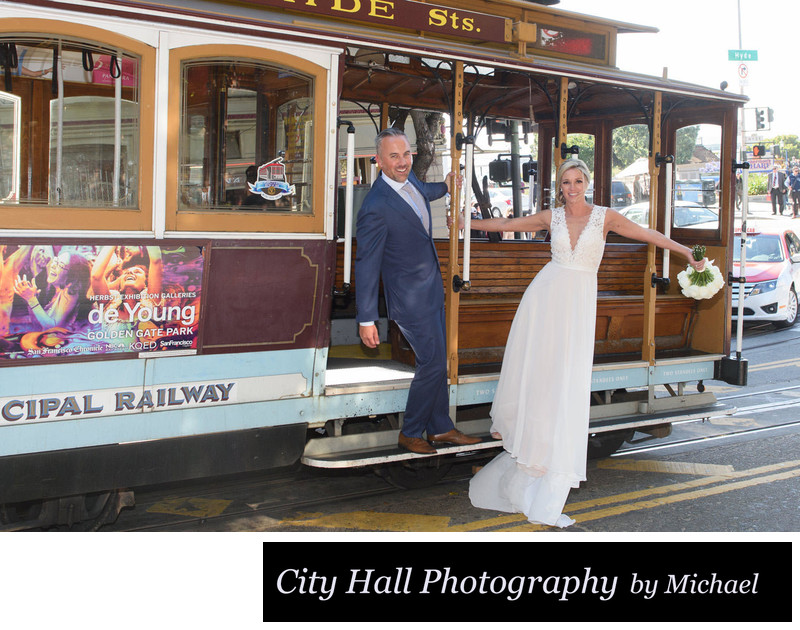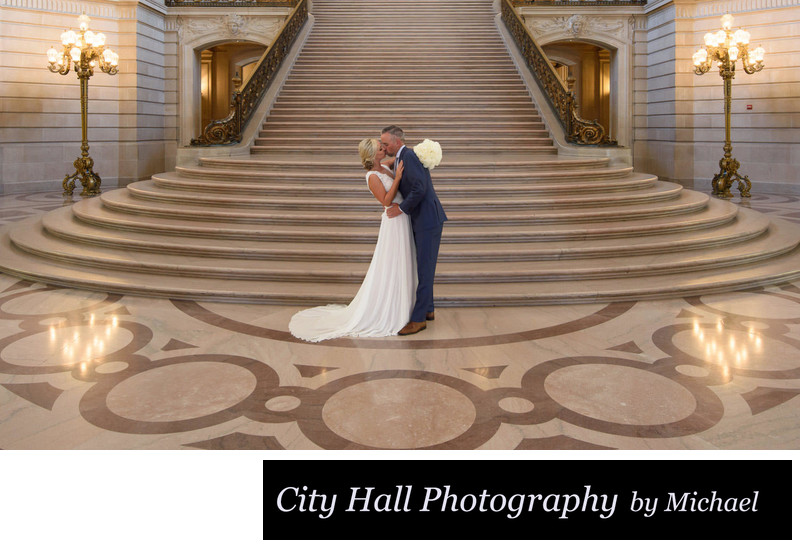 Return Home to our main Page