How to Book City Hall Wedding Photography By Michael
The following is a Step-by-Step guide to booking us to be your San Francisco city hall wedding photographer. We try to make this process as easy and pain free as possible. We even have a single page contract that doesn't require a team of attorneys to read and understand.
Contact City Hall Wedding Photography by Michael either by phone or email and let us know you are interested in booking us to cover your event. You can use our Contact form for convenience. Give us as many details as possible.
Choose the wedding photography package that best suits your needs. We offer packages that start with Elopement packages and range all the way to full day 8 hours. We can provide you with 1 hour, 1.5 hour, 2.5 hours and 4 hours of coverage on your wedding day. Ask us about our full day coverage as mentioned. The more information you can provide us the better we can match you with the best package for you. We also provide custom packages that fall in between the listed ones. Feel free to email us to discuss package options.
Process and sign the contract we send you. The whole process can be done via email with no mailing of documents or checks needed. Once completed, you can either email it back to us as a pdf file or send it regular mail if you prefer. Remember to keep a copy for your records!
Pay the Deposit of $350. We accept multiple forms of payment to allow you to make your deposit. You can pay us by Personal Check, Venmo, Zelle, Money Order or PayPal. If you choose PayPal, we can send you a convenient PayPal invoice for the amount needed. Certain larger or custom packages may require a slightly higher deposit. We prefer that credit card payments be made through Paypal for your own security and convenience.
Confirm Everything with us. Once you have sent in your documents, we are very good about letting you know that everything was received. However, please reach out to us if you do not hear. Please do not assume we received your documents and deposit. It is your responsibility to make sure we have received the documents and are ready to service you on your wedding day.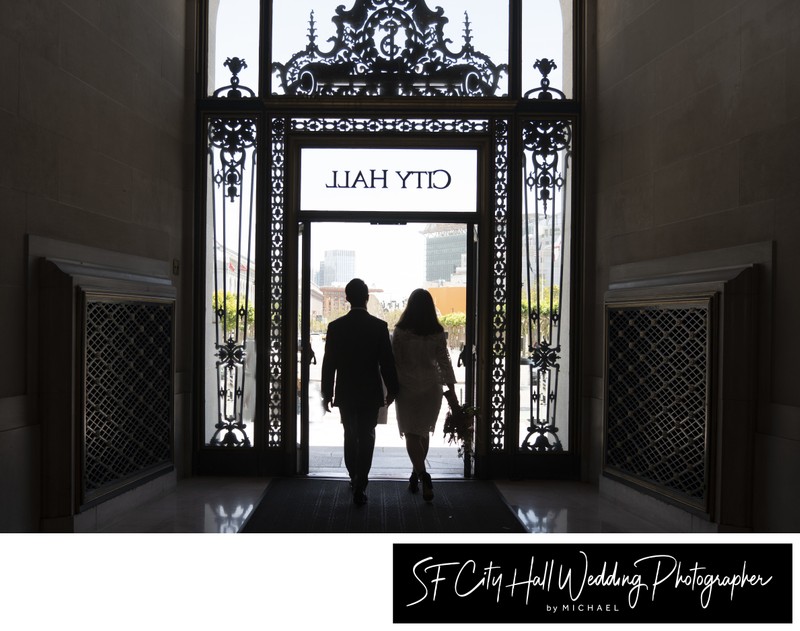 PayPal Details
The number one question we get asked with regard to PayPal is if you need an account to use it. The answer is happily no. All you need is a credit card, PayPal can be used as a safe way to process credit card transactions over email and the internet. The truth is, PayPal will give you the option of signing up for their service when you try to process the invoice we send you. Just decline and go on and safely enter your credit card information. PayPal is known as being one of the safest platforms for processing credit card transactions. Your final payment can also be paid with PayPal, just ask us and we will send you an invoice for that too. Other options to book our service with a deposit include Zelle and Venmo.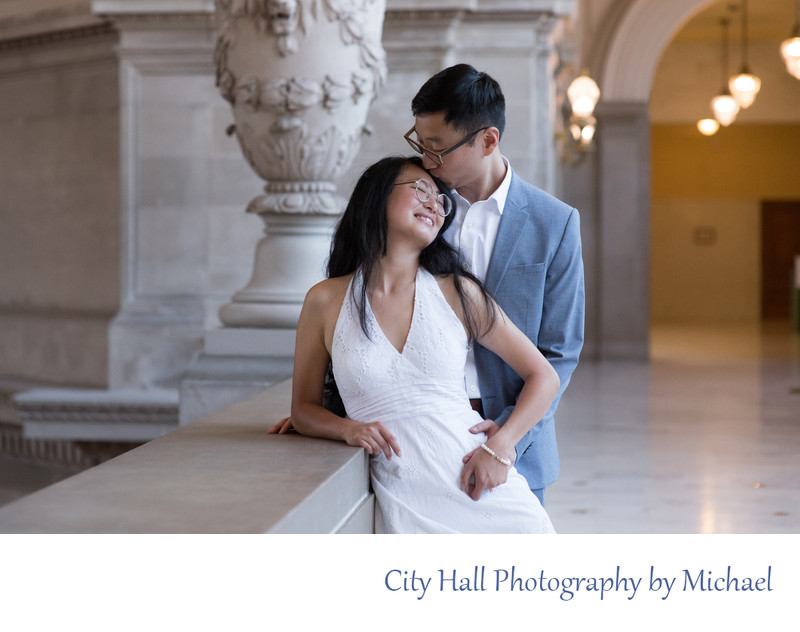 How To Choose the Best Wedding Package for your Needs
There is another section in this website that provides very good detail about our packages so I wont repeat it all here. You can click on this Link for more information: City Hall Wedding Packages. When choosing the most appropriate packages, just be sure you read the description carefully and match it with your own needs. Many of our clients will try to book the smallest package they can get away with and then regret it later. We are very good about not cutting off our client's city hall photography coverage when time is up. However, once we get to that point it does signal the winding down of the shoot. For those that are looking for City Hall coverage only, the most popular package is definitely the City Hall PLUS package with 1.5 hours of coverage. The Golden Gate Package seems to be a good match for those that want to get out and see the sites of San Francisco, but want to limit the time commitment to some extent. In most cases, we will allow our couples to upgrade their package at the last minute. The exception to this is if we happen to have 2 weddings booked for that day or other appointments scheduled. This is quite rare, but happens.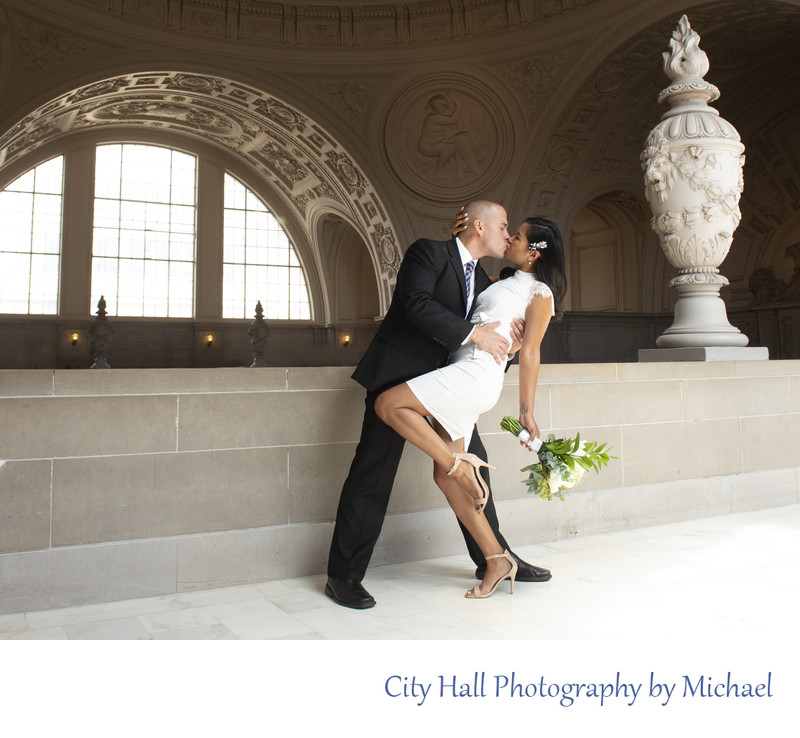 Contract and General Provisions
No need to get into detail regarding the contract here, but we wanted to point a couple of important things. Our packages include ALL of your digital images and you receive full reproduction rights. This means that you can share your digital images on social media and also do your own printing. This is one of the most common questions we are asked after the wedding. We DO offer a printing service as well and with that you receive some extra free Photoshop enhancements. We will remove exit signs from the background and strangers when present. But please understand that this service in no way prevents you from doing it on your own through your own favorite printer. In addition, we reserve the right to use your wedding photos on our own website and other types of marketing. Should you not want us to do this, please let us know in advance of signing the contract. We are happy to accommodate your wishes.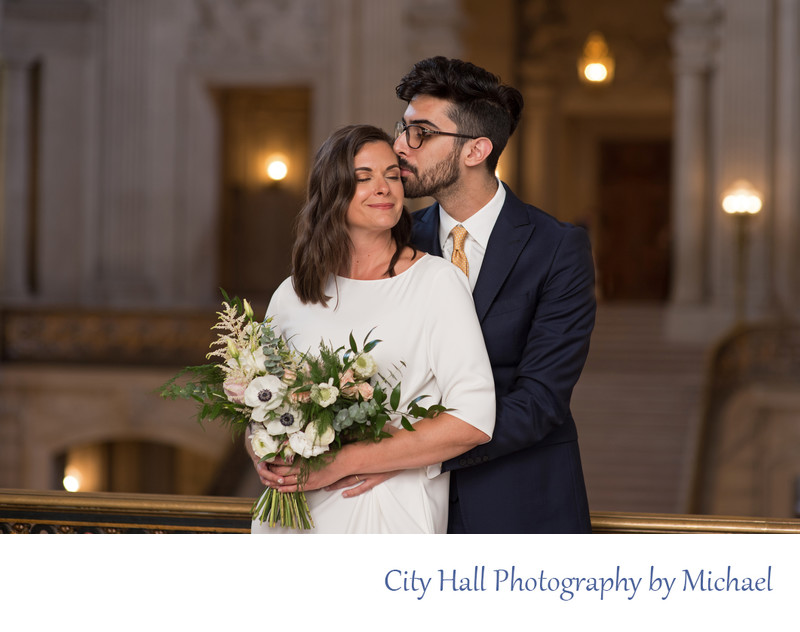 Payment Plan For San Francisco City Hall Weddings
Our payment plan is one of the easiest in the industry. We ask for $350 down to hold the date (on most city hall weddings) and the remaining balance is not due until 2 weeks after the wedding. Once you have made your deposit, this officially books us for your city hall wedding. As mentioned, we accept many forms of payment including PayPal, Personal Check, Zelle, Cash and Venmo. We offer military discounts as well, which in most cases is 5% off. Cash discounts are also available but require that all payments be made in person. This may not be convenient for all parties depending upon where you live. We can discuss this further if you are interested in pursuing this discount.