How to Choose the Best Reception Venues in SF
This is a photographic guide to selecting the best possible wedding reception venue after your San Francisco city hall wedding. This guide was not intended to make specific recommendations about San Francisco wedding reception venues. Instead, we want to provide our clients with some useful pointers to help navigate through this all important decision. We decided to add this section to allow us to send this information to our many inquiring engaged couples. Our San Francisco city hall wedding photography business receives so many questions from perspective couples regarding reception facilities, we thought this would be an ideal page for them to review. It seems to be especially important and tough for out of town clients who are not familiar with San Francisco and it's many restaurants and party spots. When I went on the internet to research this myself, I discovered that there were many guides out there. Some were useful, but did not really explain how to choose the best ones. Most guides simply made recommendations of specific places. I didn't want to do that, but instead wanted to help my client find the right place just for them.
We can Recommend Specific Venues For Your City Hall Wedding Celebration
If you are looking for specific suggestions, please feel free to reach out to us. We will listen to your preferences and answer accordingly with actual San Francisco venues that we are familiar with. Also, we are happy to share our own personal experiences to help you decide. We have experienced many of them throughout our San Francisco city hall wedding career and have some strong opinions about the various attributes of some of the most popular locales. With that in mind, here are some of the best ideas and suggestions for choosing San Francisco reception venues on your own:
Get advice from a wedding planner or your photographer - Explain your ideas and desires and see what they recommend. Chances are they will have good feel for local venues that work well with City Hall weddings especially. Reach out to people in the business! Just make sure the Planner is a San Francisco expert and the wedding photographer has local experience.
The number of guests you have is important - San Francisco has a multitude of different sized reception venues, with many having limited capacity. I have heard many stories of brides and grooms spending a considerable amount of time researching a particular location only to discover that they cannot handle their guest count. Some of the older venues have limited capacity so check this out first. I would even take it a step further by making sure the stated guest capacity is realistic. Sure, they can handle 200 guests, but will there be any room between tables? These are types of questions that need to be asked. Can the catering staff handle this many people?
Start with your budget - San Francisco wedding venues can be very pricey. Again, as with the guest count, make sure you can afford the venue before you spend too much time researching it. You know what you are willing to spend, let the venue coordinator know this right from the start.
Parking is Important! - Many people who live in the city are accustomed to making due with the parking issues and cost. They are accustomed to taking public transportation for their entertainment and dining. But if your wedding guests included out of town people or even others from the immediate area they may be tied to their cars. Just make sure the parking is adequate and not too expensive. Ask the venue coordinator if the local parking can accommodate the size of your wedding in terms of guest count. If parking IS an issue, be sure to explain this to your guests.
Food and Drink Issues - Make sure your venue has the type of food service you want. Do they allow outside caterers? Do they supply their own food? Do they charge extra for outside alcohol? Some of these issues may not matter to you, but it is worth knowing about them in advance. Alcohol issues can be a key factor. Make sure they handle drink service the way you want them to.
Coordinating Staff - Some San Francisco Wedding reception venues provide an in-house coordinator to supervise your event and make sure things go smoothly. Others just rely on the existing waiters, managers and bar staff to make sure your party goes smoothly. I would strongly recommend you choose a venue who promises you a point person will be in charge during the event. This is the only way you will know if the things promised to will be delivered! I always ask if the venue coordinator will be present at the actual wedding reception. They should be able to stay for the majority of your event. If they are sending someone else, I would keep looking.
Noise issues and Restrictions - This will usually not be an issue for San Francisco wedding receptions, but it is worth asking about. Do they have a curfew and are there restrictions on music, etc. It pays to check. San Francisco has some venue out close to housing districts, this could be an issue in those situations.
Proximity to San Francisco City Hall - This may or may not be an important aspect of your decision. Many of our clients like to choose Reception venues close to SF City Hall. In fact, there are a handful of reception sites within walking distance! This could be fun! You will receive plenty of attention during the walk! More importantly, you will save the costs of transportation and the time factor involved. Parking is always an issue so if you can walk to the wedding reception, you only have to park one time.
Visit the wedding reception site with a Friend - This one sounds obvious and it is not always possible due to where you live. If it all possible check out the site and see how it functions. I would especially advise trying to be there when there is a wedding celebration going on. This will give you a true feeling of the effectiveness of the staff and accommodations. At the very least, try to visit during busy food service. I remember doing this for my own wedding and found it to be quite revealing. If the coordinator doesn't allow this, I would move on to a different venue. What are they trying to hide?
Check Yelp Reviews - This can sometimes be a useful tool, but I would recommend making up your own mind using the other criteria discussed and than allow only reviews such as Yelp to help you seal the deal in your mind. Its important when reading Yelp reviews to focus more on the comments and less on the ratings. It is all in the details! Some bad Yelp reviews are the result of particular clients who have an axe to grind. All of this need to be taken into consideration. If the venue only has 1 or 2 bad reviews out of many, I would mostly ignore them and still consider that venue as one of your choices.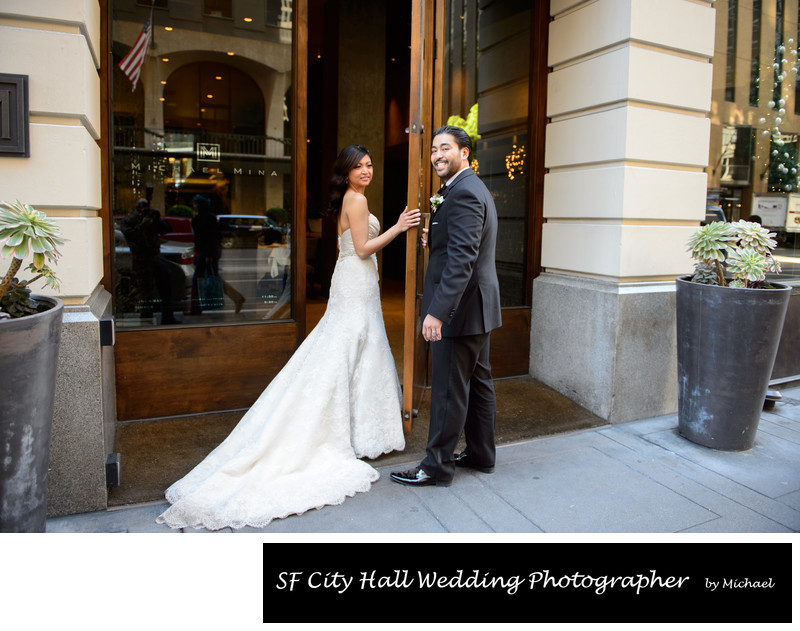 Yelp Reviews and other Helpful Sites
I purposely left the Yelp review step until last. I do not think it is a good idea to use Yelp or any other online reviews to make such an important decision. There is just way too much bias in Yelp reviews and you never know if they are accurate. Keep in mind that despite the best efforts of Yelp to prevent this, most positive reviews are solicited by the company. Negative reviews can come from people that are upset with the reception venue for other reasons that are not really relevant to your decision. This applies to searching for the best San Francisco city hall wedding photographers as well. I prefer to use Yelp as more of a confirmation tool. Make up your own mind completely independently by following the above steps and also looking for recommendations from others. Then check out reviews to see if you missed something. You can also find reviews in other places such as Google and Wedding Wire. I found this useful guide from Brides magazine with some other great tips and pointers to finding a perfect venue for your wedding!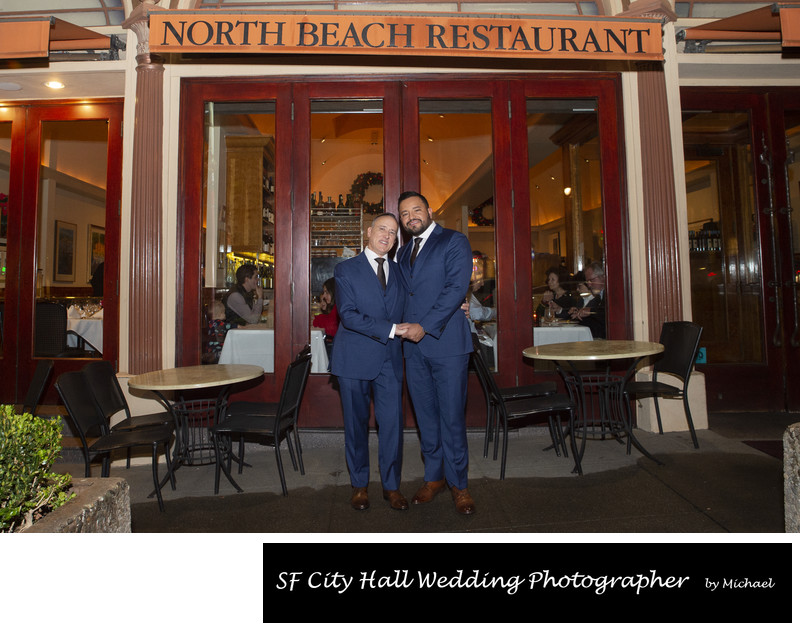 Final Thoughts on Selecting Wedding Reception Venues
Finding the perfect reception venue after your city hall wedding can be a difficult journey. There are so many factors to consider before making this decision. The key aspects an engaged couple should consider include proximity, food service, cleanliness and customer service. Brides and grooms should decide which of these factors are the most important to them and decide accordingly. It may be impossible to find a reception venue that checks off ALL of your boxes, but in the end you should find a place that makes you both happy. As mentioned above, we are happy to assist you.