Frequently Asked Questions


1. How long have you been doing this and how many weddings have you photographed?

I have been a professional wedding photographer for well over 20 years and have photographed over 1,400 weddings. I have also shot over 400 weddings at San Francisco City Hall. We have been added to City Hall's approved "featured" Vendor list. Only a few wedding photographers are on this list and we are honored to have been chosen.


2. How would you describe your style of wedding photography?

I love looking for beautiful light and backgrounds. If the natural light is not there, I bring in my own lighting equipment. To me, the key to great wedding photography is the proper use of light. This is especially true at San Francisco City Hall where lighting can be very tricky. Posing is important, but it's the light that makes the photo! We try to keep the photos as natural as possible and don't over pose you. We feel that the best photos are made when the couple is feeling loose and relaxed. Most of all, we keep it fun and never boring!


3. What type of equipment do you use and how important is this?

We use Nikon Camera bodies and prefer fast prime lenses for their versatility and superior sharpness. We have some of the sharpest lenses Nikon has ever produced, including the 180mm 2.8 and the 85mm 1.4G plus many more. We bring umbrellas and lighting equipment to help supplement the natural light and add more drama to the photos. With today's technology, most modern cameras are capable of producing outstanding results. I truly believe that camera equipment is not as important as it use to be. We use a very up to date Nikon D4s and also a D750 among other Nikon equipment, but a Canon (or other leading brand of camera) shooter can also provide you with exceptional results. The key ingredient is the person holding the camera.


4. How does a typical city hall wedding shoot work?

We are flexible and will change our normal process to fit your needs. However, our typical shoot starts with us meeting you at the County Clerk's Office before the ceremony to assist you with your marriage check-in. We also accompany you during check-in and get a few shots of the process, including the signing of the marriage license by your witness. If you are eloping need us to be your witness, we are happy to do it. After that, we follow you up to the ceremony site and shoot your nuptials. Finally, we take photos of your family and friends (if present) and then escort the two of you around the interior of San Francisco City Hall to get some amazing photographs! If this plan doesn't fit your day's schedule, just let us know, we are happy to accommodate you. Some of our clients want to do the photos before the wedding and some want to explore other parts of San Francisco.


5. How long until we get to see the results?

Your photos will be ready to view in 3 weeks and we will send you the digital image files shortly after that. You can request various types of media storage including DVD or a USB Drive. We can also send the images via Dropbox (electronic file transfer) or Direct Download from your password protected personal site.


6. We are interested in your City Hall Tour, but don't know our way around the city, can you help?

Yes, we provide comfortable transportation to all of your favorite locations and San Francisco Landmarks. It's a very fun and convenient way to see the city and create some great memories. We make it an enjoyable tour with time to just enjoy the beauty that San Francisco offers. We offer tours ranging from 2.5 hours up to 4 hours. We can even do more if you want a custom package!


7. We are eloping and are on a tight budget, do you have a package for us?

Yes, of course we do! Our "City Hall" package could also be called our Elopement package! This popular package offers 1 hour of coverage including the ceremony and a tour around the building. We can even serve as your witness if you need us to. We should still have time to visit all of the floors and get lots fun shots! The cost for this package is a very affordable $595.


8. What is the best time of the day to get married at City Hall to avoid crowds?

Thursday and Fridays tend to be the busiest days at San Francisco City Hall, so if you can get married earlier in the week, you already have a head start on avoiding the crowds. Early morning and late afternoon are the quietest times to get married. Book your ceremony at 9:30 and you can even sometimes get a clear photo on the grand staircase. A 3:30 pm ceremony time works well too. It will still be a bit busy at the time of your ceremony, but by the time you get ready for photos, most of the people will have cleared out of the building. Just be aware of the possibility of a special event. They sometimes close the stairs off at 4 pm or later. The remainder of the building is still available, but if you were hoping for that beautiful grand staircase shot, it could be difficult. Please realize that San Francisco city hall is a public building and not everything is predictable. But by hiring a professional wedding photographer you increase your chances of getting great images no matter what is happening that day.
Additional Questions About your SF City Hall Wedding?
We understand that it is impossible to answer every question you may have on this page so please contact us if you need additional information. You may also refer to our sitemap to find topics not covered here! We are happy to provide our clients with planning information for your city hall wedding. We can advise you on nearby restaurants, transportation and Florists. If you have added questions regarding timing and the whole process, we have a page on this site that can help you. Please check out our Guide for City Hall Weddings to find out more!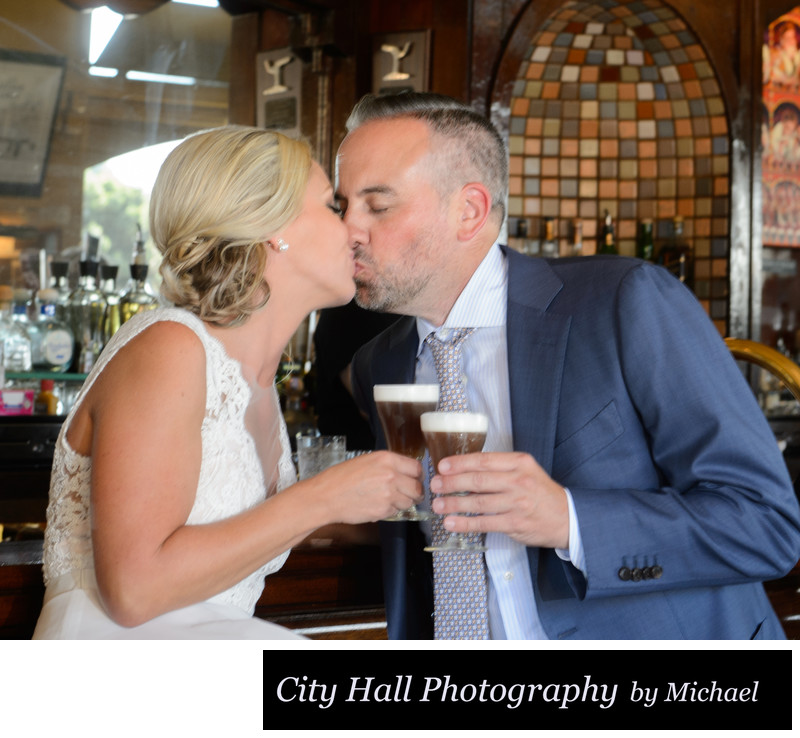 Toasting at The Buena Viste Cafe in San Francisco