Free SF City Hall Wedding Planning
We have spoken about this in various parts of this website, but I also wanted to dedicate a full page to make people aware of our free San Francisco city hall wedding planning service. As a community service, we offer complete SF city hall wedding planning for anyone who desires it. There is no catch and you do NOT have to book us to be your wedding photographer to make use of this service. In fact, you do not even have to show interest in our photography service. We understand that the process of putting together a wedding can be daunting, especially if you are from out of town.
As part of this service, we have provided lots of useful planning information on this website including this step-by-step guide with helpful tips on getting married at San Francisco city hall. Over the years we have helped hundreds of engaged couples plan their wedding in San Francisco. Not just at San Francisco city hall, but any type of wedding anywhere throughout the Bay Area and Northern California. This experience has made me even a better wedding planner as I have learned some of the things that work best. Also some of things to avoid!
My Qualifications as a SF City Hall Wedding Planner
I am a native San Franciscan with over 1,800 weddings photographed in the local area. I have seen it all and have worked with dozens of other local wedding vendors and professionals. More specifically, I have photographed over 800 weddings myself at SF City Hall over a 12 year period. I am happy to share my knowledge with you at no charge and no obligation. If you contact us to utilize this service we will not even mention the possibility of being your SF city hall wedding photographer. We know that you are aware of what we do and so we also understand that if you want us, you will ask. As you will see below, we can even recommend some of our competitors and also other wedding/event related vendors.
Everyone has their own style and preferences, so we never assume that what we offer is the best option for you. We have educated ourselves on many or our top competitors and would be happy to share this knowledge with you. In fact, we are close friends with many of them and often work together in the building to make our brides and grooms the winners. The same goes for other San Francisco wedding vendors, especially the ones who specialize in city hall marriages. See below for more details on how our City Hall Planning service works. We will not hesitate to refer you to a competitor if they have what you want.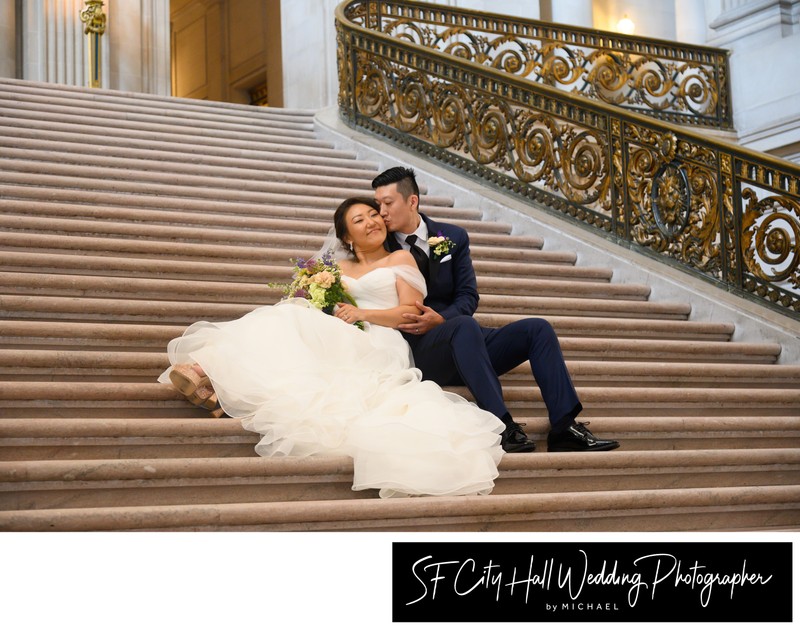 Recommend San Francisco City Hall Wedding Vendors
We have relationships with many excellent San Francisco city hall wedding vendors and would be happy to put you in touch with our favorites. Although we cannot accept liability for these recommendations if something goes wrong, we feel confident that the wedding professionals we suggest will do a great job for you. One important factor to be aware of is that we NEVER trade referrals with any of these other event vendors. We only suggest the ones we have experience with and have liked in the past. It doesn't matter to us one bit if they recommend us to others. We are able to book most of our weddings on our own and do not need these types of referrals.
Since I brough this up, however, one thing to be aware of is that referral trading is a common practice among wedding vendors. Keep this in mind when accepting a recommendation from unknown sources. Be sure that the referrer is recommending a vendor that they have worked with in person. You can confirm this by asking for some specific reasons that the referrer is making the suggestion. You can even come right out and ask if they are trading referrals. We can also provide you with names of some top notch wedding professionals in the area and even the best San Francisco city hall wedding photographers! Just ask. We have posted a blog entry lately give you advice on how to find a great city hall wedding photographer as well. Here is a partial list of the types of relationships we have with local vendors:
Videographers
Wedding Photographers
DJs
Cakes
Wedding Caterers
Hair and Make-up
Wedding Favors
Wedding Planners
Musicians (city hall approved)
Local Reception sites
San Francisco City Hall Wedding Planning
There is so much more to planning a wedding then simply suggesting vendors. Many of my clients want to know how do to accomplish tasks related to the wedding, even as basic as obtaining a Marriage license. The other very common question we receive is regarding timing. For example, the couple that wants to plan a reception or lunch or dinner after their city hall wedding will frequently want to know when to schedule the party. There are many factors that have to be considered, especially for San Francisco events. City Hall weddings rarely occur on time and if you are also using a wedding photographer for photos around the building after the ceremony this has to be factored in as well. With our experience we can usually make a pretty accurate recommendation for the best time to schedule your party to keep the day flowing smoothly and stress free. Parking, traffic and access are all other factors to consider when trying to schedule an after wedding party in the city. We also become involved in setting the timing of the beginning of the wedding day, especially if bridal prep and make-up are involved. Here are some additional helpful hints for your San Francisco city hall wedding.
What About Bridal Prep and Pre-Wedding Photography?
We have discovered over the years that anything involving bridal prep will always take longer then anyone ever suggests. So remember this if you are planning something soon. Allow almost double the time for the wedding and keep in mind that many of your guests might actually be putting the finishing touch on their own clothes, hair and Make-up. Everyone involved needs extra time just before the wedding ceremony occurs, so be aware of that. I really do think that these wedding professionals have the best intentions, but time slips by quickly and the next thing you know, it's getting late. We have also been asked to do some couples photography before the event and we can talk to you more about that and what that could involve. Other types of planning issues we become involved with are helping the couple know what to bring for their city hall wedding and how to work with guests. Without going in to detail here, we do offer many of these types of guides and suggestions throughout this San Francisco city hall wedding website.
How Does our Free San Francisco Wedding Planning Work?
How our wedding planning works for San Francisco engaged couples is that we ask that you send us your questions by email. We are happy to have as many email exchanges as you need to get all of your planning questions answered. Because this is a free service, we are unable to help you with wedding planning by phone or in person (except on rare occasions where it is needed). We are able to solve just about any planning issue you need and will do it quickly and completely over email. We offer this as a community service and it is open to all engaged couples. No obligation to book your wedding photography with us, we won't even mention it. We have helped many brides and grooms plan their wedding, let us know if you need help.