City Hall Couple from Germany
4th Floor SF City Hall
This couple was visiting from Germany and came all the way here to get married at City Hall. We really enjoyed learning about their culture and travels. We took them up to the 4th floor North Gallery to start on their wedding pictures. The light was amazing as it often is up there and we took advantage of it used natural light for all of our shots. This fun couple booked our City Hall PLUS package which provided them with 1.5 hours of wedding photography coverage. We took them throughout the building and quickly discovered that the bride had an amazing sense of humor and really wanted to make the shoot fun. Of course, we were happy to oblige and put them in many great settings to allow them the chance to express themselves. Little did we know that the bride had a surprise in store for us. She had brought high top red basketball shoes! Converse of course. She quickly put them on and we proceeded to get some great shots around the building with her displaying her cool shoes.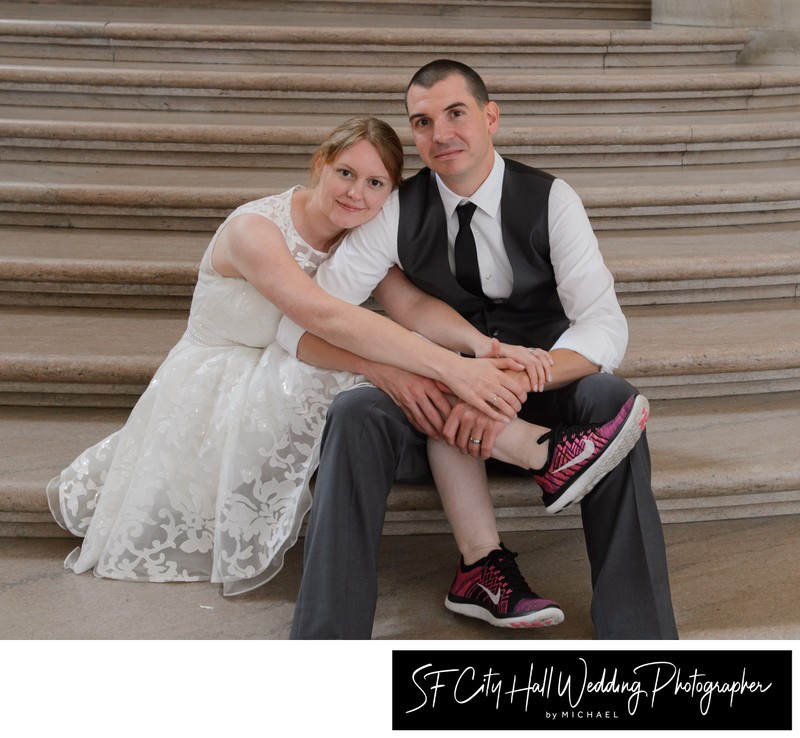 Bringing Props for Wedding Photography
While we are on the subject, I wanted to talk about props in general. I actually love it when our brides and grooms come to a wedding with props of some sort. It has a way of really personalizing the shoot, which is good for both the couple and the wedding photographer. I photographed a Chinese wedding recently and the couple brought all kinds of things with them. Included in those items were 2 different types of fans and funny sunglasses. In this case, the props did 2 things.... It allowed the couple to express themselves while using the props in funny or expressive ways. But also it added more color to the background and created other focal points within the wedding pictures. Other examples of props include, Sports Jerseys, Baseball caps and wine. All of these items allow the couple to have fun and in the future it will remind them of these interests.