Why Choose the "Golden Gate" Package
This package provides you with 2.5 hours of San Francisco City Hall wedding photography coverage with time to visit one other SF Landmark! We still make sure to photograph you on all of the gorgeous floors of this magnificent building, but then we venture out to one of the many famous locations that the City has to offer. The Golden Gate Bridge, The Palace of Fine Arts and the Legion of Honor are just a few of the landmarks we can take you to. If you are in a rush and want something a bit different, the beautiful "Painted Ladies" Victorian homes makes a great background for wedding pictures. It is also nearby city hall in the Hayes Valley District of San Francisco. Of course photo coverage of your City Hall ceremony and family photos are included as well. The
San Francisco Tour package
is also available for those who want more than 1 location. All packages come with the digital images with full reproduction rights plus a convenient viewing site which will allow you to share your images with family members throughout the country or even the world! You can also share your wedding images on Social Media. One of our most popular wedding photography packages at a cost of $895. Note: We are temporarily suspending street photography in San Francisco due to the current high crime rate. All of the locations listed above are still OK. Some examples of locations we are not doing right now include: San Francisco Downtown, Nob Hill, Russian Hill, SOMA district and certain parts of Golden Gate Park.
2.5 Hours of photographic wedding coverage at City Hall
Includes plenty of time for photos of family and friends at City Hall
1 additional San Francisco location
Free transportation to the additional location (temporarily suspended due to Covid-19)
Full resolution jpeg image files delivered to you by Direct Download or Dropbox.
Online viewing/sharing site to view your wedding photos
The ability to conveniently share your memories with family and friends.
Interior and exterior photos at San Francisco city hall
Complete ceremony coverage from start to finish
Let us Help You Choose Your SF Landmark
We are happy to help you choose the additional photography location if you are unfamiliar with San Francisco. Many of our clients prefer to go to less touristy areas like Woodline in the Presidio or the Botanical Gardens in Golden Gate park (see photos below). There are many other beautiful places to visit in this great city. One good idea is to explore this website for locations that you like and then read the caption under the photo. In most cases, we provide a detailed description and some of the attributes of each potential location. To check out some of the other places we like to photograph our newlywed couples please return to the San Francisco City Hall Home Page. If you want to view more of our affordable packages click the link. We are always willing to work within your budget to design a package that fits your needs. If you do not see a package that works, please let us know and we will work closely with you.
Compare Our Packages
Our San Francisco city hall wedding photography packages are easy to understand and include everything you need. There are no hidden charges. You receive all of the images we take at your wedding with no limitations. In addition, all of your digital images are yours to use however you want including posting on social media. There is enough resolution to make very large prints for almost all of the images we will share with you. The one exception is the occasional very close crop that might reduce the file size to some extent. Even in this circumstance, you would still be able to make 8X10 prints from your image file.
The Golden Gate Bridge from the 17th Hole at Lincoln Park Golf Course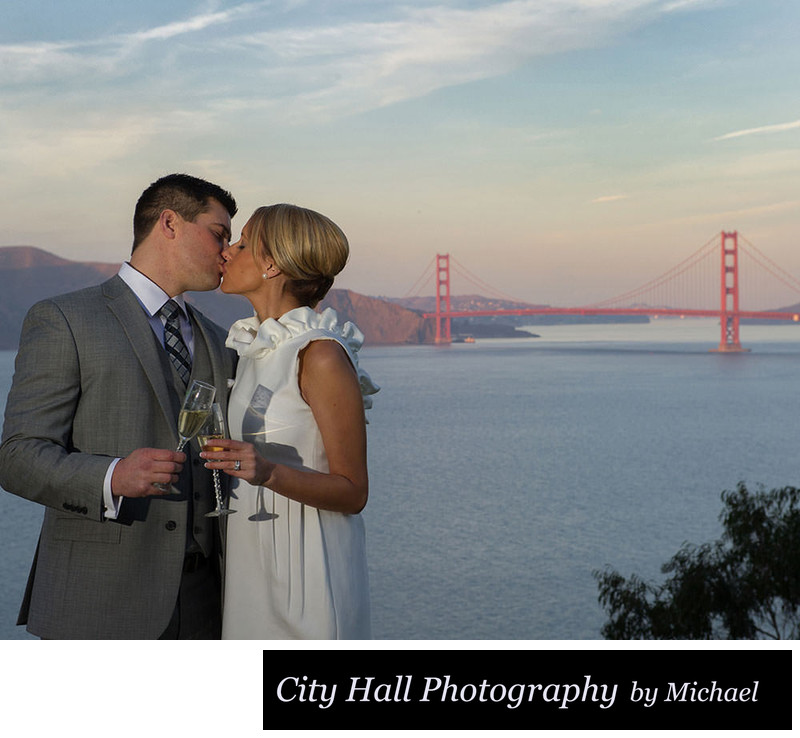 Taking a Walk in Ghirardelli Square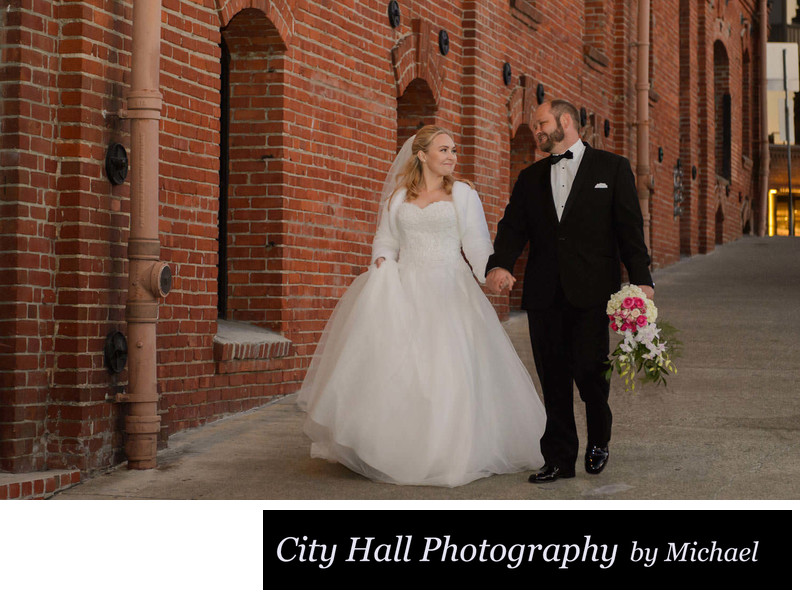 Botanical Gardens in Golden Gate Park, San Francisco