Formal Attire - City Hall
Relaxed Approach is Best Wedding Photography
What is the best approach to superior yet affordable wedding photography? In our opinion, it's approaching each wedding in a relaxed manner and easy going style. This keeps the bride and groom calm and less nervous. We have discovered over the years that our clients pick up on this and it makes them more relaxed also. A relaxed couple tends to have more natural smiles and appear more like themselves. We often get complimented that despite our affordable pricing, we are easy to work with and very approachable. We try to deliver great wedding photography with inexpensive packages.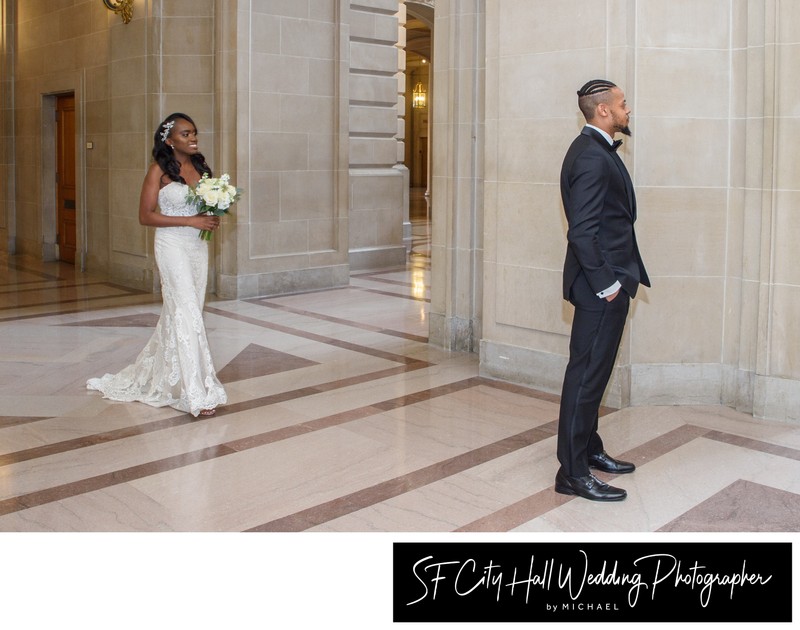 How to Accomplish Relaxed Wedding Photography
Obviously, it is easy to talk about how we provide a relaxed and fun atmosphere for our couples, but how do we do it? I think every wedding photographer would like to let their couples know that they wont stress them out. There is no argument about this, everyone wants an easy going style. We try to accomplish this by keeping the wedding shoot low-key at all times. We never rush our newlywed through their San Francisco city hall photo tour. Our packages allow plenty of time to approach all 4 floors in this historic building so this keeps the photo shoot on an slow and even keel. I have had clients ask me how much can be accomplished in a 1.5 hour package and also how many photos will they receive. I try to let them know that we are more about quality then quantity. It is not a race to see how many photos we can deliver in a given time. That being said, we never have had a client complain to us about not getting enough pictures. We understand that you also expect a good amount of usable images in your wedding photography package. In the photo above our bride and groom look very relaxed and happy sitting in this city hall window sill. I love the feel of this image.